Lawyer Tells Us Eric's Courtroom Distractions Won't Sway Judge's Verdict For Trump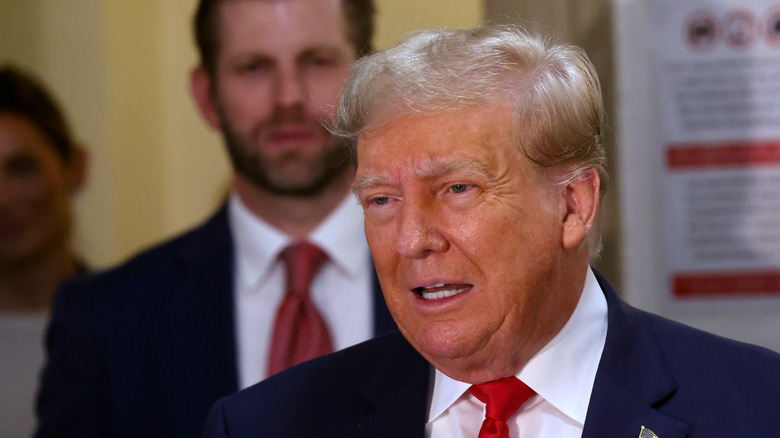 Spencer Platt/Getty Images
Donald Trump has once again been called into court, this time for a New York civil case filed against him. The former president and his businesses, along with sons Eric Trump and Donald Trump, Jr., have been accused of falsifying business records, conspiracy, and insurance fraud. 
"For years, Donald Trump falsely inflated his net worth to enrich himself and cheat the system," New York Attorney General Letitia James said in an official statement on October 2. "In this country, there are consequences for this type of persistent fraud, and we look forward to demonstrating the full extent of his fraud and illegality during trial." The consequences James has established are a $250 million fine, and no more Trump business allowed in New York.
Trump, Eric, Donald Jr., and Ivanka are all set to testify at the trial. While they await their turn in front of the judge, some members of the family, along with supporters of Trump, have been attending the proceedings — and not without openly showing their opinions. When Michael Cohen, Trump's former lawyer, took the stand, NBC News reported Eric "repeatedly shook his head in disgust" while sitting front row in the courtroom gallery. The List spoke with a legal expert to find out if the visible reactions of Eric and other pro-Trump trial attendees could have any impact on Judge Arthur Engoron's final decision. 
Legal expert weighs in on courtroom antics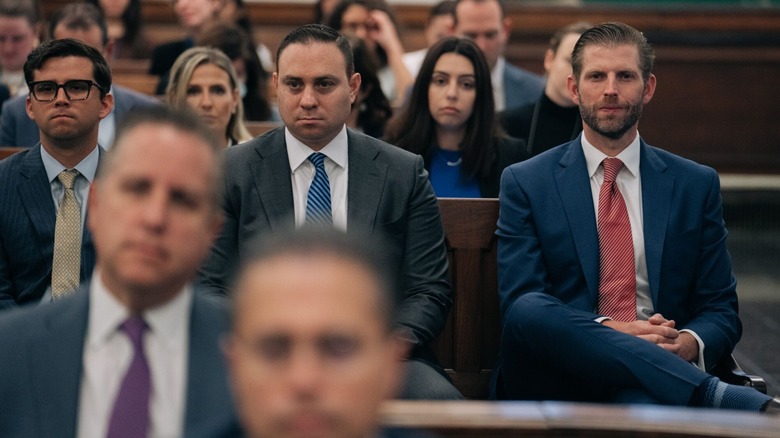 Bloomberg/Getty Images
There's been a lot of activity surrounding the Manhattan-based fraud trial of Donald Trump. The business entrepreneur and politician has vehemently denied any wrong-doing in the civil case, as have his sons Eric and Donald, Jr. But that doesn't mean their public opinions will have any impact on the outcome of the trial. 
In an exclusive interview, The List spoke with Neama Rahmani, president and co-founder of West Coast Trial Lawyers. The attorney explained that no matter how many guffaws and faces Eric makes from the gallery, it won't have any affect on the outcome of the trial. "Judge Engoron won't be influenced by people in the gallery," Rahmani confirmed to The List. 
An experienced trial lawyer, he explained that while members of a jury might notice antics happening in the gallery, Trump's trial is a bench trial, with only the judge making a final decision, and no jury members involved. "Judges have seen it all, and aren't affected by outside factors the way jurors are," Rahmani noted. Judge Engoron has already proven he doesn't approve of any grandstanding when it comes to his courtroom or the Trump trial.
The trial judge has already put restrictions in place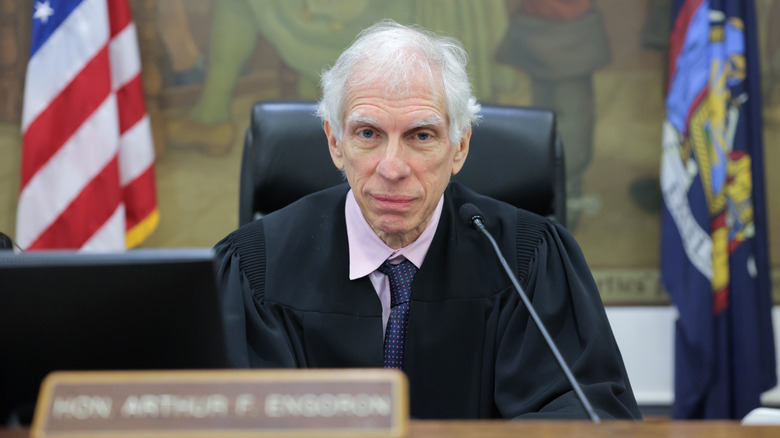 Pool/Getty Images
Donald Trump has a reputation for being active on social media platforms, and openly expresses his opinions about current events, particularly when they involve his own situations. During the first week of his New York civil fraud trail, Trump took to the internet to post a negative comment and photo about Judge Arthur Engoron's clerk, Allison Greenfield. The judge instilled a gag order against talking about any of his staff, and ordered the post to be taken down immediately. When it wasn't, Trump earned a $5,000 fine and the promise of even more strict consequences, including jail time, should further gag-order violations occur.
When speaking to reporters outside the courtroom during the third week of the trial, Trump declared the judge to be partisan, "with a person who's very partisan sitting alongside of him, perhaps even more partisan than he is," as recorded by C-Span. Judge Engoron called Trump to the stand to clarify his comments, believing them to be about Greenfield. Trump insisted he was talking about Michael Cohen, but the judge declared Trump not credible, and fined him $10,000. 
Trump's law team objected to the decision, and asked Engoron to reconsider. To which he replied, per CNN, "I've reconsidered, the ruling stands. Don't do it again or it'll be worse," confirming he wouldn't be swayed by any of the Trump family's comments, social media posts, or the shaking of heads in disgust.