Details About Matthew Perry & Julia Robert's Relationship & Why They Split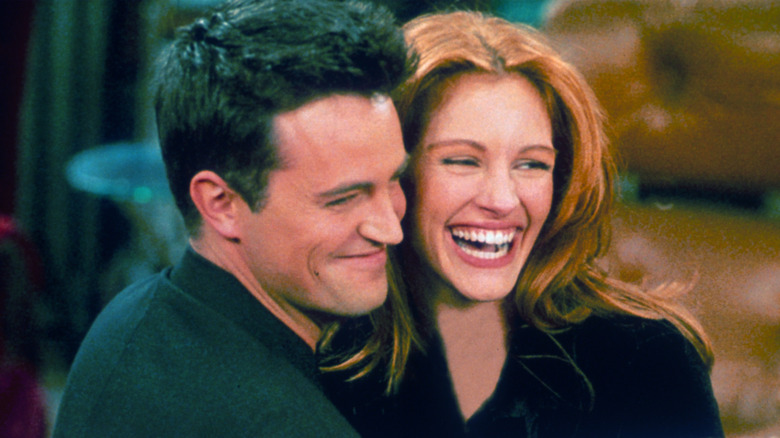 Getty Images/Getty Images
"Friends" fans will remember the Season 2 episode Julia Roberts starred in, "The One After the Superbowl." Getting Roberts to guest star was pretty big, and something the creators didn't take for granted. "We knew she would have the right touch for it. And when she said yes, it was pretty awesome," co-creator Marta Kauffman told The Hollywood Reporter. It turns out, Matthew Perry was the reason she agreed. As executive producer Kevin Bright recalled, Perry asked Roberts to appear, and she only agreed after he wrote a quantum physics paper for her. 
Perry and Roberts had never met prior to her one-episode stint on "Friends," but she was reportedly interested in him. "There was a lot of flirting over faxing. She was giving him these questionnaires like, 'Why should I go out with you?' And everyone in the writers room helped him explain to her why," staff writer Alexa Junge explained to The Hollywood Reporter. "He could do pretty well without us, but there was no question we were on Team Matthew and trying to make it happen for him."
By the time the episode was filmed, they were dating, but it only lasted for a bit. They kept their short-lived romance fairly private, which might be surprising to some, considering how famous they both were in the '90s. But in the end, fame was why the relationship ended. 
The pair didn't last long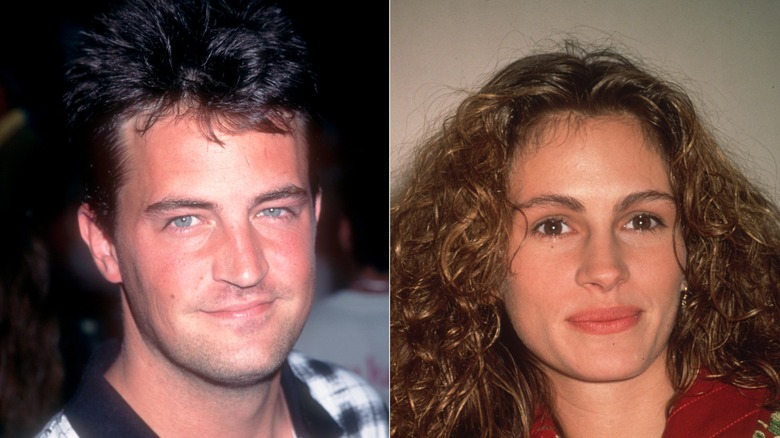 Ron Davis & Fotos International/Getty
In Matthew Perry's autobiography, "Friends, Lovers and the Big Terrible Thing," he wrote about his relationship with Julia Roberts. After learning she wanted to be a part of his character Chandler Bing's storyline on "Friends," he sent her roses with a note that read, "The only thing more exciting than the prospect of you doing the show is that I finally have an excuse to send you flowers." And the courtship began. 
Perry discusses their back and forth through fax before they shot their "Friends" episode, recalling that he would wait for the piece of paper to come each day. "It was like she was placed on this planet to make the world smile, and now, in particular, me. I was grinning like some 15-year-old on his first date," per the excerpt published in The Times of London. 
In the actor's book, he explained that after just two months of dating, he broke up with Roberts because he didn't think he was enough. Perry felt confident that she would break his heart, so instead of facing that fear, he ended the relationship altogether. 
Matthew Perry dated quite a few famous women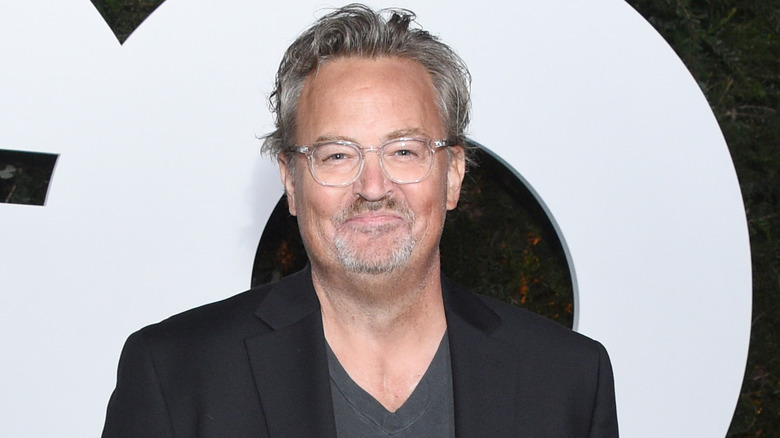 Gregg Deguire/Getty Images
Julia Roberts wasn't the only famous woman Matthew Perry was romantically linked to. While the pair never dated, per People, he did have a makeout session with Valerie Bertinelli, something he confessed in his memoir, "Friends, Lovers and the Big Terrible Thing." He also made out with Gwyneth Paltrow, another fling he discussed in his book. "Hopefully, she'll find it to be a cute story ... it'd be bad if Gwyneth Paltrow hated me; I wouldn't like that," he told GQ.
Continuing the relationship discussions in his book, Perry also detailed the time he was set up with Cameron Diaz. "The date was at a dinner party with a bunch of other people, but upon seeing me, Cameron got almost instantly stoned — it was clear that she wasn't interested in me at all," he recalled (via Insider). The party didn't go as planned, and Perry ended up getting punched in the shoulder after what he presumed was a witty comment to Diaz. 
The "Friends" actor's longest relationship was with "Mean Girls" star Lizzy Caplan, whom he dated for six years. According to Hello!, Perry wrote about the time he almost proposed, but let fear get in the way. "I was too scared, or broken, or bent," he reminisced.