Matthew Perry And Gwyneth Paltrow Shared A Steamy Lip Lock Before His Friends Fame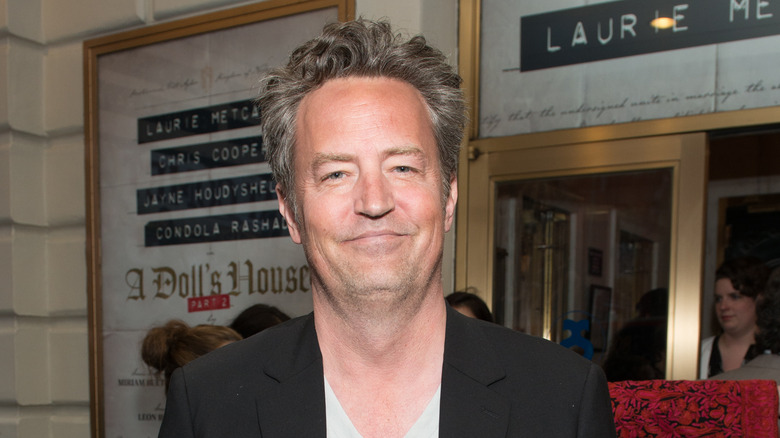 Noam Galai/Getty Images
Hollywood was shocked over the news that actor Matthew Perry died at 54, and fans mourned the 'friend' they've always felt they had in a person like the Perry's character Chandler Bing. The actor was tragically found dead on October 28 after reportedly drowning in his home hot tub, per TMZ. Perry had previously posted about enjoying his jacuzzi only days before his heartbreaking death, giving Perry's last Instagram post a new meaning. 
In the wake of his death, fans looked back at the brighter times in Perry's life, like all the wonderful friendships that he shared with his true friends — both on and off screen — over the years. Perry is also remembered for his past relationships with stars like Julia Roberts, including a romantic encounter with Gwyneth Paltrow. In fact, Perry and his "Friends" co-star Jennifer Aniston could build their own real-life seven degrees of separation storyline because of the time Perry and Paltrow kissed in the '90s.
Matthew Perry's brief makeout session with Gwyneth Paltrow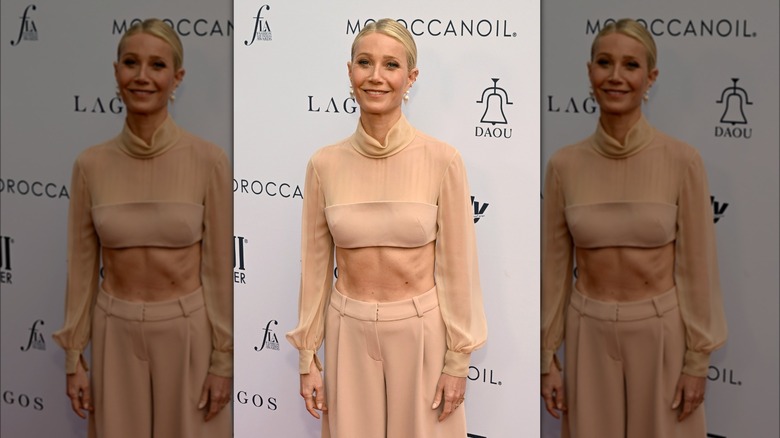 Michael Kovac/Getty Images
As many fans can recall, Jennifer Aniston and Brad Pitt were Hollywood's golden couple before their 2005 divorce. And while Aniston and Pitt certainly got a lot of media attention for their relationship, who is to say that the same wouldn't have happened for her "Friends" co-star Matthew Perry and fellow actor Gwyneth Paltrow, who Pitt was in a serious long-term relationship with before Aniston.
Before Pitt and Paltrow's time together, the blonde beauty got very up close and personal with Perry. In an interview with GQ, Perry admitted that he and Paltrow shared kisses "in a closet" the summer before he began working on "Friends" back in 1994. The actor even wrote about it in his memoir, "Friends, Lovers and the Big Terrible Thing" but wasn't sure how Paltrow was going to react to the excerpt. He told the publication, "Hopefully, she'll find it to be a cute story. It'd be bad if Gwyneth Paltrow hated me; I wouldn't like that."
Paltrow for her part has not made any comments about the rendezvous, but we think it's very unlikely that she would be mad about it. After all, she's often talked about her own "bedroom taboos" in public before, too, and their story makes for a sweet memory after Perry's passing.