Hallmark's Julie Gonzalo & Chris McNally Have An Adorable Romance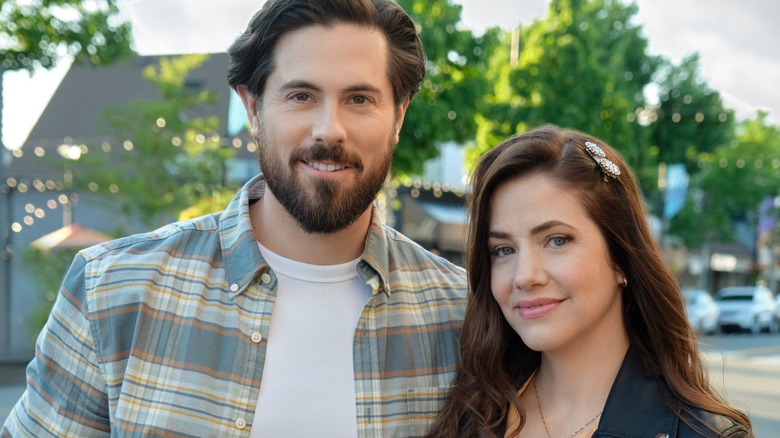 Bettina Strauss / Hallmark Media
Actors playing love interests and then falling in love in real life happens fairly often, and Hallmark leading actors are not immune to the phenomenon. Julie Gonzalo and Chris McNally are one on-screen couple that took their love off-screen. The duo met on the set of Hallmark's "The Sweetest Heart," a film about a baker (played by Gonzalo) torn between two love interests (McNally plays an old flame that comes into the life of Gonzalo's character once again).
Gonzalo was interviewed by FanSided about the filming of "The Sweetest Heart." On working with McNally, she said, "He's such a wonderful, wonderful person and a terrific actor so it was very easy with him" (via Us Weekly). However, she did not say anything about a non-scripted romance with McNally at that point.
In some interviews after "The Sweetest Heart," McNally would mention a girlfriend, but he did not call Gonzalo by name. Both actors posted photos of the dogs they share on Instagram, and Us Weekly reported how that hint was noticed by some fans. In 2022, McNally and Gonzalo officially announced they're a couple in a monumental way.
A surprise baby announcement confirmed that McNally and Gonzalo were together
Julie Gonzalo shared a photo on Instagram of a baby's hand holding two adults' fingers in June 2022. She tagged Chris McNally and herself and captioned the picture, "Our hearts are full ... Welcome baby M" with a heart emoticon. Many fans commented their congratulations, with some admitting their surprise at the turn of events. One said, "Wait what??? I didn't even know they were together. I have so many questions. Congratulations." Another fan referenced the film they did together and said, "I thought there was chemistry in Sweetest Heart."
Although Gonzalo does not post about McNally often, she also shared an Instagram photo on Father's Day of him and their baby in the ocean. At that time she confirmed that the new addition to their family was a daughter, because her caption included, "Happy Father's Day love ... she's a lucky little lady."
The couple acted together again in a 'ghastly' fall premiere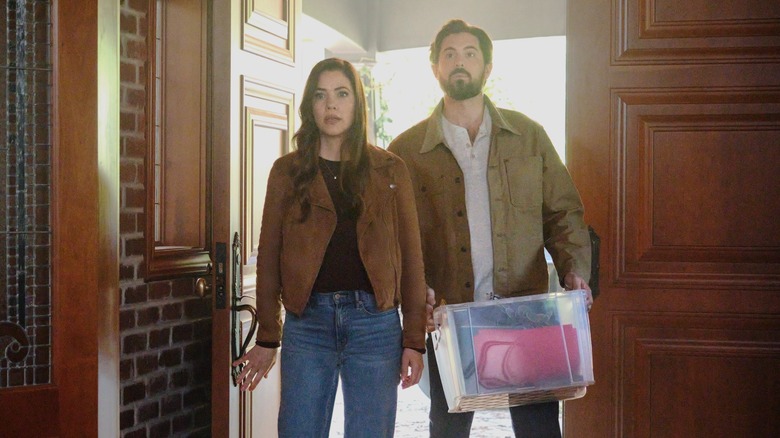 Bettina Strauss / Hallmark Media
After gracing TV screens in "The Sweetest Heart" and actually becoming sweethearts, Chris McNally and Julie Gonzalo starred in another Hallmark film together. The supernatural flick, titled "3 Bed, 2 Bath, 1 Ghost," was part of Hallmark's 2023 "Fall into Love" programming. It follows Anna (played by Gonzalo), a rookie real estate agent with a ghost named Ruby (played by Madeleine Arthur) haunting the listing she's trying to sell. Chris McNally plays Elliot, Anna's ex-fiancé.
Anna and Ruby get to know each other and realize they both had fiancés they never ended up marrying. According to the press release from the Hallmark Channel, "Ruby sees [Anna and Elliot's] interaction and decides that Anna and she have been brought together for a reason; by helping Anna rekindle her love, she hopes to gain the closure she needs to finally move on."
The 2023 SAG-AFTRA strike kept Gonzalo or McNally from doing press for the movie and discussing their experience on set. However, due to their real relationship, one can imagine that the chemistry between the actors was as palpable as the chemistry between their characters.