Who Are Lucy Coe's Children On General Hospital?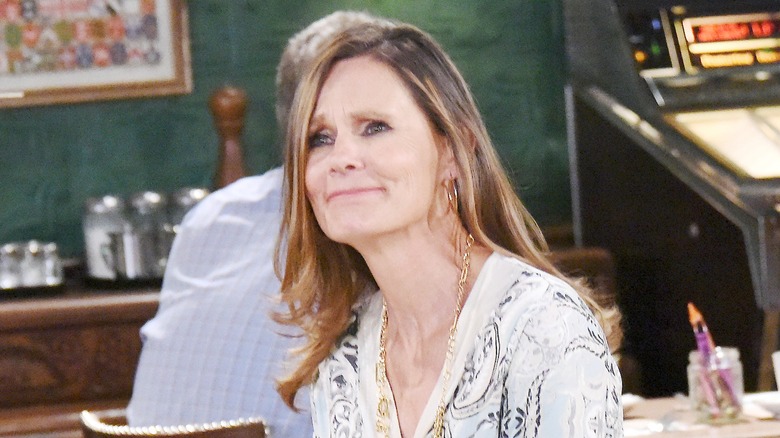 XJJohnson/jpistudios.com
Family trees can get confusing on soap operas, especially when they run for decades and legacy characters have more kids and grandkids than they can count. With so many falsified paternity tests and kidnappings, it's a wonder that some characters get to keep and raise their own children. One character with a complicated story regarding her children is Lucy Coe from "General Hospital."
Lynn Herring debuted as Lucy Coe on the soap in 1986, and she made quite the splash as she carried on an affair with Jake Meyer (Sam Behrens) and a married Alan Quartermaine (Stuart Damon). Aside from having three miscarriages, Lucy has had two daughters during her time on the show. Lucy was a surrogate mother to Serena Baldwin (Carly Shroeder), and though she wasn't her biological daughter, Lucy played an important part in Serena's life. Lucy also had a second daughter, Christina Baldwin, whom she adopted after finding her abandoned. Despite the obstacles she faced with her children, Lucy never stopped fighting for them.
Lucy was the surrogate for Serena Baldwin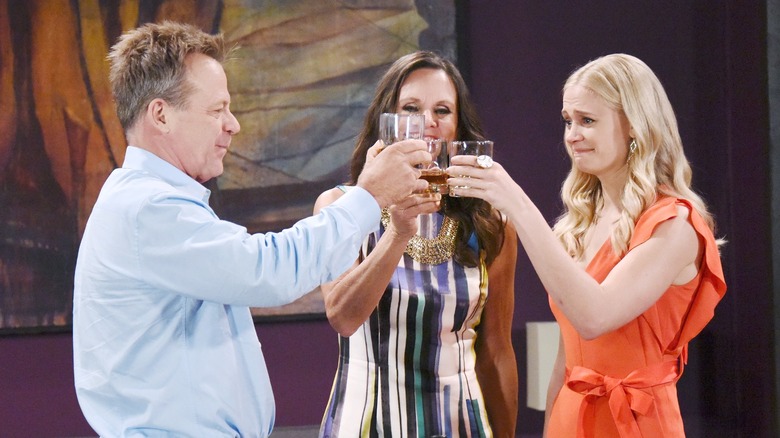 XJJohnson/jpistudios.com
Lucy Coe was the surrogate mother of Serena Baldwin, the biological daughter of Scott Baldwin (Kin Shriner) and Dominique Stanton (Shell Danielson). Dominique had an inoperable brain tumor and wasn't able to carry a child, so she and Scott had Lucy act as a surrogate. Unfortunately, Dominique died before Lucy gave birth to Serena, so Lucy supported Scott through his loss. Once Serena was born, Scott whisked her away to Canada as he escaped the country, trying to lose the mob that was after the money Dominique left him and Serena in her will.
A few years later, Scott returned to Port Charles with Serena but she was kidnapped. Lucy was accused of the crime, although she denied it. It was actually Danielle Ashley (Renee Allman) and Rex Stanton (Wayne Northrop) who had kidnapped Serena in order to blackmail Scott out of her trust fund. Danielle softened and reunited Scott with Serena, but Rex made a play for the child and won custody of her. In order to protect Serena, Lucy married Rex so she would take care of her. Soon enough, he was arrested for his crimes, and Lucy returned Serena to Scott.
Lucy grew jealous of Eve Lambert's (Julie Pinson) relationship with Scott and Serena, so she siphoned fuel from Eve's gas tank so that she could save the day and get closer to Serena. However, the car crashed and Serena lost her vision. She got her vision back after surgery; after her accident, Lucy and Scott married and the three of them moved to Paris together.
Lucy adopted Christina after finding her alone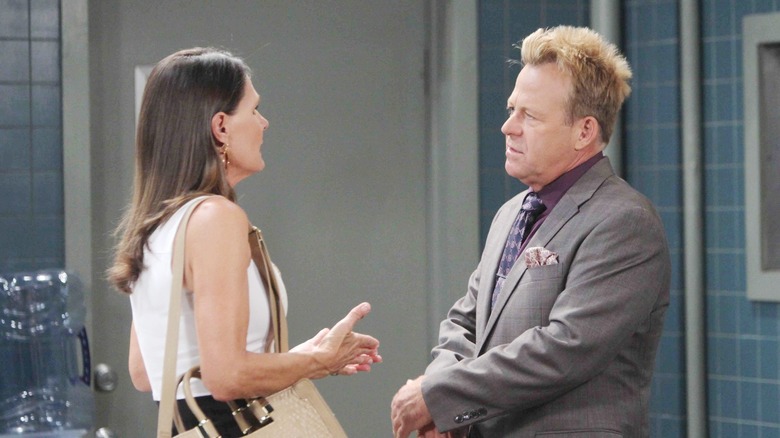 Howard Wise/jpistudios.com
Lucy Coe found her second daughter Christina with Scott Baldwin at the Nurses Ball. Assuming she had been abandoned, Lucy and Scott took her in and cared for her, but they soon learned that Christina was Julie Devlin (Lisa Ann Hadley) and Frank Scanlon's (Jay Pickett) daughter. The two couples fought for custody of Christina, and the battle drove a wedge between Scott and Lucy, as Frank and Julie received more visitation rights than Scott and Lucy. Scott ultimately adopted Christina under his name and not Lucy's, causing even more resentment between them.
Things got even worse when Julie kidnapped Christina and escaped from Port Charles with her daughter. Lucy took her frustration out on Scott and blamed him for Julie's actions. They had distanced themselves so far that their relationship was too far gone, and Lucy and Scott divorced. Thankfully, Lucy retained her relationship with Serena even though she was no longer her stepmother. Eventually, Julie returned to Port Charles and handed over Christina to Lucy, insisting she take care of her since Julie was dying from a terminal illness. It might not have been an easy road, but Lucy was reunited with her daughter, and she raised her happily after that.