This Matthew Perry Quote About Death Will Break Your Heart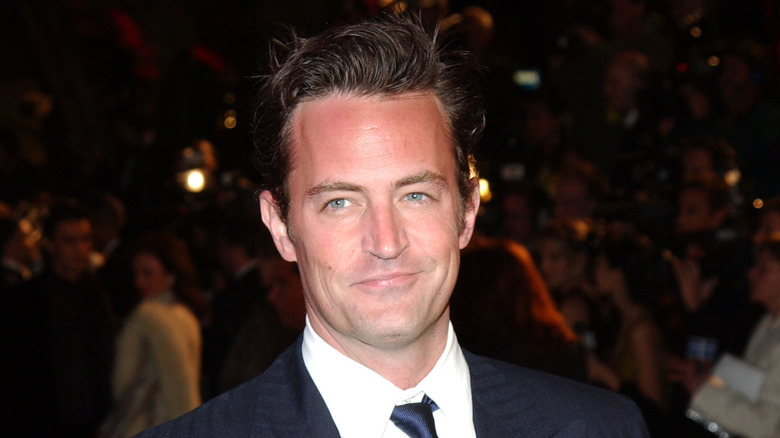 Jon Kopaloff/Getty Images
We may receive a commission on purchases made from links.
Matthew Perry was one of the most beloved stars in the entertainment industry, not just because of his portrayal as Chandler Bing on "Friends," but also because he was one of the most relatable and down-to-earth celebs, too. Perry's untimely death is one that his fans and the entertainment industry will get over, if ever. In his memoir, "Friends, Lovers, and the Big Terrible Thing," Perry opened up about his life, his loves, some pretty messy moments, and his struggles with substance abuse, too. He also opened up about his addiction to pain medicine, including Dilaudid, which he was given after he was treated for pancreatitis back in 2000. According to Page Six, Perry wrote, "It was my new favorite drug. And I would have stayed in that hospital for a hundred days if they kept [administering] it."
But his honesty about some of the biggest battles of his life isn't the only reason why so many of Perry's fans felt close to him, even though they didn't know the real him. He was also very frank when it came to his eventual death, and he even predicted how people would feel about it. Perry even once said that he didn't think it would surprise anyone if he died sooner than expected.
Matthew Perry once said that his death wouldn't surprise anyone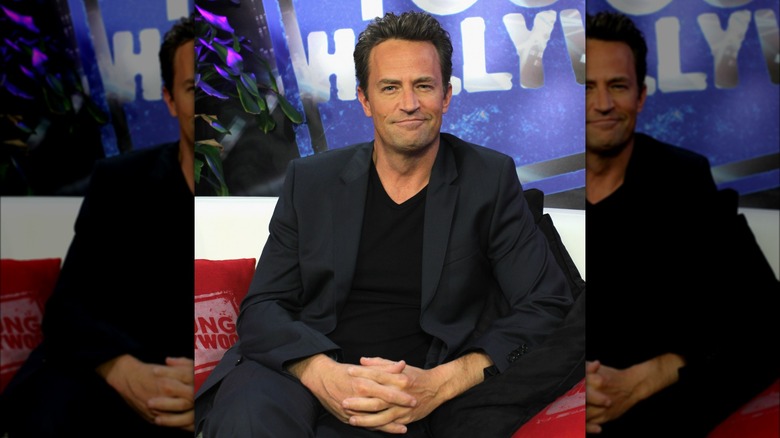 Young Hollywood/Getty Images
Even though he had friends like Jennifer Aniston who encouraged him to get help for his addiction struggles (per Us Weekly) and people like Courteney Cox who said that he changed her entire personality, Matthew Perry knew that his death wouldn't be that much of a shocker for his loved ones. That's because everyone in his inner circle knew about his struggles. In his book, "Friends, Lovers, and the Big Terrible Thing," Perry's quote about why he wanted to write his book definitely hits differently now after his death. According to the New York Post, he wrote, "I say in the book that if I did die it would shock people, but it wouldn't surprise anybody. And that's what I'm doing with writing this book. That's why I wanted to do it."
But Perry also added that he wrote his book because he wanted his fans to know that they weren't alone, especially when it came to their darkest days and even darkest hours. With that said, Perry certainly wasn't alone, either.
The world remembers Matthew Perry as he was: funny and kind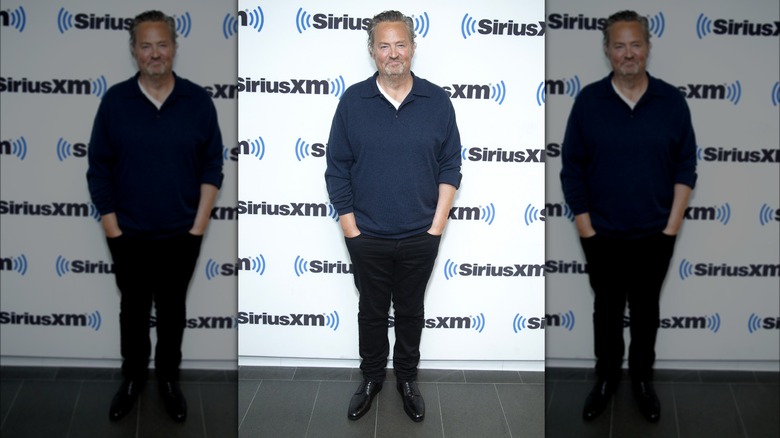 Santiago Felipe/Getty Images
In "Friends, Lovers, and the Big Terrible Thing," Matthew Perry said that he felt it was important to tell the world his story, no matter how many difficult chapters there were for him to write. He said (via the New York Post): "I wanted to talk about the highs and the lows because people are suffering out there and maybe if they hear a story from somebody they've seen on TV that's worse than theirs or just the same of theirs, they'll be filled with hope, which is the key thing."
Perry not only told his story, but he also made a huge impact on other people's lives while he was at it, too. Hollywood actor and his friend Mira Sorvino wrote on X, "There will never be another like him — he lit up so many hearts in so many ways. Godspeed to Paradise!" Chart-topper Adele even took a moment out of her show to remember the actor, per Page Six, while Gwyneth Paltrow shared a sweet tribute to him on Instagram. She wrote, "He was so funny and so sweet and so much fun to be with. We drove out to swim in creeks, had beers in the local college bar, and kissed in a field of long grass. It was a magical summer."