Valerie Bertinelli Had A Scandalous Liplock With Friends' Matthew Perry In Her 20s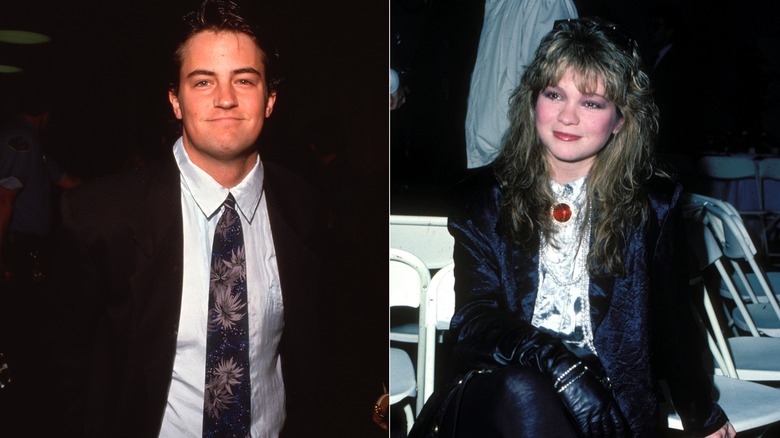 Mediapunch/Getty & Steve Granitz/Getty Images
Matthew Perry met Valerie Bertinelli on the set of "Sydney," years prior to his life-changing role on "Friends." In the show, the actors portrayed a brother and sister. The CBS sitcom only lasted for 13 episodes, but the series affected the stars. 
Perry admitted in his autobiography, "Friends, Lovers, and the Big Terrible Thing," that he had feelings for Bertinelli; proving to be a bit of a complicated situation since she was married to Eddie Van Halen at the time. "In the early 1990s, there was no one more attractive than Valerie. Not only was she stunning and vivacious, but she also had this great, booming, adorable laugh," he wrote (via Today). Due to her relationship status, the actor recalled, "My crush was crushing; not only was she way out of my league, but she was also married to one of the most famous rock stars on the planet." 
In the book, Perry detailed the moment he thought Bertinelli's feelings might have been reciprocated. He was at her home with her husband, and Van Halen seemingly drank a little too much. With him passed out a few feet away, Perry decided to shoot his shot. "If you think I didn't actually have a chance in hell you'd be wrong, dear reader — Valerie and I had a long, elaborate makeout session," the "17 Again star explained (per Entertainment Weekly). When the book was published, Bertinelli responded with a Taylor Swift lyric posting a TikTok with "Anti-Hero" playing.
Valerie Bertinelli and Eddie Van Halen shared love for one another after their divorce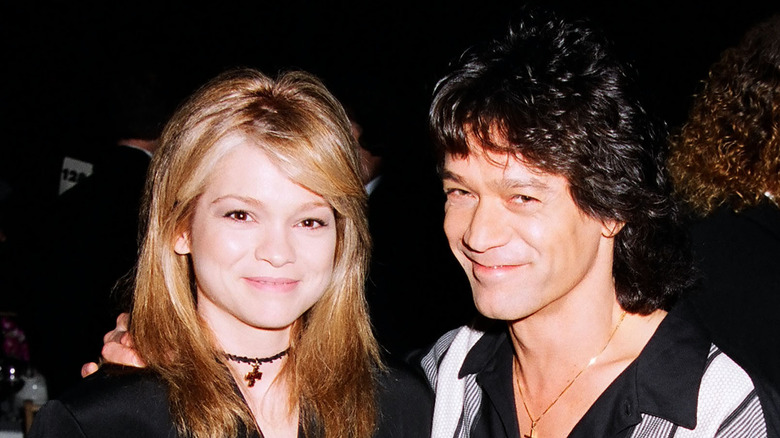 Jeff Kravitz/Getty Images
Even though Matthew Perry couldn't capture Valerie Bertinelli's heart, it was for good reason. She had already found love with Eddie Van Halen. During a writer's strike in 1980, Bertinelli went to stay with her parents in Louisiana. She was already recognized for her role on "One Day at a Time," so the local radio station got the young actor a backstage pass to the nearby Van Halen concert. "I saw what he looked like and I'm like, 'OK, I'll go, this guy's cute,'" she shared with Today. "So I went, and there we go. It was love at first sight, for sure." Eight months later, they were married. 
All was not smooth sailing throughout their marriage. He had drug problems, she was dealing with issues with food. "We weren't really good to each other at a lot of points in our lives because we met so young and were very immature," Bertinelli explained to CNN. "The love we have always had for each other proved stronger and more resilient than anything else. We chose to remain friends and family." In the end, the couple split up in 2007 — this is the real reason why Bertinelli and Van Halen got divorced. 
Van Halen passed away in 2020 after a battle with cancer. Bertinelli was by his side, remembering the good times and supporting her former partner. "Oh, my God, that man's heart was just so kind and so sweet," she recalled (per Today).
Matthew Perry admitted to having feeling for Friends co-star Jennifer Aniston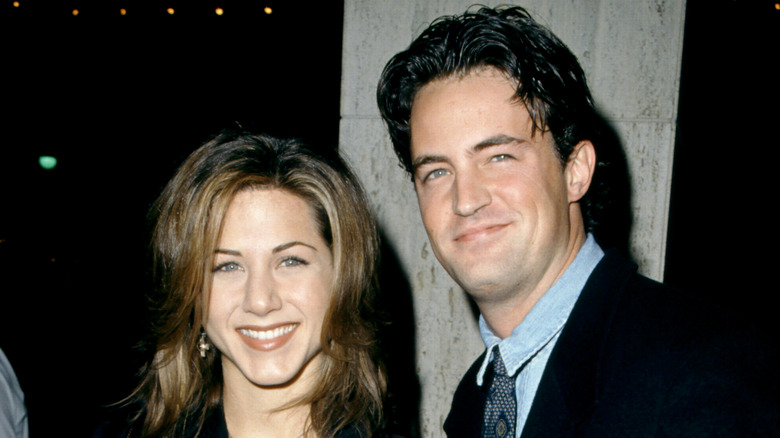 Ron Davis/Getty Images
Valerie Bertinelli wasn't the only costar Matthew Perry would have a crush on. Jennifer Aniston also made that list, though the pair initially met a few years prior to "Friends." As Perry recalled in "Friends, Lovers, and the Big Terrible Thing," he knew immediately Aniston was special. "I was immediately taken by her (how could I not be?) and liked her, and I got the sense she was intrigued too — maybe it was going to be something," he wrote (via Mirror). When he got cast in "Friends," he called Aniston and then proceeded to ask her out, making their first table read for the series a bit awkward. 
In the book, he remembered how prevalent his feelings still were for her at that time, noting that he was constantly thinking if he was looking at her for too long during a read. And though Aniston never reciprocated Perry's feelings, the pair remained great friends, with Perry revealing she was a constant during his struggles with addiction. "She was the one that reached out the most. You know, I'm really grateful to her for that," he told People.