The Real Meaning Behind Taylor Swift's Song Slut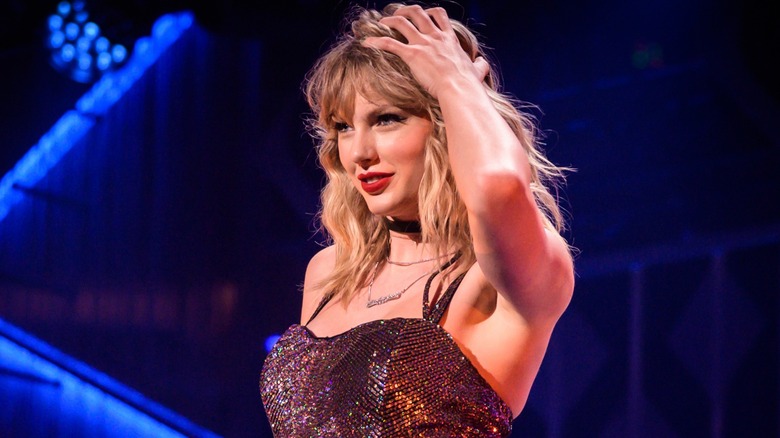 Brian Friedman/Shutterstock
Taylor Swift has often faced intense scrutiny and slut-shaming from the media and the public, a theme she has skillfully turned into a source of empowerment through her music (good for her). Taking over her own narrative, Swift has managed to turn the nasty comments into her personal vendetta against the haters. From "Shake It Off" (highlighting accusations of going on "too many dates") to "Blank Space" (the "long list of ex-lovers"), the superstar has a history of addressing the shaming she's been faced with from the start of her career.
In her latest never-before-released track, "Slut!" from the "1989: From the Vault" collection, Swift directly addressed the slut-shaming in a nostalgic yet powerful way, giving us all the feels. Other than blessing us with the goodie, the star shared a comprehensive prologue, talking about the media scrutiny she endured for simply daring to write songs about her love life.
Before her performance of "Blank Space" at the GRAMMY Museum in 2016, Swift expressed, "In the last couple of years, the media have had a really wonderful fixation on, kind of, painting me as the psycho serial dater girl." The singer highlighted, "It got pretty out of control there for a couple of years." It was high time for Swift to take back the microphone, and that's precisely the essence of "Slut!" — telling her own story.
Taylor Swift is taking back her story with the nostalgic track
While the song "Slut!" currently lacks an official music video, its meaning is clear without one, as Taylor Swift, along with co-writers Jack Antonoff and Patrik Berger, skillfully weaves a narrative. The lyrics initially set a pastel scene with the lyrics "Flamingo pink, Sunrise Boulevard" and "Aquamarine, moonlit swimmin' pool," immediately hitting us with a nostalgic feel we didn't quite expect given the song title.
In the pre-chorus, Swift goes directly to getting "love struck" and "lovesick," creating a moment where one might forget what the song's raunchy name implies. Despite the moody ambiance and lulling us with her dreamy voice, she scores the touchdown (wink, wink) with "Love thorns all over this rose / I'll pay the price, you won't." Further addressing societal sexism when it comes to relationships, Swift continues in the chorus, "And if they call me a slut / You know it might be worth it for once," making herself the scapegoat of public slut-shaming and being okay with it, because that is how she turns her story around.
In the second verse, Swift unequivocally rejects any public blame thrown at her, as evident in the lyrics, "Everyone wants him, that was my crime." Without explicitly revealing the subject of the lines (though fans think it might be about Harry Styles), Swift concludes with a firm caution against getting involved with her, singing, "It's a big mistake, I said, 'It might blow up in your pretty face,'" reminding us that even her partners have at times faced public scrutiny for their associations.
Will the media now finally give Taylor Swift a break?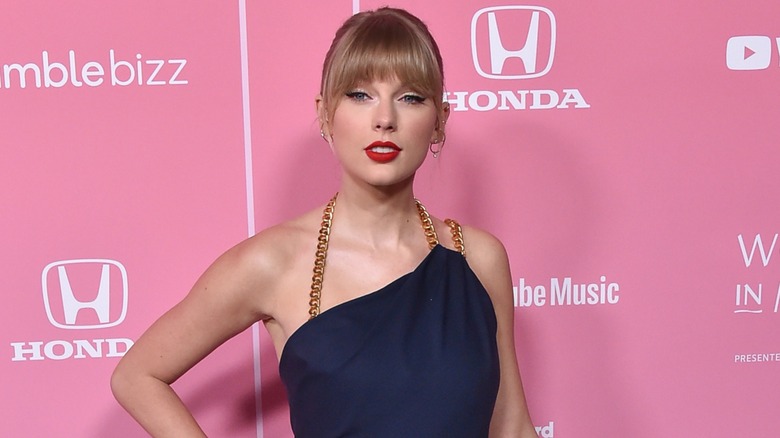 DFree/Shutterstock
In the prologue of "1989 Taylor's Version," Taylor Swift addressed the public's undermining of her songwriting skills, admitting she felt hurt because her work was portrayed "as the predatory act of a boy-crazy psychopath." In order to reclaim her power, she revealed that she decided to focus on her friends, specifically female ones. "If I only hung out with my female friends, people couldn't sensationalize or sexualize that — right?" she wrote, adding, "I would learn later on that people could and people would," the 12-time Grammy-award winner disclosed, referring to the media speculation she was dating her friend, Karlie Kloss.
The exclamation point in "Slut!" serves as a stark reminder of the harsh media scrutiny Swift endured, with relentless criticism of her every move. An example is Tina Fey mocking her relationship choices during her 2013 Golden Globes hosting segment, stating, "She needs some 'me time' to learn about herself." Swift was 24 at the time.
Swift takes the punches graciously in "Slut!" with the line, "But if I'm all dressed up / They might as well be looking at us," reminiscent of her earlier hit "Blank Space" and the lyrics, "I'm a nightmare dressed like a daydream." As reported by Variety, "Slut!" debuted at No. 1 in the U.S. with 5.2 million streams.