Jon Hamm Will Never Forget His First Time Meeting Tom Cruise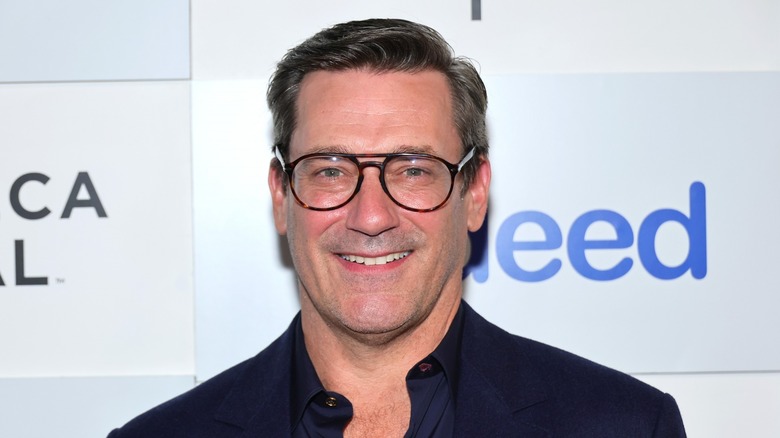 Theo Wargo/Getty
Some celebrities have divulged the circumstances surrounding how they met Tom Cruise in interviews. For example, Seth Rogen reportedly taught Cruise about an NSFW topic when he went to the "Top Gun" star's house with Judd Apatow. Jon Hamm has his own story about meeting Cruise and how he didn't believe it was going to happen.
In a 2022 interview with Howard Stern on "The Howard Stern Show," the "Mad Men" actor explained that he attended a football game watch party thrown by Jimmy Kimmel with a guest list of actors, comedians, and others in the entertainment industry. The party buzzed because Cruise was supposedly going to be there. Hamm vehemently disagreed, telling Stern, "And I'm like, 'No, he's not! That's, what are you talking about? That's like saying Santa Claus is coming. There's no way that that is, and you're an idiot if you believe that.'" He also mentioned how Kimmel loves pranks and figured it was all a big joke.
However, lo and behold, Cruise did show up to the party with his mother, Mary Lee South, in tow. "So we got Tom Cruise and Mom Cruise," Hamm continued, "and it's like, this is — we're all having an out-of-body experience ... the most famous person on the planet is in this living room watching nine football games at once." Hamm and Cruise briefly spoke during the party, and Cruise even complimented Hamm's show "Mad Men." Hamm added, "That was a really good day." 
Hamm jumped at the chance to star in the 'Top Gun' sequel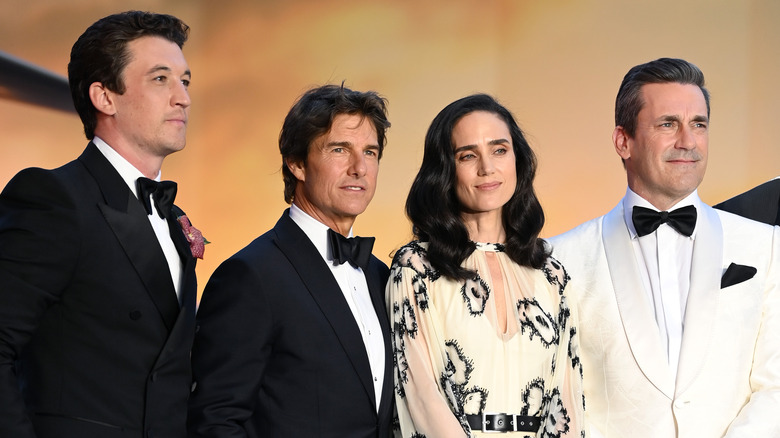 Eamonn M. Mccormack/Getty Images
Jon Hamm also told Howard Stern about being asked to be in "Top Gun: Maverick." Hamm's agent called and told him he'd been asked to be in the film, and it was an immediate yes. Hamm didn't care about the semantics or money and claimed he told his agent, "'If this goes away, you're all fired.'" Hamm added that he wasn't used to being sought out for roles, and this was doubly huge for him because he was a big "Top Gun" fan.
In an interview with The Hollywood Reporter about "Top Gun: Maverick," Hamm explained how he'd met Tom Cruise a few times before he was asked to be in the film. Hamm was asked about the day on set he'll remember first when looking back. He answered, "The first day." They were filming in a hangar with real jets. "I kind of got lost when I first walked to set," Hamm said, "but once I finally walked on set, I heard applause as someone said, 'There he is!'" 
Hamm couldn't tell who was talking to him at first, and it ended up being Cruise. Hamm said, "Then [Cruise] gave me a big hug and said, 'Welcome to the show.' And I was like, 'Thank you.' It was a pretty good feeling."
Hamm loved Cruise's epic entrance at the 'Top Gun: Maverick' premiere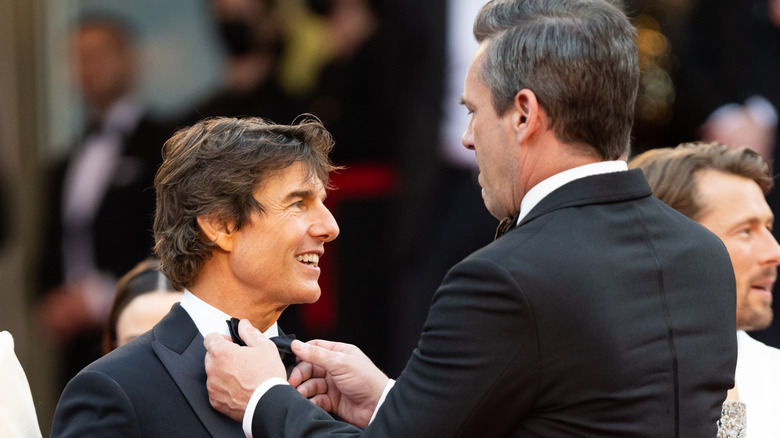 Samir Hussein/Getty Images
Jon Hamm praised Tom Cruise during an interview at the world premiere of "Top Gun: Maverick" in San Diego. Hamm and Nischelle Turner from Entertainment Tonight spoke about how the film was a triumphant return to movie theaters after in-person movie viewing got stalled by COVID-19. Then, Cruise made his grand arrival.
"Well, I mean, there's only one of those guys," Hamm said as a helicopter flew in frame behind him. "And here he comes!" Hamm also gestured to the sunny, beautiful day and joked that Cruise himself provided it for the premiere. Hamm and Turner then wondered if Cruise was piloting the helicopter, which they confirmed after it landed. "Well, you don't get better than that," Hamm said with a smile.
The London premiere of "Top Gun: Maverick" was memorable for Hamm as well. He crushed his meeting with Kate Middleton, who joined Prince William and Cruise at the big event.