Why Matthew Perry Reportedly Backed Out Of Proposing To Lizzy Caplan At The Last Second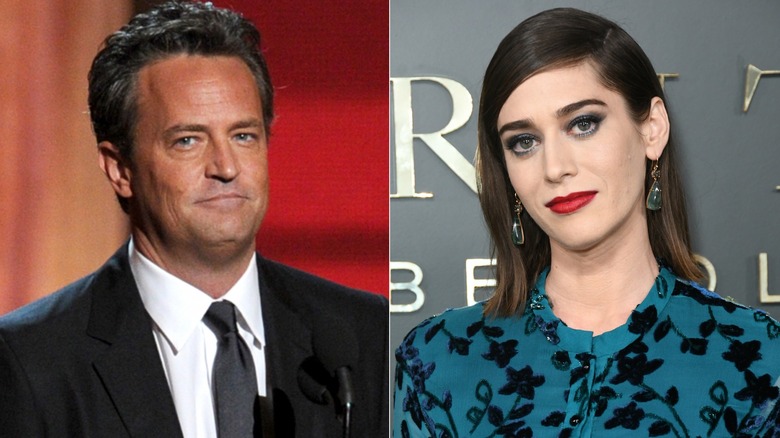 Quinn Jeffrey/Shutterstock & Kevin Winter/Getty Images
Matthew Perry played the beloved character Chandler Bing as a mix of cynical, sarcastic, and sweet for 10 years on the megahit show "Friends." And people around the world were devastated to learn that Perry died at the age of 54 at his home in Los Angeles.
On "Friends," Chandler's relationship with Monica Geller, played by Courteney Cox, was a main love story in Seasons 5, 6, and 7. And while that on-screen relationship ended with the two of them married and adopting twins, in real life, the actor never got married or became a dad though Perry had been open to having kids.
Perry was startlingly honest at times about his personal life in his memoir "Friends, Lovers, and the Big Terrible Thing," and, as you'd guess from the title, it included discussions of his love life. One of his longest relationships was the six years that he dated actor Lizzy Caplan, from "Mean Girls" and "Party Down." While he didn't mention Caplan specifically in his memoir, he did describe being moments away from proposing to a longtime partner, so Caplan seems like the best guess. However, it was a mix of what he referred to as being "too scared, or broken, or bent" to actually go through with the proposal.
Matthew Perry had planned to propose over the holidays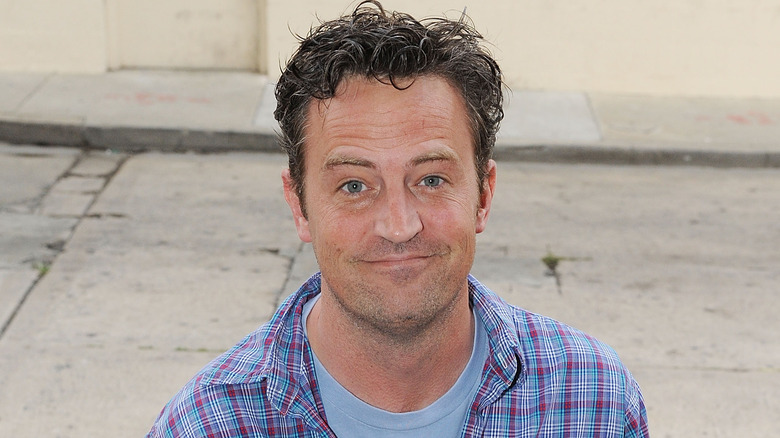 Michael Kovac/Getty Images
The proposal moment that never happened came after Matthew Perry gave Lizzy Caplan a custom painting that he'd commissioned of the two of them for Christmas. Perry wrote in his memoir that, "My plan was to give her the painting and then ask the question...well, I never asked it. I gave her the present and she was really moved by it, saying, 'Matty, my little heart — what you're doing to my little heart.'"
But instead of popping the question, he said he reverted to a more Chandler Bing response to distract from the emotion of the moment. And it seems like that was the beginning of the end for their romantic relationship, with them finally separating two years after that. Along with Caplan, Perry had a number of famous exes, including Julia Roberts and Lauren Graham. Caplan went on to marry Tom Riley, a British actor, and Perry said he found out about both her engagement and the end of their friendship via email.