The Role Ivanka Trump Played In Brother Eric's Proposal To His Wife Lara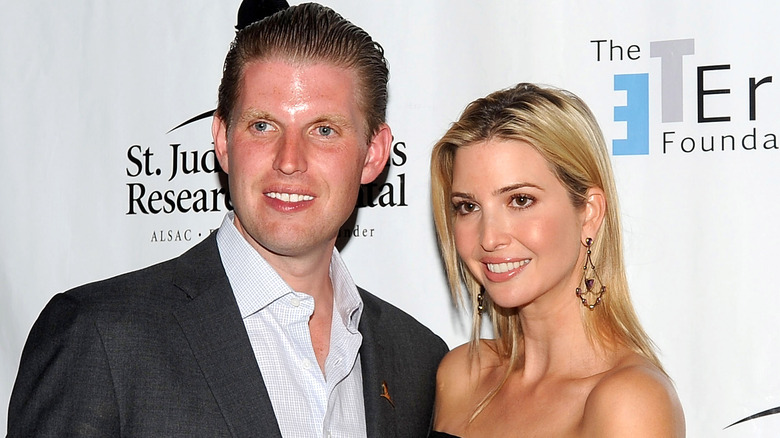 Bobby Bank/Getty Images
Eric Trump's 2014 high-profile Palm Beach wedding to Lara Yunaska (now Trump) was one for the books. They met through mutual friends and were together for five years before Eric proposed at the Trump Seven Springs estate in 2013. While Eric's name might not be the first you think of in relation to romance, his proposal was sweet and thoughtful.
Eric executed a "pet proposal" with the help of their miniature beagle, Charlie, and his older sister, Ivanka Trump (via Page Six). The former president's son selected an emerald-cut engagement ring in a platinum prong setting from the "Ivanka Trump Fine Jewelry" line. Then, five years and two days after their first date, Eric popped the question while they walked Charlie through the estate fields.
Lara and Eric's website also gave an insight into the couple's playfulness. An excerpt from their wedding website read: "Bored with world domination, Eric soon realized that success isn't all it's cracked up to be without someone to love by your side" (via Page Six). The wedding was scheduled for November 7, 2014, with a three-day event starting with wine tasting on Friday, the official wedding on Saturday, and a family brunch on Sunday. However, their plans were not without major hitches.
Lara Trump broke BOTH wrists two weeks before their wedding
With just two weeks to go to her wedding, Lara Trump broke both wrists during a horse riding accident. She shared a black and white photo on Instagram showing casts on both her hands, with the caption: "Wedding countdown: 2 weeks and 2 casts to go! 👰💘 #HopeImAFastHealer." Despite this setback, she didn't change her wedding date or lose her passion for horse riding. Eric and Lara Trump's lavish wedding took place as planned in November 2014, with their beloved Charlie as the ring bearer. Lara, who was still healing, had to wear casts during the wedding.
Luckily, her wedding planner had the creative idea to use fingerless bedazzled gloves to conceal the casts. Interestingly, in Eric and Lara Trump's People wedding album, some photographs show Lara in her wedding dress without the casts. It's uncertain whether she temporarily removed them for these photos or if a separate photoshoot was organized after her wrists healed. Ironically, two years later, Lara had another horseriding accident, breaking her collarbone in the process.
The Ivanka Trump Fine Jewelry line closed down less than three years after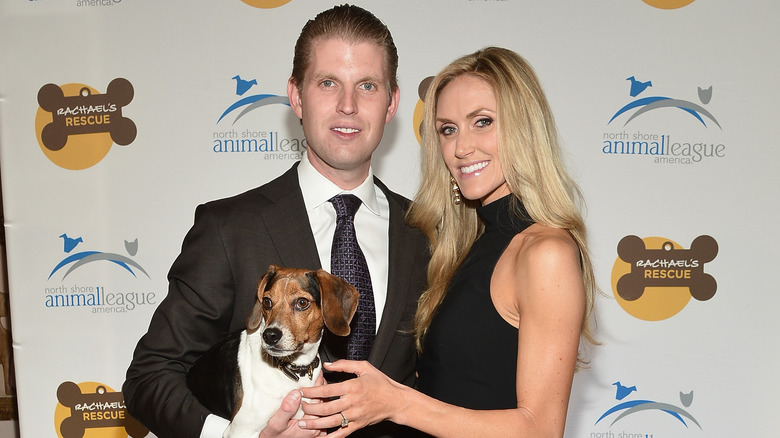 Mike Coppola/Getty Images
Unfortunately, future Trump brides cannot expect a similar ring, as Ivanka Trump's fashion brand went from success to mess in a few short years. By early 2017, less than three years after Eric and Lara Trump's wedding, "Ivanka Trump Fine Jewelry" closed down. Much of this was attributed to political tensions surrounding the brand. A year before its official closure, Nordstrom and Neiman Marcus, two of its largest retailers, discontinued selling Ivanka's jewelry due to "poor performance" (per Guardian). 
However, the company's troubles did not end there. By the close of 2017, GQ revealed that "Madison Avenue Diamonds," the corporate entity behind "Ivanka Trump Fine Jewelry," faced fraud allegations. While Ivanka's jewelry lines had already wrapped up business by the time these claims emerged, her association wasn't a good look for her brand's image. The fraud allegations were in relation to the Al-Sari family, Emirati oil traders, who had allegedly bought diamonds from "Madison Avenue Diamonds" and Jacob Arabo (aka Jacob the Jeweler) to conceal their assets from a bank after defaulting on a loan.