Megyn Kelly Worried Doug Brunt Was Too Good To Be True When They Started Dating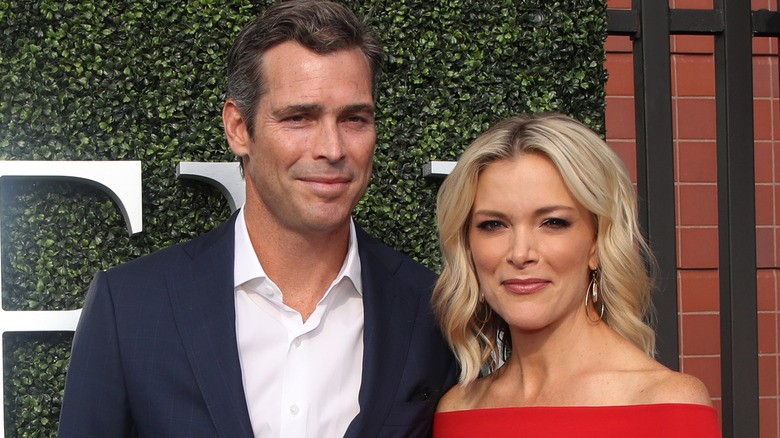 Leonard Zhukovsky/Shutterstock
When Megyn Kelly's friend noticed her colleague, Douglas Brunt, admiring Kelly's appearance on Fox News in 2006, a spark of an idea came to life. The friend emailed Kelly, suggesting Brunt might be a good match. The news correspondent let the email sit in her inbox for months, but she eventually agreed to a blind date — a decision that would change her life. 
"Our romance was a whirlwind," Kelly shared on "The Megyn Kelly Show" in March 2023 in a tribute to the couple's 15th wedding anniversary. "14 months after we met, Doug asked me to marry him. Within six months of that, we were married. Three kids later — still going strong."
Although Kelly was instantly smitten, referring to him as "Dream Date Doug" after only one night, the journalist couldn't help wondering what she was missing, and when the red flags would start popping up. "In the beginning, I thought he was too good to be true," she wrote in her memoir, "Settle for More."
She wondered if Doug was a serial killer
Megyn Kelly was 36 years old when she met Douglas Brunt, and she had already been married and divorced once before. Brunt was the CEO of a security company at the time, and he had never been married. "When I met Doug, I was confused at first. He was different from what I thought I wanted — more reserved, less cocky," the former NBC News reporter confessed on an episode of her podcast "The Megyn Kelly Show." "He was kind, he was smart, he was strong but not in a domineering way, and in no way intimidated by me or my strength. He was a gentleman."
All good things, but the journalist was skeptical. Shortly before their 15th anniversary, Kelly had her husband Brunt as a guest on her show to talk about their early relationship, and she mentioned a journal entry. "I wrote something to the effect of, 'Is it possible that this guy loves me and isn't a serial killer? There's got to be a shoe to drop here because he's too good.'"
She eventually gained confidence in Brunt, and when he proposed on a beach in 2007, Kelly immediately said yes. The two were married in March 2008, and had their first son together in 2009, followed by a daughter in 2011, and a second son in 2020.
The couple had to re-do their first kiss
When Megyn Kelly met Douglas Brunt, she had a very serious personal problem — she was being stalked. For her safety, she had round-the-clock security with bodyguards who accompanied her everywhere she went, including her dates with Brunt. "I had to kiss her in front of the security guards," the "Ghosts of Manhattan" author confessed to Humans of New York. "It was awkward. It was like our parents were watching."
"I was nervous," Kelly admitted to Access Hollywood. "It was like a performance ... It was not my best, I'm gonna be honest." The journalist decided the moment needed a do-over. When she went to meet Brunt at his hotel the next day, she told her guards to stay in the car while she went upstairs. Brunt recalls, "She knocked on my hotel room door. She was alone. She walked into the room, and said: 'I can do better.'"
As for her initial hesitation about Brunt being too good to be true, she later declared on "The Megyn Kelly Show" that all questions about his authenticity were officially cleared up. "It's not fake, you're real, you're just as awesome as I always knew you were."