Kate Middleton's Most Stunning Red Carpet Moments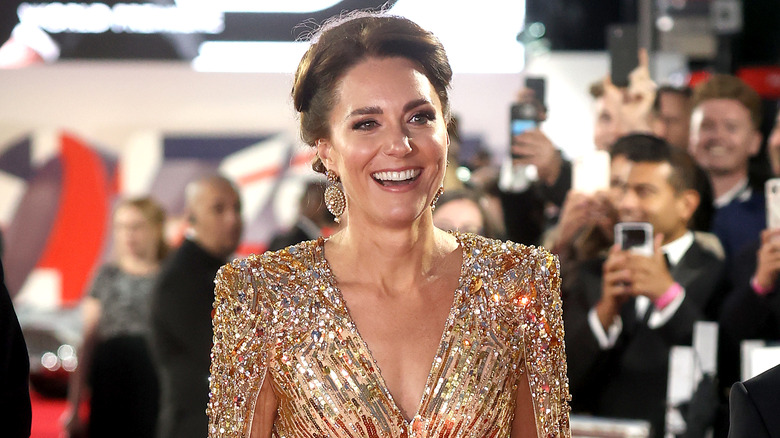 Chris Jackson/Getty Images
Catherine, Princess of Wales, knows how to walk a red carpet. As one of the most photographed women in the world, the princess can pull together a look that absolutely slays time and again. We love catching glimpses of her ensembles; not only does she give nonstop style inspiration, but she's also had a really remarkable fashion journey. She's had a fascinating evolution, and Kate Middleton's style has notably changed throughout the years. She's gotten some flack a few times for wearing inappropriate outfits, but for the most part, Catherine doesn't get it wrong. She's even had some cute moments where she and her husband, Prince William, coordinated their outfits. They'll show up at outdoor events in matching utility jackets, or he'll match his tie to her dress and more formal occasions. It's really adorable. 
When it comes to major red carpet events, Kate and William don't necessarily coordinate, but they both get really dressed up. Since William mostly wears a black tuxedo to these events, all eyes are on Catherine. She's recycled looks, and she's stepped out in never-before-seen show-stopping gowns. While it's nearly impossible to pick our favorites, these are Kate Middleton's best red carpet looks. 
Catherine wears Alexander McQueen to the 2011 Brits to Watch Awards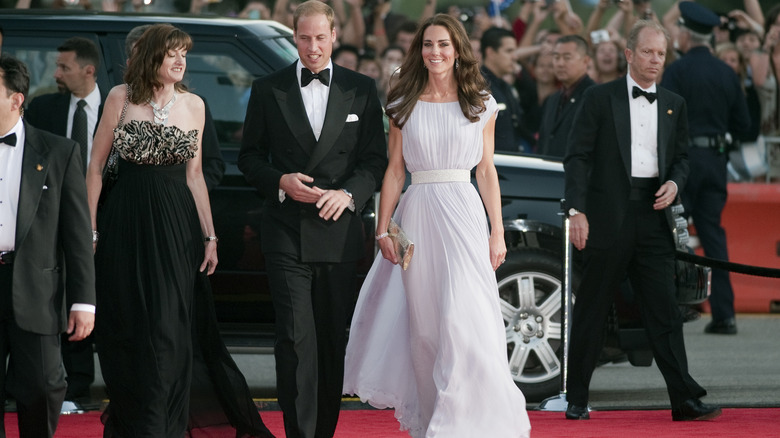 Pool/Getty Images
Shortly after her wedding to Prince William, which took place on April 29, 2011, Catherine, Princess of Wales, stepped out in a dazzling look. She and Prince William attended the British Academy of Film and Television Awards' special event "Brits to Watch Award," which was hosted in Los Angeles on July 9, 2011. Catherine's gorgeous wedding dress, made visible to the world only months before, was designed by Sarah Burton for Alexander McQueen. For her BAFTA dress that year, Kate stayed loyal to the fashion house and wore a pale lilac gown by Alexander McQueen that was cinched in at the waist with a white belt. She wore simple Jimmy Choo heels and a gold clutch. She rocked her signature, loose curls, worn down long around her shoulders. 
It was Catherine's first time at the BAFTAs, and so it was a big moment for her as a newly minted royal. But it wasn't without some controversy. Since the princess had quickly become one of the most sought-after women in the world, hosts and organizers of the award ceremony worried that she might steal the show. "But it was then expressed by senior staff within BAFTA that Kate's attendance will totally distract from all the film stars there," a source told The Sun. The concern was obviously not enough to stop William and Kate from coming. And sorry to the other stars, but she totally stole the show and has continued doing so all these years later. 
Kate rocks Roland Mouret at a 2013 film premiere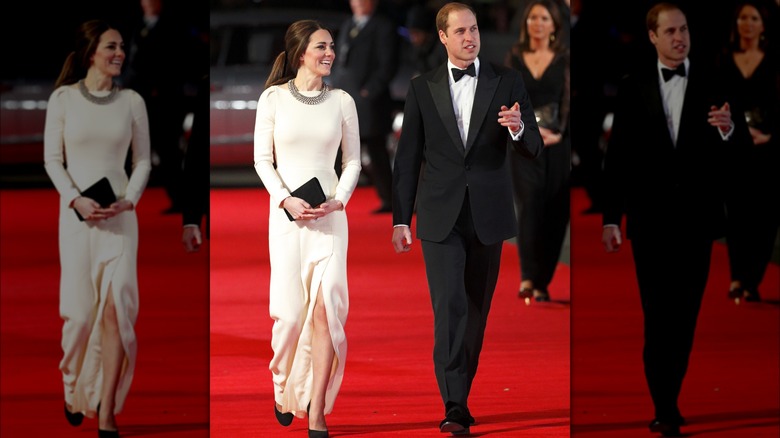 Max Mumby/indigo
In December 2013, Catherine, Princess of Wales, and William, Prince of Wales stepped out to attend the premiere of "Mandela: Long Walk to Freedom" at Leicester Square in London. The duo were brand new parents; their eldest, Prince George, was born on July 22, 2013. So George was just a wee baby when parents Catherine and William took a night off of childcare to attend the event. Kate wore a cream-colored gown by Roland Mouret that featured a front slit on the otherwise conservative dress. She paired her dress with dark heels and a black clutch, and accessorized with a statement necklace. While we're used to seeing her rocking her signature, flowing locks, she did something a little different that night. She wore her hair pulled back in a low ponytail.
The cream gown was actually a repeat dress for Princess Kate. She already wore the Roland Mouret dress back in May 2012 when she and the hubby had dinner at Claridge's, an event that was hosted by the Thirty Club in London. For anyone who follows Catherine's fashion journey, the fact that she wore a recycled look on the red carpet is nothing new. What she does is accessorize the recycled dress in creative ways, and she wears her hair in a different style to give the look its signature flare for the event. With this Roland Mouret gown, she did a great job of giving it an aesthetic all its own.
Wearing Jenny Packham at the world premiere of '007: Spectre'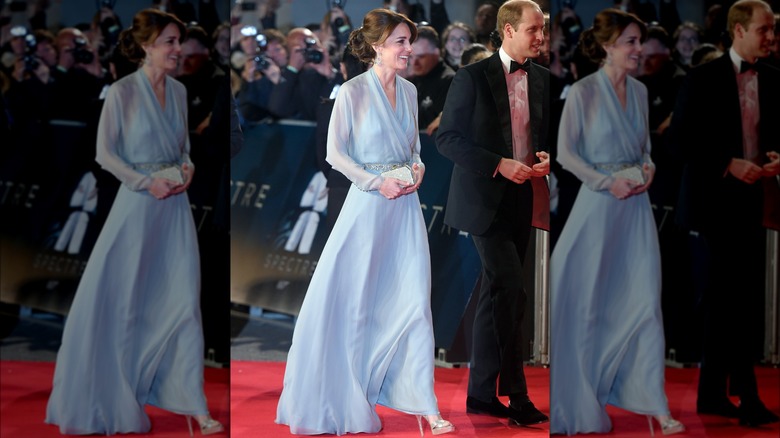 Karwai Tang/Getty Images
Catherine, Princess of Wales, stepped out for the premiere of "007: Spectre" at the Royal Albert Hall in London on October 26, 2015. With Prince William as her arm candy, Catherine wore a Jenny Packham gown in pale blue. The dress featured long, sheer sleeves, and Kate cinched it with a silver belt. She sported a small clutch and silver heels, pulling her hair back in a delicate chignon. Prince Harry was in attendance, joining his brother and sister-in-law since this event was before he got married to Meghan Markle. The trio got to meet the cast of that James Bond production, particularly star Daniel Craig. While Kate had two royal men on her arm, it was the dress that stole the show. 
On X (previously Twitter), people commented on how modest and classy the look was. "She looks both comfortable and elegant," one person tweeted. Another person credited designer Jenny Packham by writing, "Packham deserves OBE or whatever it is. Breathtaking." The tweeter was referring to the award known as an Order of the British Empire, when the English monarch recognizes someone who's making huge achievements in their specific field. While Jenny Packham does not have an OBE, she has provided Catherine with some absolute home runs in terms of her red carpet looks. 
Kate sported a Self Portrait dress to the London premiere of 'A Street Cat Named Bob'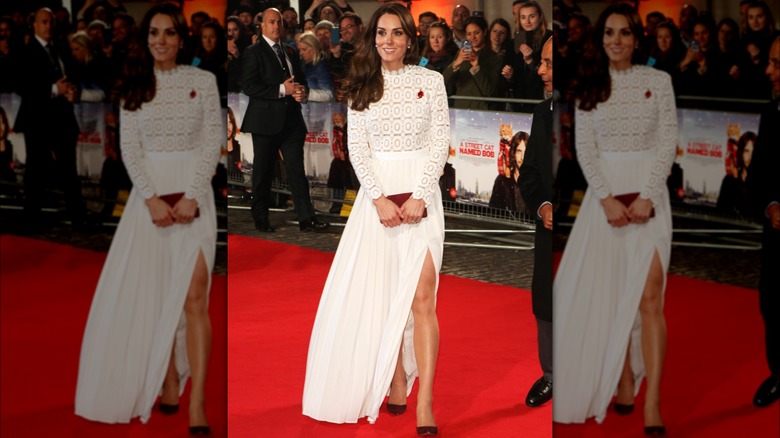 David M. Benett/Getty Images
On November 3, 2016, Catherine, Princess of Wales, attended the premiere of "A Streetcat Named Bob" at the Curzon cinema in London. For the event, the princess wore a white maxi-dress by the brand Self Portrait that cost roughly $380 U.S., so it wasn't terribly expensive in terms of red carpet gowns. The white dress featured a high slit to contrast the high neckline and long sleeves. Catherine accessorized the white gown by bringing red into the look. She wore red pumps, held a red clutch, and wore an enameled poppy on her chest. She rocked her hair in the classic, long loose curls that we love on her. Kate has long loved the brand Self Portrait and has frequently been photographed in looks by the company. Interestingly, she'll frequently have pieces altered for modesty, particularly if a neckline is too low. However, for this white dress, she clearly chose to rock the thigh-high slit. It's a great choice for a red carpet. 
Princess Kate attended the event as a royal duty since she was acting as the patron of the charity Action On Addiction, and the event showcased films about addiction and recovery. The event centered around the real street cat, whose name was indeed Bob. Catherine got to greet the famous cat, who was humorously ambivalent about the big moment.   
Catherine wears a floral Alexander McQueen gown to 2017 BAFTAs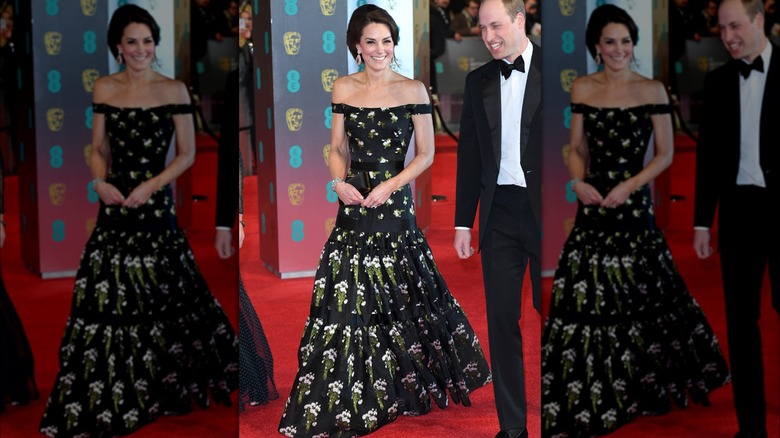 Karwai Tang/Getty Images
Catherine, Princess of Wales, returned to Alexander McQueen for the British Academy Film Awards on February 12, 2017. The event took place at the Royal Albert Hall in London. Her gown was a black, tiered, off-the-shoulder look that cinched at the waist with a black band. Kate stayed monochromatic by carrying a black clutch. She wore dangly, statement earrings and pulled her hair back in an updo. Prince William wore a classic, black tuxedo, but, unsurprisingly, the attention was on Catherine and her dress. "Holy glamour," one person tweeted. "Kate ... gorgeous as usual. She is a treat for the eyes and sweet to boot," another added. 
This wouldn't be the last time we'd see this dress, though. In March 2019, Catherine wore this same Alexander McQueen gown to the NPG Portrait Gala at the National Portrait Gallery in London. However, the top of the dress was altered; instead of featuring an off-the-shoulder design, the 2019 version of this dress had a square neckline with sleeves. While both versions were gorgeous, we have to say that the off-the-shoulder look was a little more glamorous on the red carpet. 
Kate stunned at the 71st British Academy Film Awards at Royal Albert Hall in London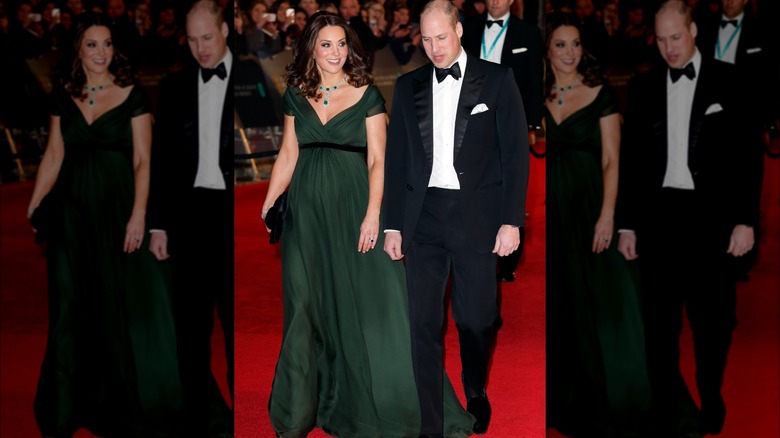 Max Mumby/indigo
It's not terribly surprising that we see Kate Middleton and Prince William so regularly at the BAFTAs. Prince William became the royal president of the British Academy of Film and Television Arts in 2010, even before he and Catherine got married, so this is one reason why we see the couple so frequently at these events. On February 18, 2018, Catherine and William showed up at the 71st BAFTAs at the Royal Albert Hall in London. While William wore his classic tuxedo, Catherine wore a dark green gown by Jenny Packham, and heavily accessorized the look with a show-stopping collection of emeralds and diamonds. The look was, of course, a maternity look as Princess Kate was pregnant with their third child, Prince Louis, at the time. 
Surprisingly though, Kate's dress actually sparked some controversy. In 2018, several Hollywood stars decided to wear black to red carpet events to show their solidarity with the Me Too movement and Time's Up. There was much curiosity as to what Catherine would wear; people were curious if she'd show her solidarity with women in Hollywood by wearing black. When she arrived in green, some were disappointed that she didn't use her spotlight to support the endeavors. To be fair, though, royals rarely take sides in public issues such as these. And perhaps Kate gave a nod to these movements by wearing the black waistband and carrying the black clutch. 
Catherine wore white Alexander McQueen at the 72nd BAFTAs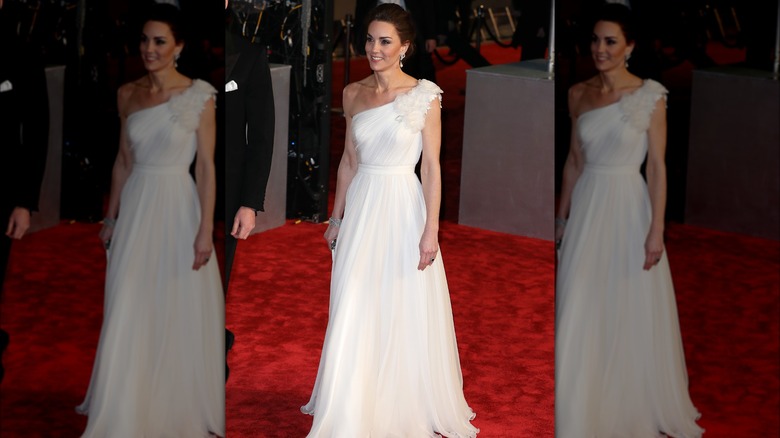 Neil Mockford/Getty Images
For the 72nd British Academy Film Awards on February 10, 2019, Catherine, Princess of Wales, must have gotten bridal nostalgia. Just like her wedding dress, Kate wore a white gown by Alexander McQueen to the Royal Albert Hall in London for the event. The look was both romantic and contemporary; the flowing skirt was beautiful while the single shoulder had a modern, sexy edge to it. For footwear, Kate opted for a pair of sparkly Jimmy Choo heels and carried a white, satin clutch.
Catherine's jewelry was especially significant at this event too. She wore a diamond bracelet from the late Queen Elizabeth II's private collection of jewelry. She also wore large diamond and pearl earrings that had once belonged to her mother-in-law, Princess Diana. In order to give the earrings some attention, Catherine wore her hair pulled back in a chignon. What was extra touching about the gesture was that Diana had worn those earrings in 1991 when she was at the Royal Albert Hall, so the aesthetic had a significant pull back to the past. 
Kate wears a recycled gold and white Alexander McQueen dress to the 2020 BAFTAs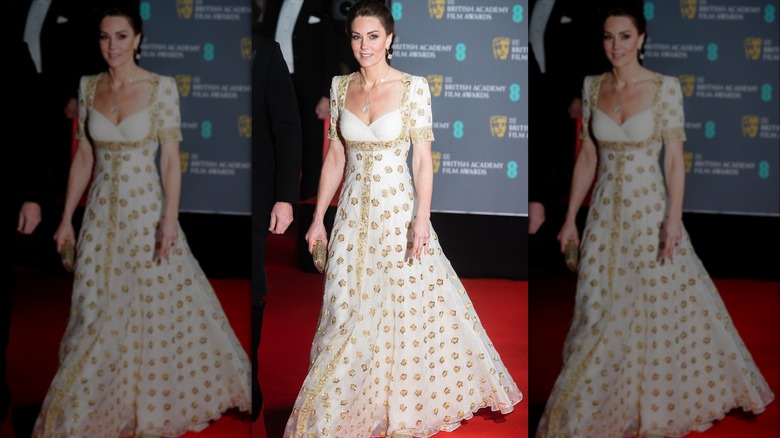 Samir Hussein/Getty Images
When Catherine, Princess of Wales, finds a designer she likes, she sticks with them. For the 2020 BAFTA Film Awards, on February 2, 2020, Catherine wore a white and gold gown from Alexander McQueen gown by Sarah Burton. She accessorized the look with a gold pair of Jimmy Choo heels and a glittering, gold clutch by Anya Hindmarch Marano. Kate's jewelry was also notable with this look. She wore a necklace and earrings by Van Cleef and Arpels Magic Alhambra that cost almost $17,000, per E! Online. 
This dress was actually recycled, as the princess wore the gold and white gown while on a trip to Malaysia. She and Prince William were dinner guests of His Majesty The Agong at the Istana Negara Palace, where protocol required that women would cover their arms. The dress was also designed to feature hibiscus flowers, a signature flower of Malaysia. Because the dress was so specifically chosen for Malaysia, it's interesting that she chose to sport the look in 2020 at the BAFTAs. Part of her choice was likely to set an example of re-wearing clothes to resist any look of excess coming from the royal family, and part of it may have been nostalgia for a long-finished trip. And likely, she picked the dress because she looks amazing in it and it's a great gown. 
The London premiere of 'No Time to Die' at Royal Albert Hall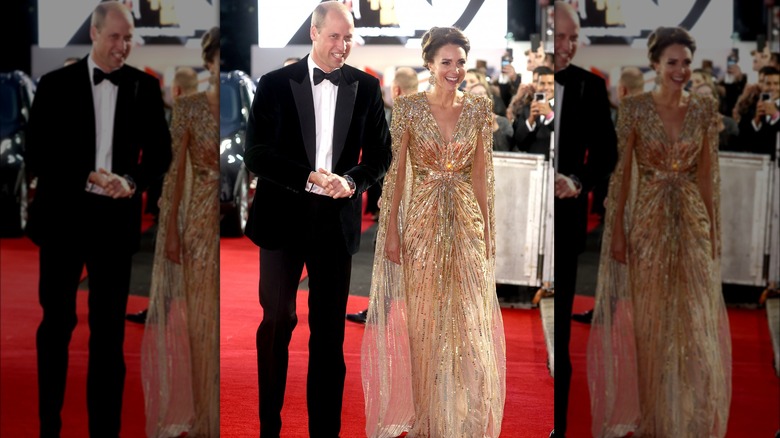 Chris Jackson/Getty Images
The dress that Catherine, Princess of Wales, chose to wear to the James Bond premiere of "No Time to Die" may very well be one of the greatest looks of her life. While we've seen Kate's red carpet looks remain consistently glamorous, the golden Jenny Packham cape dress that she rocked on September 28, 2021, was so stunning that no one was quite expecting it. The look was so incredible largely because of the cape feature, but also because of Catherine's entire aesthetic. Her hair pulled up in a stunning updo was elegant, while her statement gold earrings added to the excess of the ensemble in all the right ways. 
The dress was also specifically designed with the James Bond premiere in mind. Jenny Packham spoke about creating Catherine's dress, in addition to a few others, with James Bond filmmakers. "From Ursula Andress walking out of the ocean in her white bikini with a knife strapped to her hip to Caterina Murino in "Casino Royale" draped in sultry pomegranate satin, the fashions of the Bond women are unique and timeless," Packham said, per People. "Creating a collection of Bond-inspired gowns in collaboration with EON Productions has been incredible." Kate's particular dress was inspired by the Bond classic "Goldfinger," and overnight, the princess becomes a Bond girl.
Catherine rocks her Alexander McQueen gown for the Earthshot Prize Awards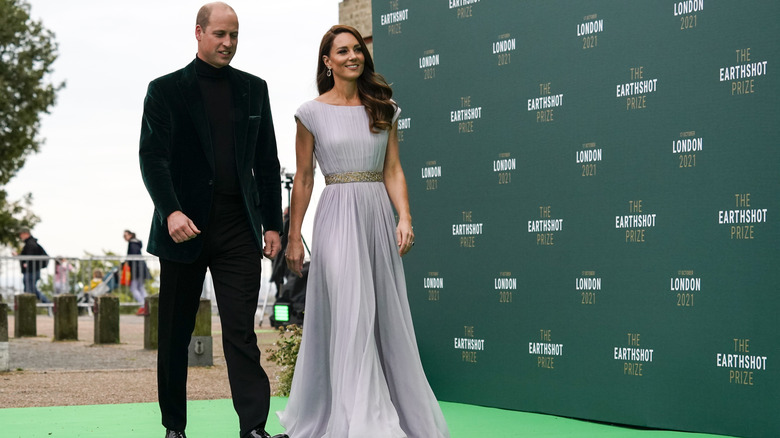 Wpa Pool/Getty Images
We got another great glimpse of Catherine, Princess of Wales, reusing a favorite gown in London on October 17, 2021. She had worn the exact gown a decade earlier in Los Angeles, and here she was, pulling it out for the first-ever Earthshot Prize, hosted at Alexandra Palace. Prior, Kate cinched the dress with a white belt; here, she gave the dress a different look by cinching it with a silver belt. Catherine accessorized by wearing a pair of Kiki McDonough earrings, which were also recycled. She had worn them to the wedding of her sister, Pippa Middleton in 2017.
The Earthshot Prize was founded by Prince William in 2020 as an initiative to support creative ideas to save the planet. Those with the best environmental ideas are awarded over $1 million to fulfill their initiatives, and the award ceremony is a big deal. With so much emphasis on the environment, it certainly makes sense that both Catherine and William wore recycled ensembles. As Vogue notes, guests were asked to "consider the environment when choosing their outfit." William re-wore a velvet green tuxedo jacket with a turtleneck to follow suit. So the two of them set a good example of re-wearing looks, even for major events. 
Kate wears a black and white gown at the London premiere of 'Top Gun: Maverick'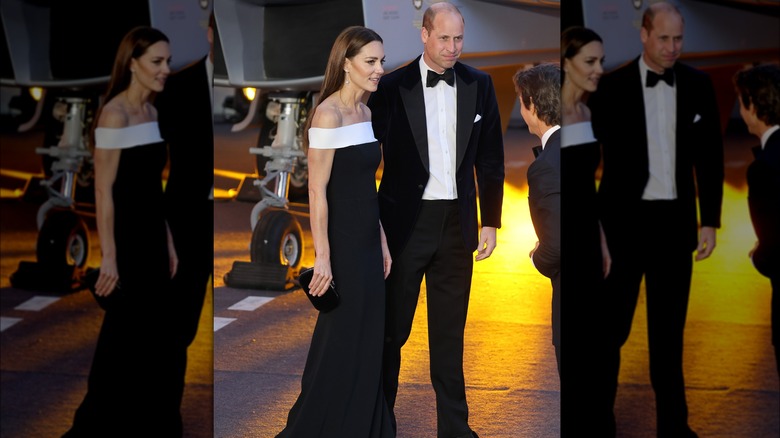 Neil Mockford/Getty Images
For the London premiere of "Top Gun: Maverick," Catherine, Princess of Wales, opted for a modern gown. On May 19, 2022, Princess Kate stepped out at Leicester Square with Prince William at her side in a black and white, sleek gown by Roland Mouret. The dress featured an off-the-shoulder cut, and Catherine kept her accessories to a minimum. She carried a black clutch by Alexander McQueen and wore long, star-shaped earrings, with her hair in a middle part. 
The look was a huge hit. The dress was form-fitting, and outlets like the Daily Mail called it one of Catherine's more "sultry" looks. "It was a bold sartorial move, and the Duchess of Cambridge executed it to perfection," celebrity stylist Miranda Holder told the outlet. "The dress was extremely fitted, highlighting Kate's enviable curves which looked nothing short of sensational, and the Bardot-esque off-the-shoulder neckline exposing her décolletage," Holder went on. The black and white gown marked a new moment in Catherine's red carpet evolution, as it was decidedly more modern than most of her previous looks. The column shape was a distinct departure from the flowing gowns that she had previously favored. Arguably, Kate was modernizing the royal presence on the red carpet. 
Kate goes green at the Earthshot Prize Awards in Boston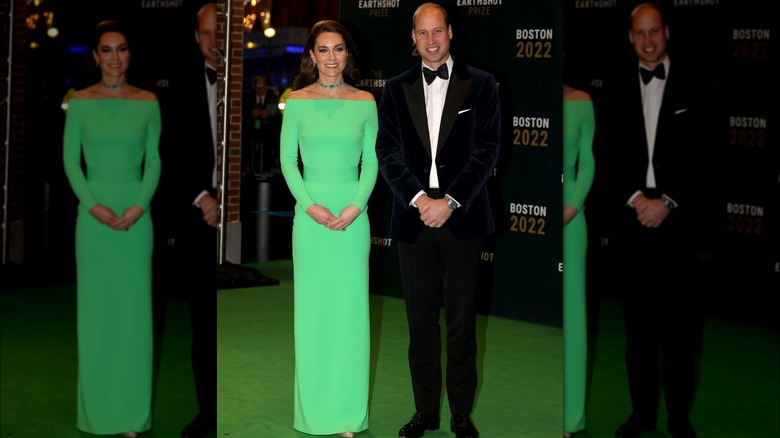 Pool/Getty Images
Continuing her new step towards contemporary looks, Catherine, Princess of Wales, wore a modern dress to the Earthshot Prize Awards in Boston on December 2, 2022. However, the outfit also had nostalgic roots in royal history. For the big night, Kate chose to rent a dress from Solace London, using the rental site HURR. The form-fitting dress featured an off-the-shoulder cut, and the green was an obvious nod to environmental health. While the dress was an even more bold departure from her previous looks, it was a success. "The green dress was such an eye-popping color, it had so many echoes of the late Queen to me," Bethan Holt, fashion director at "The Daily Telegraph," told People. "To do something so unexpected and carry it off, it was such an amazing fashion moment."
Catherine accessorized the minimal look with maximalist pieces. She chose to wear glittering, gold shoes, which added dazzle. But it was her jewelry that was perhaps the biggest statement. She wore the famous emerald and diamond choker that the late Princess Diana had worn as a headpiece while on tour in Australia in 1985 (Diana also wore it as a necklace on other occasions). Kate paired the necklace with emerald and diamond earrings by Asprey. "I loved how she teamed a very accessible rental dress you can hire for £74 with a priceless emerald choker — that was such a brilliant high-low moment," Holt added. It was a home run. 
The whole family at the London Palladium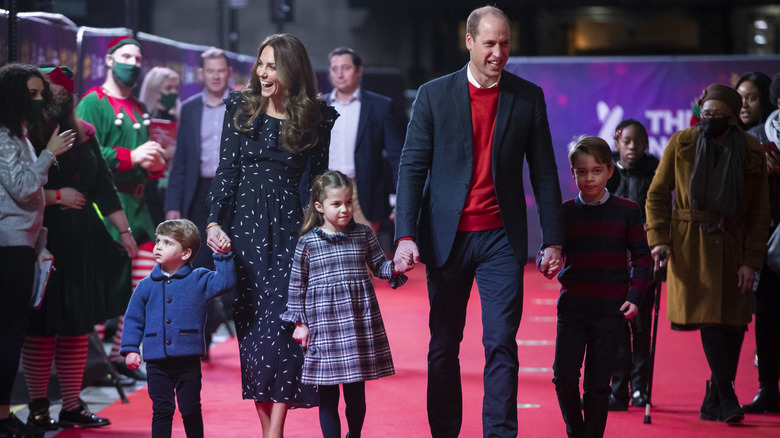 Wpa Pool/Getty Images
In an adorable family moment, the whole Wales gang showed up at the London Palladium on December 11, 2022. Prince William, Princess Kate, Prince George, Princess Charlotte, and Prince Louis all attended a holiday performance and walked the red carpet as a family. They were also there to thank essential workers who served people during the coronavirus pandemic. Since this red carpet event was more of a relaxed, family affair, Catherine opted for a midi-dress instead of a gown. She wore a black and white frock by Alessandra Rich, a long-time favorite designer of hers. 
While Catherine has ongoing relationships with fashion houses like Alexander McQueen and designer Jenny Packham, Alessandra Rich is another designer who has consistently shown up in Kate's wardrobe. Rich herself has spoken up about the influence that Kate has had on her brand. "I am super grateful," the Italian designer told The Telegraph (via Express). "The buyers know the collection is bigger so it is fine that the public mostly knows the more conservative pieces." Rich added, "The Duchess of Cambridge is such a style icon, I can't ever say I'm not thrilled she likes my clothes." Obviously, it's a symbiotic relationship, since Catherine looks great in these looks. 
Kate recycles her white Alexander McQueen gown at the 2023 BAFTAs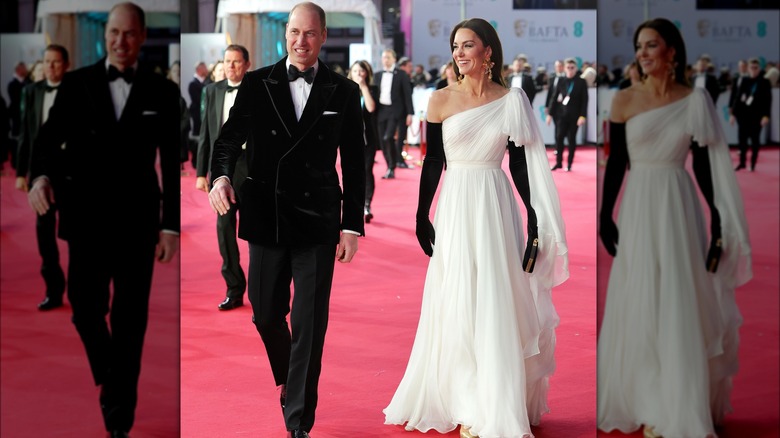 Chris Jackson/Getty Images
On February 19, 2023, Catherine, Princess of Wales and William, Prince of Wales showed up at the Royal Festival Hall in the Southbank Centre in London for the BAFTAs. People instantly recognized her recycled white gown from Alexander McQueen, which she wore in 2019. The dress was altered on the shoulder. What had once featured a small gathering of white flowers was now a flowing bow of material, creating a cascading effect. Kate added a jolt of sex appeal to the outfit by wearing long, sleek opera gloves. She carried a black clutch and wore dangling, opulent earrings from Zara. 
It was the opera gloves that completely revamped the look. "Opera gloves are transformative; they have enormous leverage," Genevieve James, creative director at royal glove supplier Cornelia James, told People. "They turn any event into an occasion and a dress into a statement." In an era of recycling outfits, the opera gloves were a stroke of genius. "Imagine Audrey Hepburn in 'Breakfast at Tiffany's' without the gloves — it's just another little black dress. With the gloves, it becomes iconic and emblematic of our age — always relevant, always contemporary," James went on, praising Catherine for this sartorial move. The look was both fresh and a great revival of a favorite gown that worked so well the first time. If we've learned anything from Kate Middleton, it's that she can take something old and make it exciting again.