Times Tom Bergeron Threw Shade At DWTS After Being Fired
Dave Kotinsky/Getty
In 2020, it was announced that the "Dancing With the Stars" co-hosts Tom Bergeron and Erin Andrews had been fired. When Sean Spicer was cast in 2019, Bergeron posted on his now-deleted X (formerly known as Twitter) account that he met with and spoke with the new executive producer of "DWTS" about not casting politicians. Still, they did anyway (via People).
Then, in July 2020, Bergeron tweeted about his firing and added, "It's been an incredible 15-year run and the most unexpected gift of my career. I'm grateful for that and for the lifelong friendships made. That said, now what am I supposed to do with all of these glitter masks?" (via TV Line).
Bergeron explained why he was really fired from the show on a 2021 episode of Bob Saget's "Here for You" podcast, divulging that it was because he and the producers butted heads on the casting choices. Bergeron reiterated that he did not think politicians or political figures like Spicer should be cast, since "DWTS" was meant to be a fun escape where viewers did not have to think about politics. Since his firing, Bergeron has not held back from shading the dance reality show, especially on his now-deleted X account.
Tom Bergeron used X to throw shade at 'DWTS'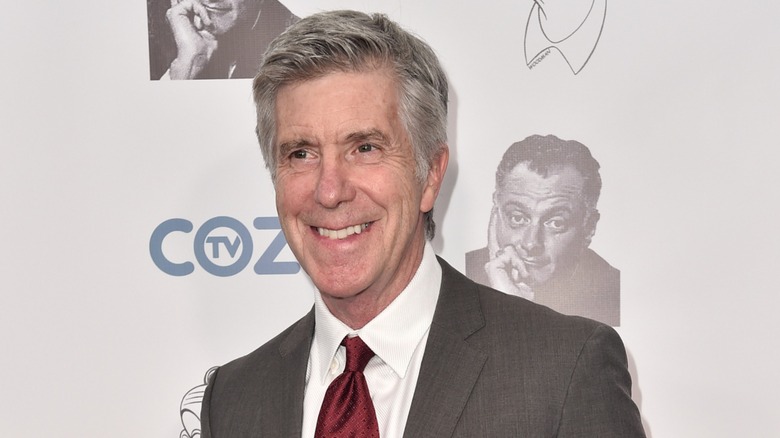 Alberto E. Rodriguez/Getty
In September 2020, X, formerly known as Twitter, had a field day when they noticed Tom Bergeron's new bio on the social media platform. It was a cheeky play on words that read, "Former Co-Host of 'Footwork With the Famous'" (via HuffPost). Fans expressed their joy at seeing the bio, with one fan writing, "Love salty Tom Bergeron." 
Bergeron's shady X bio is not the only time he's made subtle (or not-so-subtle) digs at "Dancing With the Stars." In 2022, Executive Producer Andrew Llinares left the reality show. Deadline reported that he worked Seasons 26 through 30 before exiting.
In Bergeron's tweet criticizing the show for casting a political figure, he did not name the executive producer who ignored what they discussed. However, a fan tweeted at Bergeron asking what he thought when it was announced that Llinares was leaving the show. Bergeron said, "Karma's a b***h," with a winking emoji (via People). It seems that the news of Llinares' firing was not surprising for Bergeron and that he couldn't resist getting the last word.
Tom Bergeron reportedly felt betrayed by 'DWTS' higher-ups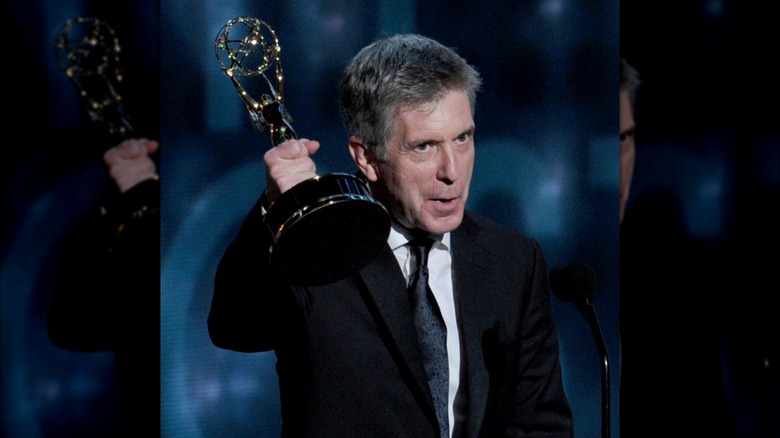 Kevin Winter/Getty
In an October 2023 interview on the "Sex, Lies, and Spray Tans" podcast hosted by former "Dancing With the Stars" dancer Cheryl Burke, Bergeron told more of the story of his fiery "DWTS" exit. He met with the showrunner of "DWTS" and the showrunner's boss at two different lunch meetings in 2019. At their respective meetings, they asked Bergeron's opinion on what to do post-hiatus.
As he mentioned previously, Bergeron implored them not to cast politicians, since the following year was an election year. He said both of them agreed, but that season's cast list included Sean Spicer, anyway. Bergeron didn't like that and said he wouldn't have even if it was a politician he supported. When Bergeron suggested that he maybe take the season off, they said he could get out of his three-year contract.
"And that really pissed me off," Bergeron told Burke. Despite his anger, Bergeron agreed to host Sean Spicer's season, but he made it clear he was lied to on X. "So at that moment I knew, 'This is probably my last season,'" Bergeron said. When Burke asked if it was because of the decision to cast Spicer, Bergeron said, "Because of that one betrayal," referring to how he was lied to at those meetings. Later on in the episode, Bergeron snarked, "Up until that point, there were people with character there [at 'DWTS']."