How Big Of An Age Gap Do Taylor Lautner And Wife Tay Dome Have?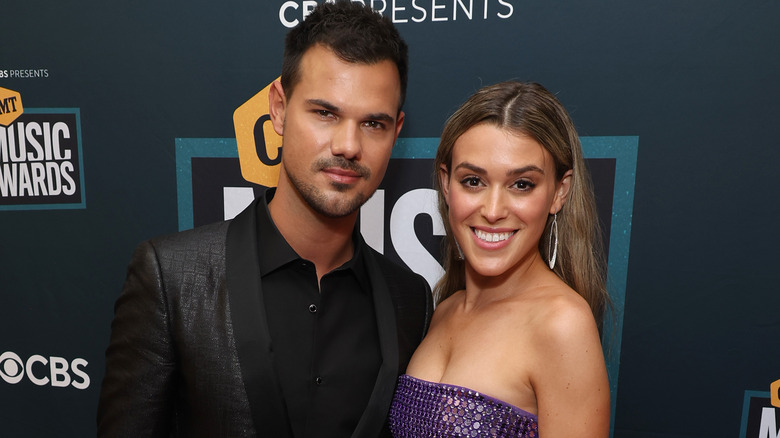 Jason Kempin/Getty Images
Taylor Lautner and his wife are two peas in a pod — and no, it's not just because they share the same name (although that certainly helps). The "Twilight" cast has changed a lot over the years and that includes Lautner, who married social media influencer and model Tay Dome Lautner in November 2022 after five years of dating — and it's all thanks to Lautner's older sister and wingwoman extraordinaire, Makena.
"My sister actually introduced us," Lautner said of his and Taylor Dome's love story on "The Kelly Clarkson Show" in 2022. "We're super close, and she always said that she's going to introduce me to my future wife. I love game nights, so she was like, 'throw a game night, invite me and some of my friends over, I'll bring Tay, she'll just be one of them, you guys can just meet.' And we hit it off, and the rest is history."
Taylor Lautner, born February 11, 1992, and his wife, Tay Dome, born on March 17, 1997, have an almost exact five-year age gap. The pair were 30 and 25 years old when they married in a Friday night wedding at Epoch Estate Winery about 3.5 hours north of Los Angeles.
The Taylors share a not-so-casual casual proposal story
The "Scream Queens" star shared the couple's adorable engagement story in a 2022 interview with Vogue. Lautner said his future wife asked for a small, simple proposal and suggested he pop the question over a glass of wine in their kitchen. Honoring her wishes, Lautner began planning the "casual" proposal — which ended up being not so simple after all.
"With our friend and assistant's help, I had an event arranged for her to go to so we could transform the kitchen while she was gone," Lautner recalled. "We covered the kitchen with hundreds of roses and candles, and it was hardly recognizable. When she got home from her event, she was in for quite the surprise. Later that night, I suggested to her that we get married exactly one year from today on Friday, November 11, 2022 — and we did!"
Lautner shared more behind-the-scenes details from their special moment with Access Hollywood, describing how Tay was so emotional that it took a while for her to respond. "It actually did take her a little longer than expected to say 'yes,'" the actor admitted. "It took a sec, but it was super sweet."
Taylor and Taylor Lautner are now podcast co-hosts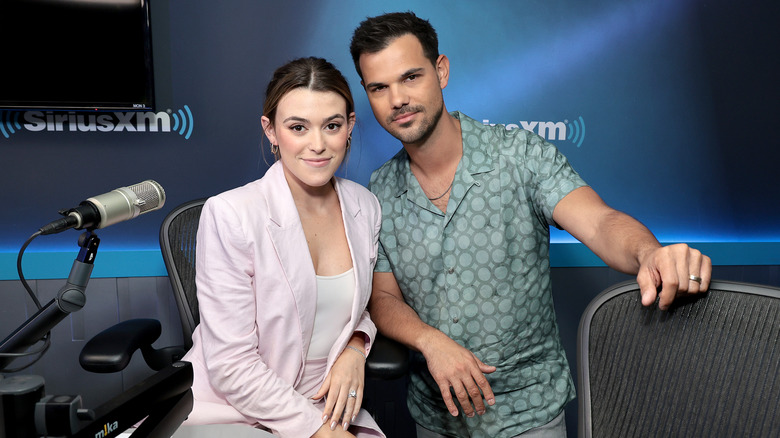 Jamie Mccarthy/Getty Images
Mr. and Mrs. Taylor (and Taylor) Lautner might've gotten married in November 2022, but they hardly took their honeymoon year off. One month after they tied the knot, the newlyweds started a new podcast called "The Squeeze." The show's YouTube bio reads, "When life gives you lemons, what do you do with them? Over here at The Squeeze — we talk about it — "it" being our mental health and well-being."
In addition to diving into their own mental health and relationship journeys, Taylor and Tay have hosted a number of notable guests, including "Wednesday" star Emma Myers, Patrick Schwarzenegger and Maria Shriver, former Disney star Alyson Stoner, and Kenzie Ziegler from "Dance Moms." The podcast was ultimately Tay's idea, with Taylor agreeing to be a part-time host. But as the new bride told PopSugar, she expected her husband would fall in love with it and eventually come on as a full-time host, which he did.
"Our joke — that is slightly a joke but also kind of true — is that it's free therapy for us," Tay told the site. "We get to talk to so many amazing people that feel safe enough to share their stories and what they've been through, and their perspective on things or things they've learned about themselves."