How Rumors That Miley Cyrus' Mom, Tish Cyrus-Purcell, Had An Affair With Brett Michaels Began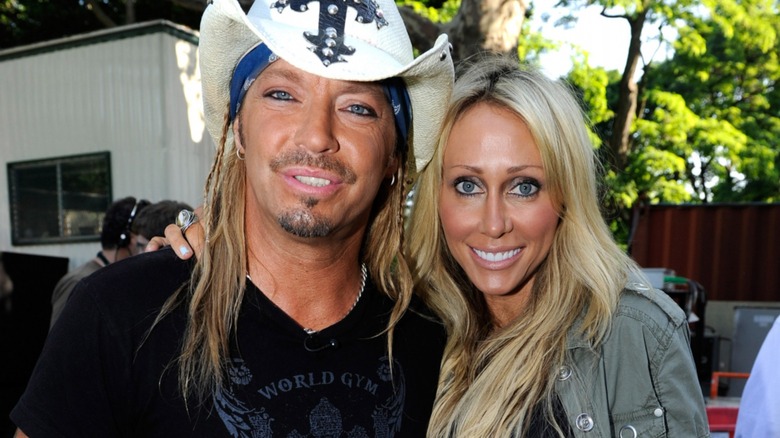 Kevin Mazur/Getty
The rumor mill really went to work regarding Miley Cyrus' parents' relationship back in 2010. In October 2010, it was announced that Billy Ray Cyrus had filed for divorce from Tish Cyrus (now Tish Cyrus-Purcell). A few weeks later in November 2010, Us Weekly published that it was because of infidelity. Reportedly, Cyrus-Purcell and Bret Michaels from the band Poison had an affair. The anonymous sources that told the outlet about this speculation also said that Tish reportedly had another fling with somebody else, and the cheating is what drove Billy Ray to file.
The insiders claimed that Cyrus-Purcell and Michaels became closer after Miley and Michaels sang a duet together, and how that led to the affair. The supposed evidence was that Cyrus-Purcell was spotted at one of his concerts, along with the fact that Michaels had potentially discussed a professional collaboration with Cyrus-Purcell (turning a book he wrote into a movie).
"Billy Ray was completely unaware of what was going on," the insider said. However, Michaels' team said that such a thing did not happen: "There has never been an affair or a fling." Cyrus-Purcell's representative said the same, but the source for Us Weekly was adamant it was true.
Bret Michaels cleared the air and reiterated that nothing happened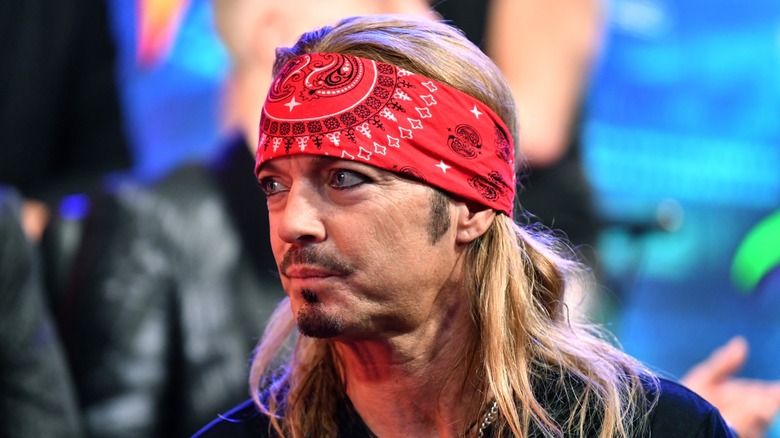 Emma Mcintyre/Getty
What really happened between Bret Michaels and Tish Cyrus-Purcell? In addition to their representatives' comments denying any affair, Michaels did it himself on "Fox and Friends" in November 2010. In the clip uploaded to TMZ, the host asked Michaels about the rumors and if there was any truth to them.
"The answer is no," Michaels said. "But here's the thing, I've been friends with her family forever. It started out with me and Miley [Cyrus] simply working on a song together." He went on to say that Cyrus-Purcell liked his song "Every Rose Has Its Thorn," so they wanted Miley to record a cover of it for her album. Then, Miley sang with Michael on his song "Nothing to Lose."
"And honestly, that was — she did a beautiful job," Michaels said. "And then, that was it. You know, and they started with all that controversy, so." The controversy Michaels alluded to could be the alleged affair between him and Cyrus-Purcell, but it also likely referenced the negative reaction to "Nothing to Lose." The song's racy lyrics sparked upset due to Miley being 17 years old at the time, and Michaels admitted to Entertainment Weekly he should've thought it through more before they collaborated on that one.
Tish Cyrus-Purcell and Bret Michaels' real-life relationships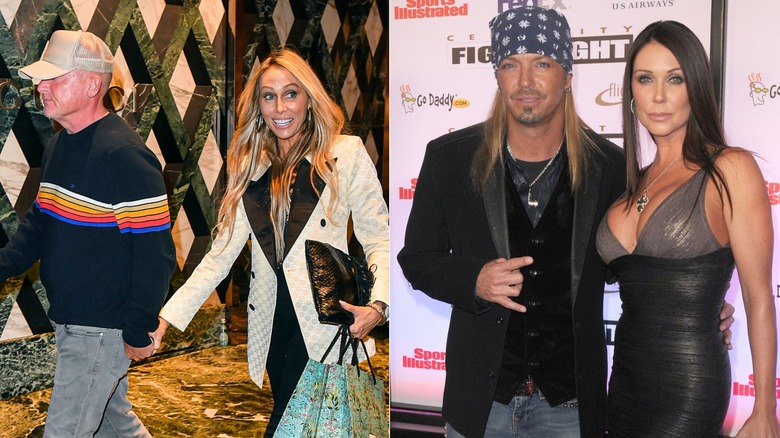 Mega & Scott Kirkland/Getty
Tish Cyrus-Purcell and Billy Ray Cyrus actually changed their minds a few times about divorce after the initial 2010 announcement. In 2011, Billy Ray announced, "I've dropped the divorce," on "The View" (via People). Two years later in 2013, Cyrus-Purcell filed for divorce, but only a few months later it was dropped again, with the couple mentioning couples therapy and the desire to "make it work" (via People).
However, Cyrus-Purcell and Billy Ray did eventually get divorced in 2022. A few months afterward, Billy Ray got engaged to his now-wife, singer Firerose, but Miley Cyrus reportedly didn't want her dad to tie the knot with her. The couple did in October 2023. Cyrus-Purcell found a new beau in actor Dominic Purcell. Cyrus-Purcell and Purcell's relationship moved fast, as the couple wed in August 2023 after getting engaged during Thanksgiving 2022.
Bret Michaels has had his fair share of on-and-off romances. He and Kristi Gibson dated periodically for about 16 years before he proposed in 2010, although they ended their engagement two years afterward. They still co-parent their daughters Raine and Jorja Michaels. Michaels told People in 2023, "We're great parents together, and we sincerely love our kids."