A Look Back At Steve Harvey And Bob Saget's Friendship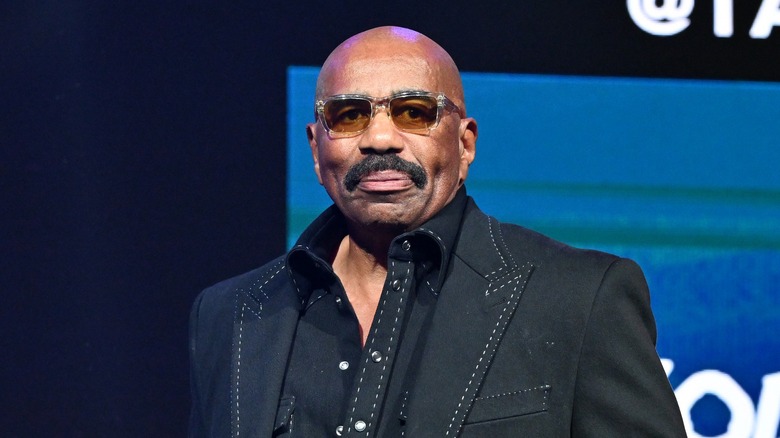 Paras Griffin/Getty
After Bob Saget's death in January 2022, Hollywood reacted to the news and shared plenty of sweet tributes to the late comedian much like his millions of fans. One person who had known Saget for a long time was comedian Steve Harvey. Harvey interviewed Saget on his talk show, "Steve," a few years before the "Full House" star passed away. 
The clip, which was uploaded to YouTube in 2023, showed Saget receiving a standing ovation from the studio audience. He also told Harvey, "I'm so happy to see you. You and I go way back." The entertainers pointed out that they'd known each other since Harvey was on ABC's "Me and the Boys" which, like "Full House," was a sitcom about a widower raising three children. As the interview continued, Saget talked about the "Fuller House" spinoff and how the cast of the show was still incredibly close even after all that time. 
The duo also played a game called "Family Fails," where Saget (who used to host "America's Funniest Home Videos") had to guess what bad thing was going to happen next in a series of home videos. Following Saget's death, Harvey provided further insight into their longtime friendship in a late-night interview. 
Saget reached out to Harvey before he passed away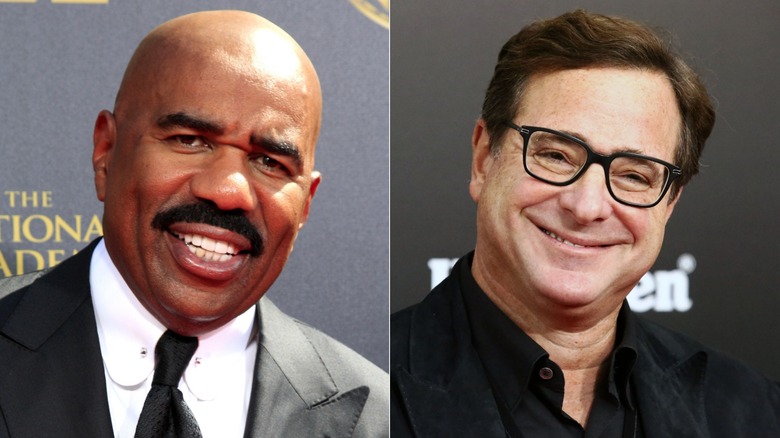 Joe Seer/Shutterstock & Astrid Stawiarz/Getty
Steve Harvey was interviewed on "Jimmy Kimmel Live" soon after Bob Saget's death, predominantly to discuss his new show "Judge Steve Harvey," but the host also took the time to ask if Harvey and the late comedian were close. "We were at shows together on television," Harvey confirmed. He went on to explain that they would often do press events together and then revealed that Saget was nothing like the character he played on TV (referring to "Full House" clean freak Danny Tanner). 
Harvey also noted he was not like his character either, presumably referring to "Me and the Boys" protagonist Steve Tower. "When we would see each other offstage," the "Family Feud" host told Kimmel with a grin, "we would just cuss each other out." Then, Harvey shared the touching last email he received from Saget. Very shortly before Saget's death, he asked his buddy to be a podcast guest. 
"He really respected the moral stances that I take," Harvey explained, "and he was just talking about all the good times we had. ... So it was a little hard, man, today. You know, he was a great dude, man." The duo also discussed how surprising Saget's dark comedy could be, especially coming from such a kind person.
Another tribute to the late actor was similar to Harvey's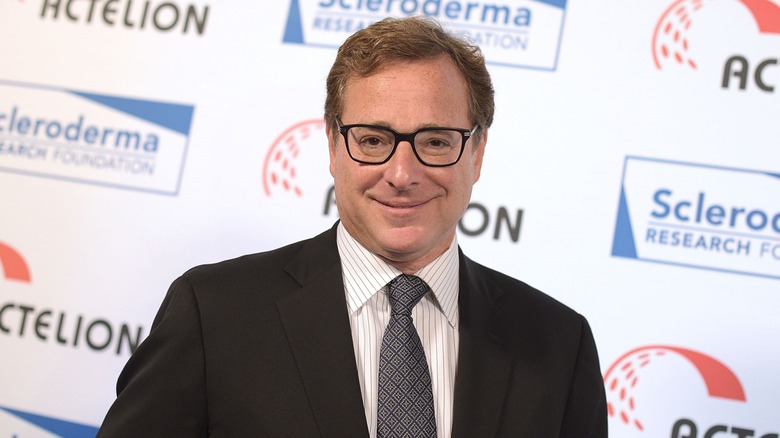 Jason Kempin/Getty
Steve Harvey is one of many famous friends who honored Bob Saget after he passed away. Musician John Mayer and comedian Jeff Ross shared their own tributes to Saget following his untimely death, including a livestream on Mayer's Instagram account that echoed what Jimmy Kimmel and Harvey said about Saget's innate kindness.
"I've never known a human being on this earth who could give that much love, individually and completely, to that many people in a way that made each person feel like he was a main character in their life and they were a main character in his life," Mayer gushed as he and Ross drove Saget's car home from LAX (via People). Ross also expressed how Saget was great at looking after people. 
Similar to what Saget told Harvey on his talk show, Ross confirmed that Saget turned the "Full House" actors into "his real family." They finished their livestream by asking people to donate to the Scleroderma Research Foundation, a cause important to Saget since his sister passed away from the condition. Mayer and Ross also shared a selfie on Instagram of the car's empty backseat, with the caption: "Love you Bob."