Steve Harvey Shares The Touching Last Email He Received From Bob Saget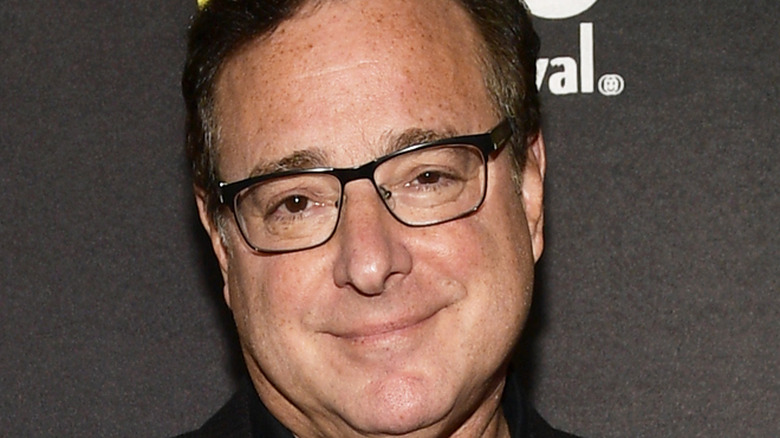 Matt Winkelmeyer/Getty Images
When Bob Saget passed away at the age of 65, he left behind family, friends and fans who are deeply mourning his loss. A host of famous friends gathered together at The Comedy Store for a farewell event organized by Saget's wife, Kelly Rizzo, with performances from Jim Carrey, Chris Rock, Darren Criss, Seth Green, Jodie Sweeten, Michael Keaton, and more. "Since Bob left this world mid-joke on a comedy tour, it only felt right to honor his memory in a place where the lights are low, the drinks flow freely, and the gut-punch of pain is overcome with belly laughs of love," John Stamos told People.
While Saget was best-known for his role as "America's Dad" Danny Tanner on "Full House," standup seemed to be his first love. Before his death, he posted on Instagram that he was "back in comedy like I was when I was 26. I guess I'm finding my new voice and loving every moment of it." But audiences might have been surprised to find that Saget's humor could be dark and raunchy. "The dude that you see on TV, that is not who that was. The father on 'Full House,' now this is a different dude offstage. We both were. When we would see each other off stage, we would cuss each other out. You know, he was an interesting guy," friend Steve Harvey told Jimmy Kimmel (per People). 
Harvey also opened up about the last email he received from Saget.
Bog Saget wanted Steve Harvey to be on his podcast before he passed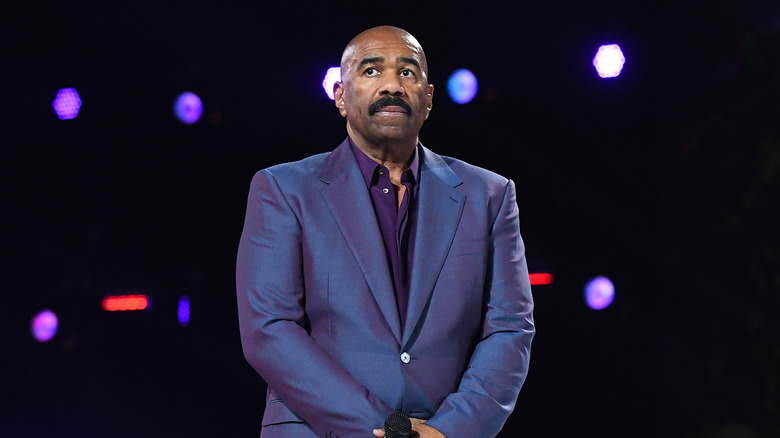 Paras Griffin/Getty Images
During an appearance on "Jimmy Kimmel Live!" Steve Harvey opened up about the last email he received from the late Bob Saget, asking the "Family Feud" host to appear on his podcast "Bob Saget's Here for You." "My staff just told me today, he just emailed me two days ago and they read the email to me this morning and he wanted me to come do this new podcast he had, man," Harvey explained (via People). "He really respected the moral stances that I take. He was just talking about all the good times we had and they read the email to me. It was a little hard. He was a great dude. Great dude."
Dave Chapelle also opened up about receiving a message from Saget before he passed. I didn't see [the death of] Bob coming. Man, he just texted me and I saw the text yesterday and I never texted him back because I was just busy. It happens," Chappelle said (per CNN), adding, "I'm just saying this to remind you that these moments are precious. When I come out at night, I'm not just hanging out. I'm making memories."