Matthew Perry's Complete Transformation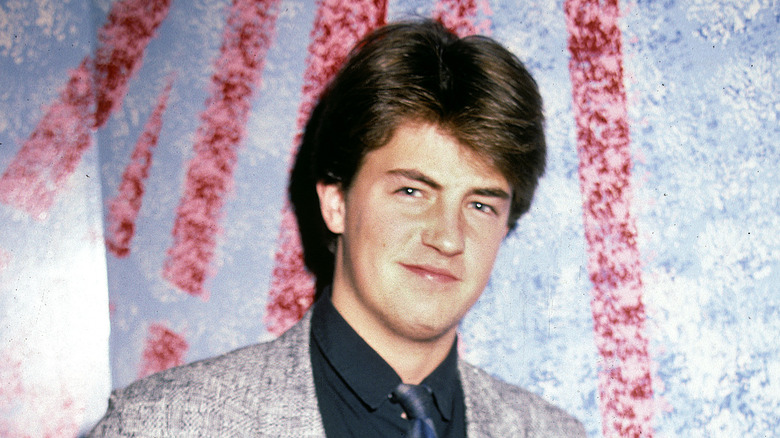 Vinnie Zuffante/Getty Images
The following article includes references to addiction. 
When Matthew Perry died on October 28, 2023, fans around the world were crushed. For more than half of his life, Perry had been lauded for playing Chandler on the iconic sitcom "Friends." And, for many television viewers, losing Perry felt like losing a friend of their own. Over the years, people watched as Perry's character transformed from a gangly guy who was afraid of silences into a married man with responsibilities of his own. Ultimately, this on-screen evolution made a whole generation of viewers feel like they were growing up alongside Chandler and the rest of the "Friends."
Naturally, however, Perry's real-life transformation was much more complex than that of his beloved character. Born in Massachusetts on August 19, 1969, Perry spent much of his childhood in his mother's native Canada. There, the future "Friends" star struggled tremendously — getting into fights, misbehaving at school, and even smoking cigarettes. Perry's complicated childhood eventually gave way to tumultuous teenage years, which saw him barely graduate high school.
Of course, Perry was ultimately catapulted into fame. However, even as he enjoyed a great deal of money and popularity, the actor struggled with addiction. As he told People in 2022, he would have given up all the limelight if it had meant achieving sobriety. "The fact that I would trade it all to not have this disease is true." Thus, Perry grappled with feeling simultaneously proud of his achievements and dispirited due to his disease.
Matthew Perry was born to two unprepared parents
At the time that Matthew Perry was born, neither of his parents were necessarily ready to take on the responsibility of a newborn baby. His mother, Suzanne Morrison, was just 21 years old, and had been crowned Miss Canadian University Snow Queen just two years before. Meanwhile his father, John Bennett Perry, was a 28-year-old folk singer whose biggest claim to fame was a cover of the British nursery rhyme "Don't Let The Rain Come Down," which charted on the Billboard Hot 100. Both Morrison and John would eventually go on to establish stable careers. However, when they welcomed their son, who they affectionately called "Matty," they did not seem prepared to take on parenthood.
Writing about this issue in his memoir, "Friends, Lovers, And The Big Terrible Thing," Matthew recounted the way that his parents split when he was just 9 months old. According to the actor, John drove Morrison from Massachusetts to the Canadian border and left her there with the baby. He then proceeded to travel to California, where he would pursue an acting career — thousands of miles away from his infant son. Meanwhile, Morrison didn't know what to do. As Matthew detailed, "My dad, who later in life became a wonderful father, was leaving his baby alone with a twenty-one-year-old woman who he knew was way too young to parent a child on her own."
As a child, Matthew Perry was torn between two homes
Throughout most of Matthew Perry's childhood, he spent very little time with his father, John Bennett Perry. However, around the time that the future "Friends" actor turned 5 years old, he began visiting his father in Los Angeles for extended periods of time. In the late '70s, he even landed his first professional acting gig: a small guest part on his dad's series "240-Robert."
While it might have been fun for the dad and his son to finally be reunited, the truth was much more complicated than that. Despite their son's young age, Matthew's parents sent him from Montréal to LA as an unaccompanied minor — and the experience rattled him. In his memoir, "Friends, Lovers, And The Big Terrible Thing," Matthew recalled, "For maybe a millisecond I thought it would be an exciting adventure, and then I realized I was too young to be alone and this was all completely terrifying ... One of you guys come pick me up! I was five. Is everybody crazy?" 
According to Matthew, the hardest part about making the journey to California was feeling alone whenever he was scared on the flight. He explained, "I was f***ing terrified. I tried to read my Highlights magazine, but every time the plane hit a bump in the air, I knew I was about to die. I had no one to tell me it was OK." Matthew would later reveal that he eventually sought therapy to help him process that stressful formative experience.
He dealt with his loneliness by behaving badly
As Matthew Perry grew older, he felt more and more alone. Despite the occasional visit to Los Angeles, Perry rarely got to see his father. And, when it came to spending time with his mother, Suzanne Morrison, Perry did not have a whole lot of luck. After all, Morrison was a single mother who had to work long hours to provide for her son. At the end of the day, this led the young Perry to struggle with intense feelings of loneliness. As he wrote in "Friends, Lovers, And The Big Terrible Thing," "I'm not blaming [my mom] for working — someone had to bring home the bacon. It just meant I spent a great deal of time alone. (I would tell people I was a lonely child, having misheard the phrase 'only child.')"
Perhaps, as a result of these complicated emotions, Perry's teenage years saw him acting out. He disrupted class, got into fights, and even started drinking. In his memoir, the future actor recalled that even the arrival of his little sister was not enough to motivate him to behave, "Even though I was now a big brother, I was also the bad kid. One year I went through all the closets before Christmas to see what my presents were; I was also stealing money, smoking more and more, and getting worse and worse grades." On one occasion, he even beat up the future Canadian prime minister Justin Trudeau. 
Matthew Perry moved to LA and went all in on acting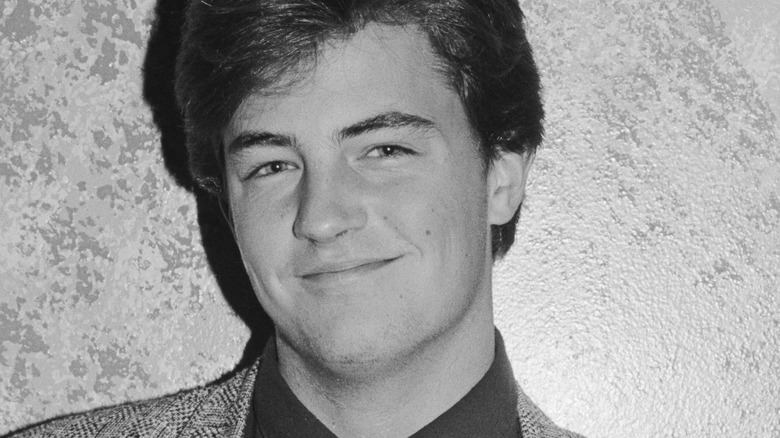 Michael Ochs Archives/Getty Images
When Matthew Perry was in high school, it was decided that he would leave his mother's home in Canada and move into his father's place in Los Angeles. In many ways, this change was great for the young Perry. Not only did he get to build a deeper relationship with his father, but he also got to see more of the world of acting. And, it did not take long for him to fall in love with the craft. 
According to Perry's memoir, "Friends, Lovers, And The Big Terrible Thing," his first brush with the theater occurred when he was cast for a major speaking role in a school play. The experience was wonderful for the teenage Perry, who was desperately in need of a sense of direction. As he would later write in his autobiography, "Acting was another one of my drugs. And it didn't do the damage that alcohol was already starting to do." For Perry, discovering something that he was good at was an incredibly empowering experience — one that also gave him a sense of self-esteem, despite the remainder of his academic struggles.
As time went on, Perry began to see acting less as a hobby than as a potential future career. This was helped by the fact that William Richert approached Perry about the possibility of appearing in the movies when he was 16 years old. Soon, Perry had a part in "A Night in the Life of Jimmy Reardon."
His romantic life was defined by his abandonment issues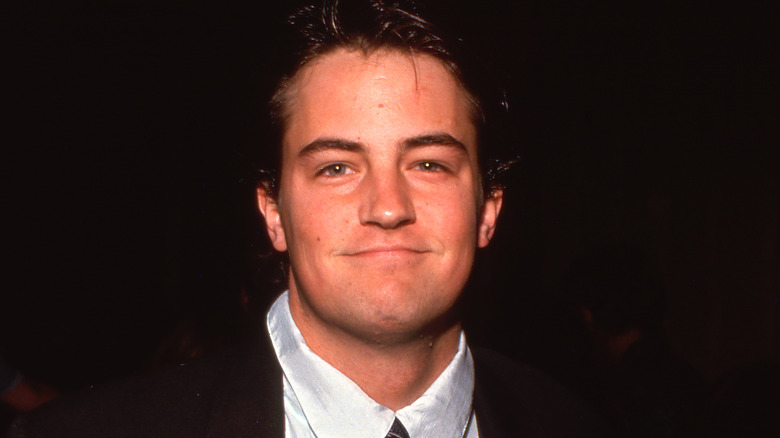 Mediapunch/Getty Images
As Matthew Perry's acting career started taking off, he had more and more opportunities to go on dates. Sadly, though, the young actor had a really difficult time establishing a healthy romantic life. And, the way that he viewed things, this was largely due to the way that his own mother had treated him growing up. Writing in "Friends, Lovers, And The Big Terrible Thing," Perry divulged, "I have spent my life being attracted to unavailable women. It doesn't take a psychology degree to figure out that this had something to do with my relationship with my mother."
Interestingly, Perry posited that his interest in this particular type of woman had something to do with the way his mom, Suzanne Morrison, would ignore him at her work functions. The actor wrote, "I vividly remember being at some fancy ballroom when I was about six years old, and when my mom came in, every head in the room turned. I wanted her to turn and look at me in these moments, but she was working and could not — it took me only 37 years to work that out."
According to Perry, this ballroom episode had a significant impact on his romantic life. In his memoir, the actor admitted that whenever women became interested in him, he would immediately lose interest in them. As he put it, "They were available, so I had to need for them."
The actor's drinking began to interfere with his career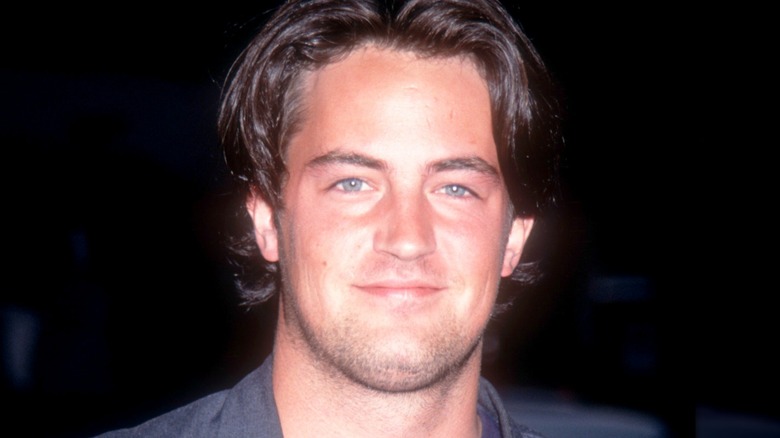 Ron Davis/Getty Images
In many ways, Matthew Perry's acting career got off to a great start. Because he landed his first movie role when he was still a teenager, Perry's early 20s were full of opportunities. He shot a few pilots and even enjoyed the occasional guest star gig — most notably his appearance in the iconic TV show "Beverly Hills, 90210." On top of that, his youthful energy made him perfect for the one-season sitcom "Boys Will Be Boys" (formerly known as "Second Chances").
But, even as Perry experienced some degree of success, he had a secret — he was misusing alcohol behind closed doors. Over time, Perry's drinking began to take its toll on his career. As the actor would later explain in "Friends, Lovers, And The Big Terrible Thing," "I was 24, and already I was missing 50 percent of my auditions. I was tailing out as an actor. Drinking was slowly but surely winning the war against auditions, and no one was really interested in me anyway ... I was hungover half the time, the rest of the time I was on my way to lunch or [my usual bar] the Formosa."
Although Perry was initially able to hide the full extent of his alcohol misuse from many of his friends and colleagues, casting directors began to sense that something was amiss. At one point, Perry's manager apparently told him that he wasn't getting work because he "looked like a mess."
Matthew Perry felt that he was born for the role of Chandler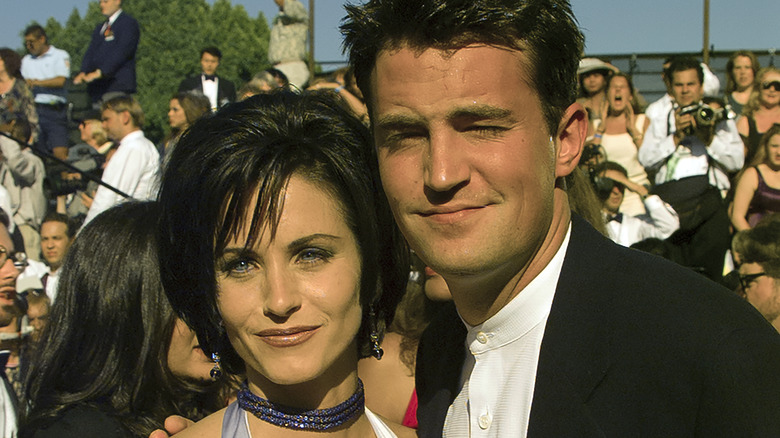 Bob Riha Jr/Getty Images
Right when it seemed that Matthew Perry's career was reaching its tipping point, something amazing happened. A new show — then titled "Friends Like Us" — opened casting, and one of the leading roles seemed like it had been written for him. Indeed, from the very beginning, Perry felt inexplicably drawn toward Chandler Bing, identifying with the character's goofy sense of humor. As he wrote in "Friends, Lovers, And The Big Terrible Thing," "It wasn't that I thought I could play 'Chandler,' I was Chandler."
Compellingly, Perry was not the only one who felt that there was something innately Chandler about him; many of the actor's friends and colleagues had the same impression. In fact, Perry had such strong Chandler vibes that fellow hopefuls trying out for the part looked to him as a resource. In his memoir, Perry recalled, "Because 'Friends Like Us' was the hot ticket of the season, everyone was reading it, everyone was auditioning for it, and everyone, it seemed, decided that the part of Chandler was exactly like me and came to my apartment to ask me to help them with their auditions." 
When it was Perry's turn to read for the casting team, producers, and network, his connection to the character was undeniable. As he remembered, "I got laughs where no one else had." He got the part.
Matthew Perry maintained that Friends saved his life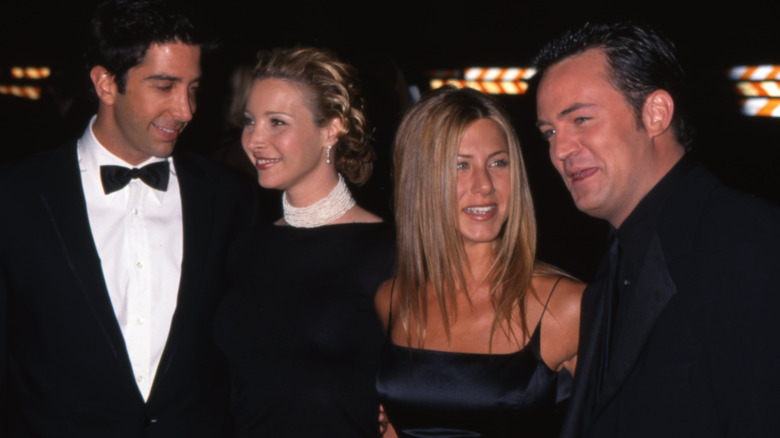 Vinnie Zuffante/Getty Images
It goes without saying that "Friends" represented a huge career opportunity for Matthew Perry. But, the sitcom brought the actor more than just money and fame — it also gave him the chance to focus all his energy on something great. On a personal level, Perry found this transformative. No longer could he hang out at the same bar every night. Following his casting, the actor had to keep some sort of distance from the alcohol misuse that had become a part of his daily life.
In that sense, Perry eventually came to believe that being a part of "Friends" actually kept him from going down a dangerous path. In "Friends, Lovers, And The Big Terrible Thing," the comedian revealed, "That phone call at Fred Segal's ... saved my life. I don't know what would have happened to me had the call gone the other way. It is not out of the realm of possibility that I may have ended up on the streets of downtown LA [misusing drugs] until my untimely death."
Apparently, Perry was so grateful to be involved in such a neat show that he managed to drink less than before. The actor explained, "'Friends' was such a good and fun job that it curtailed everything for a while at least ... I couldn't f**k that up ... When you're earning $1 million a week, you can't afford to have the 17th drink."
Matthew Perry tried very hard to get sober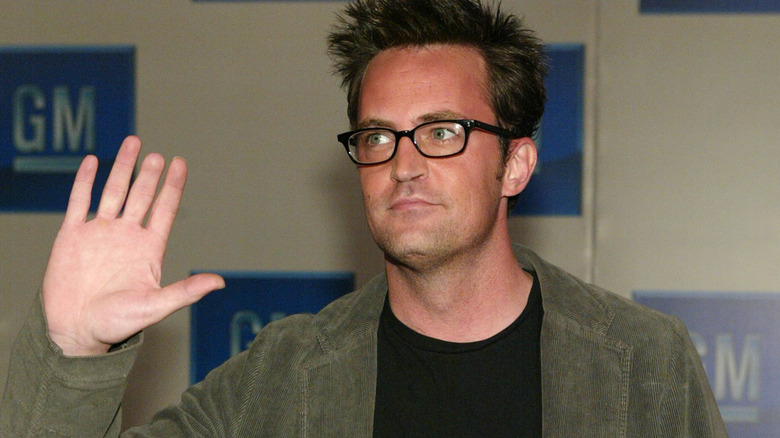 Christopher Polk/Getty Images
In the end, though, Matthew Perry dealt with addiction his entire life. As talented of an actor as he was, he had a disease. And, this disease made sobriety a constant struggle for him. Whereas many of the people around him were able to cut back on their drinking — or quit altogether — with little to no issues, Matthew could not seem to do the same. 
As the comedian recounted in "Friends, Lovers, And The Big Terrible Thing," there was one instance when his father, John Bennett Perry, drank so much that he fell into some bushes. After the fact, John went on a walk, decided to quit drinking, and was immediately successful. The facility with which the older man kicked alcohol to the curb left Matthew in a state of shock. Reflecting on this fact in his book, the actor exclaimed, "Excuse me? You went for a walk and quit drinking?"
In contrast to his father, Matthew had dedicated a tremendous amount of time and resources to becoming sober — to no avail. As he noted in his book, "I have spent upward of $7 million trying to get sober. I have been to 6,000 AA meetings. (Not an exaggeration, more an educated guess.) I've been to rehab 15 times. I've been in a mental institution, gone to therapy twice a week for 30 years, been to death's door. And you went on a f***ing walk?"
Matthew Perry was originally cast in Don't Look Up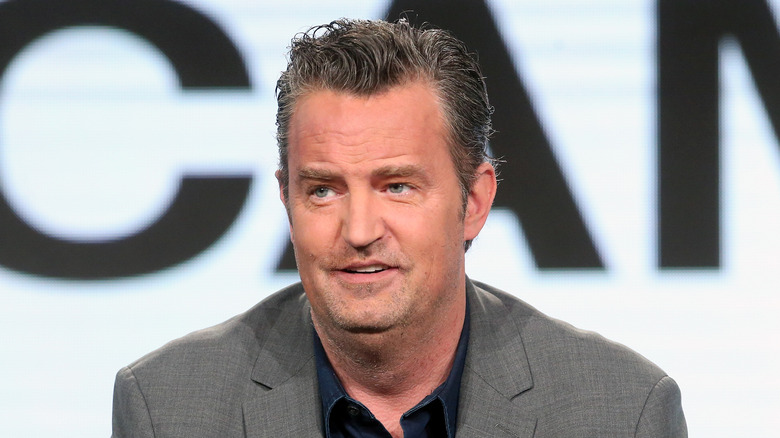 Frederick M. Brown/Getty Images
Unfortunately, as the years went on, Matthew Perry's struggles with addiction prevented him from taking on exciting new career opportunities. Of course, even after "Friends" ended in 2004, Perry was given some great gigs. He appeared in hit television shows, such as "The Good Wife" and even starred in the sitcom "The Odd Couple." That being said, the actor also lost some major jobs because of his misuse of drugs and alcohol.
One of the best examples of this occurred when Perry was cast to participate in the hit film "Don't Look Up." According to his memoir, "Friends, Lovers, And The Big Terrible Thing," he was very excited about this accomplishment. Perry wrote, "This would be the biggest movie I'd gotten ever ... I was to play a Republican journalist and was supposed to have three scenes with Meryl Streep. Yes, that's right. I got to do a group scene (with Jonah Hill among others) in Boston where the movie was filmed."
Sadly, though, Perry was cut from the film after an incident that took place in Switzerland. While in rehab, Perry was misusing drugs. He then underwent a surgery that caused his heart to stop for five minutes. Although his life was saved through CPR, the compressions broke eight of his ribs. In the end, this meant that Perry was in no shape to film a movie, and his part got cut from the script.
Matthew Perry had hopes for his future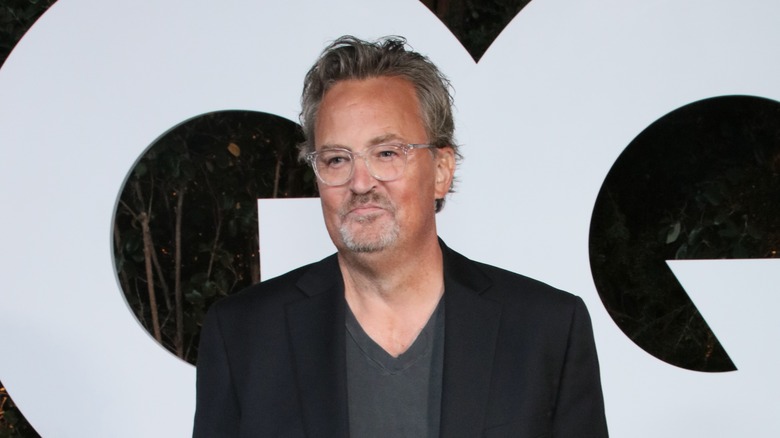 Robin L Marshall/Getty Images
Tragically, the incident involving "Don't Look Up" demonstrates that there were elements of Matthew Perry's talent that the world never got to see. At the time that he was cut from the role, the actor seemed hopeful about the future — and even somewhat excited about what the coming years could bring. As he wrote in "Friends, Lovers, And The Big Terrible Thing," "Being in 'Don't Look Up' didn't work out because my life was on fire, but I learned an important lesson: I was hirable in something big without putting on a show." While he remained a fixture of the small screen after "Friends," Perry sadly never quite reignited his movie career. His last film was the 2009 comedy "17 Again"; Perry's final TV role was in 2017's "The Kennedys: After Camelot."
The actor also hoped to continue to advocate for other people struggling with addiction. "The best thing about me, bar none, is that if an alcoholic or drug addict comes up to me and says, 'Will you help me?' I can say yes and follow up and do it," he said on an "Q with Tom Power" in 2022. "When I die, I don't want 'Friends' to be the first thing that's mentioned. I want that to be the first thing that's mentioned, and I'm going to live the rest of my life proving that."
If you or anyone you know needs help with addiction issues, help is available. Visit the Substance Abuse and Mental Health Services Administration website or contact SAMHSA's National Helpline at 1-800-662-HELP (4357).