North West's Best Fashion Moments Yet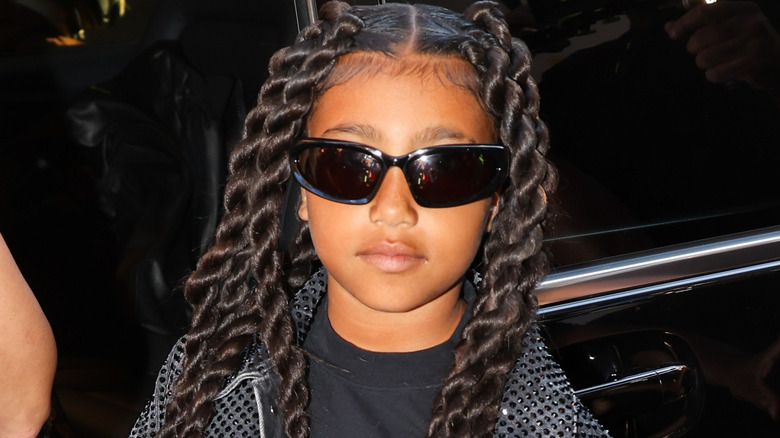 Pierre Suu/Getty Images
North West may just be a kid, but she's well on her way to becoming one of the foremost fashion icons of her generation. Up there with celebrity children including Blue Ivy Carter and Zaya Wade, the eldest daughter of Kim Kardashian and Kanye West found a love for expressing herself through fashion at an early age. And while there's nothing wrong with mainstream style, North is carving out her own aesthetic with daring outfits that embrace the unconventional. 
Though she's still in the early years of her life, North has already undergone quite a fashion evolution. As a toddler, the style savant gravitated toward more feminine looks with glamorous elements. As she's gotten closer to being a teenager, North's fashion tastes have grown to include more masculine styles, futuristic accessories, and ensembles that feature contrasting aesthetics. She's demonstrated a skill for creating outfits that tie in polar opposite styles that work shockingly well together — a task even the most style-savvy adults can struggle with. We have no doubt that North will continue to serve fashion slay after fashion slay, but for now, we're taking a look at some of her best looks yet.
Ballerinacore baby
At just 3 years old, North West was already an emerging fashion icon. In January 2016, the toddler debuted the most precious ballerina outfit — and according to Kim Kardashian, her daughter had a hand in choosing the pink look. "She loves to dress up and I am so happy because I love dressing her up!" Kardashian gushed on social media (via Refinery29). She added, "I showed her a few options and she picked the pink." The balletcore look included a baby pink leotard with a sheer pale pink skirt attached to the one-piece. West wore opaque baby pink tights beneath the flowy mini skirt and a classic pair of dusty pink satin ballet slippers on her tiny feet.
The toddler glammed up the look with an oversized pink faux fur jacket, and she rocked some sparkly jewelry as well. She wore a gem-encrusted floral choker around her neck and a pair of diamond studs in her ears. As for West's French braids, the hairstyle was inspired by a Disney princess. "She has been wanting braids like Elsa lately!" the SKIMS founder wrote, referencing the "Frozen" character. North's adorable look was completed by her sassy cherry-red manicure.
West coast girlie vibes
A few months after Kim Kardashian and Kanye West launched their now-defunct children's clothing line, The Kids Supply, in 2017, "The Kardashians" star dressed North West and a friend of her daughter in a few garments from the collection. Both little girls wore darling slip dresses, with West modeling a pink silk variation. 
The spaghetti strap dress featured an asymmetrical hem with a modest slit up the longer side of the garment. The neckline and slit were trimmed in a creamy pink lace, and "Malibu," spelled in an edgy typeface, was printed over the material in a repeating pattern. The sides of the bodice were slightly ruched to create a looser fit, making the silhouette a bit more age-appropriate. West styled the casual dress with gray low-top Adidas sneakers, and she wore her raven-colored hair in double French braids parted down the center of her head.
Looking sporty chic
In July 2018, North West stepped out in a monochromatic pink outfit that nailed athleisure and the Barbiecore aesthetic. The toddler wore pink soccer shorts with white detailing, including vertical stripes down the sides of the swishy garment. West wore a matching half-zip pullover, which seems like a strange choice for summer in California, but nevertheless, she looked as adorable as ever. 
The long-sleeve top was slightly cropped with an elastic band at the hem and the same cinched silhouette at the sleeve cuffs. The pullover mimicked the stripes in the shorts with three stripes atop each shoulder, and there was white block text along the hem at the back of the garment — presumably spelling a brand name. The little collar was popped up, which gave West a sporty chic vibe, and she completed the look with an all-white pair of Yeezy sneakers. Her hair, which had gotten quite long, was straightened and pulled up in a high ponytail with a stylish braid plaited from the center of her hairline to the base of her updo.
Channeling orange sorbet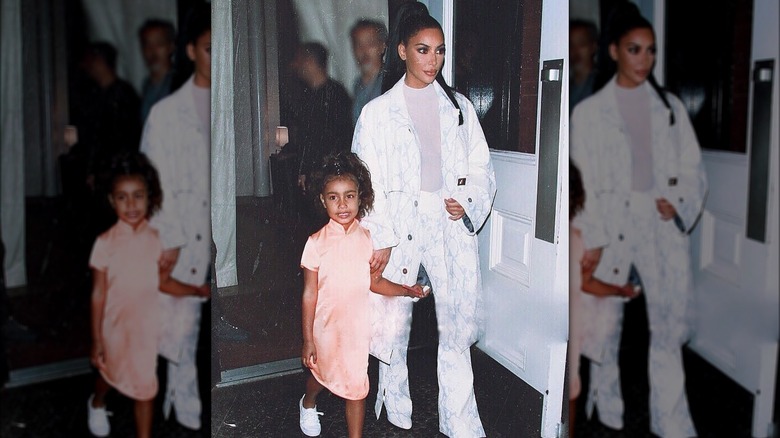 Mediapunch/bauer-griffin
When North West's dad, Kayne West, hosted "Saturday Night Live" in September 2018, the little girl accompanied the rapper and her mom, Kim Kardashian, on their trip to New York City. On the night of the show, the younger West rocked a neon orange cheongsam dress that featured the traditional standing collar, side slits up the hem of the garment, asymmetrical opening stretching across the body, and sheath silhouette. Kardashian's glam squad pampered her daughter, adding bright orange eyeliner to her lids to match her vibrant dress. Miss Gal loves a little red carpet treatment — like mother, like daughter!
The toddler donned white low-top Vans with the Chinese-style dress, giving the overall look a more casual vibe. West's dark chocolate tresses were curled and slicked back into a high ponytail with a braid woven from her hairline to her pony. Several silver hoops were threaded through the plait, adding an edgy sparkle to the chic updo. 
A glamorous LBD moment
In October 2019, when North West was just 6 years old, she not only styled herself in a glamorous evening look, but she chose outfits for two of her friends as well. West definitely saved the best for herself — she learned to always shine the brightest from Kim Kardashian, after all — but her selection for the other little girls was pretty solid as well. One friend was dressed in a dimensional bronze frock with plenty of ruffled and pleated detailing, while the other wore a black maxi dress embellished with crystals throughout the material. Both kids wore pink plastic dress-up shoes with faux feathers atop the upper.
As for West, the young fashionista chose a black sheath dress with a one-shoulder silhouette and straight, knee-length hem. From the top of the bust to the shoulder, the sateen mini dress was adorned with large crystal gems. Kardashian's eldest daughter paired opaque black tights and black feathered dress-up shoes with the chic dress, and she wore a fake cast on one arm — an interesting choice, but we'll give her points for artistic creativity. West accessorized with a shimmery choker necklace, and she wore a single black bow around one of her two space buns. Elegant with a side of faux woe-is-me — we love it.
A darling Armenian heritage-inspired look
Kim Kardashian took her four children to visit Armenia, their paternal ancestors' homeland, in October 2019. For the special occasion, the SKIMS founder posed for a somber photoshoot with her daughters, North and Chicago, and her sons, Saint and Psalm. All five family members wore matching black Armenian-style outfits, and the girls were draped in stunning metallic jewelry commonly worn by Armenian women. 
North West's outfit included a black linen smock dress with an empire waistline and closely stitched pleating at the top of the skirt. She wore charcoal gray smoking shoes with rich wooden soles, and her breathtaking silver jewelry included a chest plate necklace adorned with metallic charms and tassels, matching chandelier-style earrings, and a dainty ring. West wore her natural dark brown curls parted down the middle and slicked back into two high ponytails, and a metallic chain headpiece draped across her hairline and toward the crown of her head for a regal yet austere look. 
Frosty festive 'fit
On the night before Christmas in 2019, North West debuted an outfit that was a sprinkle of Barbie and a dusting of Jack Frost. The 6-year-old rocked a frosty pink suit that sparkled from head to toe. West donned baggy pink trousers that had a pearlescent shift in certain lighting thanks to the glittery material. She wore a slightly oversized suit jacket to match, which featured a single pink button closure and sleeves that covered her hands. Though the jacket was long, it didn't necessarily look ill-fitting — the larger silhouette came across as more of a masculine style choice, which we love considering the contrasting feminine elements of the ensemble.
Beneath the suit jacket, West wore a sateen baby pink mock neck shirt, and she chose velvet blush pink Doc Martins as her shoes. The little girl wore her dark hair in slicked-back space buns with a few straightened tendrils hanging loose to frame her face, and she applied a frosty pink lip product as the finishing touch to her holiday look.
A very Barbiecore Christmas outfit
Two years later in December 2021, North West debuted yet another Barbie-inspired holiday outfit. The 8-year-old wore a monochromatic fuschia ensemble that looked glamorous, cozy, and comfortable. Her matching hot pink set included velour sweatpants that were fitted from the waist to the knees. On the lower half of her legs, the pantlegs flared out ever so slightly. The little girl's top was the same vibrant color and mesmerizing material, and the garment featured a mock neckline and bell sleeves that flared just as subtly as the pants. The long-sleeve shirt also appeared to have a sash-like element billowing across West's chest and down one side, draping toward the hem of the top.
The eldest of Kim Kardashian's kids accessorized with a matching pair of hot pink slides embossed with a quilted pattern. West didn't seem to be wearing any jewelry, but she did put her cherry-cola-colored hair in long box braids that reached her hips.
Pinstripes for Paris Fashion Week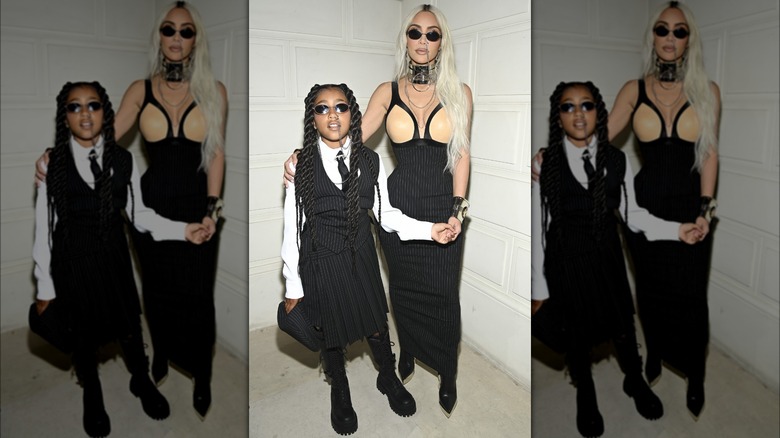 Pascal Le Segretain/Getty Images
In July 2022, North West made her fashion week debut with an iconic front-row appearance alongside her mom, Kim Kardashian. During Paris Fashion Week, the mommy-daughter duo rocked the world with a stunning coordinated style moment at Jean Paul Gaultier's fall/winter 2022–23 show. Both Kardashian and her daughter donned chic outfits with black pinstriped pieces and edgy facial jewelry. West's look included a pleated knee-length skirt with an asymmetrical waistline and hem, and she wore a matching formal vest with a slouchy fit. Beneath the vest, the 9-year-old wore a white button-up dress shirt with relaxed long sleeves, and a black satin tie was fastened around her collar. 
For accessories, West wore chunky black combat boots with laces nearly reaching her knees, and she alternated between carrying and wearing a black pinstriped beret that matched her skirt and vest. The little girl also wore a silver necklace and a coordinating pair of earrings, one of which included a chain that draped from her lobe to a hoop ring affixed to her nose. North's finishing touches were a pearl and diamond pin secured over the knot of her tie, as well as an ovular pair of '90s-style sunglasses. Her long black hair was woven into jumbo twists for the occasion, adding a chic touch to her steampunk-meets-"Men in Black" ensemble.
Rocking futuristic grunge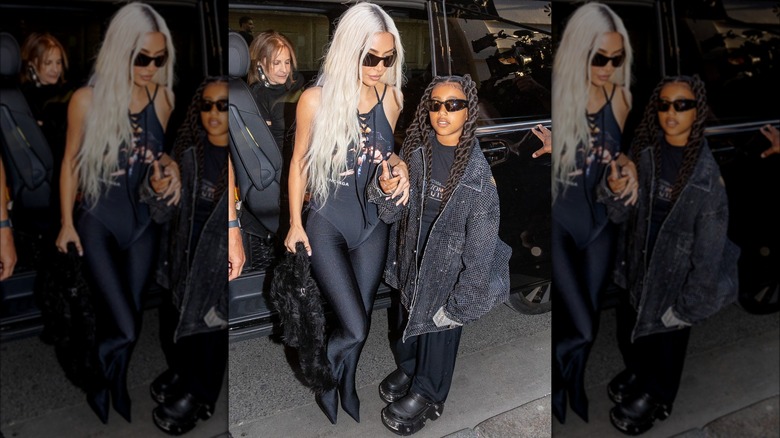 Marc Piasecki/Getty Images
While in France for fashion week with her mom in July 2022, North West debuted a futuristic grunge look that asserted just how adventurous and unafraid she is of expressing her innovative style. The outfit also proved that the little girl admires aspects of her dad Kanye West's fashion tastes enough to weave them into her own ensembles. While hitting the très belle streets of Paris, the eldest West kid donned an all-black look with several oversized elements. She started with black sateen pants with a relaxed fit, as well as a slouchy black t-shirt encrusted with pink bedazzled text across the chest. Additionally, she wore an extra-large black-washed jean jacket embellished with black sequins that appeared pink when hit by light. 
For her shoes, West chose chunky black leather platforms from the Balenciaga and Crocs collaboration. The massive shoes were studded with metallic silver adornments around the soles that gave the odd footwear even more flair. North accessorized with a glittery silver micro purse, a few dainty rings, and a futuristic pair of black sunglasses. Her long locks were styled in jumbo twists, further complementing the oversized fit of her apparel.
Her iconic Aaliyah cosplay
For Halloween 2022, North West and her younger siblings each dressed up as musical legends, and North crushed the assignment with her jaw-dropping Aaliyah cosplay. The 9-year-old recreated the late singer's 1996 Tommy Hilfiger campaign, flawlessly bringing back the iconic look with a few age-appropriate adjustments. For her base layer, the little girl donned a pair of black Tommy Hilfiger boxers. The white waistband was embroidered with the fashion label's name and logo, and she also wore a tube top that displayed the brand's name. A slouchy pair of two-toned denim jeans rested over North's boxers, and they seemed to be the exact pair of Hilfiger jeans Aalyiah originally wore. The navy and crimson pants were secured at the waist by a black belt with white and red stripes, again mimicking the Hilfiger logo. North's final piece of clothing was an oversized puffer jacket with a horizontally color-blocked design of navy, white, and black sections.
To finish the look, the eldest West kid opted for white socks with deep blue Tommy Hilfiger slide sandals, and she wore a twisted silver chain necklace — just like Aaliyah's original look. Fully committed to the vibe, her jet-black hair was pressed straight and parted down the middle to replicate the singer's hairstyle. The iconic moment was a masterclass in both fashion and costume curation!
Sparkles for the holidays
The winter holiday season has proven to be a peak fashion period for North West, and December 2022 showed the 9-year-old was as committed as ever to a Christmastime serve. West wore an incredible monochromatic gunmetal ensemble for the Kardashian family's festivities, and the look made it clear that her fashion taste was growing increasingly on point. The two-piece metallic set featured a pair of fit and flare pants that hugged her hips and legs, then fanned out at the knees. Her long-sleeve button-up blouse was cut in a similar silhouette, with the bodice relaxed but fitted and the sleeves a bit looser, flaring into a modest bell-shaped cut at the wrists and extending to cover her hands. Both the top and bottoms were embellished with extremely fine beading that gave the ensemble a shimmering, light-catching effect. 
West accessorized with black square-toed heels that featured rhinestone-encrusted uppers — we love that she embraced even more sparkle with her shoes. Additionally, she wore thick silver chain choker necklaces around her throat, as well as a silver pendant necklace that hung by the collar of her top. North brought back her cherry cola hair color, wearing her long strands in tightly woven box braids that fell to her hips.
Unbothered in all-black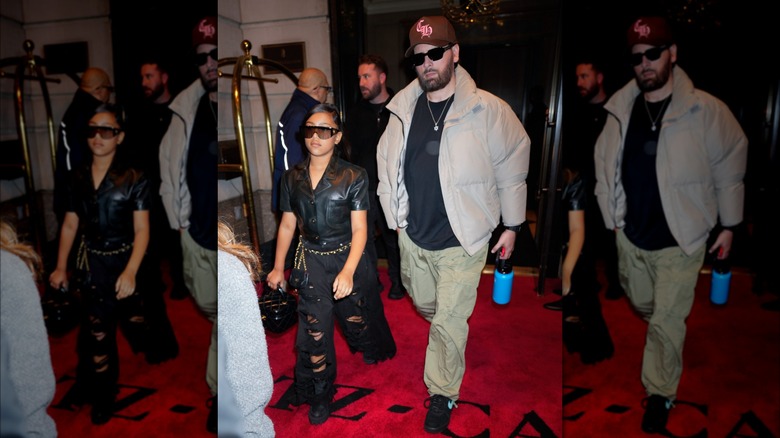 Gotham/Getty Images
The day before the 2023 Met Gala, North West hit the streets of New York City looking more aloof and fashionable than ever before. Appearing alongside her uncle Scott Disick, West strutted in an all-black outfit that was equal parts edgy and chic. It looked like a certain soon-to-be 10-year-old was taking style notes from her glamorous goth aunt, Kourtney Kardashian. She also donned a pair of heavily distressed black denim jeans with a relaxed fit and frayed holes from the thigh to the ankle. Tucked into the wide-leg bottoms was a black leather short-sleeve button-up top with structured shoulders and a fitted bodice. 
West added a chunky pair of black combat boots to the look, which complimented her grungy pants. Her other accessories leaned more glam, which provided a captivating contrast via the outfit's mixed aesthetics. A gold chain belt encircled her waist, and a tiny black Chanel coin pouch hung from the belt by its own gilded chain. The young fashionista carried a black lunch box-style handbag by the same fashion house, and she wore a bold pair of black sunglasses by the iconic brand as well.
City chic ahead of the Met Gala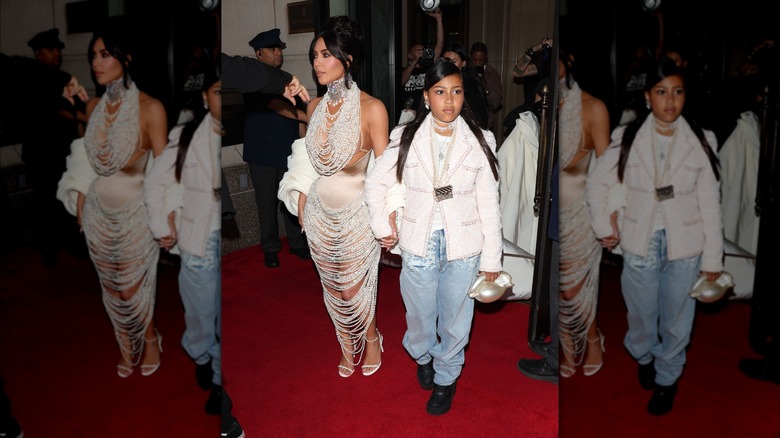 Mega/Getty Images
North West's 2023 Met Gala style serves didn't end with her grungy-glam outfit — she also slayed in another look while accompanying her mom on the car ride to the esteemed fashion event. West stylishly exited her hotel hand-in-hand with Kim Kardashian, and the young fashionista had clearly incorporated elements from her mom's opulent look while staying rooted in her own more casual aesthetic. The 9-year-old started with a simple white t-shirt and a baggy pair of light-wash denim jeans. The pants were heavily distressed at the front of West's hips, and their long silhouette caused the pantlegs to bunch around the pre-teen's ankles. 
The outfit veered into ornate territory with the starlet's chic white tweed blazer. Trimmed with micro pearls throughout the long-sleeve garment, the jacket was a darling statement piece that had the ability to come off as extremely feminine but was toned down by West's contrasting masculine pants. Kardashian's eldest daughter leaned into the girly aesthetic with her accessories, which included several long strands of pearl necklaces, a bronze purse pendant hanging from one of the chains, matching pearl and diamond drop earrings, and an eye-catching handbag in the shape of a natural pearl. For her shoes, she chose black platform combat boots with chunky heels, which, like her pants, broke up what could have been a hyper-feminine aesthetic. West wore her espresso-colored locks pressed straight and styled in a half-updo as the finishing touch on this dynamic look.
A Beyoncé-inspired metallic moment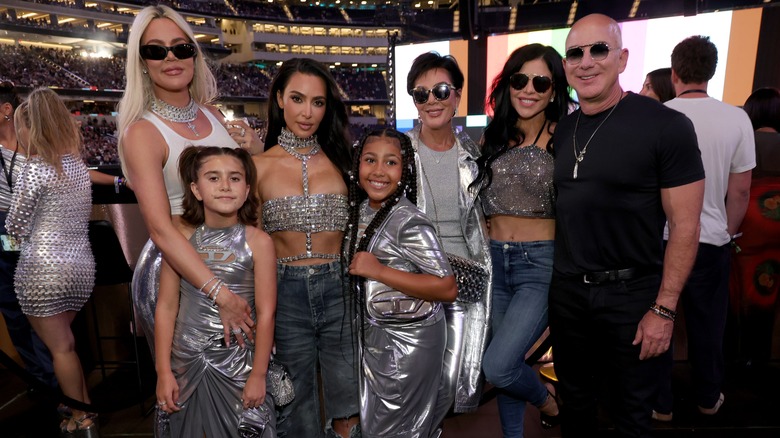 Kevin Mazur/Getty Images
While attending Beyoncé's Renaissance tour in September 2023, North West honored the iconic singer's request for concert attendees to dress in silver at her shows during the month of Bey's birthday. West hit the California leg of Beyoncé's tour with her mom Kim Kardashian, her aunt Khloé Kardashian, her grandma (or "Lovey," as she likes to be called) Kris Jenner, and her cousin Penelope Disick, and each member of the Kardashian clan donned the metallic shade for the occasion. West's silver outfit included a t-shirt by Diesel, which featured a futuristic cutout at the center of her décolletage. The 10-year-old also wore a matching silver maxi skirt with a side slit that draped down the front of the garment.
The stylish pre-teen accessorized with a silver shoulder bag from Diesel, as well as knee-length black leather platform boots. Her hair was plaited in box braids — seemingly one of her favorite styles — and each woven rope was affixed with several marble-shaped translucent acrylic beads. West finished her look with a crystal-encrusted statement necklace, which matched the jewels worn by her mom, aunt, and cousin.