Celebrity Kids Who Rewore Their Parent's Clothes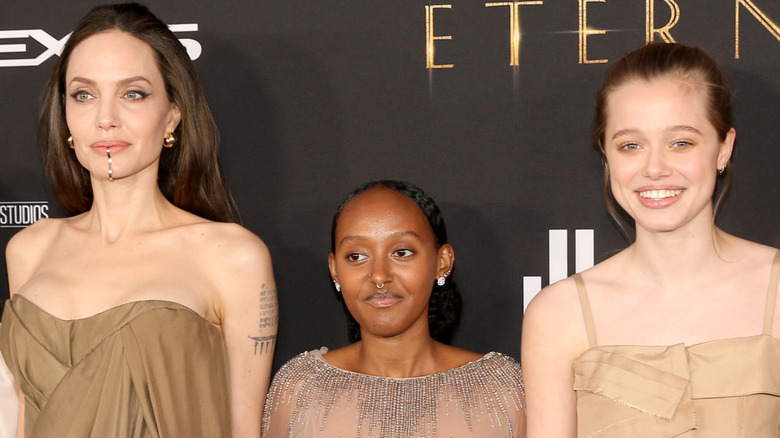 Jesse Grant/Getty Images
Celebrities have some of the most jaw-dropping wardrobes in the world, and though they usually only wear a red carpet ensemble once, many famous folks keep their favorite fashions long after they debut them. While the celebs themselves may not re-wear their glamourous gowns and posh pantsuits, quite a few stars' kids have benefitted from their parents' archives. One member of the British royal family even got to re-wear a 1960s-era ballgown originally worn by one of the most historic monarchs in the world — it doesn't get much more iconic than that.
From proms and movie premieres to fashion weeks and celebrity weddings, a handful of famous kids have shown up in outfits previously worn by their famous family members. In addition to having their own style moments, these kids have made headlines for upcycling their parents' wardrobes and tweaking their ensembles to put their own spin on the famous garments. Whether it was a doppelgänger moment or an altered rendition that gave new life to an old item, these celebrity kids who wore their parents' clothes certainly did the archived pieces justice.
Leni Klum in supermodel mom Heidi Klum's 1998 LBD
In May 2022, Leni Klum attended her high school prom wearing a vintage dress from her mom's fashion archives. The strapless silk midi dress was originally worn by Heidi Klum in 1998 at an HBO event at Radio City Music Hall in New York City. The supermodel styled the slinky blue-black dress with a glitzy gold necklace that dripped down her décolletage, as well as sheer black pantyhose and black open-toe pumps. 
When Leni wore the curve-hugging garment 24 years later, she paired it with a simple diamond tennis necklace and a rhinestone-encrusted handbag to match. While Heidi styled her caramel-colored tresses straight in a layered cut that framed her shoulders, Leni wore her warm brown locks in voluminous waves that cascaded down her back. The teen documented the outfit repeat on her Instagram, writing, "prom night in mamas dress."
North West attending Paris Fashion Week in dad Kanye's 2008 varsity jacket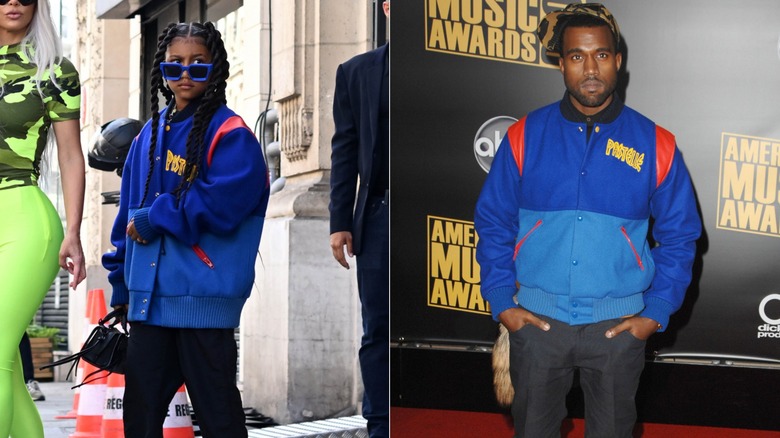 Steve Granitz/Getty & Mega/Getty Images
During a visit to Paris with her mom Kim Kardashian for Couture Fashion Week in 2022, North West unveiled an article from her dad's closet that's practically a fashion legend. In 2008, Kanye West wore a color-blocked varsity jacket to the American Music Awards. It's particularly notable because it was a piece from Ye's very first clothing project, Pastelle, which was shelved nearly as quickly as it debuted. 15 years later, the rapper's 9-year-old daughter stepped out in one of the most fashion-forward cities on the planet wearing the very same jacket.
Ye originally wore the colorful garment with black pants, a raccoon tail, a side-cocked camo hat, and gray suede sneakers. North brought the jacket back into the public eye with similar black pants, nodding to her dad's look with her bold shoe choice as well. The pre-teen wore an edgy pair of black platform Crocs by Balenciaga, which were inspired by her dad's BalenciCroc boots created in collaboration with the fashion house. North accessorized with angular cobalt blue sunglasses and a black micro purse, and she wore her raven-colored hair in cascading twists.
Coco Arquette wearing mom Courteney Cox's 21-year-old red carpet dress
In June 2019, Courteney Cox documented her 14-year-old look-alike daughter Coco Arquette playing dress-up in one of her favorite red carpet dresses from the 1990s. "I'm not one to hold onto things but this was a damn good purchase!" the "Friends" alum wrote on Instagram alongside a side-by-side photo of herself and her daughter wearing the same dress. Cox added wistfully, "21 years later..."
The actor originally wore the grungy garment in July 1998 at the premiere of "Snake Eyes." The dusty plum-colored dress features a silk slip layer beneath a sheer overlay with a moody floral pattern embroidered across the material. The fitted midi dress has a modest V-neckline and wide shoulder straps trimmed with deep purple velvet. For the Hollywood event, Cox accessorized with a matching earring and necklace set, as well as strappy black heels and a black leather shoulder bag. Since the teen was merely trying on the vintage garment, her accessories didn't necessarily seem purposely styled with the dress. Nevertheless, the purple piece looked stunning on her and fit like a glove.
Zahara Jolie-Pitt in mom Angelina Jolie's 2014 Oscars gown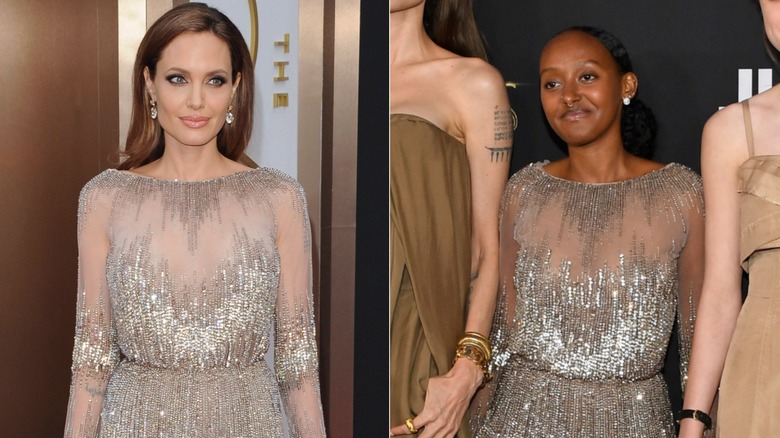 Axelle/bauer-griffin/Getty & Jon Kopaloff/Getty Images
Almost every one of Angelina Jolie's six kids accompanied her to Marvel's Hollywood premiere of "Eternals" in October 2021, and Zahara Jolie-Pitt supported her mom not just with her presence, but with her outfit choice. The teen opted to re-wear a gorgeous sparkling number previously worn by Jolie at the 2014 Oscars. The semi-sheer long-sleeve gown was designed by Elie Saab and features strategically placed sequins that enhance the figure. The floor-length number also has a cinched waist and a wide scoop neck, and both Jolie and Zahara chose to accessorize with gleaming statement earrings.
Zahara wasn't the actor's only child re-wearing an item from their mom's fashion archives. Jolie told Entertainment Tonight, "My kids are all mixed with vintage, and in my old Oscars dress. We did all vintage and upcycled my old stuff." The "Eternals" star's daughter Shiloh Jolie-Pitt also donned a tan dress previously worn by her mom in July 2021, but unlike Zahara's re-wear, Shiloh's featured some substantial alterations to make the frock her own.
Shiloh Jolie-Pitt wearing a tailored version of mom Angelina Jolie's 2019 dress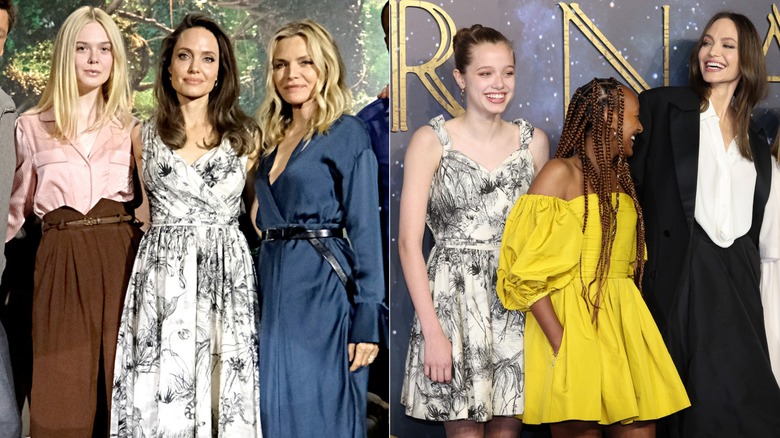 Alberto E. Rodriguez/Getty & Tim P. Whitby/Getty Images
A week after the Los Angeles premiere of "Eternals," Angelina Jolie and her kids traveled to the U.K. for the London premiere of the Marvel movie. For the red carpet occasion, Shiloh Jolie-Pitt wore another of her mom's dresses. The teen opted for a black and white floral print frock, which Jolie previously wore during a press conference for "Maleficent: Mistress of Evil" in September 2019. 
When the actor originally wore the Dior dress, it was a flowing floor-length gown with wide straps and a wrapped bodice. For Shiloh's re-wear two years later, the designer dress was tailored to hit just above the 15-year-old's knees, and the straps had been modified to look slimmer and more rope-like. The bodice of the patterned number also seemed to be slightly updated, no longer wrapping across the torso. The teen paired the whimsical dress with black flats featuring scalloped edges and large hoop earrings.
Valentina Pinault at the Oscars in mom Salma Hayek's 26-year-old gown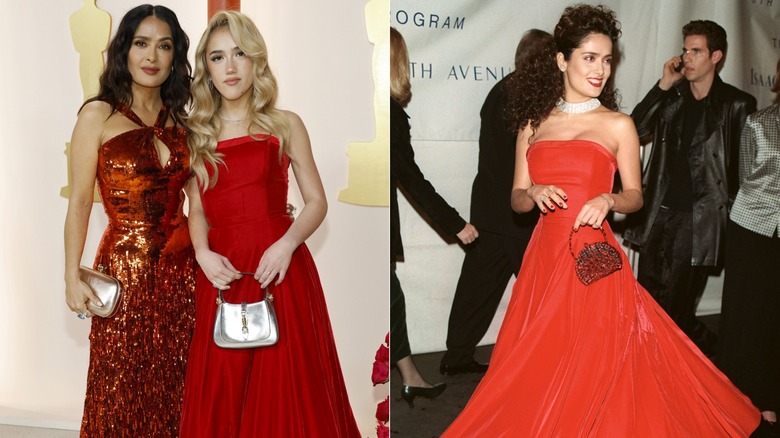 Mike Coppola & Frank Trapper/Getty
While accompanying her mom to the 2023 Academy Awards, Valentina Pinault matched Salma Hayek's bold red dress with a vibrant gown of her own. The cherry red dress didn't actually come from the 15-year-old's closet though — it was part of Hayek's fashion archive, worn 26 years prior at the Fire and Ice Ball in 1997. When Hayek donned the strapless floor-length gown by Isaac Mizrahi in the late '90s, she accessorized with a diamond-encrusted collar necklace and a dazzling pair of earrings to match. The actor carried a ruby-beaded micro purse and wrapped her arms in a draping shawl that matched the sateen material of the gown. Hayek also wore monochromatic red-toned makeup that included a glossy cherry lip, sparkly scarlet eyeshadow, and a brick-toned blush.
For Pinault's re-wear in March 2023, she chose similar accessories to those her mom wore nearly three decades prior. The teen opted for a single strand of diamonds around her neck and also carried a small handbag — though hers was a reflective silver, unlike her mom's original pick. Pinault also wore dangling earrings and a dainty ring on one of her fingers.
Grier Henchy in mom Brooke Shields' vintage pantsuit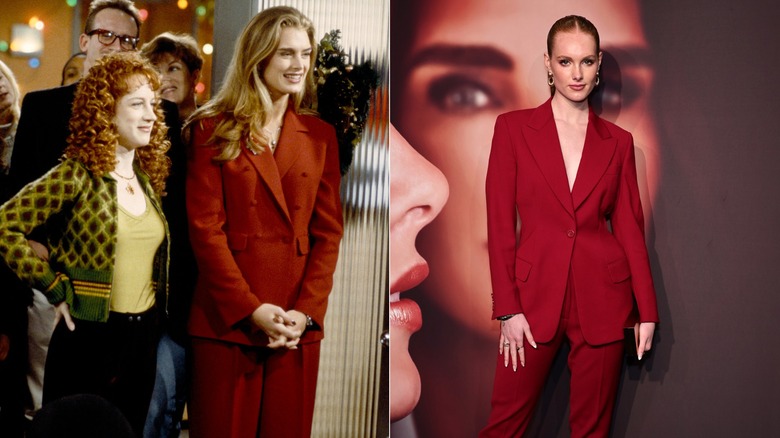 Paul Drinkwater/NBCU Photo Bank/NBCUniversal via Getty Images, Jamie Mccarthy/Getty
When Brooke Shields' Hulu documentary, "Pretty Baby," premiered in New York City in March 2023, her youngest daughter Grier Henchy showed up to support her mom with a special style nod. The 16-year-old wore a deep red pantsuit that Shields once wore on the set of "Suddenly Susan" in the '80s. The actor was gifted the set by Dolce & Gabbana, who designed the chic officewear ensemble.
While the blazer was originally double-breasted, Henchy had the sleek jacket tailored to feature a deeper V-neckline and a single button closure just below the lapels. The hem of the blazer was also modified to no longer overlap, instead mimicking the opening of the neckline with an inverted gap below the cinched waist. The cigarette trousers also appeared to have been taken in, hugging Henchy's legs a bit more than they appeared to Shields' in the '80s. The teen accessorized with black heels and an assortment of jewelry, including a pair of dangling gold statement earrings.
Rowan Henchy attending prom in mom Brooke Shields' 1998 Golden Globes gown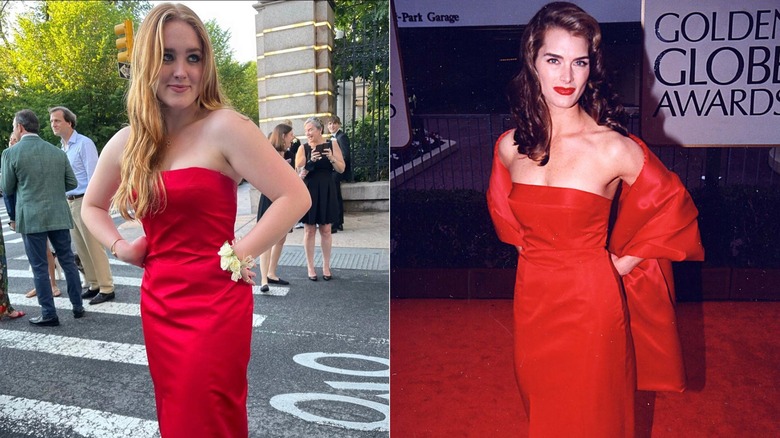 Instagram, Jeff Kravitz/Getty
In June 2021, Brooke Shields brought out another special item from her vintage wardrobe for her eldest daughter, Rowan Henchy. The actor lent her 1998 Golden Globe Awards gown to her 18-year-old for her high school prom, and Henchy cheekily struck a pose similar to one Shields made for a photograph at the '90s event. The "Blue Lagoon" star shared a carousel on Instagram with a photo of her daughter in the vivid red gown and one of herself originally wearing the stunning strapless number. "I thought it was a special night when I was nominated for a Golden Globe and wore this dress in 1998, but nothing could have prepared me to see my daughter wearing it to her prom," Shields wrote, adding that she was a "proud mama!"
Henchy styled the gown with a dainty necklace and a single wrist bangle, and she let her strawberry blond tresses hang in loose waves. When Shields wore the dress over 20 years ago, she paired it with a thick sateen shawl and a bold red lip to match her monochromatic cherry ensemble.
Crown Princess Victoria in mom Queen Silvia's 1995 ballroom gown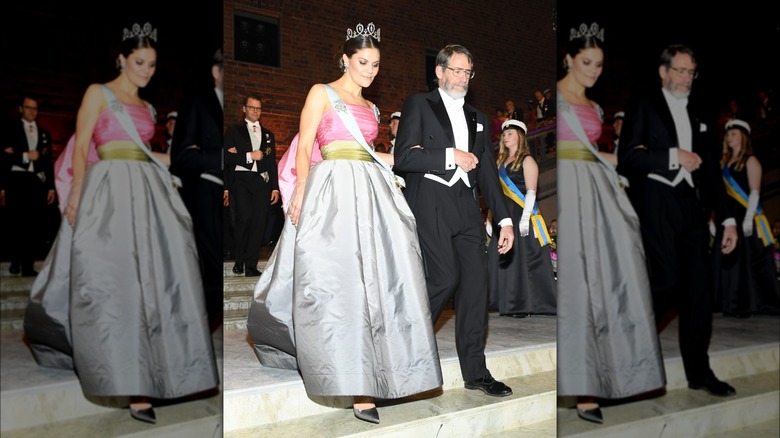 Pascal Le Segretain/Getty
23 years after her mom, Queen Silvia of Sweden, attended the Nobel Prize Awards ceremony in 1995, Sweden's Crown Princess Victoria appeared at the same event wearing the same dress. The color-blocked Nina Ricci gown features a full silver skirt, a gold sash around the waist, and a strapless pink bodice. The pink and gold fabric comes together at the back of the dress to tie in an oversized bow, giving the ballgown even more glamour. 
When Silvia donned the dress in 1995, she accessorized with the 1860 Nine-Prong Tiara, as well as a dazzling double-strand necklace encrusted with large diamonds. The queen also wore matching drop earrings, several magnificent bracelets, and carried a metallic champagne-colored clutch. For her 2018 re-wear, Victoria opted for the Connaught Tiara, as well as silver pointed-toe pumps, dangling silver statement earrings, a diamond-encrusted bracelet, and a crystallized clutch.
Princess Beatrice wearing Queen Elizabeth's 1962 dress as her wedding gown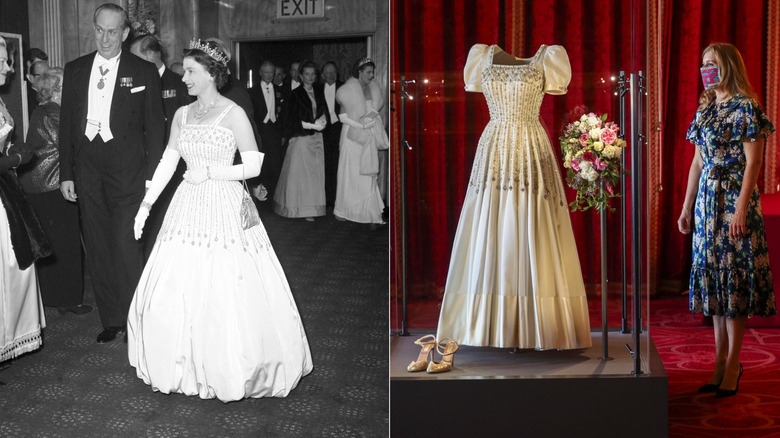 PA Images via Getty Images, Wpa Pool/Getty
Like many engaged couples around the world, Princess Beatrice and Edoardo Mapelli Mozzi's wedding plans took a turn once the coronavirus pandemic caused the world to shut down. Rather than wait for an undetermined time period to have a wedding, the pair decided to tie the knot during a private ceremony in July 2020, during which the Princess of York wore an altered gown that belonged to her grandmother, Queen Elizabeth II. The late queen originally wore the ivory ballgown in 1962 at the London premiere of "Lawrence of Arabia." The gorgeous gem-encrusted dress was tailored for Beatrice so that it had a slightly shorter hem that wasn't quite as billowy as the first iteration. Organza puff sleeves were added as well, which gave the gown a Snow White-esque feel. 
A portion of the royal family's wedding announcement on Instagram touched on Beatrice's wedding attire. "Princess Beatrice wore a vintage dress by Norman Hartnell and the Queen Mary diamond fringe tiara, both belonging to Her Majesty The Queen," the caption read. "The tiara was worn by Her Majesty on her wedding day in 1947." Very special adornments for a very special occasion!