Lauren Alaina's Hallmark Debut Had A Personal Impact On Her Family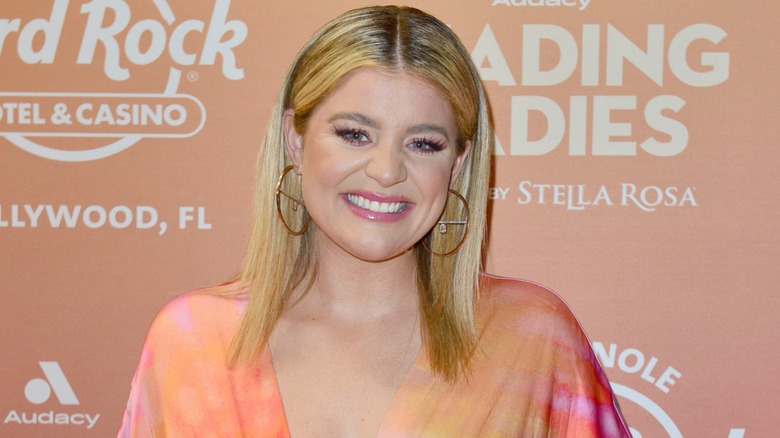 Johnny Louis/Getty
Former "American Idol" contestant Lauren Alaina flexed her multi-hyphenate muscles, showcasing both singing and acting abilities when she starred in Hallmark's 2021 film "Roadhouse Romance." Alaina played Callie, a woman with a passion for country music. Hallmark hunk Tyler Hynes played her love interest, Luke. The movie had a personal connection to Alaina and her family — as do the Hallmark Channel films as a whole — which she discussed in a September 2021 Southern Living interview.
During the holidays, Alaina stays with family, and Hallmark is a big part of those memories. "And [my cousin] Holly is bedridden due to some health problems," Alaina said, "and we lay in bed and watch Hallmark. And I actually recently got to play my movie for Holly, and it was one of the sweetest accomplishments ever in my career" (via Yahoo).
Alaina's character in the film is an Army Lieutenant who tries to get things figured out after coming back from deployment. Alaina's father J.J. Suddeth was in the Army himself, so that made playing Callie all the more personal for her. She also said her father was emotional to see her in costume. "I called my dad the day I put the uniform on, and he cried like a baby on Facetime," Alaina told Southern Living. "Well, he cried and then he said, 'fix your hat.'"
Alaina and her dad have a close relationship
J.J. Suddeth shared his own musical talents with his daughter Lauren Alaina. According to Taste of Country, the two of them performed together at a Chattanooga show on Father's Day 2012, with Alaina singing and Suddeth playing guitar.
In March 2020, she shared a video on Instagram of herself and Suddeth performing at home during quarantine for COVID-19. In the caption, Alaina said, "We can go FATHER if we act as a team. The best thing about this quarantine is getting to spend it with my daddy." She went on to say that he played guitar for her at many performances in her hometown as a kid and added, "We are learning to soak up every moment because our lives are already good."
Alaina and Suddeth have a close relationship beyond playing music together. During the CMA Music Festival in 2018, Alaina praised her father for getting sober and said that helped their relationship. She also said, "He's the hardest worker I know. That's why I work so hard because I grew up watching him do it. ... I'm really proud of him and he's a great dad and he always has been" (via Sounds Like Nashville).
'Roadhouse Romance' is the second movie Alaina acted and sang in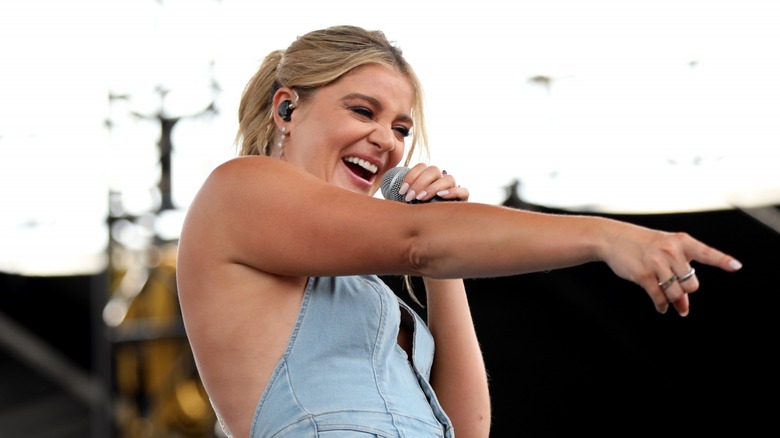 Danielle Del Valle/Getty
Lauren Alaina enjoyed working on "Roadhouse Romance" and, in her Hallmark livestream with Tyler Hynes, she talked about the experience of putting her own music in the film. Although she didn't write a new song for "Roadhouse Romance," Alaina was able to include two of her already-written songs into the film.
"So I had to read the script and see which songs I thought would be fitting," the former "Dancing With the Stars" contestant explained. "And that was really fun because I actually got to collaborate with the script a little bit to make the song make sense, thematically." Alaina added that she was new to the world of acting, so it was nice to sing when she knew she could do that well.
Although this was her first Hallmark movie, it wasn't Alaina's first movie overall. She starred in "Road Less Traveled" in 2017, and that film also included some of her songs (including the titular track "Road Less Traveled"). On being in that film, Alaina said, "It's the kind of movie that when you're home in your pajamas, and you want to be comfy, it's that kind of movie that you watch that makes you feel good. ... so I'm excited to share it with my fans. It's a whole new side of me that no one's ever seen" (via The Country Daily).