Body Language Expert Tells Us Donald Trump Jr. Got Cocky Before Testifying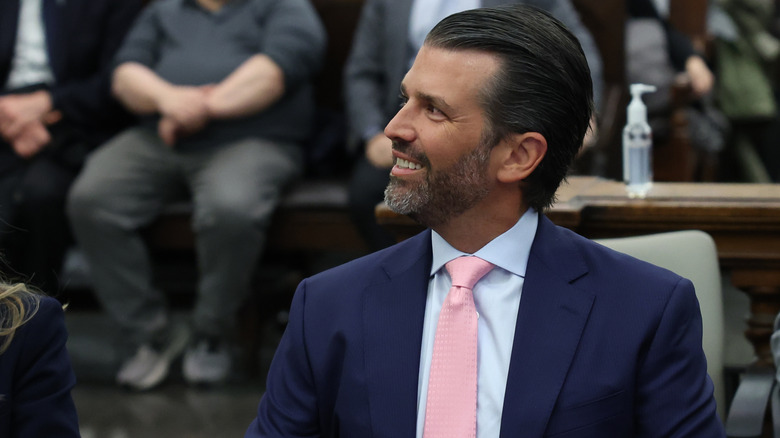 Spencer Platt/Getty Images
Every day brings something new for those following the Trump trial in New York. In a civil lawsuit filed by the attorney general of the state of New York, former president Donald Trump was named as one of the defendants accused of engaging in "numerous acts of fraud and misrepresentation." The attorney general claims that over the course of 10 years, annual financial documents were falsely reported, then used to commit fraud when securing bank loans and insurance premiums.
The civil trial is a bench trial, meaning there is no jury, and Judge Arthur Engoron will be deciding the outcome of the case. He has already found Trump liable for fraud, and he is now listening to testimony that will help him decide the ultimate punishment for the crime. This week, the focus of the trial has been on Trump's three children, Donald Trump Jr., Eric Trump, and Ivanka Trump, who have all been called to take the witness stand.
Trump Jr. started the familial procession on Wednesday, November 1, arriving at the New York State Supreme Court in Manhattan with a full entourage and demeanor that, based on his body language, was easily identified as cocky. 
Trump Jr. was self-assured with a smirk and a thumbs-up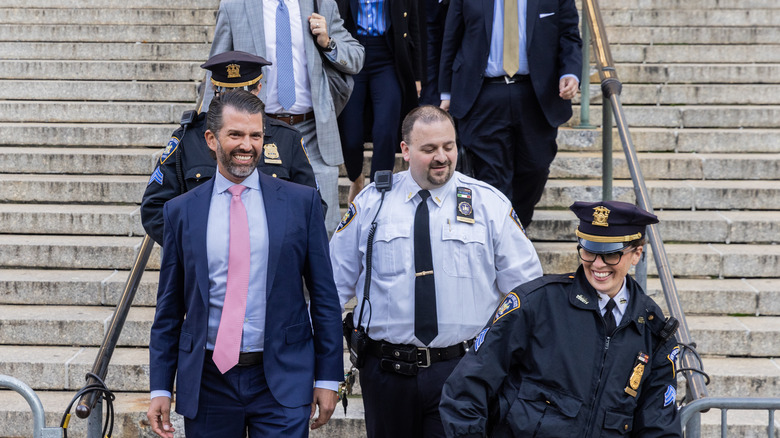 Bloomberg/Getty Images
Dressed in a blue suit with a pink tie, slicked-back hair, and a full, trimmed beard, Donald Trump Jr. made his way into the courthouse surrounded by members of his legal team, as well as multiple police officers. Jess Ponce III, body language expert, communication coach, and author of "A.W.E.S.O.M.E.", observed Trump Jr.'s arrival and, in an exclusive interview with The List, revealed what attitude he was conveying through his stance, posture, and walk.
"His shoulders were back, he was looking straight forward and had a smile, maybe even a smirk, on his face," Ponce noted. "He had a steady gait and seemed unaffected by the situation." The expert shared that people who are about to be examined on the witness stand might be more self-conscious, gazing downward, but Trump Jr. looked very self-assured. "When asked how he was feeling he said, 'great' and gave a thumbs-up," remarked Ponce. "In fact, he came across a bit cocky." 
Inside the courthouse, before he took the stand, he could be overheard joking about how he should have worn makeup. Ponce took this as another cue that Trump Jr.'s attitude was less than somber. "Is this something he takes seriously? Maybe, but not very," shared the body language pro. "This appeared to be just another day in the media circus surrounding him and his family."
A more serious stance wouldn't be inappropriate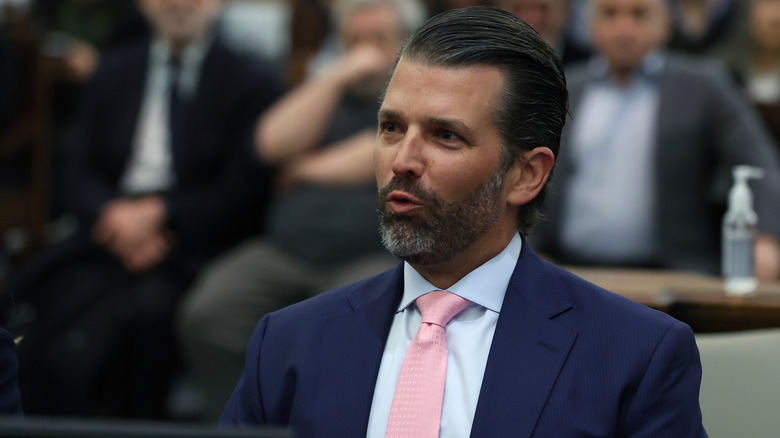 Spencer Platt/Getty Images
Even if Donald Trump Jr. isn't taking the entire civil fraud case seriously, it doesn't mean he has nothing to worry about. While the focus has mostly been on his father, former president Donald Trump Sr., the charges made by the New York attorney general were brought against the Trump business organization as a whole. Trump Jr. is named in the lawsuit as one of the defendants, along with his siblings, Eric Trump and Ivanka Trump, given their employment with the company and their access to the fraudulent documents cited in the suit. "And in their roles as Executive Vice Presidents, each of the three Trump children had familiarity with, responsibility for, and made use of, the Statements of Financial Condition in commercial transactions," reads the official lawsuit document.
In fact, while Trump Sr. was acting as president in The White House, he left the running of his company to several Trump Organization executives, including Trump Jr. Despite testifying that he didn't really understand the accounting behind it, he was responsible for signing off on the company documents. 
The lawsuit requests, among other things, $250 million dollars in damages, and further bans on the Trumps doing business in the state of New York, where a large part of their empire exists. So while Trump Jr. is smirking, doing great, and waving, he might also want to start a new savings account — just in case.