Why Trump's Children Were Never The Same After His Presidency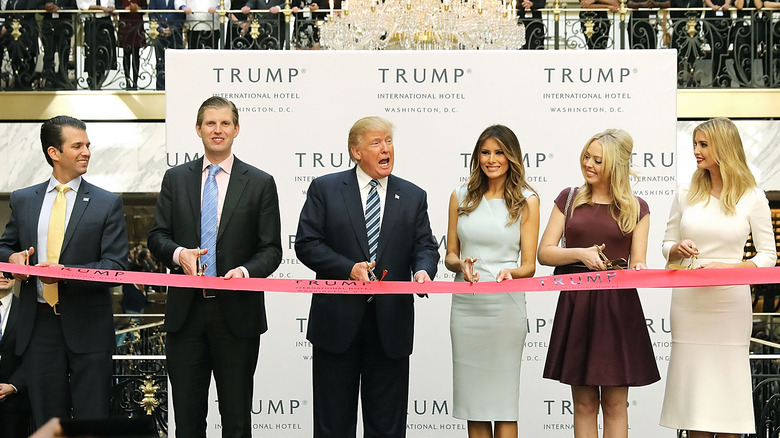 Chip Somodevilla/Getty Images
Try to imagine what it's like to be one of former President Donald Trump's children. While it was probably fun to be a Trump before the business-mogul-turned-politician moved into the White House, it's not so great post-2020. In fact, it seems nothing short of a nightmare. With the January 6 attacks on the Capitol already appearing on history websites and a sizeable portion of the country hating their father, not to mention the looming lawsuits he's facing, being a Trump these days is not as cool as it used to be. The name has become controversial at best, and it might be safe to say that Trump's five children's lives will never quite go back to the way they were before he became president.
In case you need a refresher, his eldest child, Donald Trump Jr., ran The Trump Organization while his father was in office but things went south fast. Trump's eldest daughter, Ivanka Trump, served as his senior advisor during his presidency along with her husband, Jared Kushner. His second son, Eric Trump, helped his elder brother manage The Trump Organization and also had a hand in the January 6 insurrection. Tiffany Trump is Donald Trump's fourth child who's mostly been flying under the radar (reportedly not by choice). Then there's Barron Trump, the former president's youngest child, who grew up amid the omnishambles of his father's administration. Their lives have been forever altered and now each one is trying to navigate their new reality.
Donald Jr. wrote a book but had his writing abilities questioned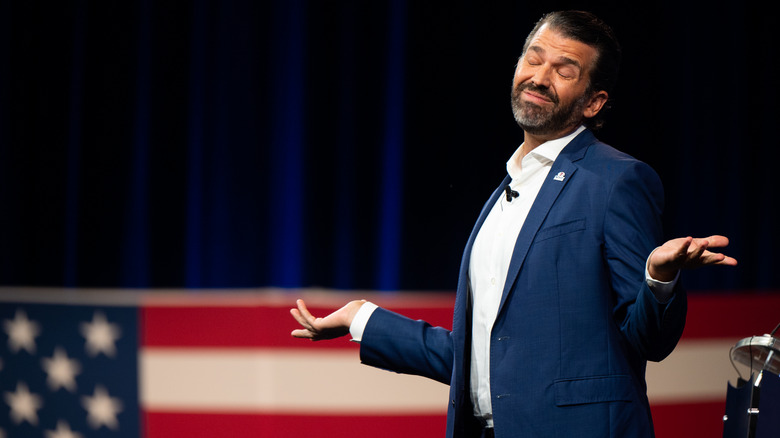 Brandon Bell/Getty Images
Donald Trump Jr. released his first book, "Triggered," during his father's presidency. He dubbed it, "[the book] the left doesn't want you to read." It hit No. 1 on the New York Times bestseller list, a feat reportedly made possible with the help of the Republican National Committee, which placed a bulk order. Some argue that this was the only reason the book managed to land on the bestseller list. Donald Jr. was very pleased and took to X, formerly known as Twitter, to share this perceived victory. "Thanks Deplorables! You're the best," he wrote.
Donald Jr.'s next book, "Liberal Privilege," showed how deplorable his spelling is. Released in 2020, a misplaced apostrophe meant he had to scramble to amend the book's cover, which he self-published. It appeared that he hadn't thought to hire a copy editor. Initially, the book's subtitle read, "Joe Biden and the Democrat's Defense of the Indefensible." This made it appear as if the book focused only on Joe Biden. Donald Jr. then pivoted and changed it to "Joe Biden and the Democrats' Defense of the Indefensible." Chances are Donald Jr. didn't excel in English class at school as the book's webpage also misspelled "policies" as "polices." Then there was the promotional tweet: "Sleepy Joe wont [sic] like this one. But lets [sic] be honest he probably doesn't keep up with current events." At least he knows how to spell "doesn't."
Donald Jr. was suddenly seen as a prospective president
Many conservatives wanted to see Donald Trump back in the White House in 2020, but some decided early on that Donald Trump Jr. should be his successor come 2024. The eldest Trump child seemed very pleased when he stumbled upon a sign that read, "Don Jr. 2024" at a livestock auction. He posed with the sign (of course) and posted the snap to Instagram, captioning it, "This will make the lib [liberal] heads explode. To whomever made that thanks for the compliment... but let's get through 2020 with a big win first!!!!" As we all know, that big win didn't happen, but it didn't keep Donald Jr. from continuing to dabble in politics. Like his father, he seems unable to resist its pull.
During a 2021 interview with Fox News, Donald Jr. was asked whether he would consider making a bid for the White House in 2024. Those keeping up with politics — or the Trumps, for that matter — would remember that Donald Trump Sr. was asked this question multiple times in the past. During a 1988 interview, Oprah Winfrey posed this question, to which Trump replied, "Probably not. ... I just don't think I really have the inclination to do it." Donald Jr.'s response to Fox was eerily similar. "I haven't personally thought about it," he said (via X), but he did cite some polls that had him as the top choice. We think one Trump is more than enough.
Donald Jr. was promoted as his father's unofficial political advisor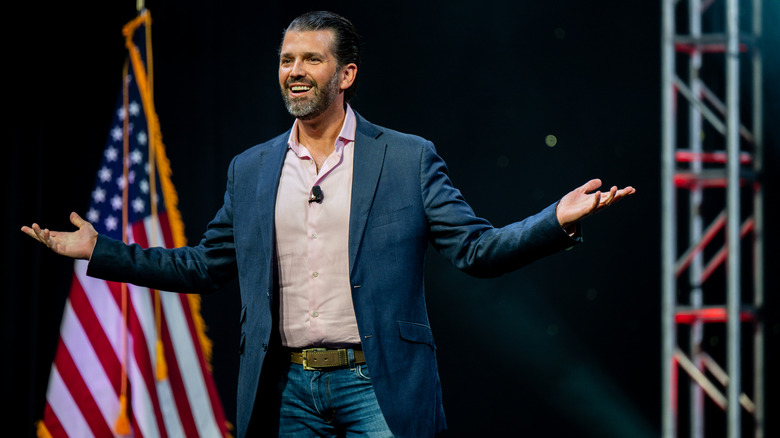 Brandon Bell/Getty Images
Following the 2020 election, Ivanka Trump stepped down as her father's political advisor, but in 2021, her brother Donald Trump Jr. stepped into the vacant role in an unofficial capacity, sources told CNN. While Donald Jr. never worked at his father's side in the White House like his sister, he was ready to ensure that his father's next presidential campaign would be everything the right-wing dreams about. Apparently, he's the most qualified guy for the job — he reportedly has a knack for grabbing the attention of conservatives and has been helping his father do the same.
Some cited Donald Trump's rant about how Republicans are handling transgender legislation in Arkansas as proof that Donald Jr. has been advising his father in a more official capacity. Arkansas Governor Asa Hutchinson voted against instating a state law that would ban transgender people from receiving gender-affirming treatment. The former president released a strongly-worded statement after he watched an interview with Hutchinson but those in the know said that he wouldn't have given it a second thought had Donald Jr. not focused his attention on the matter. A Trump aide told CNN that Donald Jr. knows what issues to focus on to get his father some favorable attention from conservatives. "Don has the pulse of the base and knows where the energy of the party is, so he's sort of the go-to person now on a lot of political things," the aide said.
Ivanka lost most of her friends and her social status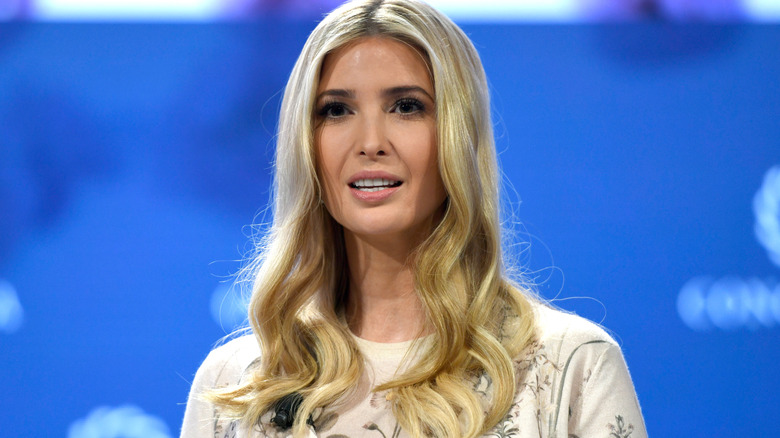 Riccardo Savi/Getty Images
The bigger they are, the harder they fall, and this was certainly the case for Ivanka Trump. When she took on the role of Senior Advisor to the President during her father's tenure, it's hard to say whether she ever considered how it might affect her social life.
While her critics had plenty to say about her, none of their words could've stung as much as Ivanka's childhood friend, Lysandra Ohrstrom's. In a candid essay Ohrstrom wrote for Vanity Fair after Donald Trump lost the 2020 election, she told the world who Ivanka Trump really is, writing, "I think it's past time that one of the many critics from Ivanka's childhood comes forward — if only to ensure that she really will never recover from the decision to tie her fate to her father's."
The essay did plenty of damage, showing a side of Ivanka to the world few had previously seen — from her utter disdain for the less fortunate to her complete lack of interest in her former friend's life once she started her political career. Ohrstrom revealed that she, and some of Ivanka's other friends, expected better. When she failed to oppose Brett Kavanaugh's Supreme Court nomination, her friends were horrified. Even former friend Chelsea Clinton accused her of aiding the Trump administration's "everyday collision of cruelty and incompetence" while making an appearance on "Watch What Happens Live with Andy Cohen."
Ivanka's business endeavors failed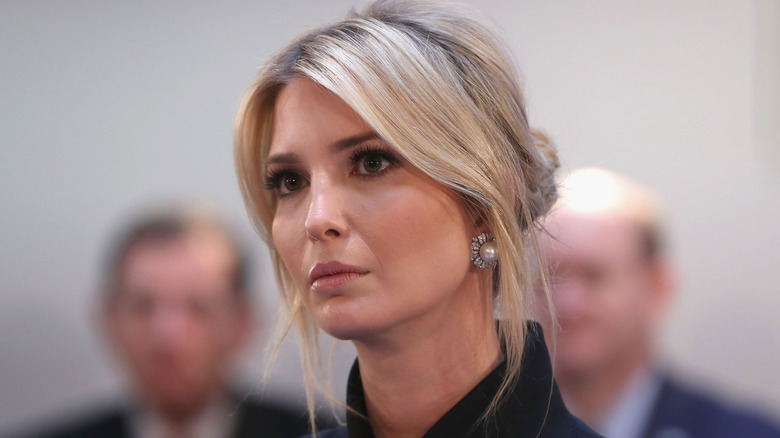 Alexandra Beier/Getty Images
During the early days of Trump's administration, it appeared that Ivanka Trump's business was about to receive an influx of customers. Her father's daughter to a T, she used her public appearances as the daughter of the president to promote some of the items from her fashion and jewelry lines. She grew her following on social media and it appeared that she'd continue to run a successful business alongside her political endeavors, but it didn't pan out.
In an essay Ivanka's former childhood friend Lysandra Ohrstrom wrote for Vanity Fair, she revealed that, initially, Ivanka had built a likable public image quite unlike that of her father. "[It allowed her to] serve as an inspirational example of a 'woman who works' to the middle-class housewives to whom she peddled her fashion brand," Ohrstrom wrote. But Ivanka failed to keep up the ruse once she started working in the White House. "I've watched as Ivanka has laid waste to the image she worked so hard to build," Ohrstrom added.
Ivanka's former friends weren't the only ones seeing through her charade — the public also started to take note and many boycotted her products as the Trump administration grew more and more controversial. Stores subsequently stopped selling her products — Nordstrom and Marcus were the first to break up with Ivanka's business, and other stores like T.J. Maxx, the Hudson's Bay Company, and Marshalls followed suit. With her company hemorrhaging money, Ivanka was forced to dissolve it in 2018.
Ivanka's loyalty toward her father dwindled
Alex Wong/Getty Images
While many believe that Alex Holder's Trump-focused documentary, "Unprecedented," proves that Ivanka Trump has always been Donald Trump's favorite child, this didn't prevent the former first daughter from distancing herself from her father after the 2020 election debacle.
It appears that it took losing her business, her friends, and her social status to make Ivanka realize that sticking to her father's side was a bad idea. Banished to Billionaire's Bunker (a high-security Indian Creek island) after picking up her former New York City life appeared to be impossible, Ivanka has stayed out of politics since her father's spectacular loss to President Joe Biden in 2020. Former friends and other New York socialites made it abundantly clear that she was no longer welcome in their circles or in the city, for that matter.
Ivanka appeared to try and rectify her public image by siding with former Attorney General William Barr's ruling that no election fraud was committed during the 2020 elections. She voluntarily made her views known in front of the January 6th Committee. Ivanka also refused to be part of Trump's 2024 presidential campaign, despite her father's pleas for her to step back into her former role. A statement she published read, "I love my father very much. This time around, I am choosing to prioritize my young children and the private life we are creating as a family. I do not plan to be involved in politics" (via the New York Post).
Eric's wine business skyrocketed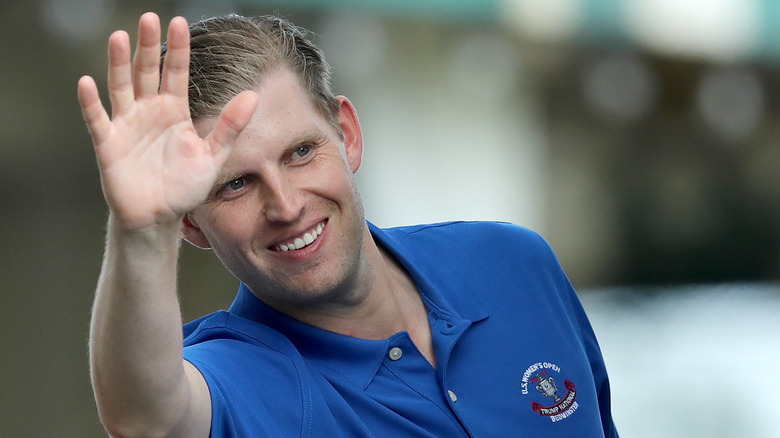 Elsa/Getty Images
Eric Trump's life might be more complicated than usual after his father's presidency, but unlike his sister's collapsed business, his empire is thriving. While there isn't an abundance of proof that the Trump Winery's business is booming, Slate's senior editor Jordan Weissmann said he'd "bet a decent bottle of Bordeaux on it." While Donald Trump technically owns the winery (or at least, he used to, the particulars are not that clear these days), Eric is its president and perhaps even its current owner. On the winery's website, it appears that the brand is trying to distance itself from the former president, stating that it's "not owned, managed, or affiliated with Donald J. Trump or any of his affiliates." Yet Eric is technically an affiliate.
Either way, Weissmann did some digging and found that, while business boomed during Trump's presidency, the hype hasn't worn off even after his disgraceful exit from the White House. There was a call to boycott Trump wines in 2017, but it only led to more sales, thanks to frenzied supporters who didn't want to miss out on their favorite Trump juice.
According to the Virginia ABC, Trump Wines' revenue climbed throughout his presidency and continued to perform well after Joe Biden took office. Weissmann appeared baffled by this after trying some of Trump's grape juice himself, dubbing it "mostly undrinkable" and "the worst [has] left me dazed and muttering in disappointment, sort of like whenever I watch a Florida election result."
Eric's charity was exposed as fraudulent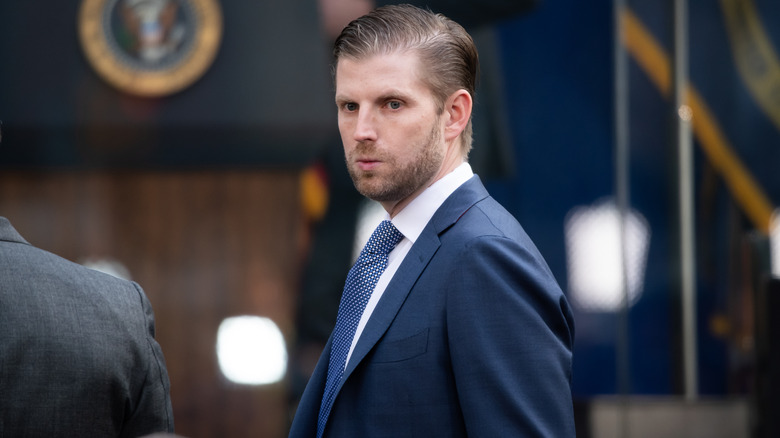 Noam Galai/Getty Images
The Eric Trump Foundation used to have a good track record — in 2017, Forbes noted that the charity had donated more than $11 million to the St. Jude Children's Research Hospital. That's impressive. What's not so impressive is that plenty of the money people donated to the charity reportedly ended up in Eric and his father Donald Trump's pockets.
Forbes did some digging and discovered that some of the money donated to Eric's foundation went to The Trump Organization — $1.2 million to be exact. The Donald J. Trump Foundation also got an impressive windfall from Eric's charity. Donations worth $100,000 that were pledged to the Eric Trump Foundation were funneled to the former president's charity and then presented as revenue of The Trump Organization. As if that's not bad enough, it was also revealed that Eric's foundation redistributed more than $500,000 in donations to other Trump-affiliated charities, some of which then paid the Trumps for the use of their golf course.
Eric was exposed as a fraud and made matters worse when he blatantly lied to Forbes when asked whether he has to pay The Trump Organization for the use of its golf course when he hosts his charity's annual golf invitational. "We get to use our assets 100% free of charge," Eric boasted, adding that it's one of the reasons his charity is so efficient. That $1.2 million check made out to The Trump Organization seems to disagree.
Donald Jr. and Eric are both implicated in the lawsuit against their father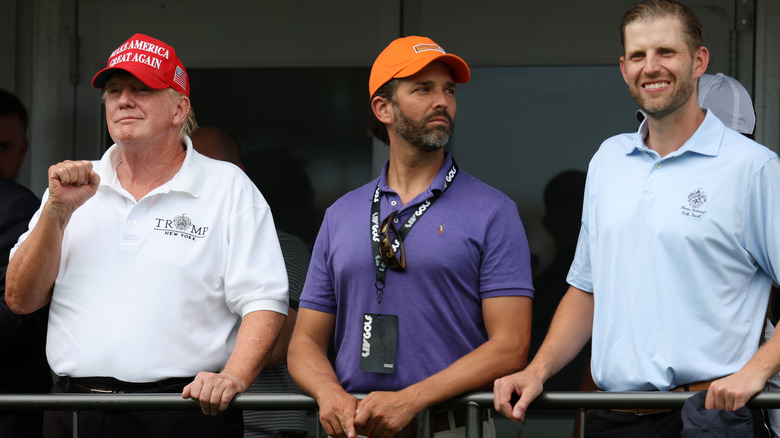 Jonathan Ferrey/liv Golf/Getty Images
Donald Trump's legal woes are no secret, and thanks to their involvement in The Trump Organization, Eric Trump and Donald Trump Jr. have not escaped prosecution alongside their father. Trump and his sons are in the midst of a civil fraud trial brought against them by Attorney General Letitia Jones, who accuses them of "persistent and repeated fraud" (via the BBC).
It appears that Donald Jr. and Eric followed their father's example of making The Trump Organization's assets appear worth more than they are. This came in handy whenever the organization acquired loans. The Trumps are accused of exaggerating the value of the organization's numerous properties by over $2 billion. Additionally, Eric is being accused of committing tax fraud and trying to cut corners in order to go ahead with illegal developments at the Trump family's private Seven Springs estate.
Should the lawsuit against them be successful, Donald Jr. and Eric will find themselves unable to conduct any future business in the state of New York. It's also likely that the brothers will lose control over their businesses — in cases like these, a receiver appointed by the court usually takes control over the business. In the worst-case scenario, they might have to sell some of The Trump Organization's most esteemed properties. While they might not end up broke, they will get a financial knock, and when you're used to being stinking rich, that has got to sting.
Tiffany saw an opportunity to get closer to her estranged father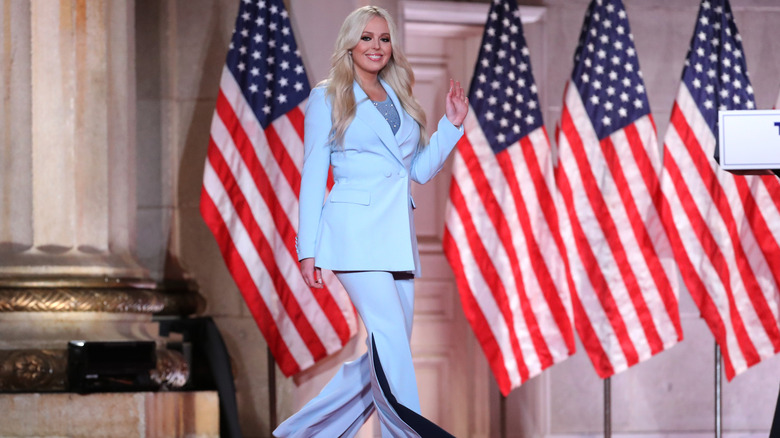 Chip Somodevilla/Getty Images
The name Madeleine Westerhout might ring a faint, broken bell in your head. She was Donald Trump's former personal assistant — former because she reportedly joked around with some reporters that Trump couldn't identify his daughter Tiffany Trump in a crowd if he tried, which was in line with jokes on the internet that Trump often forgot that his youngest daughter existed. Westerhout also claimed that the former president thought his daughter was overweight and therefore avoided taking pictures with her. Westerhout was summarily fired, and Trump hastily tweeted how much he loved Tiffany.
With Ivanka Trump taking a step back from politics and distancing herself from her father, it appears that Tiffany is seeing a golden opportunity to take her place and get more involved with her father's political career. "Tiffany is trying to be the supportive daughter," a source told Page Six after it came to light that Tiffany was present to support her father after one of his indictments while Ivanka was not. "This could be her way to get closer to her father," the source added. Trump seemed to pay more attention to his youngest daughter in Ivanka's absence, thanking her in his post-indictment speech.
Of all Trump's children, Tiffany's life was probably the least changed after his presidency, thanks to the fact that she's not involved in the family business. She completed law school in 2020 and in 2022, she married Michael Boulos.
Barron Trump had to switch schools and deal with media attention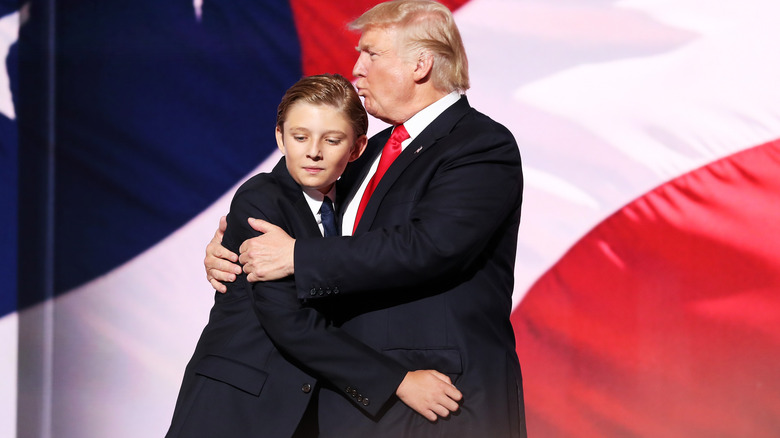 John Moore/Getty Images
Barron Trump, the youngest of Donald Trump's five children, has had a bit of a tumultuous childhood, to put it mildly. When his father got elected president in 2016, his whole life was flipped upside down. He had to leave behind his posh private school in the Upper West Side and start climbing the social ladder anew at St. Andrew's Episcopal School in Maryland. He had to trade his New York City penthouse for the White House (which can't possibly be that bad a trade) and learn to deal with life as the new president's son, all at the tender age of 9.
During a family interview with People, Donald Trump revealed that Barron wasn't all that excited about moving to the White House, in fact, the youngest Trump would've preferred to stay put in New York. "It's a little scary for Barron," Trump said, adding that Barron didn't want to leave his friends behind. "But I tell him if this happens, Daddy will help people, and can help children like him, and that makes him happy," he added. Barron's mother and Trump's current wife, Melania Trump, tried to protect her son from the media as much as possible, and the world barely ever heard a peep from him aside from spotting him at some official events with his family.
Barron Trump has received death threats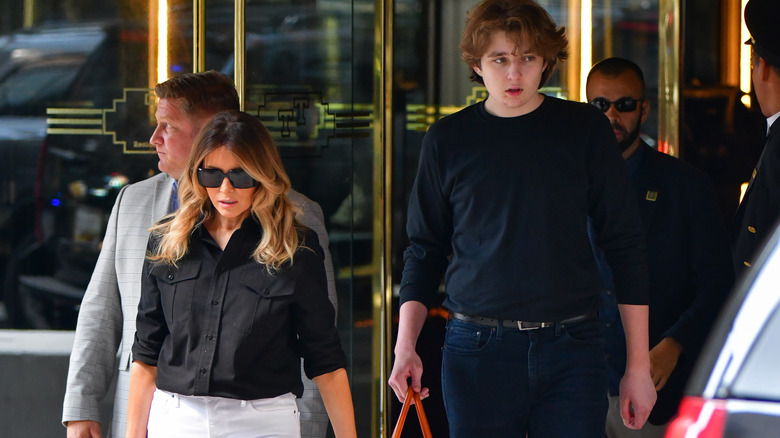 James Devaney/Getty Images
In August 2023, Barron Trump's name made headlines when it came to light that a woman sent an email to his Florida school threatening to kill both Barron and his father, Donald Trump. "I will shoot Donald Trump Sr. AND Barron Trump straight in the face at any opportunity that I get," the email reportedly read, according to CBS News. The New York Post reported that two threatening emails were sent to Barron's school. The first was sent in May 2023 while the second came the following month in June, with the writer once again threatening to shoot Barron and his father. The writer of the emails was later identified as Chicago woman Tracy Fiorenza, and legal steps were taken against her.
Barron seemed to handle the situation well — in public, at least. The Daily Express reported that the youngest Trump looked chipper after the incident hit the news, citing a picture of Barron someone posted on X as proof that the former president's youngest son was doing just fine. Whether this picture was actually taken after the death threats is unclear, but it's hardly proof that Barron wasn't rattled by the incident. While death threats to people like Trump and those close to them aren't unusual, having them sent to your school must be nothing short of terrifying. If we were Barron, we'd prefer to quietly blend into the background for the foreseeable future.