Anna Duggar Is All Smiles In Rare Family Photo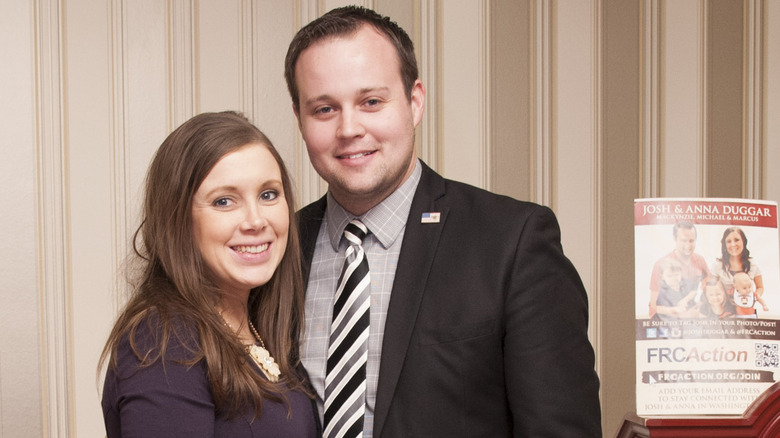 Kris Connor/Getty Images
This article contains references to child sexual abuse.
On October 8, the loving family of the late Rudolph Stembridge gathered to pay tribute to his life. Stembridge recently died at age 93, leaving behind a huge extended clan that includes 20 grandchildren. Among them is a name familiar to reality TV fans: Anna Duggar (née Keller), former star of "19 Kids & Counting." Married to oldest Duggar son Josh, Anna spent years being filmed as a devoted wife and mom until Josh was unmasked as not only a cheater but also a molester who had targeted his own sisters. His TV career and reputation came to a screeching halt. Yet the worst was still to come: In 2021, Josh was sentenced to more than 12 years in prison for receiving and possessing child sexual abuse material.
Not only did Anna have to cope with the truth of her husband's deeds, but she was also left without a home, no means of support, and seven children to raise. She deleted her social media accounts after Josh's trial, and now resurfaces only on rare occasions. The memorial to her grandfather was one of them. Anna's brother-in-law David Waller posted several pictures of the event, one of which is a group shot featuring Anna in the back row.  Her children — Mackynzie, Michael, Meredith, Mason, Marcus, Maryella, and Madyson — appear to be there as well. Despite the solemnity of the day, she is smiling and seems happy to be with her parents and siblings.
Anna Duggar is close to her own family
Understandably camera-shy of late, Anna Duggar showed an unusual willingness to be photographed for social media when she gathered for her grandfather's memorial service. Perhaps it's the company she was keeping: Anna makes brief appearances in Duggar posts and YouTube holiday videos of the extended family, but she's never seen interacting with her in-laws. 
This suggests a possible iciness between Anna and her father-in-law, Jim Bob Duggar. Numerous outlets affirm she and the children have been living in a converted warehouse on the Duggars' large Arkansas compound. In summer 2023, a source told the U.S. Sun Anna had been kicked to the curb by Jim Bob after an argument, and that she had moved to Texas to be closer to Josh's facility. However, the rumor may be just that. In August, Anna had an icy reunion with her cousin Amy Duggar King at an event, indicating Anna still lives locally. On TikTok, King recalled Anna snapping at her, "Just give me space." King has also said she has offered her cousin a place to live, but Anna has rejected that offer, too.
Given the tension within the Duggar clan, it may have been a relief for Anna to socialize with her own family for a day. Comments on David Waller's Instagram photo included: "Nice to see Anna and her kids. Finally." 
If you or someone you know may be the victim of child abuse, please contact the Childhelp National Child Abuse Hotline at 1-800-4-A-Child (1-800-422-4453) or contact their live chat services.