How Ashlee Simpson's Daughter Feels About Her Mom's Y2K Style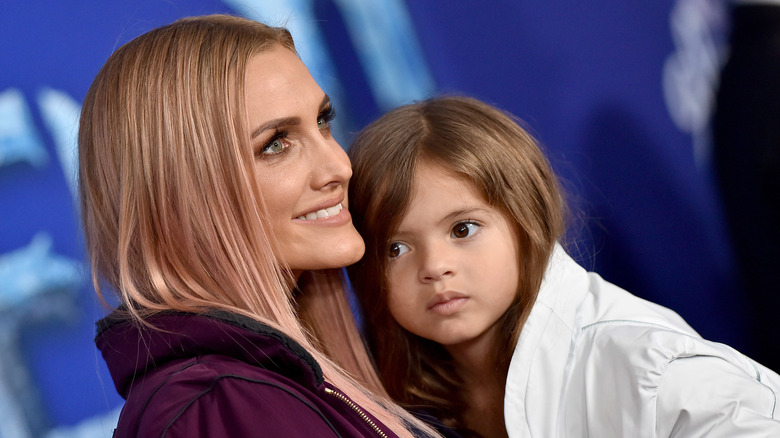 Axelle/bauer-griffin/Getty Images
Ashlee Simpson was one of many pop fashion icons of the early 2000s, rocking red carpets with low-rise jeans, excessive layers, and a choppy black dye job. Some of her eclectic outfits haven't aged well, but now that evolved Y2K trends have come back into style, the singer can bond over her old-school fashion with her daughter, Jagger Ross. The budding trendsetter is one of Simpson's three kids, born in 2015 to the former pop star and her husband Evan Ross.
Despite Jagger's young age, Simpson revealed in a 2023 interview that her daughter is a big fan of some revitalized early 2000s fashion trends resembling her own Y2K looks. "It's kind of great looking back at my outfits from back in the day," she told Elite Daily, noting that she can connect some of her daughter's fashion tastes to her past style. "Yeah, there are some mistakes, but that's what's fun about it."
Fashion is something that the two generally connect over, with the "Pieces of Me" singer telling People that her daughter is a "fun fashionista," adding, "She's so into it. She's like really good at putting on her own lipstick, and she puts these wild outfits together." Looking back at some of Simpson's campier Y2K ensembles, it sounds like Jagger is taking right after her mom.
Simpson shared a Y2K fashion moment with Jagger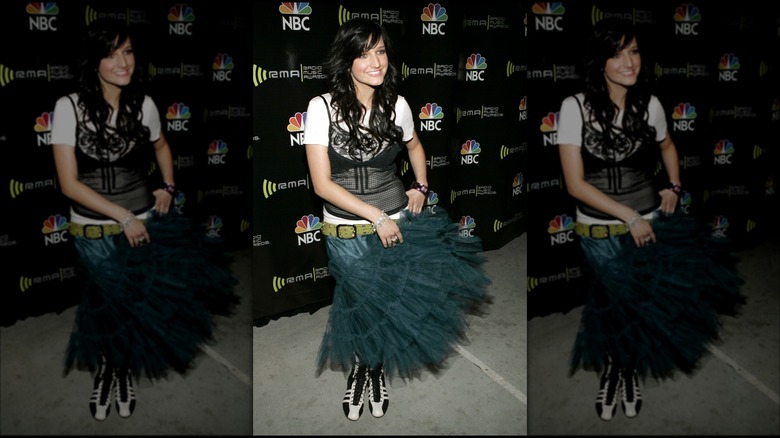 Kmazur/Getty Images
Jagger Ross may be a fan of some of her mom's old-school looks, but she wouldn't have gotten there without a push from modern Y2K stylings. As Ashlee Simpson explained to Elite Daily, "My daughter loves Olivia Rodrigo, and when she's like 'I like her ballet outfit,' I'm like, 'Jagger, mom used to wear tutus all the time... but with wrestling boots."
This description reminded us of Simpson's 2004 Radio Music Awards ensemble, where she paired a teal tulle skirt with black and white wrestling boots. A white graphic tee layered under a frilly spaghetti-strap top, a yellow grommet belt, and some eclectic jewelry make up the rest of the outfit, creating a quintessential early 2000s look. While it has some distinct differences from Olivia Rodrigo's SOUR tour looks, we can definitely see the connection.
"It's just so of that time, of that era," Simpson told Page Six about this specific look. "It's fun to look back and laugh at it. I would not be caught dead in that [now]." Even if her layered look doesn't hold up today, at least its Y2K origins are something she and her daughter can still bond over.
The mother-daughter duo are certified fashionistas
Beyond Y2K aesthetics, Ashlee Simpson and her daughter Jagger Ross have connected over fashion in several ways. Not only have they been spotted in matching outfits on Instagram, sharing snapshots of complementary cottagecore dresses and boomerangs of matching pajamas, but the two even dressed in twinning sets for Simpson's collaboration with Smash + Tess.
The clothing collection, aptly called "Pieces of Me" after Simpson's hit single, launched on March 28, 2023, and consisted of retro-inspired pieces for women, men, and children. "This collection is from my heart. I designed it with busy women and families in mind, offering versatile, chic, and comfortable pieces to simplify our lives," she told Women's Wear Daily. "I decided I wanted to do something adding my daughter in because, with everything I do, she's like, 'Well, where's mine?' So I added her in."
The mother-daughter duo modeled for the clothing campaign alongside Simpson's husband, Evan Ross, showing the looks off in an Instagram video. The light-colored jumpers and overalls are much different from the cluttered Y2K style that Simpson was once known for but are just another example of the budding fashion bond between her and her daughter.