Matthew Perry's One-Time Date With Cameron Diaz Ended In An Accidental Punch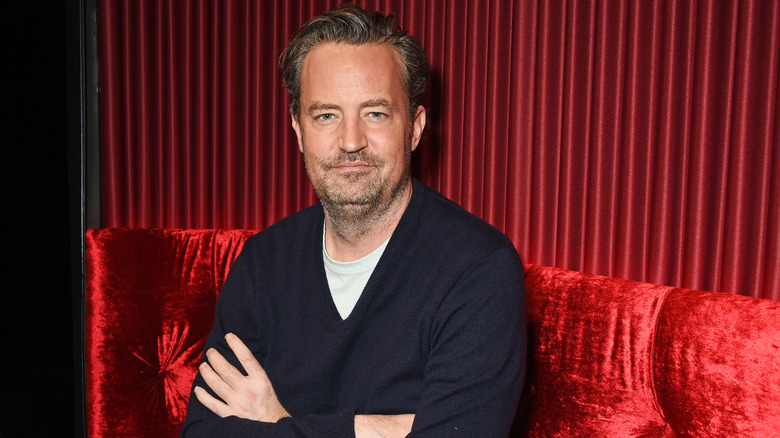 David M. Benett/Getty Images
At the time of Matthew Perry's untimely death, he was reportedly single, but the actor had a life full of complicated romances. In 2018, he began dating literary manager Molly Hurwitz, and he popped the question two years later. However, the couple called off their engagement just a few weeks later. In his tell-all memoir, "Friends, Lovers, and the Big Terrible Thing," Perry revealed that the proposal came out of a desperation to get her to stick around. He also shared that he forgot he proposed at all because he was high at the time. Regardless, after his death, she wrote him a heartfelt tribute that bared all about their deep connection. 
Before Hurwitz, Perry had a six-year-long relationship with "Mean Girls" star Lizzy Caplan, and in his memoir, he wrote that he often wondered how different his life would be if he had married her. And, as we all know, Perry also had a short-lived relationship with Julia Roberts, though his book revealed that their romance couldn't last because Perry didn't feel he was good enough for her.
Like most people, Perry tried dating a variety of women to figure out what he wanted out of a relationship, and one such encounter led him to Cameron Diaz. Shortly after she got out of her four-year relationship with Justin Timberlake, Diaz was set up on a date with Perry. And while they both expected to have a good time, they didn't quite expect the night to end with an accidental punch to the face.
Matthew Perry put a lot of thought into his date with Cameron Diaz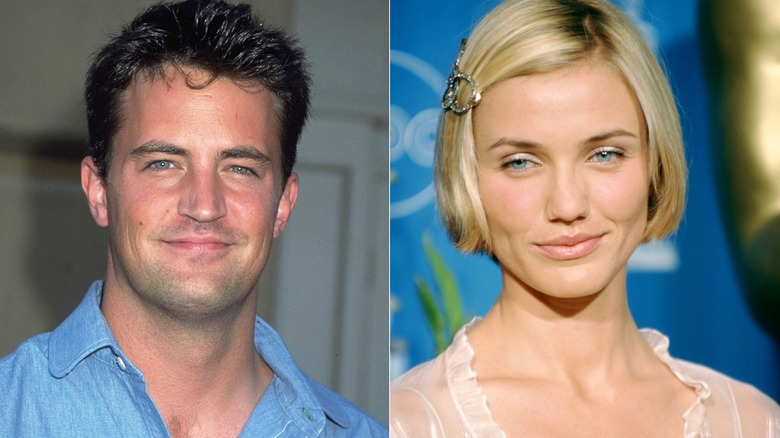 Getty Images & Ron Davis/Getty
When Matthew Perry went on a date with Cameron Diaz, he had everything planned out. In his memoir, he wrote that he orchestrated several details through the night to ensure that Diaz focused on his best asset — his arms — which had grown due to working out and eating healthier. Perry started with the basics: He chose to wear a long-sleeved shirt that he could roll up during the long walk he planned. 
To really make his arms pop, he even got a fake tan done especially for the date. Perry detailed how it all went down, recalling, "The date was at a dinner party with a bunch of other people, but upon seeing me, Cameron got almost instantly stoned — it was clear that she wasn't interested in me at all." Nonetheless, Perry tried to have some fun at the party by joining a game of Pictionary, but things took a turn for the worse when Perry decided to make good use of his sense of humor. 
He explained, "As she was drawing, I said something witty to Cameron, to which she said, 'Oh, come on!' and proceeded to punch me in the shoulder." But the blow didn't hit its target, and she instead ended up punching Perry in the face. At the time, Perry was too stunned to do anything except say, "Are you f***** kidding me?" but in hindsight, he marveled at the irony of getting punched while trying to make a big deal out of his arms. 
His on and off-screen partners remember him fondly
Before "Friends" aired, Matthew Perry had a short fling with Gwyneth Paltrow. In his book, Perry revealed that their paths crossed in Massachusetts while he was there to visit his grandfather and Paltrow was acting in a play. They both happened to be at the same party and after having some fun with the group, the two snuck out to make out in a closet. After news of his death broke, Paltrow shared a heartfelt Instagram tribute, explaining that the two had a short and sweet but memorable summer fling. 
She happily remembered, "He was so funny and so sweet and so much fun to be with," adding, "He had shot the pilot of Friends but it had not aired yet. He was nervous, hoping his big break was just around the corner." Their romance might not have worked out, but Paltrow revealed that they stayed in touch for a little while until life sadly drove them apart. At the end of her message, Paltrow's only wish was for Perry to be at peace.
Although he never dated his on-screen love interest, Maggie Wheeler, who played Janice on "Friends," she too wrote him a heartfelt Instagram post following his death, where she gushed about his ability to bring millions so much happiness through his comedic talents. Even his "Fools Rush In" co-star Salma Hayek shared that she and Perry formed a deep bond after working on a film that was so near to their hearts, and they often looked back on their work fondly.