What We Know About Steve Harvey's Daughter Lori's Hit-And-Run Case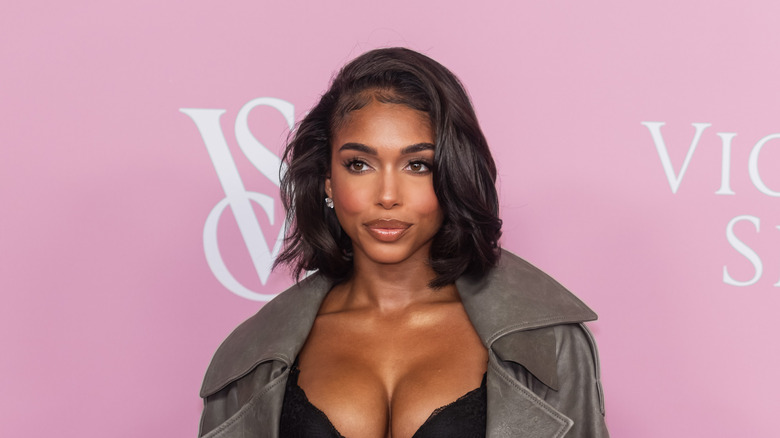 Gotham/Getty Images
As one of the new It Girls, Lori Harvey is well-known for her amazing fashion sense and high-profile dating history. As the daughter of media multi-hyphenate Steve Harvey, Lori is making her mark on Hollywood as a newcomer. However, fans might not be aware of her past run-ins with the law. In October 2019, the model was arrested in connection to a hit-and-run in Beverly Hills.
An eyewitness told OK Magazine that Lori attempted to flee after hitting a parked car. Lori's Mercedes SUV was tossed onto its side after the collision, and the other driver pulled her from the car. Sustaining no injuries, she attempted to flee from the accident but was detained by police before getting too far, per People.
Lori was arrested but was not taken to the Beverly Hills police department. Instead, she was released at the scene upon agreeing to show up in court. She was later charged with two misdemeanors: hit and run and resisting or delaying a police officer, according to TMZ.
Lori called her father Steve Harvey for support
After getting into trouble with the law, Lori Harvey had one person at the top of her call list: her father, Steve Harvey. An eyewitness to the accident said that Lori made a video call to her father after police arrived on the scene. After the charges were filed, Lori pleaded no contest to resisting or delaying a police officer, TMZ reports. The "SKN by LH" founder luckily avoided potential jail time by agreeing to serving two years on probation.
It's no surprise that her dad was Lori's first point of contact, as the two are extremely close. As the youngest of Steve's seven children, Lori shares a special bond with Steve. Even though he is not her biological father, the "Family Feud" host readily became a father figure to Lori after marrying her mother, Marjorie Harvey. In fact, Steve legally adopted Lori and her two siblings, Jason and Morgan, in 2007.
Steve takes on an active parenting role with his children, passing down advice and lessons regularly. Lori told E! News (via Essence) that one of his main mottos greatly informs her approach to relationships. "Remember that you are the prize always...That's like his golden slogan for me," Lori shared. "It just means not compromising my values, my happiness, my peace. Not settling for less than what I know I deserve."
Steve is very protective of Lori when it comes to dating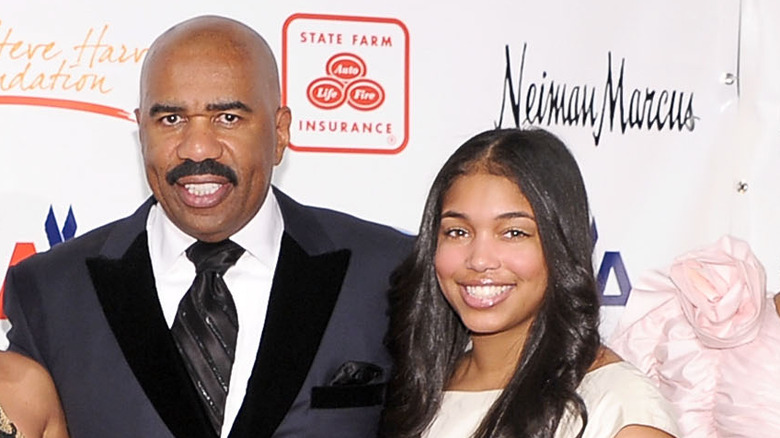 Michael Loccisano/Getty Images
As Lori Harvey grew up into a beautiful young woman, Steve Harvey took overprotective to a new level when it came to her dating life. As the author of "Act Like a Lady, Think Like a Man," it's no surprise that the radio host was on the lookout for his daughter. Lori has had several relationships with some of Hollywood's most eligible bachelors, from Michael B. Jordan to Damson Idris.
It's safe to say that despite their accolades, Steve is hesitant to give Lori's beaus his approval. When it came to Jordan, the former comedian was especially vocal about his high standards. "...I'm a father. I don't give a damn if you [are] cute," he told People, referencing the "Black Panther" actor. "I just want somebody to treat my princess the way I treat her."
Lori's relationship with Jordan was highly publicized, as the two dated for nearly two years. The couple's split in 2022 came as a disappointment to fans, but it appeared to be amicable. When Steve and Jordan ran into each other at a basketball game nearly a year later, they greeted each other with a warm hug, per Us Weekly.