Tragic Details About General Hospital's Vanessa Marcil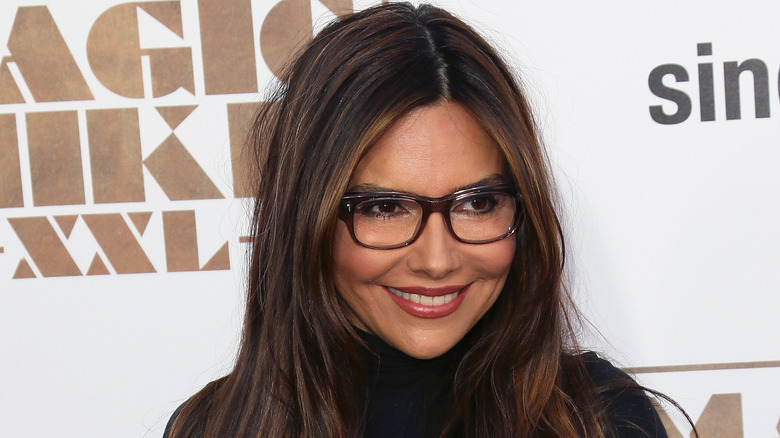 David Livingston/Getty Images
Actress Vanessa Marcil rose to fame thanks to her outstanding performances in "General Hospital," "Beverly Hills, 90210," "NYPD Blue," and "Las Vegas." She is also one of the former soap opera stars who made the move to Hallmark, which further cemented her career. Sadly, her personal life was filled with misfortune. Over the years, Marcil lost her father, one brother, and several other people she cared about.
The "General Hospital" star is the daughter of self-made millionaire Peter Ortiz and herbalist Patricia Marcil Ortiz. Despite coming from a wealthy family, she had a rough childhood because of her abusive father. When he died in 2017, Marcil confessed on Instagram that they had been getting along over the past five years after not talking to each other for two decades.
In 2019, the actress lost her brother, Pete Samuel Ortiz Jr., and her best friend, former "House Hunters" host Suzanne Whang. Four years later, she had to deal with the loss of her ex-fiancé, Tyler Christopher, who died from a heart condition at age 50. As if these tragedies were not enough, Marcil served jail time in her younger years and went through multiple miscarriages.
Vanessa Marcil had a rough time as a teenager
The "Beverly Hills, 90210" star grew up in an interracial family, which made her childhood difficult. The actress also confessed that she experienced bullying in school and that no one did anything about it. "A girl gang used to shove my head inside my locker, beat me up in the back of the bus, and hold my head in the toilet," Marcil shared on Instagram.
These events, as well as her father's abusive behavior, affected her self-esteem. At age 11, she started drinking in an attempt to numb her feelings, according to Lifetime's "Intimate Portrait." She also dropped out of high school and began to use drugs. "When you're feeling bad about yourself, you just kind of usually continue the downward spiral," Marcil explained. These self-destructive behaviors landed her in jail for eight days.
But sometimes, things get worse before they get better. The probation officer who supervised Marcil following her arrest turned out to be exactly what she needed. "He used to come to my house, and my father never hit me again after that," she told Meredith Viera, the host of "Intimate Portrait." Later, her passion for acting changed her life for the better. She was finally able to accept her emotions, and she felt safe. 
If you or anyone you know needs help with addiction issues, help is available. Visit the Substance Abuse and Mental Health Services Administration website or contact SAMHSA's National Helpline at 1-800-662-HELP (4357). 
Her adult life was marked by tragedy
Vanessa Marcil came to terms with her past and built a successful career, but her life wasn't easy. In 1999, the actress started a relationship with her co-star, Brian Austin Green. They got engaged in 2001 and had a baby, whom they named Kassius Lijah. The couple split in 2003. After seven years, the "General Hospital" alum married "CSI: NY" star Carmine Giovinazzo, hoping to build a family together. Sadly, the actress had two miscarriages in 2011 and filed for divorce in 2012.
Three years later, Marcil got engaged to a deputy sheriff she calls "MC." They were still together in 2018 when the actress announced her seventh miscarriage on social media. The original post has been deleted, but the caption said, "Our hearts are with Vanessa and MC, who have lost baby OPM ("our precious miracle"). Thank you for respecting their privacy as they heal, and thank you for sharing all of your personal stories. You are not alone" (via People).
Miscarriages are common, but this doesn't make things any easier. Losing seven pregnancies would be devastating for any woman, and we can only imagine what Marcil went through. But despite these setbacks, she found the strength to keep going. In 2018, the award-winning actress starred in "Bad Tutor" and, one year later, in "My Stepfather's Secret."