5 Major Relationship Updates In The RHOP Season 8 Premiere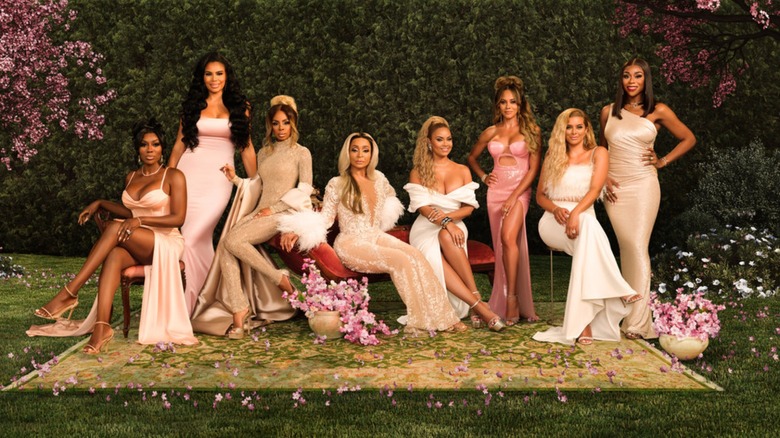 Jai Lennard/Bravo
The women don't play in the P, honey! Word on the street is a lot has changed in the personal lives of "The Real Housewives of Potomac" since last season. "RHOP" Season 7 was another dark and toxic season in the franchise, featuring a seemingly pointless takedown of Candiace Dillard Bassett's husband, Chris Bassett. Without Michael Darby in the picture to cause chaos for the show, it looked as if Gizelle Bryant and Ashley Darby found Chris to be an easy target. Since then, most of the women have seen significant changes in their romantic lives, but not all of the changes are positive. 
Some couples are going through classic "Potomac" hardships with new twists. Namely, Juan Dixon was caught in a series of scandals after Season 7. Although Robyn poises in her new tagline that she "100% doesn't care" about the drama, Juan's actions left a look of embarrassment all over her life that was evident in the premiere. Even beyond Mr. and Mrs. Dixon, the "RHOP" Season 8 premiere was filled with major updates on the turbulent love lives of the DMV's favorite women.
Robyn & Juan stick to their narrative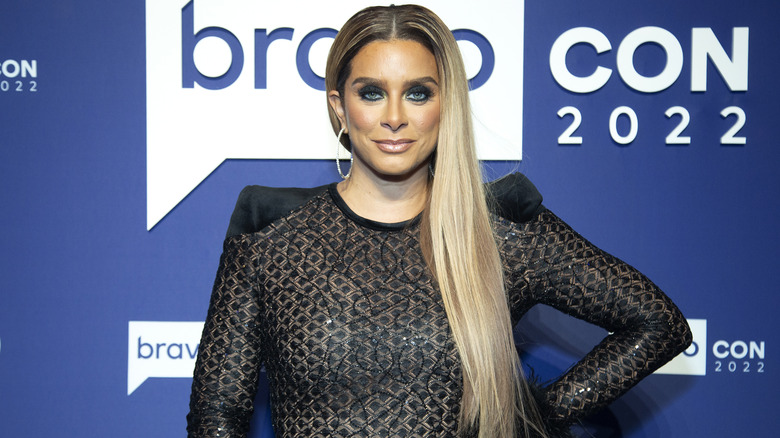 Santiago Felipe/Getty Images
Robyn Dixon had always been the most boring cast member "Real Housewives of Potomac," mainly due to her reluctance to share what was really going on in her life. However, heading into this season, the word on the street was that Mr. Juan Dixon was participating in some sneaky link behavior, which Robyn waited until after last season's reunion to address.
It's clear that in this premiere, Juan and Robyn are all about damage control now that their struggles can no longer be concealed. Andy Cohen can't get this man to attend a reunion, but Juan is front and center for the cameras to spin the narrative that he's done nothing wrong. The allegations are clear: Mr. Dixon was caught having some sort of entanglement with another woman, even paying for her hotel room. Regarding this, Juan tells Robyn, "This was a young lady that said she was going to visit a dude that played for the Ravens. She lost her wallet at the casino. She reached out to me. I got her a hotel room. I know it sounds weird, but that's the truth." 
Is it Juan? Is it the truth? If it quacks like a duck... The audacity of Juan to look into Robyn's green eyes and claim the girl in Canada is fabricating this story is insulting to her and everyone watching. Nevertheless, he and Robyn stick to their guns that Juan was just being "friendly."
Robyn stands by her man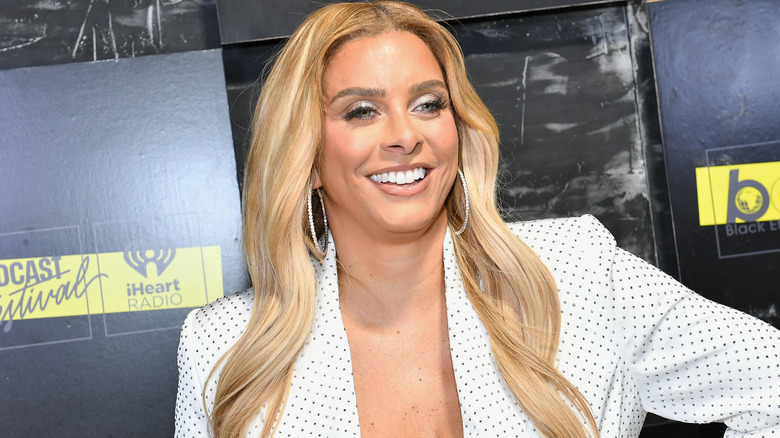 Paras Griffin/Getty Images
Call Gizelle Bryant "Captain Potomac," because she assembled the Avengers of Housewives to speak to Robyn Dixon about her issues with Juan Dixon in the "RHOP" Season 8 premiere. Ashley Darby and Charisse Jackson-Jordan united to help Robyn through her ongoing marital crisis. If Robyn's bestie Gizelle refers to this as "delusion," you know it's bad. Gizelle knew if she didn't speak up about Robyn and Juan's scandal, the other women would rip into her. She had to approach this in at least some capacity, so kudos to her for knowing how to play the "Housewives" game. 
However, Robyn snapped back at the women, telling them, "I'm not going to tell him to end his friendship. I'm not going to tell him, 'Oh you can't do certain things that were fine before. At this point, I don't care. My joy has been stolen." 
Despite the support, Robyn's standing by her man, regardless of the optics of what he's doing. She doesn't blame Juan for any of this, even though Ashley and Gizelle tried to paint the picture to her about how he was insensitive. She doesn't want to see it. Buckle up for a season of Robyn feeling "piled on."
Ashley Darby's money madness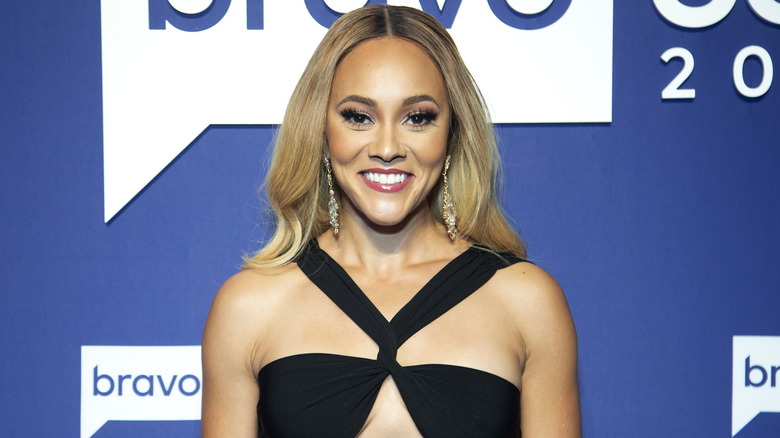 Santiago Felipe/Getty Images
Ashley Darby's marriage is still not legally over, but she's doing all she can to keep Michael Darby somewhat in her life. Since Ashley fumbled her bag called it quits on her marriage, it appears her financial well is close to running dry. 
In the "RHOP" Season 8 premiere, we learn that Ashley is somewhat stringing Michael along to keep the influx of income coming to support her. Without Michael, Ashley would be entirely responsible for her new house payments, and that doesn't seem doable for her. Michael's name is still on the house, and although he's only been upstairs "two or three times," she says he is still financially on the hook. 
With Michael off the show, it's difficult to make sense of anything going on between the pair behind the scenes. "I am dragging my feet quite a bit with my divorce," Ashley admits, affirming our suspicions that something is off. Hopefully, Ashley can be more transparent about her personal life, and if she is unwilling to do so, it might be time for her reign on "RHOP" to come to an end. 
Gizelle Bryant's Winter House beau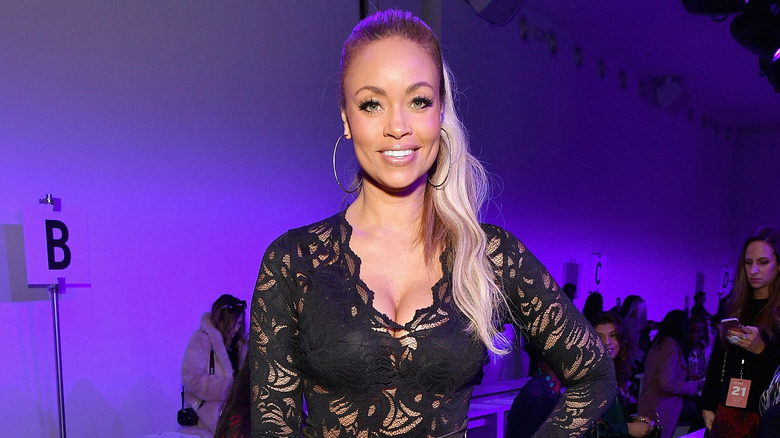 Dia Dipasupil/Getty Images
Viewers never thought they'd see the day: GIZELLE BRYANT'S RELATIONSHIP DROUGHT IS OVER! She finally has a man, and he is willing to film. After seasons of Gizelle's previous men "living in the phone," her new boyfriend, Jason Cameron from "Winter House" was in the premiere. Jason is 16 years younger than Gizelle, and this is the first time in several seasons that she's looking genuinely happy. According to Gizelle, the west wing of her home is "seeing some things it hasn't seen in a while." Does she mean a real relationship that isn't manufactured for a storyline?
To say Gizelle's daughters are less than enthused with the glaring age difference between them would be an understatement. "Is this my brother, how old is he?" her daughter Grace recalled of her first impression of Cameron. "I was kind of on edge because I didn't really know him, and this random guy was just following us around." Although the night they all met was laced with confusion and ambiguity, Jason has worked his way to an A- approval score, according to Grace. 
Listen, for Gizelle to spend season after season meddling in the relationships and marriages of her fellow wives, it's nice to see her have a personal life to speak of. Inserting herself into her castmates' marriages with no ring on her own finger or man behind her at the reunion has never landed well, so her new boo is a welcome addition.
Mia Thornton's shrinking lifestyle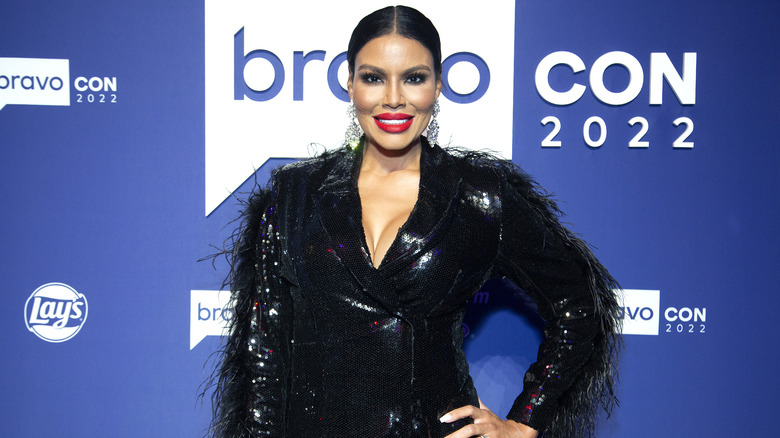 Santiago Felipe/Getty Images
Things have drastically changed for Mia Thornton and her lifestyle since last season. In the "RHOP" Season 8 premiere, we see she dropped from a sprawling 10,000-square-foot home to only 1,500. For someone who called themselves the "CEO," this is a fall from grace that Mia never saw coming. Her husband was removed from his family company, and they're living off the final shreds of savings left. Viewers now know that Mia and Gordon Thornton are separated, so how this all plays out isn't exactly a mystery. The money dried up, and Mia is seemingly on her way to her next chapter. She references this in the Season 8 trailer, saying, "Maybe I did [marry G for his money].
There are a lot of questions left unanswered about why Gordon is no longer with the company, leading to some tension on Mia's end. She has no idea why he was voted out, and there's a newfound financial strain on the household. Mia says, "I gotta protect my assets and my kids," foreshadowing the eventual split.
A positive coming out of Mia's premiere storyline is her decision to cut hard liquor out of her life. The last time she drank it, she verbally attacked The Grand Dame, Karen Huger, straining their longtime friendship. With Mia's family life in shambles, she needs friends to rally around her now more than ever.