All The Worst-Dressed Reality Stars At BravoCon 2023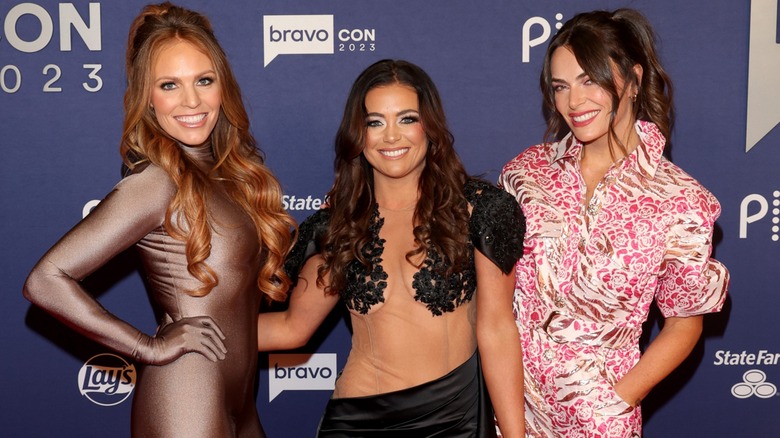 Gabe Ginsberg/Getty Images
BravoCon stands out as a pivotal annual event in the realm of reality TV, uniting Bravo's prominent stars and their passionate fans. From discussion panels to just hanging out with your on-screen favorites, BravoCon is something like ComicCon for reality television lovers. This year's Las Vegas gathering, held November 3-5, spotlighted casts from hit shows like "The Real Housewives" series, "Vanderpump Rules," and "Below Deck," among others, creating a distinctive space for mingling and interactions. 
Yet, alongside the celebration of fandom and star encounters, BravoCon unfolds as both a paradise and a purgatory for fashion enthusiasts. Many reality stars are known for their bold and unconventional fashion choices, often defying conventional norms and perplexing even those well-versed in the fashion world. Therefore, it is essential to curate a best-dressed list for the event, showcasing those who successfully navigate the world of fashion and, conversely, those who completely miss the mark.
We've compiled a list of the worst-dressed reality stars at BravoCon 2023, featuring individuals like Katie Flood, Tom Sandoval, James Kennedy, Paige DeSorbo, and many others. Whether extravagantly veering off course or falling short, many television personalities have left a lasting mark on BravoCon 2023, for better or for worse, through their fashion choices. Whatever happens in Vegas, stays in Vegas, and we can only hope that holds true for these outfits. 
Danielle Cabral's jumpsuit makes us want to ban rhinestones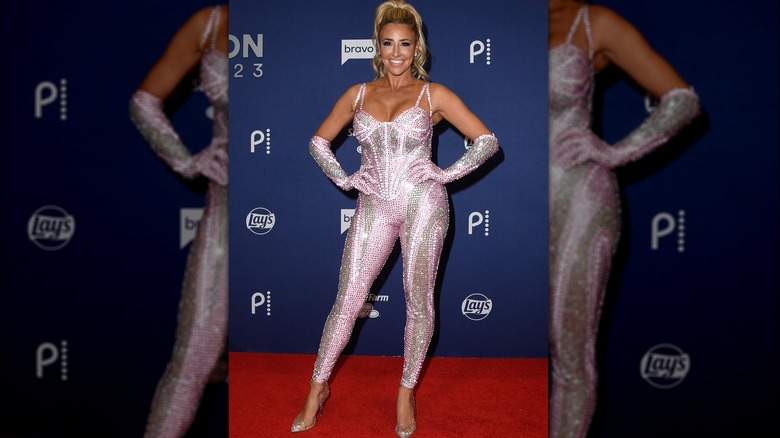 Mindy Small/Getty Images
On the second day of BravoCon 2023, Danielle Cabral opted for a sleeveless, long jumpsuit in a combination of baby pink and silver tones, embellished with rhinestones, proving that there is such a thing as too much bling. She was shimmering so blindingly that we half expected her to announce that she was joining "Dancing With the Stars" but not as a contestant — she was decked out in so many rhinestones that she rivaled the show's Mirrorball Trophy.
The ultra-sparkly outfit was paired with matching elbow-length gloves and clear rhinestone shoes that made it look like Cabral had gotten trigger-happy with a Bedazzler. This resulted in a cheap-looking outfit that could've been fashionable had she dialed it down. To add injury to insult, the back of the jumpsuit barely provided adequate coverage for the star's behind, as can be seen on her Instagram, proving entirely inappropriate for a red carpet event.
Katie Flood looked like she was heading to a barbecue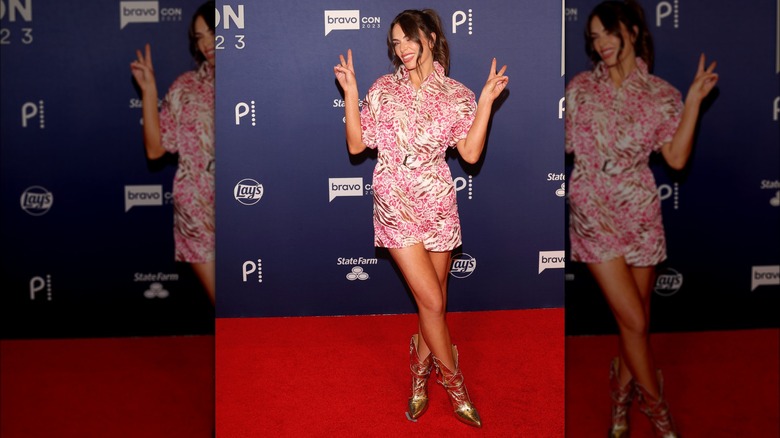 Gabe Ginsberg/Getty Images
Another jumpsuit found its way on our worst-dressed list at BravoCon 2023, and it's Katie Flood's. The "Below Deck Mediterranean" star opted for a short-sleeved jumpsuit in a loud floral and animal print. While she matched her makeup perfectly, her footwear — a golden pair of cowboy boots — made zero sense. The jumpsuit itself didn't feel formal enough for the occasion, and the boots threw it completely off course. While Flood might have nailed a cute summer barbecue outfit, a bit more effort, or perhaps a change of footwear, would be necessary for a more fitting appearance in Las Vegas.
Donna Farizan dressed in Beetlejuice chic
Donna Farizan's BravoCon outfit looked like it might have been the result of someone saying "Beetlejuice" three times. The outfit was so simple yet so bad, especially since the event took place after Halloween. The media personality paired a corseted sleeveless mini dress featuring black and white stripes with a black T-shirt underneath.
She might have been able to pass off the outfit as a casual but not awful ensemble if she hadn't paired it with olive-toned thigh-high boots and a pearl choker. The round-toed, short block-heeled boots didn't make any sense with the rest of the outfit, which felt more like a bad Halloween costume rather than a red carpet-worthy look.
Kyle Viljoen's 'forget' shirt is unforgettable -- and not in a good way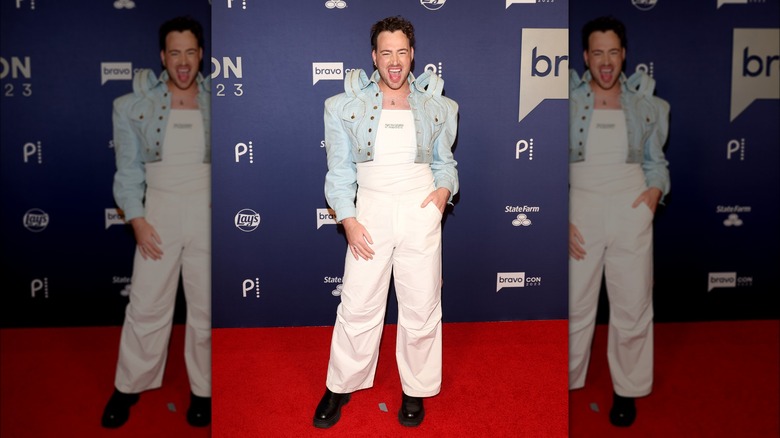 Gabe Ginsberg/Getty Images
We love to see men experiment with fashion, but Kyle Viljoen's BravoCon look was simply not it. The antagonist from "Below Deck Mediterranean" missed the mark with his choice of a white ensemble paired with a denim bolero adorned with peculiar shoulder pad-like straps. The look might've actually worked had Viljoen not chosen thick-soled black boots that didn't match anything else. Not only were his pants generally too short, but combined with the bold footwear, they awkwardly cut his legs way too short. Ironically, his top said "Forget," and, frankly, we're trying to do just that.
Rhylee Gerber's outfit was better suited for a sci-fi convention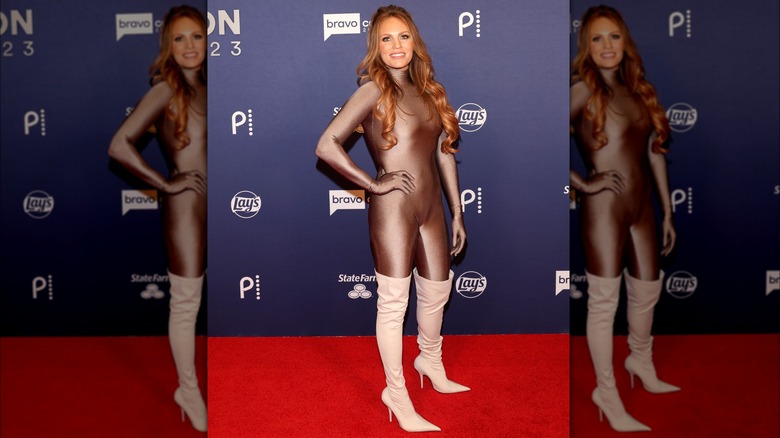 Gabe Ginsberg/Getty Images
Had Rhylee Gerber worn her metallic full-body jumpsuit to a sci-fi movie premiere in the 1980s, she likely still wouldn't have made the best-dressed list had she paired it with thigh-high pointy-toed cream boots like she did at BravoCon 2023. The boots awkwardly gaped around Gerber's thighs, and their nearly white hue clashed with the warm-toned copper jumpsuit she was sporting. The gloves and high neck left us wondering if there's a missing headpiece, as the overall ensemble appeared incomplete without antennae or maybe a space helmet. 
Even Gerber's hair, despite the boldness of her outfit, was surprisingly underwhelming. It's either "Go big or go home," not both. However in this case, "E.T. phone home" might be a more fitting expression. 
Garcelle Beauvais was a walking Rorschach test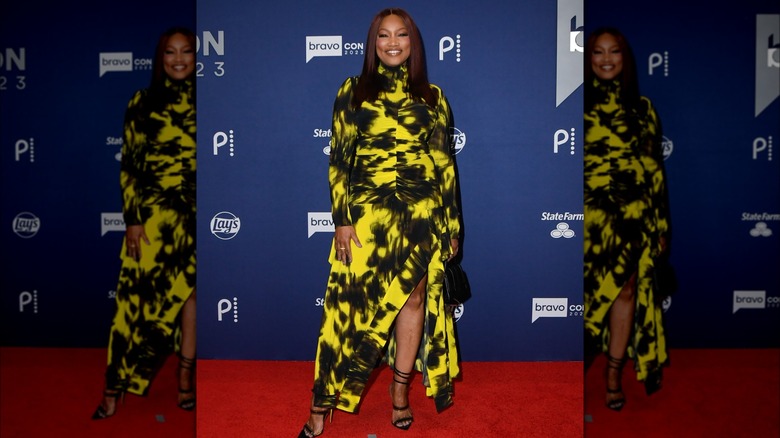 Mindy Small/Getty
Known for her love of bold prints and vibrant colors, Garcelle Beauvais made a questionable statement on BravoCon's red carpet. The star of "Real Housewives of Beverly Hills" opted for an ankle-grazing dress adorned in a bold black and neon yellow abstract pattern that looked more like a Rorschach test than a red carpet outfit.
The combination of the audacious color palette, coupled with the high neck and long sleeves, contributed to the overwhelming nature of Beauvais' dizzying ensemble, making it seem like the dress was wearing her and not the other way around. The addition of pointy-toed, strappy heels wrapped around her ankle only served to further smother the overall look.
Tamra Judge looked like a Versace billboard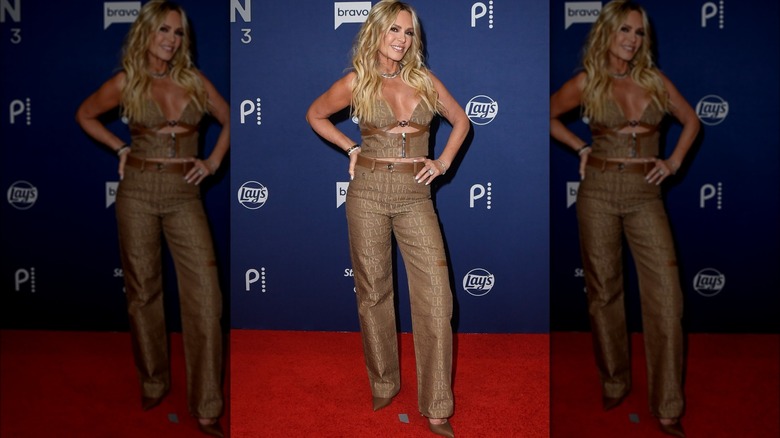 Mindy Small/Getty Images
Tamra Judge definitely missed the mark of formal wear at BravoCon 2023. Donning a matching cut-out top and trousers in beige and brown tones, Judge went overboard with the "Versace" branding sprawled across her outfit. With quiet luxury dominating fashion, logomania is on its way out. Additionally, flashy logos are free marketing, which "The Real Housewives of Orange County" star should know by now. While this look might be suitable for a concert or a star-studded basketball game, it lacks the refined elegance expected for a more formal event. We can only hope that Versace paid her for all that free advertising. 
James Kennedy's boy band outfit failed on so many levels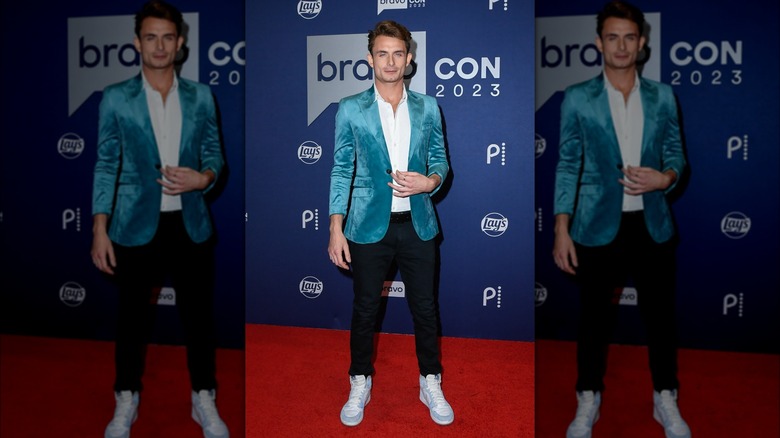 Mindy Small/Getty Images
Combining mismatched colors is already a fashion faux pas, but James Kennedy took it a step further by not nailing the textures of his BravoCon 2023 outfit. The teal velour blazer, most likely intended to be the standout piece, ended up backfiring when the "Vanderpump Rules" star paired it with a white shirt, a black leather belt, skinny trousers (which somehow didn't match), and high-top Nikes in white and baby blue. It's a simple look, yet so effectively bad that it's reminiscent of a less-favored member of a boy band from 2012. Yikes.
Shereé Whitfield's denim-on-denim look was an eyesore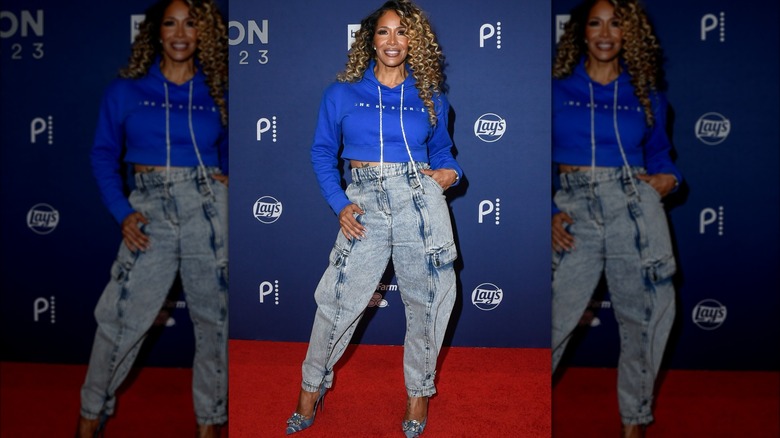 Mindy Small/Getty Images
Another highly confusing look at BravoCon 2023 was served by Shereé Whitfield, a "Real Housewives of Atlanta" alum. Sporting a cropped hoodie paired with denim cargo pants to the Las Vegas event, Whitfield's outfit choice, while not only lackluster, ended up looking rather disheveled. 
To her credit, this outfit would have worked for a casual date night or a cozy evening at home — maybe that's what she had in mind when sliding on a pair of denim pumps adorned with crystal embellishments. Perhaps she tried clicking them together and chanting "There's no place like home"? It seems only Dorothy from "The Wizard of Oz" gets magic, sparkly shoes, though. Whitfield's blue shoes didn't complement her acid-wash denim pants making for some denim-on-denim styling dissonance. While extra jewelry might have tied the look together, a change of clothes would've been better.
Paige DeSorbo's rhinestone underwear looked uncomfortable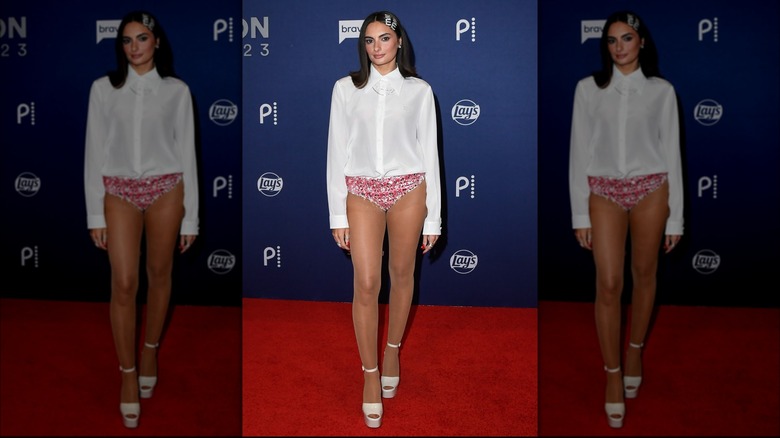 Mindy Small/Getty Images
Paige DeSorbo's BravoCon ensemble was cringe-worthy, to say the least. Known for her usually impeccable fashion sense, DeSorbo veered off course with the "no-pants" trend, sporting crystal-embellished underwear that made it look like she was headed to an audition for "A Chorus Line" instead of attending BravoCon. Plus, they just seem uncomfortable, both to wear and to look at.
The real faux pas, however, was the choice of skin-colored pantyhose, which were glaringly evident. While the platform heels were a decent attempt to balance out the modesty of her plain, white button-up shirt, they lacked the necessary cool factor for the job. It seemed like DeSorbo attempted to push the fashion envelope but ended up playing it safe.
Tom Sandoval's puzzlingly bare chest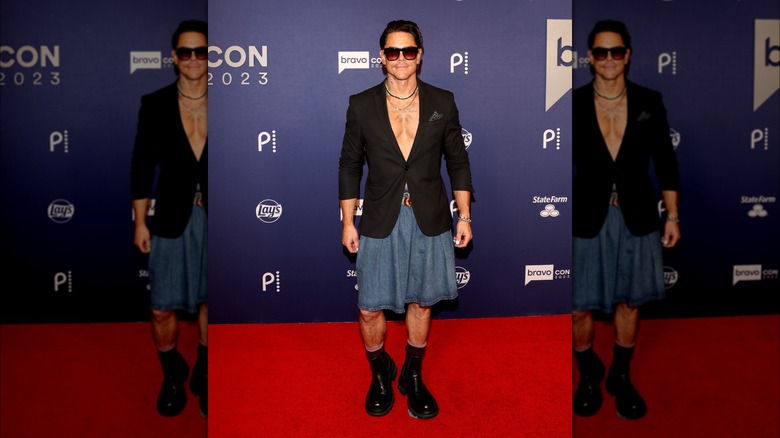 Gabe Ginsberg/Getty Images
Once again, we appreciate and enjoy seeing men embrace unique and unconventional fashion choices. However, Tom Sandoval managed to butcher his fashion-forward BravoCon 2023 attire which ended up looking more like a bad "Outlander" cosplay. Sporting an unexpected denim skirt wasn't the issue; it was the absence of a shirt that raised eyebrows. The Bravo TV personality paired his flowing bottoms with a snug black blazer, sans any layer underneath, although he did wear multiple necklaces that emphasized his puzzlingly bare chest. While he did participate in a shirtless pushup contest at BravoCon (which he lost to James Kennedy), there's no excuse for walking around shirtless for the whole event.
Adding to the questionable ensemble were chunky slip-on boots, complete with visible socks, and a pair of sunglasses we're assuming he wore to protect his eyes from the glare of his bare chest.
Malia White's shoulder pads defied gravity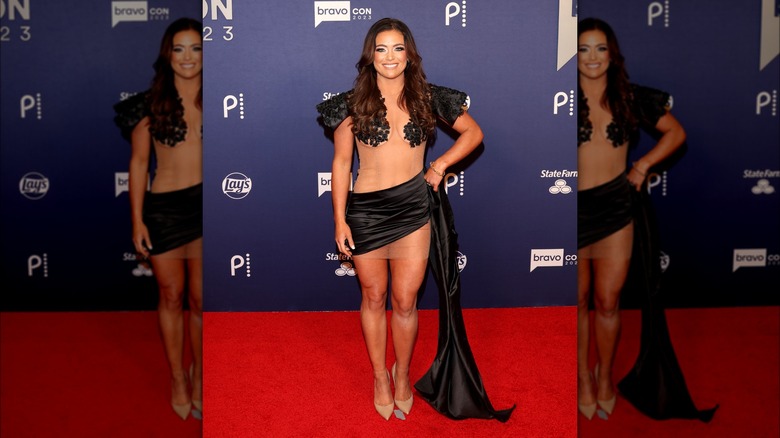 Gabe Ginsberg/Getty Images
We aren't exactly sure what Malia White was going for with her BravoCon 2023 outfit, but it was not giving what it was supposed to give. While it looks like she might have been trying for a daring, barely-there approach, it looked more like she made an outfit out of some old curtains and ran out of material. 
White's dress was a combination of a see-through tulle-like material and leather details covering her up — literally. The fact that most of her was scantily clad made the fact that she looked like she was wearing a set of gravity-defying football shoulder pads even more questionable. Adding to White's fashion mishap were the nude pumps she chose, presumably aiming to elongate her legs but instead making it look like she had glued tortilla chips to her toes. 
Heather Gay looked like she was wearing a garbage bag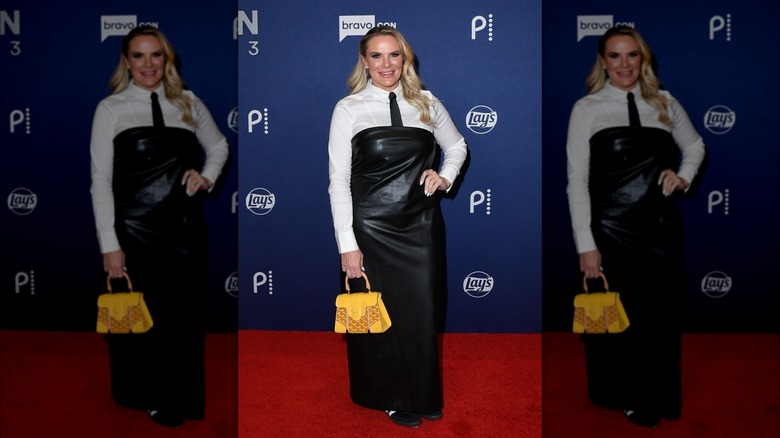 Mindy Small/Getty Images
Heather Gay's fashion choice at the 2023 BravoCon might be one of the worst fails we've ever seen. Starting from the top, Gay combined a white button-down with a strapless, floor-length leather dress. She managed to worsen the look by adding a skinny tie, which she tucked into the dress. Instead of stopping there, the reality star decided to complete the ensemble with Adidas sneakers and a textured mini bag in yellow, which did not prove to be a favorable combination of any kind.
To be honest, the leather dress looked like a garbage bag, and the star would have been better if she had thrown the whole outfit into one and found something else to wear.