Styling Denim On Denim (Without Looking Like Britney And Justin Circa 2001)
It was 2001, and the American Music Awards were on. Even though it was an interesting time period when it came to fashion, no one was really expecting a double denim look on the red carpet — but it happened. The couple of the moment, Britney Spears and Justin Timberlake, rocked the infamous denim on denim (on denim on denim) ensemble.
Even though their relationship was complicated and eventually ended, the denim duo lives forever on the web. Denim is always fresh in different forms, depending on the year. It used to be skinny jeans, which have now been replaced with baggier denim versions. Denim skirts are no longer mini and have gone maxi. Even purses and shoes are now denim — and it's cool.
However, Britney and Justin's iconic look is often trending for a different reason. Unfortunately, they're still being used as an example of how not to style denim on denim. Maybe it was Justin's denim cowboy hat that tipped the whole thing over the edge, but the outfits were too over the top for most. If you're not sure how to style the trend without looking like a cringey meme of the early aughts, there are some pointers you can follow.
Mind the denim wash
For a more textured look, opt out of combining the same denim shades for both your bottom and top pieces. Choosing the same wash of denim for the entire fit might come on too strong and leave you looking like Justin did on the red carpet. Different shades of denim will add some depth to your look and be easier on the eye. However, remember not to go too heavy on the contrast. Consider pairing similar but still different enough denim washes for a casual look, just like @kathiannabeell did on Instagram.
Play it safe with a denim jacket
Jeans are for sure the all-time favorite denim piece, but a denim jacket likely comes in a close second. Pairing jeans and a denim jacket is not exactly groundbreaking, but you can easily elevate the look by adding other interesting pieces. It could be a fun-colored sweater underneath, a large shoulder bag, or a statement belt. If you're not big on color or accessories, you could opt for a more compelling denim jacket that's painted or embellished.
Don't forget the classic button down
A white button-down is a known wardrobe staple, but why not switch it up? A good button-down goes with practically anything, so consider one in denim if you're in the market for a good denim-on-denim look. For example, combine a denim shirt with jeans and some sneakers for an everyday look, or elevate it by grabbing your favorite heels and a clutch for a night out. Even suitable for the office, this denim combo is versatile and chic. You can easily dress it up or down just by changing out your accessories.
Incorporate colored denim
Don't be afraid of some color, especially if you're just beginning to dabble in more elaborate denim looks. A head-to-toe denim aesthetic might be too much for some, and that's totally okay! Pairing one blue denim piece with one of a different color is an amazing way to incorporate the trend into your style without it being overwhelming. White denim is no longer considered just summer wear, so pair it with a light-wash denim button-down or jacket for a fresh look.
Make it footwear centric
The choice of footwear can make or break a denim look. Opting for a safe choice like white sneakers will make a denim fit a bit more basic. If you want to take it to the next level, consider adding a statement pair of shoes. Think colors, patterns, and textures. Author and fashion blogger Leandra Medine suggests sandals in her newsletter, The Cereal Aisle, stating, "I think it's something about the exposed foot and how it creates a ratio on the balance sheet of overall fabric (shirt and pants)-to-skin."
Go denim luxe
Although denim isn't usually the first choice when getting ready for a night on the town, it's an overlooked vibe. Whether you want to play it safe or are more fashion-forward, there are denim looks just waiting for a chance to shine. If you want a luxe look but are more low-key, styling your denim fit with some jewelry and statement footwear is foolproof. When you're feeling more adventurous, you could incorporate an elaborate denim top, corset, or accessories like gloves and brooches.
Exchange jeans for a skirt
The denim maxi skirt is back just in time to style it into a full denim outfit. This denim piece might be the riskiest when trying to style it without looking like Britney circa 2001, but it's doable. The skirt is long, so there's already plenty of denim to start with. Opt for a smaller denim piece for your upper body to contrast the continuity of the bottom. Darker and heavier accessories, like a larger bag or black boots, will also create contrast, so the look isn't overwhelming.
Denim on denim – on denim
Try incorporating a denim bag or boots into your denim-on-denim look. Yes, you read that right. Give denim accessories a chance! As this styling direction might be a bit adventurous, it's probably not for beginners. If you choose boots as your triple denim accessory, ensure they're a shade similar to your bottoms to create an elongated look. Break the denim up by contrasting it with other outfit pieces. For example, wear a white T-shirt under your unbuttoned denim shirt or jacket and add black accessories.
Distress your denim look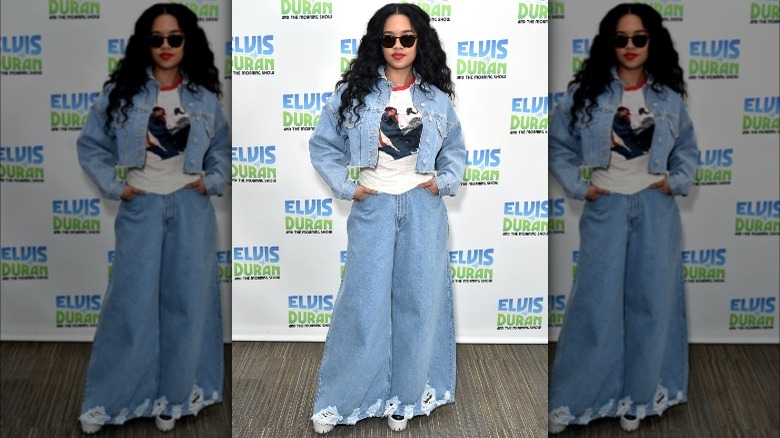 Steven Ferdman/Getty Images
Distressed denim is synonymous with cool girl chic. By adding texture to the outfit with some rips, you can easily avoid looking like denim anti-heroes Britney and Justin. For a more modern look, opt for wider-leg jeans with distressed hems. Since they would be the focal point of this look, the rest can be toned down. To contrast the amount of denim at the bottom, go for a cropped denim jacket on top. Choose a basic T-shirt to go underneath or a fun graphic tee if you're feeling colorful.
Don't do core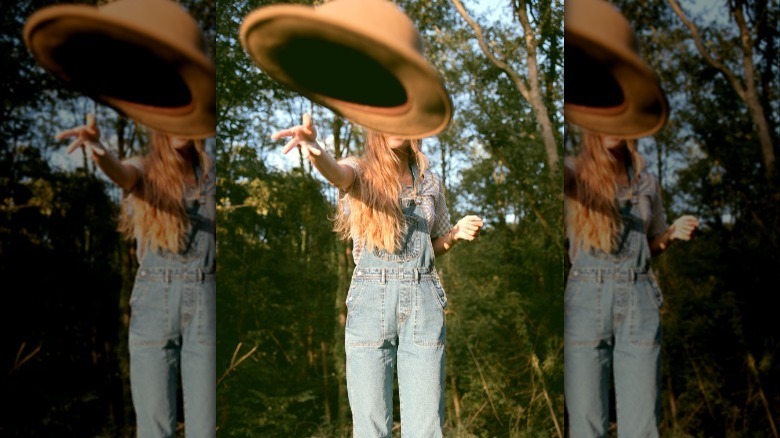 AlvaroCE/Shutterstock
Denim-on-denim is already a loud fashion statement in itself, so trying to incorporate elements from other aesthetics might be visually overwhelming. Wearing cowboy boots or large pink bows with an all-denim look takes away from the intended vibe, and a clash of such specific items could leave you leaning into a completely different style. If you wear a cowboy hat with your denim button-down and jeans, you might be channeling the westerncore aesthetic instead of the denim-on-denim. If that's your thing, go for it! If not, think twice.