Who Is Meghan Markle's Best Friend Misha Nonoo?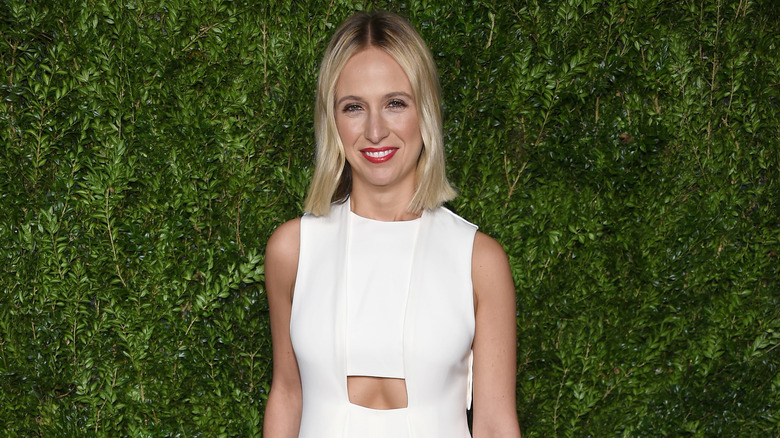 Dimitrios Kambouris/Getty Images
If you're a fashion enthusiast, chances are you've heard of Misha Nonoo. Nonoo has been a New Yorker for quite some time now, but she originally hails from Bahrain in the Middle East — her mother is English, and her father is Iraqi Jewish. She spent most of her childhood in London, however. 
She's been featured on Forbes' 30 Under 30 list and is a pretty well-known fashion designer whose clothes have been worn by the likes of Meghan Markle, who also happens to be her best friend. Many believe that Nonoo is the unnamed friend who set Meghan up with Prince Harry (in which case, she could add royal matchmaker to her list of accomplishments). Nonoo, of course, has remained mum about whether or not the rumors are true.
Nonoo completed her education in London and Paris, and this is also where she discovered that she loved fashion. She didn't initially set out to become a designer, however. She told Vanity Fair that she completed a degree in business instead of going to fashion school; she was living in Paris at the time and was surrounded by people who had excellent taste in clothes. She would often assess what they were wearing, telling the outlet, "That was an integral part of my fashion education." Nonoo moved to New York because she loved the city's "entrepreneurial spirit," and as fate would have it, she landed a job at a small tailor, which eventually kick-started her career.
Meghan Markle and Misha Nonoo met in Miami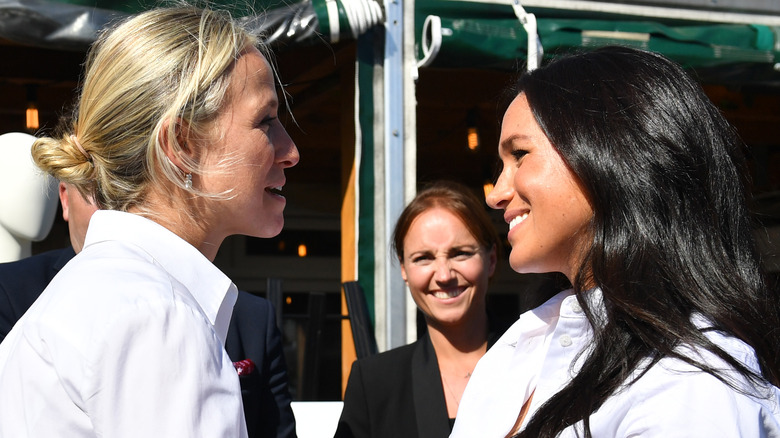 Wpa Pool/Getty Images
Meghan Markle and Misha Nonoo hit it off the moment they met. Thanks to a mutual friend, the two connected at a lunch while in Miami. It didn't take them long to realize they had a lot in common. For one, Nonoo knows what it's like to have a different background than most — with her English mother and Iraqi Jewish father, she could probably relate to Meghan, who has a Black mother and a white father. 
Nonoo told Vanity Fair that her background allows her to have a better understanding of the world. "It has given me an appreciation for different cultures and an understanding of women's lives in different places," she said.
Royal watchers would know that Meghan is passionate about helping women from all walks of life, and when Nonoo first met her and learned that Meghan was an advocate for the United Nations Entity for Gender Equality and the Empowerment of Women and worked as an ambassador for World Vision Canada, the two instantly bonded. "We got along like a house on fire," Nonoo told The Standard. "She has the most remarkable and generous spirit. I aspire to be as philanthropic as she is and to have as much of an impact as her." When the two discovered that on top of everything else they have in common, they both adore dogs, the friendship was officially sealed. "We have been very close ever since," Nonoo said.
Lana Del Rey performed at Misha's first wedding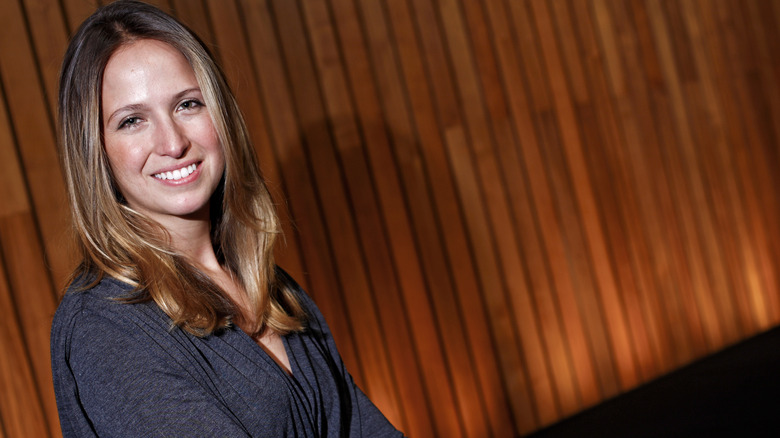 Brian Ach/Getty Images
In 2012, Misha Nonoo married Alexander Gilkes, who also happens to be one of Prince Harry's friends from Eaton. They seemed the perfect pair. Nonoo loved fashion and Gilkes also had a creative side — he cofounded Paddle 8, an art auction house in New York. 
Royal watchers might recall that Princess Eugenie worked there at one point. Nonoo first met Gilkes when she was 17 and initially thought he was gay. "He was so handsome and well dressed," she told The New York Times. They fell madly in love and tied the knot in 2012. It was a dream wedding — the couple said their vows in Venice under the roof of a 16th-century castle, and Lana Del Rey swung by to serenade the newlyweds. The celebrations lasted three days.
To outsiders, it appeared that the couple was nailing married life — they were known for their social connections and grand parties, but these things do not a marriage make, and four years after their fairy-tale wedding, Nonoo and Gilkes called it quits. A source told Page Six that the couple's jobs got the best of their marriage. "They both travel a lot. They are both wildly ambitious, but their relationship became a casualty of their ambition," the tipster divulged.
Misha never went to fashion school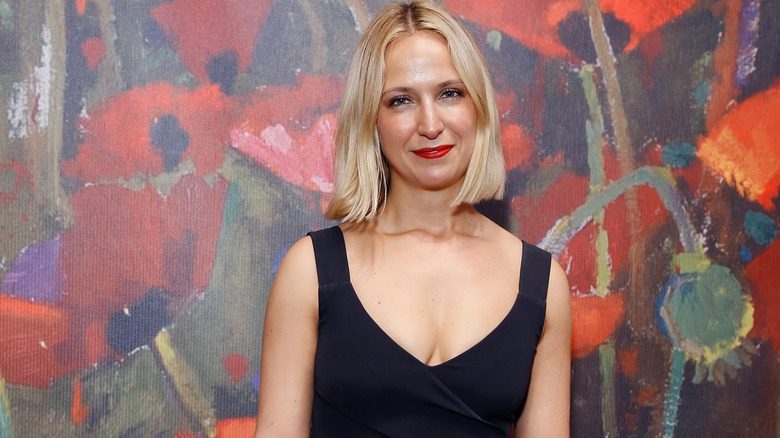 John Lamparski/Getty Images
Misha Nonoo might be one of the most well-known designers these days, but she never set foot in fashion school. When she started working for a small tailor in New York after completing her business degree, she learned firsthand what it's like to work in the fashion world. Even though she was thrown into the deep end at her new job, she learned quickly and even found time to work on her own designs, which she would often wear when she was out and about in the city. This is how an Intermix buyer discovered her.
Nonoo was enjoying brunch one fateful day when the buyer noticed her jacket, she revealed on the "No Limits with Rebecca Jarvis" podcast. "Two tables over from me was a lady, and she said to me, 'Oh my goodness, I love your jacket. Where's it from?' And I said, 'Oh, I made it.' She happened to be one of the senior buyers at Intermix, and she said, 'Well, I really love it. Will you come in for an appointment next week and bring what else you have?' And I said, 'Okay,'" Nonoo said.
A few days later, she was given a $150,000 purchase order. It wasn't the last one. Intermix was very happy with her work, and they commissioned her for more designs, and Nonoo's career in fashion got the kick-start it needed.
Misha Nonoo launched her first fashion line in 2011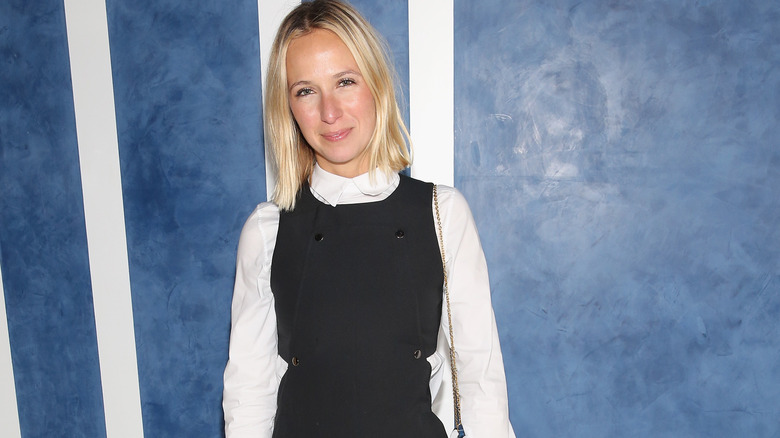 Robin Marchant/Getty Images
Misha Nonoo was passionate about sustainable fashion long before it became cool. When she launched her self-titled line in 2011, sustainability was at the center of her brand. Nonoo is under no illusion that it's possible to make clothes that have no impact on the environment, so she instead focuses on keeping her brand sustainable in the areas she deems the most important, and it didn't happen overnight. "We are trying to become more and more sustainable incrementally. We started with our manufacturing, went on to packaging, then moved on to looking at fabrics. We are now looking across our entire supply chain and our processes," she told Vanity Fair in 2020.
There's a reason Nonoo wants her company to be earth-friendly — she wants to leave a legacy. While appearing on the "No Limits with Rebecca Jarvis" podcast, she explained that her father inspired her passion for business. "He was extremely hardworking and how he built his business and how much he derived the passion that I saw him with, going to work every day ... that aspect comes from him a little bit," she said.
Three years after launching her first line, Nonoo also teamed up with Aldo to design a shoe collection. Aldo's CcO, Douglas Bensadoun, was very impressed with Nonoo's work, telling The Daily Mail that she nailed the design. "Her design has a deep affinity for the multifaceted needs of the modern woman," he said.
Misha was the first fashion designer to debut her line on Instagram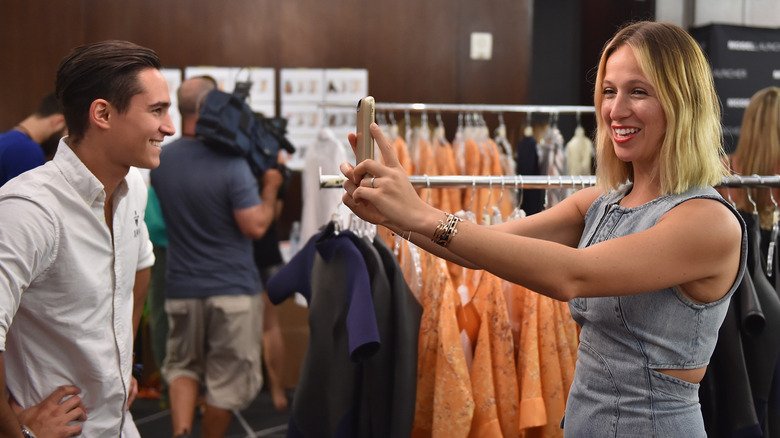 Fabiano Silva/Getty Images
Misha Nonoo is a go-getter who isn't afraid to take risks, as was proved when she opted to debut her spring 2016 line on Instagram instead of taking it to New York Fashion Week. Most designers dream of taking part in this prestigious event, but Nonoo was thinking ahead, trying to figure out how she could make her brand stand out, and showcasing it at yet another fashion week just wasn't it. 
Nonoo was taking stock of her marketing budget and realized that she was spending it the same way as her competitors, so she did a complete 180 and decided to use Instagram as a platform instead. Was it risky? Definitely. Worth it? Absolutely. Even Vanity Fair brought it up again four years later during an interview with Nonoo.
"Fashion weeks have had this moment coming for so long — this idea of a fixed time on a calendar doesn't make any sense," Nonoo told the outlet. She added later, "I still believe it is important to touch and feel something, but I wanted to do something unique and carve out my own space." Being Misha Nonoo, she had no trouble getting influencers to model her clothes on Instagram. Every person she asked responded with an enthusiastic yes, and her collection was showcased on the platform over a 12-hour period. As a result, she became the first designer to ever debut a new collection on Instagram.
Misha designed one of Meghan's capsule collection pieces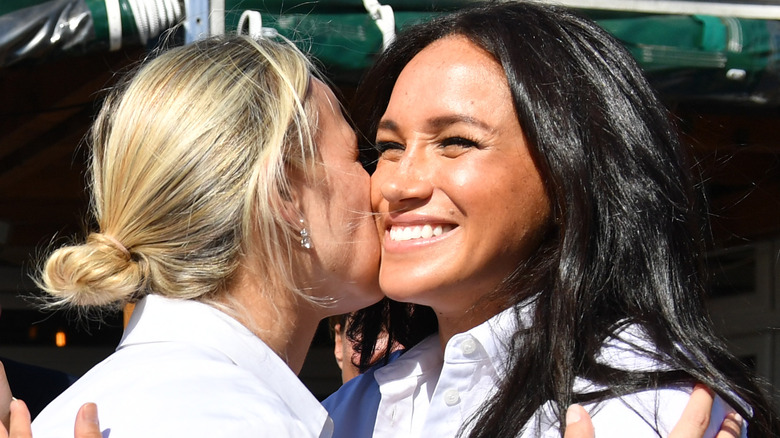 Wpa Pool/Getty Images
One of the things Misha Nonoo and Meghan Markle have in common is their impeccable style, and when Meghan designed her Smart Set capsule collection to raise funds for the Smart Works charity, Nonoo was all too happy to lend a hand. For those not in the know, Smart Works provides job-hunting women with clothes to wear to interviews. It's easy to see why Meghan and Nonoo were excited to contribute.
People were going crazy over Nonoo's "The Husband" shirt when Meghan wore it at the Invictus Games one year, so she designed a similar button-down for Meghan's capsule collection. It's arguably one of the reasons for the collection's success — Meghan sold enough clothes to sustain the charity for a year within 10 days of launching the collection.
Nonoo told Vanity Fair that it's a project she's very proud of, and of course, working with her best friend was a dream. Nonoo told Today: "I think that is something that her and I bonded over from the very early days of our relationship was that she genuinely seeks to help people. It comes from a place deep within her where she really wants to make people's lives better." Even though Meghan isn't a designer, Nonoo says she was very involved with the project. "She's the consummate professional, and she's been extremely hands-on in the project, and it's something that she's really passionate about," she said.
Meghan wore one of Misha's designs on a date with Prince Harry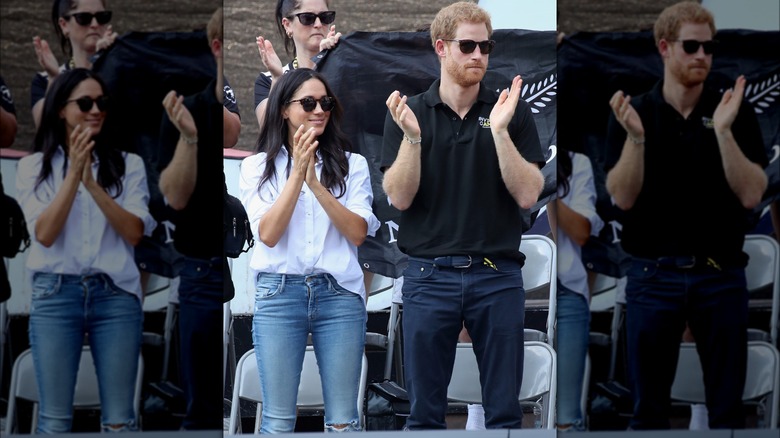 Chris Jackson/Getty Images
The year was 2017, and Prince Harry and Meghan Markle were on a public date. Naturally, Meghan had to make sure she looked good for the cameras, so she opted for a super relaxed, casual look in the form of jeans and one of Misha Nonoo's shirts, more specifically, the shirt known as "The Husband." 
News outlets were soon reporting on Meghan's clothes, and those who had no idea who Misha Nonoo was before that day suddenly couldn't add the shirt to their virtual carts fast enough. It was pretty sweet of Meghan to wear one of Nonoo's pieces, knowing that it would be great publicity for her friend. As it turns out, she didn't even give her bestie a heads-up. The hype came as a complete surprise to the designer.
"I had no idea she was going to wear it," Nonoo told The Standard. "It was a beautiful surprise and I was touched. The exposure has been incredible." The shirt's soaring popularity coincided with a critical change in Nonoo's business. She had decided to sell her clothes on demand, which means each piece gets made as it's ordered; there is no in-house stock that gets shipped out to customers. This has allowed Nonoo to do business a little differently. "We never sell out, and we never go on sale," she said.
Misha is very health-conscious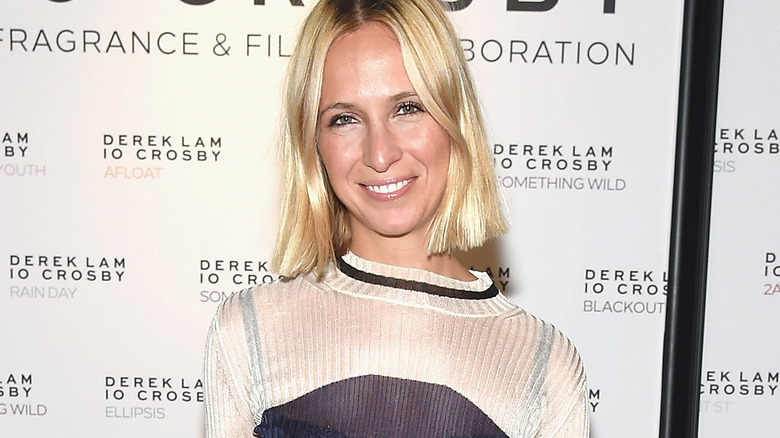 Gary Gershoff/Getty Images
When you ask Misha Nonoo what she does to relax, you'll find that gong baths, meditation, and sound healing are at the top of her list. She told The Standard that she loves trying "many a weird, experimental thing." Nonoo revealed that she's "very spiritual" and practices meditation twice a day (if she can do it with her hectic schedule, the rest of us probably have no excuse).
In another interview with The Standard where Nonoo shared all her health hacks, she revealed that she practices transcendental meditation for 20 minutes in the morning, and sometimes, she would pop in at MNDFL in New York, where you can meditate while listening to singing bowls. "We have so much noise in our day-to-day lives so it makes sense to meditate with noise too," Nonoo said.
Apart from exercising her mind, Nonoo also takes time out of her day to do some physical exercise. "I am a Tracy Anderson devotee and go to her NY studio for all my classes," she revealed, adding that she also loves walking her dog to work. Nonoo is also a big fan of acupuncture and tries to fit in a session every two months. While she strives to eat a healthy, balanced diet, Nonoo will fight someone for a bag of tortilla chips (who wouldn't?) and loves to indulge in some red wine.
Misha Nonoo remarried and Meghan Markle attended her wedding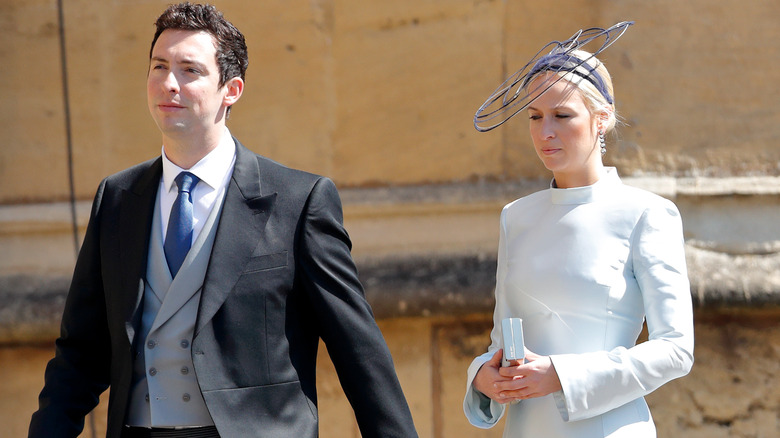 Max Mumby/indigo/Getty Images
After her divorce from Alexander Gilkes in 2014, Misha Nonoo found love again with Michael "Mikey" Hess. The millionaire and oil tycoon proposed to Nonoo in 2019 while the couple was vacationing in Cabo San Lucas. They were out on a boat when Hess popped the question, and Nonoo responded with an enthusiastic yes.
Nonoo's first wedding was nothing short of lavish, and her second one didn't disappoint. This time, she swapped Venice for Rome, complete with a star-studded guest list that included the likes of Karlie Kloss and Joshua Kushner, Orlando Bloom and Katy Perry, as well as — believe it or not — Ivanka Trump. Naturally, Meghan Markle and Prince Harry were also in attendance.
Nonoo was seen attending Meghan and Harry's wedding a year prior with Hess, so it was a given that she would invite her bestie to her nuptials. Of course, Meghan's presence made plenty of waves. Not only was she and Harry honored with front-row seats at the ceremony, but The Telegraph reported that the duchess also played a special part in the proceedings, delivering a reading of Roger McGough's "The Vow." What made the day even more special was that Nonoo designed her own wedding dress. She revealed this bit of information in an Instagram post after her wedding. "It was such a special process to make this one-of-a-kind piece," she wrote in the caption.
Misha clapped back at the criticism Meghan received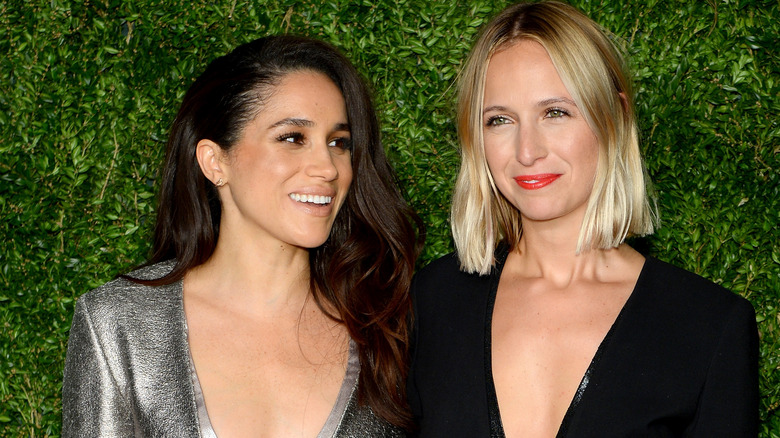 Andrew Toth/Getty Images
It's no secret that Meghan Markle had a tough relationship with the British media — she had to weather relentless criticism and plenty of derogatory opinion pieces during her time as a member of the royal family. Former President Donald Trump called Meghan "nasty" on one occasion, several articles were written about her crumbling relationship with her father, and once she became a mother, the press had a new angle, criticizing the way she held her son and condemning her and Prince Harry for traveling by private jet when their small family went on holiday. 
Misha Nonoo, while usually remaining mum about Meghan, wasn't having it, and during an interview with Today, she defended her friend.
"I think it's unjust, and I think that people should really focus on the good work they do," she said. "A good example of that is this is her first official engagement after having had her baby, [and] it's all about empowering women, all about what she has essentially always sought to do." Nonoo made it clear that Meghan's passion for empowering women precedes her relationship with Harry — it's always been a cause close to her heart. Nonoo added that she was excited for Harry and Meghan to embark on their royal African tour. "When she goes to Africa with Prince Harry and their new little one, she is going to do some events there on empowering women," Nonoo said.
Misha revealed that royalty didn't change Meghan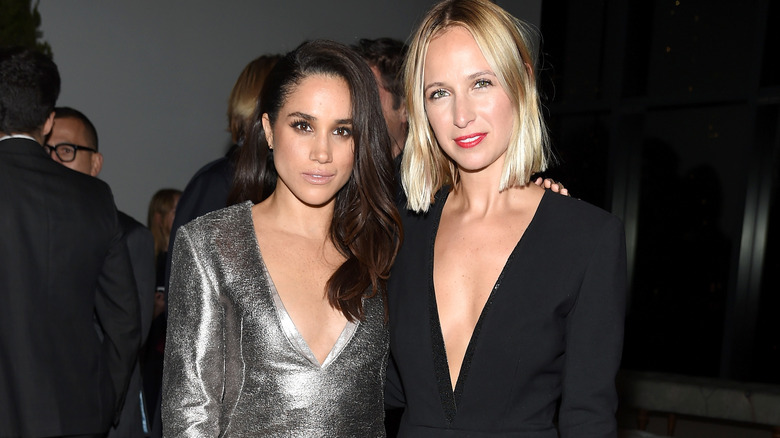 Nicholas Hunt/Getty Images
No doubt becoming a member of the British royal family poses the risk of going to your head, but when you ask Misha Nonoo whether her friend Meghan Markle changed at all once she became a member of the monarchy, the answer is a firm no. "I'm sure people probably think, like, 'Things must be so different!' et cetera, et cetera. 'That must affect her friendships!' But all I can say is that from my perspective, she has not changed as a friend," Nonoo told The New York Times.
Nonoo also used the interview as an opportunity to stick it to all the outlets that tried to portray Meghan as a difficult person. "All I can say is that she is the most generous, the most genuine person," Nonoo gushed. She added, "[She's] such a sister in the sense that, you know, if you're her friend, she'll do anything for you." 
Nonoo also revealed that, even though she had an extremely busy schedule as a senior member of the royal family, Meghan still made time to do all the things she used to do for her friends. "From, you know, the handwritten thank-you letters that you receive, to never missing a birthday, an occasion, checking in," she revealed, adding that the way in which Meghan cares for her friends hadn't changed one bit, despite her being an ocean away.
She's the mother of two children
Something else Misha Nonoo and Meghan Markle have in common these days is that they're both mothers. Nonoo gave birth to her first child, Leo, in 2020. Speaking to The Daily Mail, Nonoo revealed that she and her husband Michael Hess' lives "have been forever changed. We love [him] more than we ever thought possible and cannot wait to share every adventure with [him]," she said.
In November of the following year, Nonoo gave birth to her second child, Marina, but there were some complications during her birth which led to a challenging time for Nonoo and Hess. In a now-deleted Instagram post, Nonoo opened up about the birth of her daughter and how she went into early labor far from home. Marina had to undergo several surgeries (Nonoo did not reveal what for) and was in the NICU for several weeks. During this time, Nonoo couldn't even hold her daughter.
While this was a very challenging time, Nonoo said that she was sharing her story in the hopes of letting other women know that they are not alone. "In sharing the difficulty of the past six months, I want to give hope to those who might be struggling with a similar situation and to help others feel more comfortable with sharing their own challenges," she wrote in the post's caption (via Hello Magazine).
Misha Nonoo is friends with other royals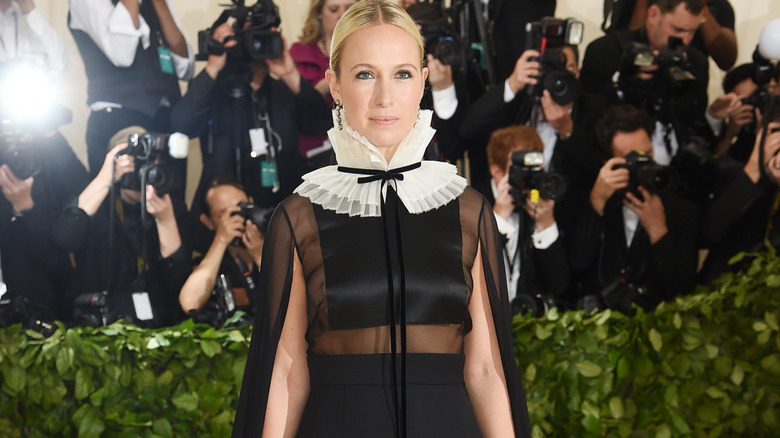 Jamie Mccarthy/Getty Images
Misha Nonoo might be best known for her friendship with Meghan Markle, but she's also friends with other members of the royal family. When she tied the knot with Michael Hess in Rome, Prince Harry and Meghan Markle weren't the only royals in attendance — Princess Eugenie and Princess Beatrice also made the trip to celebrate Nonoo's special day. The royal sisters were also in attendance at Nonoo's first wedding to Alexander Gilkes in 2012.
In 2018, Beatrice was spotted vacationing with Nonoo in the Wadi Rum Desert in Jordan shortly before Harry and Meghan's royal wedding. It was also during this time that Prince Louis was born. The royal was spotted hanging out with Nonoo and other A-listers, including singer Ellie Goulding and model Karlie Kloss. Also in attendance was Joshua Kushner (Kloss' then-boyfriend). 
The group seemed to have a grand time in the desert. Although Beatrice didn't post any snaps of the trip to social media, she was spotted in some photos others in attendance posted of the desert excursion.
Misha admits that she still doubts herself every day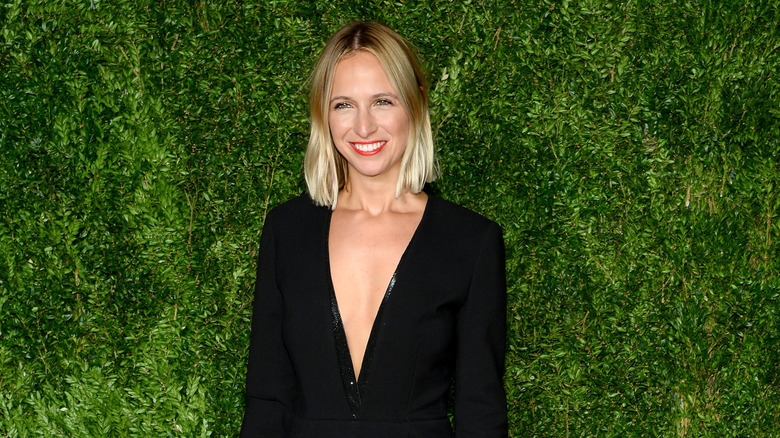 Andrew Toth/Getty Images
From the outside, it might appear as if Misha Nonoo has it all. She's a famous fashion designer and runs a successful business, she's married to the dreamboat that is Michael Hess and is the mother of two beautiful children, but like all of us, she's just human, which means she has the same insecurities we all struggle with.
Speaking to Build Like a Woman, Nonoo was asked how she handles doubting herself. Her answer was surprisingly vulnerable. "I doubt myself every day," she replied. "Every single day I wake up full of doubts about everything." As for how she manages it, Nonoo said that exercise and meditation help to clear her mind so she can move beyond those nagging doubts.
She also emphasized that you shouldn't let doubt hold you back. "It's really important to not let that 'how' get the better of you, you know? It's a work in progress every single day and to not be too hard on yourself," she said. Nonoo admitted that she has to take her own advice because she tends to chastise herself for the things she hasn't accomplished yet. "Sometimes I'm like, just be really grateful for what you have done." If Nonoo's accomplishments are anything to go by, this approach is a foolproof one.