Why John Stamos And Bob Saget Had BTS Tension On Full House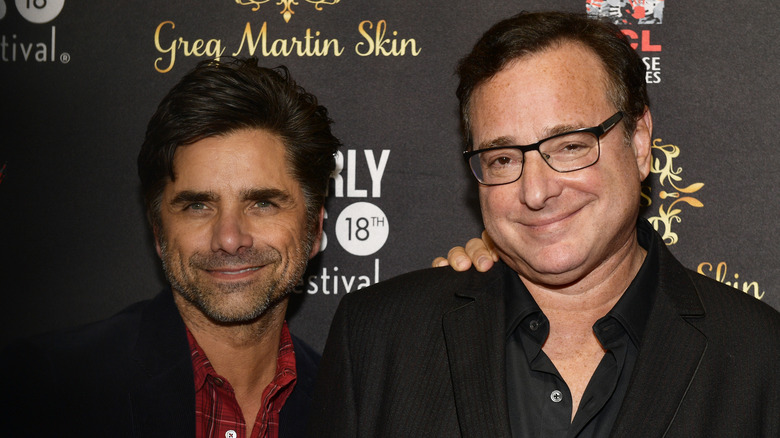 Matt Winkelmeyer/Getty Images
We may receive a commission on purchases made from links.
While "Full House" was one of the most cherished series of the '90s, it turns out that there was some drama broiling behind the scenes. Led by John Stamos, Bob Saget, and Dave Coulier, the sitcom followed three bachelors as they raised a house full of fiery girls. "Full House" was chock-full of family-friendly fun, despite some tension.
In "If You Would Have Told Me," Stamos opened up about his problems with the late "How I Met Your Mother" actor. These problems arose when Saget realized that his co-star had created strong bonds with other cast members. Saget portrayed Danny Tanner, and Stamos played the fan-favorite Uncle Jesse. It started with Stamos becoming close with Coulier, who portrayed Uncle Joey. "Dave and I becoming best friends is throwing Bob off a bit," Stamos recalled in his memoir (per Page Six). "He was Dave's best friend before I came around." Eventually, their contrasting popularity on "Full House" led to off-screen competition between the two. Stamos elaborated on the comedian's attempts to scorn him in front of the cast and crew.
"It becomes a game for him. The more serious I get, the more he tries to sabotage the moment," Stamos wrote of Saget's crude jokes, which he was often the butt of. While the two eventually made up, Stamos has been candid about his fluctuating relationships with other castmates. After Bob Saget's heartbreaking death, the "Full House" actors put aside their differences in mourning for their beloved castmate.
Bob was jealous of John's relationship with the Olsen twins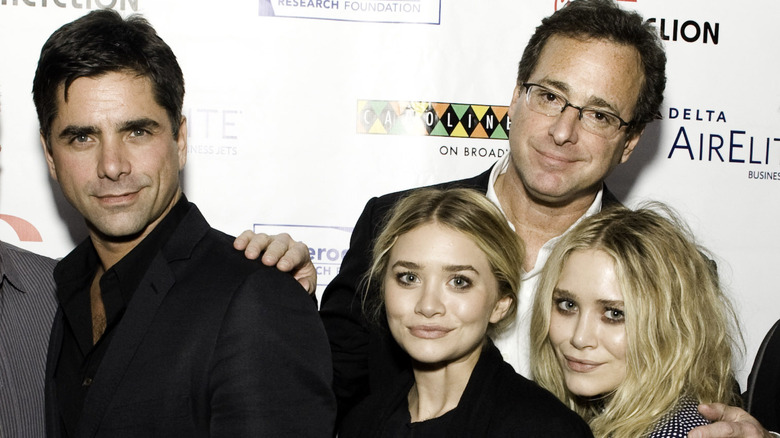 Shawn Ehlers/Getty Images
As Uncle Jesse on "Full House," John Stamos was naturally close to Mary-Kate and Ashley Olsen, who portrayed his niece, Michelle Tanner. In "If You Would Have Told Me," Stamos revealed that their uncle-niece bond soon began to bother Bob Saget. As Stamos and the Olsen twins formed an adorable relationship, showrunners made sure to play up their natural chemistry with more one-on-one scenes.
Stamos recalled Saget's complaints: "'I'm the father of these babies; why is Stamos getting all the good scenes with them?' Bob gripes," (per Page Six). This tension even continued off-set, and Saget demanded priority as the lead of "Full House". "During photoshoots or promos for the show, Bob and I often jockey to be the one holding Michelle," Stamos recalled. "We argue over who should be in the center or do single photos with Mary-Kate or Ashley."
It turns out that Stamos' close-knit relationship with the Olsen twins staggered off as they entered adulthood outside of the spotlight. He told the "And That's What You Really Missed" podcast that he was upset with the twins after they didn't return for Netflix's "Fuller House" reboot. It turned out that Mary-Kate almost made it onto the series, but was sidetracked by other projects. Soon after, the Olsen twins and Stamos eventually reunited after Saget's death in 2022.
Luckily, John made up with Bob before his death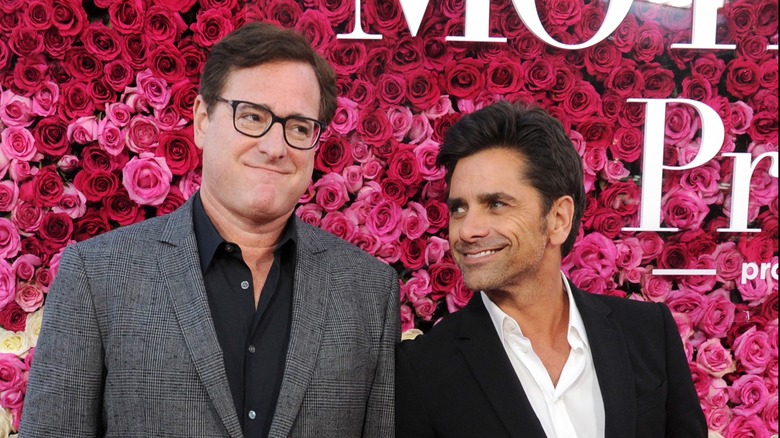 Gregg Deguire/Getty Images
While their relationship was full of ups and downs, Bob Saget and John Stamos bonded over unforeseen family tragedies. Saget's sister Gay was diagnosed with scleroderma, a chronic autoimmune disease. She passed away in 1994, and he continued to film "Full House" through the grief (per Today). Around the same time, Stamos' sister Janeen also received a devastating diagnosis — a brain tumor — as Dave Coulier's sister Sharon battled cancer (via The Daily Beast).
Navigating life with a terminally ill family member brought the co-stars together. "Bob, Dave, and I are no longer three guys who work on the same show; we are brothers worried about amazing women slipping away from us," Stamos penned in "If You Would Have Told Me" (per Variety). "All the fear, fighting for family, and frustration of loss has pummeled down some of our pettiness on the set."
From that point forward, Stamos and Saget put aside their differences in light of their shared struggle. In 2022 Saget was found dead in his hotel room, and the "ER" actor was heartbroken. Stamos reflected on his last time seeing his dear friend on the "Sunday Sitdown with Willie Geist." "It was the last dinner and you never think, 'This is the last time I'm going to see my best friend,'" he recalled. "He was everything that I wanted Bob to be at that moment. He was calm. He listened. He didn't talk about himself that much."