Donald Trump Loses His Courtroom Cool (& The Judge Matches His Energy)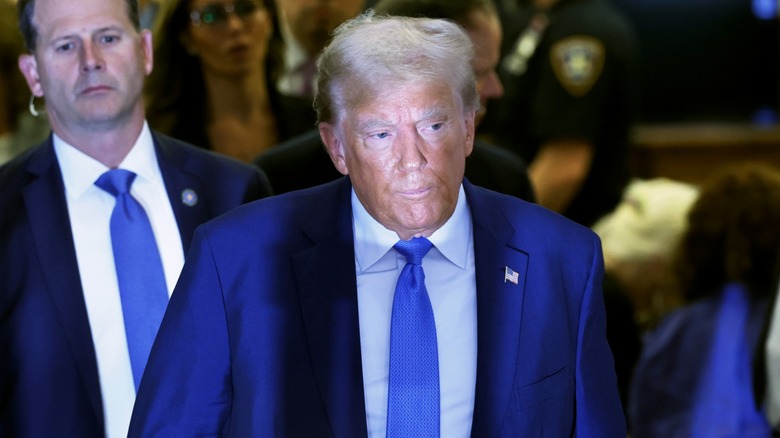 Michael M. Santiago/Getty
Donald Trump's New York fraud trial has been making headlines, and November 6, 2023, was Trump's turn to finally testify. Unsurprisingly, things got heated between the former president and Judge Arthur Engoron. The judge felt that Donald was not truly answering the questions and instead making irrelevant comments. Engoron told him, "Please just answer the questions no speeches" (via BBC).
Donald also snarked about Engoron later in questioning and said, "I'm sure the judge will rule against me because he always rules against me." Engoron pointed out yet again that such a comment did not answer anything and added, "So Mr. Trump, please just answer the question. You can attack me, you can do whatever you want, but answer the question."
As reported by CNN, Engoron even asked one of Donald's lawyers, Chris Kise, to keep the former president in check during the testimony, because Donald's statements were "nonresponsive" and "repetitive." At one point when Engoron chastised Trump for his long-winded non-answers, Kise told the judge that "The court needs to hear what he has to say about these statements. He's describing to you about why there was no intent to mislead anyone with his answers. That's what he's doing." Engoron, fed up with Trump's behavior, stated, "No, I'm not here to hear what he has to say. I'm here to hear him answer questions." He also told Kise and Alina Habba, Trump's other lawyer, to "sit down already."
One of Trump's lawyers called the judge 'unhinged'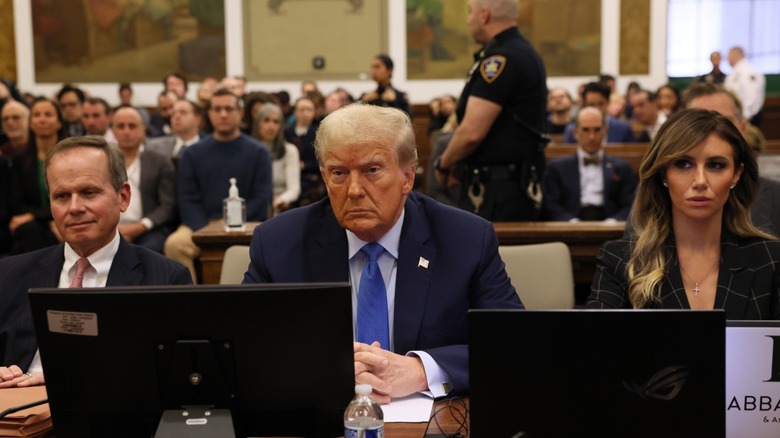 Pool/Getty
After Judge Arthur Engoron snapped at Donald Trump's lawyers, Donald called the trial "unfair." Alina Habba told the media outside the courthouse about Engoron's comments and called him "unhinged" for "slamming a table" (via New York Post). But Donald, Habba, and Engoron are not the only ones making jabs. According to CNN, one of the Attorney General's lawyers, Kevin Wallace, couldn't resist making his own snarky comment about Donald, based on his rambling testimonies. When the former president lamented how long the disclaimer is on his financial statements, Wallace said, "That clause isn't the only thing that goes on forever."
Despite the butting heads, the case continues. Engoron even gave Donald's attorneys permission to file a motion for a mistrial because of bias against him. The case continues Wednesday, November 8, 2023 with Ivanka Trump's testimony, and she seemed stress-free during birthday celebrations prior to testifying.
Engoron has already ruled that one of seven claims brought against Trump is true: that he and his organization committed fraud. The testimonies from Donald and his children will help Engoron decide how to rule on the additional claims regarding other shady, fraudulent business dealings.