Ivanka Trump Appears Stress-Free On Birthday Ahead Of Trial Testimony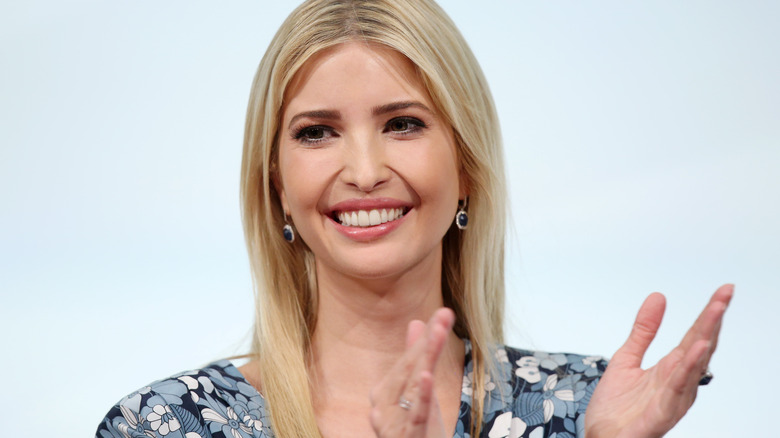 Sean Gallup/Getty Images
It's Ivanka Trump's birthday party, and she can distract herself from her upcoming testimony at her father's civil fraud trial if she wants to. The former senior White House advisor and eldest daughter of Donald Trump celebrated her 42nd birthday on October 30, 2023, with her husband, Jared Kushner, their three children, and Ivanka's maternal grandmother, Marie Zelníčková.
Though no other family members appeared in the photos she shared on Instagram, it's unclear whether any of them were in attendance at the flower-laden festivities or not. "Celebrated my birthday this weekend surrounded by friends and family," the mother of three captioned the post. "Here's to another year of great memories with my favorite people!"
Ivanka looked radiant and utterly unbothered in the photos, donning a baby pink dress with funky off-the-shoulder bell sleeves held together with rhinestone bows. Her family-filled slideshow also revealed a stunning banquet table covered in multicolored bouquets with upwards of 18 place settings. Indeed, she hardly looked like a woman staring down an impending court testimony.
Ivanka will be the last of her siblings to testify against her father
One year after New York Attorney General Letitia James sued former President Donald Trump and his Trump Organization for allegedly inflating his property values to defraud banks and insurance companies, Donald was found liable for fraud by Judge Arthur F. Engoron in September 2023. The former president's three eldest children, Donald Jr., Eric, and Ivanka Trump — all of whom Donald had with his first wife, Ivana Trump — are scheduled to testify at the civil fraud trial. Ivanka's will be the last testimony of the trio on November 8, 2023, per The Washington Post.
Although Ivanka is walking away scot-free with no charges pressed against her specifically, the former first daughter was unable to convince the court that she shouldn't testify. Ivanka's lawyers tried to remove her from the witness list, citing her departure from the Trump Organization to work with her father in the White House in 2017. However, the AG's office pushed back, stating, "While no longer a Defendant in this action, [Ivanka] indisputably has personal knowledge of facts relevant to the claims against the remaining individual and entity Defendants," (via NBC News).
Ivanka was attending another birthday celebration — this time, Kim Kardashian's — when the news broke that she would still be expected to testify. When reporters asked if she was concerned about the trial, Ivanka gave no answer, staying silent as she entered her car, according to the Daily Mail.