Why Queen Camilla's Gown For King Charles' First Opening Of Parliament Looks So Familiar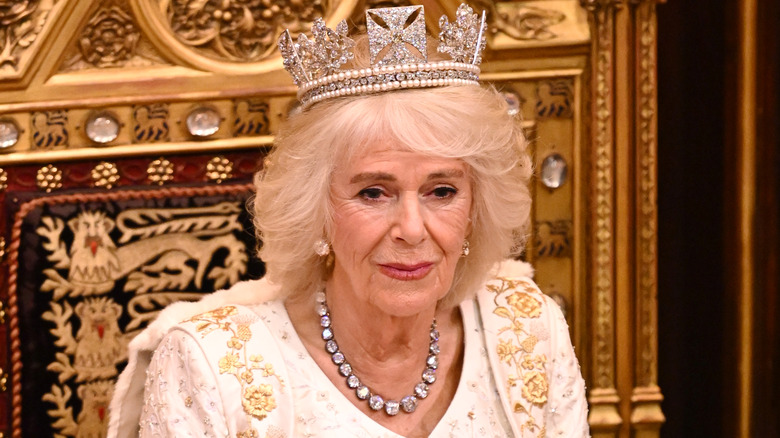 Leon Neal/Getty Images
Just because you're the queen (consort), that doesn't mean you can't appreciate a good recyclable look, as evidenced by Queen Camilla's ensemble for the State Opening of Parliament in November 2023. The queen accompanied King Charles to the parliamentary event and donned the same gorgeous white and gold embroidered gown she wore to the coronation ceremony earlier in May (via People).
The queen consort's custom-made coronation gown was designed by Bruce Oldfield, who told The Telegraph that the design was "the ultimate commission of my career. It is rather historic, isn't it? And she looked lovely." Oldfield structured Camilla Parker Bowles' historic gown like a coat dress and included subtle nods to the queen consort's personal life, including the names of her nine grandchildren; her two dogs, Bluebell and Beth; and natural elements like wildflowers and, for the first time in coronation history, insects like bees, caterpillars, and butterflies.
In addition to her coronation gown, Queen Camilla wore the elaborately bejeweled George IV State Diadem, a stunning crown set with over 1,000 diamonds, a four-carat pale yellow brilliant, and a band of pearls.
Queen Camilla's outfit was an homage to the crown's history and her own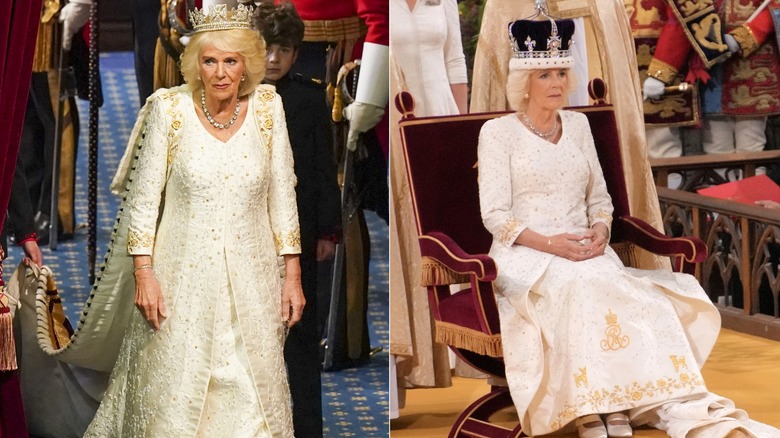 Wpa Pool & Wpa Pool/Getty
Queen Camilla's impressive State Opening ensemble not only harkened back to the coronation of her husband, King Charles III. It also paid tribute to her late mother-in-law, Queen Elizabeth II, and the monarchs who came before her. The George IV State Diadem that Camilla wore has been worn by every British queen since King George IV, per People, including Queen Adelaide, Victoria, Alexandra, Mary, Elizabeth (the Queen Mother), and Elizabeth II.
Elizabeth II initially wore the George IV State Diadem at her first State Opening of Parliament in 1952. She then wore the crown, along with a commissioned velvet Robe of State, to her coronation one year later. Seven decades after that historic ceremony, the queen consort wore the diadem and the Robe of State to her first State Opening of Parliament.
Even Camilla's choice to recycle her coronation gown aligns with the royal tradition. Queen Elizabeth II re-wore her Norman Hartnell coronation dress six times for various Openings of Parliament in Australia, New Zealand, Sri Lanka, and Canada (via People). Additionally, Princess Catherine and her late mother-in-law, Princess Diana, have both repeated their royal outfits over the years. After all, with dresses and gowns as glamorous as theirs, why not wear them again if you can?