Meet Hallmark Star Merritt Patterson's Husband JR Ringer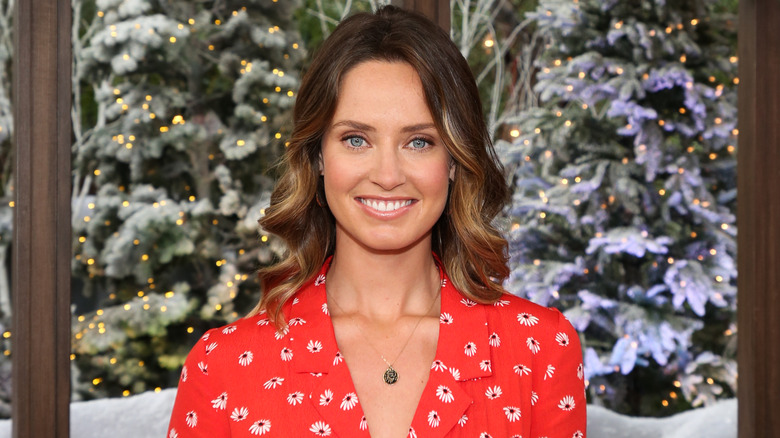 Paul Archuleta/Getty Images
If you love Hallmark holiday movies, you're undoubtedly familiar with Merritt Patterson. She's starred in such Christmas confections as "Chateau Christmas," "Christmas at the Palace," and "Picture a Perfect Christmas." She's also charmed audiences with everyday romances like "Forever in My Heart" and "Wedding March 4: Something Old, Something New" on Hallmark. The Great American Family network has also featured the blue-eyed talent in GAC holiday movies like "Twas the Text Before Christmas."
The Canadian actor has traveled to Romania and Ireland for her Hallmark movies, but she's no stranger to airplanes in her personal life. She loves to travel and has explored Africa, Italy, Greece, and France, as well as various parts of the U.S. and Canada. In a tribute on Instagram for Thanksgiving, the "Gingerbread Miracle" star gushed, "Thankful for all the amazing people in my life and the incredible experiences and adventures we get to share."
Patterson's favorite traveling partner is her husband, JR Ringer. The two met at a music festival in 2017, and have been having adventures together ever since, both abroad and in Hollywood.
JR Ringer is no stranger to showbiz
You won't see Merritt Patterson's husband JR Ringer in front of the cameras, but he's very familiar with Hollywood and how the whole entertainment industry works. Just after graduating from business school, he joined the talent agency ICM and worked his way up the corporate ladder. Fourteen years later, in early 2022, he hopped over to the Verve agency to continue his career and is now a senior talent agent. When he changed firms, several of his famous clients came with him, including Josh Hartnett, Sean Bean, Jessica Stroup, and Levi Miller. 
In addition to representing actors in their careers, he's also known to be something of a fashionista and was featured in The Hollywood Reporter sharing his fashion wisdom in an article titled, "How to Dress Like a Hollywood Agent." His advice: "Since we're wearing suits and ties five days a week, it's important not to wear shirts and ties from the same store or brand, or fall into a rut and look the same every day."
Ringer does keep it casual when he's away from the office, especially when he's traveling to exotic locations like Kenya with Patterson. However, there was one trip to Italy when he donned a tuxedo, custom-made and with special shoes to match.
The couple was married in Italy
After getting engaged in August 2021, Merritt Patterson and JR Ringer started planning their wedding, deciding a ceremony in Italy would be their dream destination. "You can't go wrong in Italy! The people, the food, the landscape — everything is incredible," Patterson told Over the Moon. The country was also a nod to one of the couple's relationship milestones, with Italy being the first place they visited internationally as a couple.
On September 17, 2022, the actor and the agent exchanged vows in Puglia, a southern region of Italy, at a private venue. The bride wore white, the groom black. Her shoes were chosen with dancing in mind, and his shoes were etched with their initials and wedding date as a wearable memento.
For their one-year anniversary, Hallmark star Patterson celebrated with a social media post, penning her heartfelt love for her hubby: "Cheers to you love. My heart could burst."