Michelle Obama Has Been Open About Her Tragic Pregnancy Loss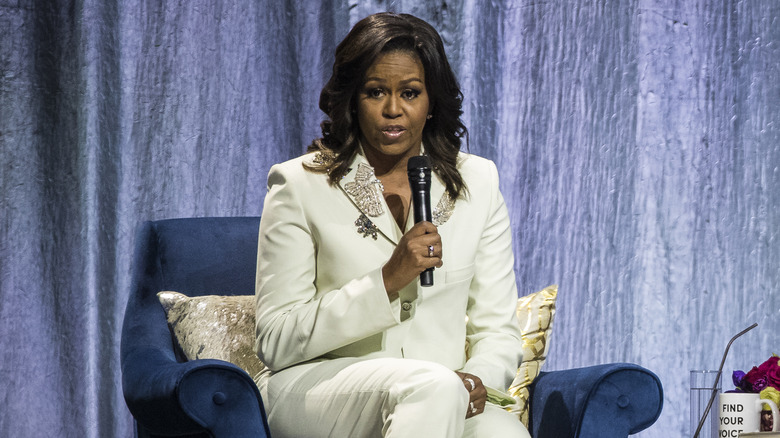 Michael Campanella/Getty Images
Michelle Obama's name has long been associated with tremendous achievements that mark a first for Black women around America. She became the inaugural Black First Lady, championed many charitable causes to empower women, and promoted education. On the home front, Michelle and Barack Obama's relationship, along with their two gorgeous daughters, is the envy of many. However, the former First Lady hasn't shied away from admitting that it hasn't been as easy as many may assume. In her memoir, "Becoming," Michelle Obama gave a candid insight into what it was like suffering a miscarriage.
Michelle met Barack Obama after he joined a law firm she worked at in 1989. Michelle was 25, Barack was 28, and the company paired them up because they were both Harvard alumni. By 1992, the couple, aged 28 and 31, were happily married, but this also marked the beginning of their struggle with infertility. She wrote, "It turns out that even two committed go-getters with a deep love and robust work ethic can't will themselves into being pregnant" (via ABC). Michelle and Barack continued to try for a baby without success until the late 90s when she finally became pregnant. Then, just a few weeks later, she miscarried.
Michelle Obama's pregnancy loss made her feel like she'd failed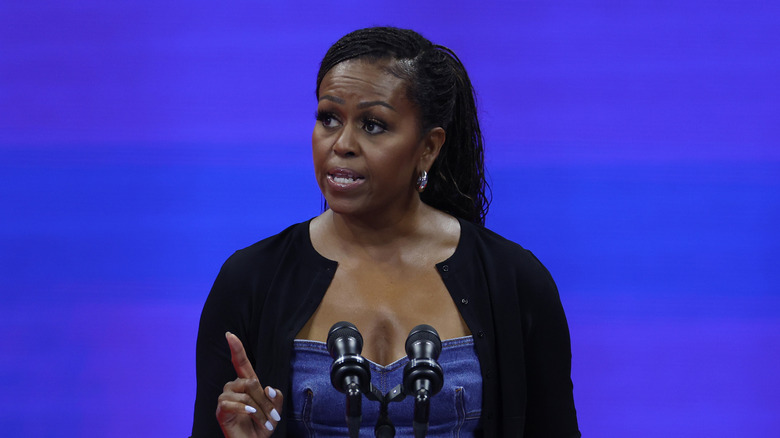 Matthew Stockman/Getty Images
Although miscarriages are relatively common, with about 10% to 20% of known pregnancies ending in miscarriages according to Mayo Clinic, this fact is seldom talked about now and was even less so in the 90s. In an interview with "Good Morning America," Michelle Obama shared that the experience made her feel lost, alone, and like a failure. She also wished for more openness regarding the difficulties of getting pregnant. "I think it's the worst thing that we do to each other as women, not share the truth about our bodies and how they work and how they don't work," Michelle said.
At the age of 34, she acknowledged the implications of her age on fertility and decided to try in-vitro fertilization (IVF). She began seeing a fertility doctor, leading to the challenging process of trying to "manipulate my reproductive system into peak efficiency," she recounted (via Vox). The Obamas had success with their treatments, and in 1998 and 2001, they welcomed their daughters, Malia and Sasha Obama, through IVF.
Michelle Obama's IVF success is a testament to resilience and hope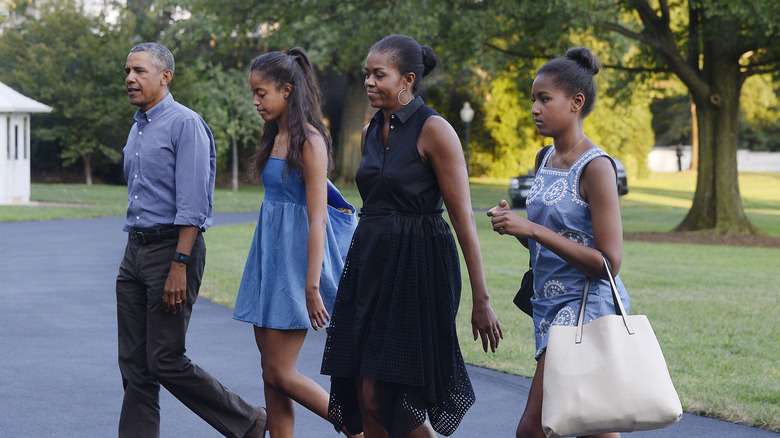 Pool/Getty Images
In Michelle Obama's memoir "Becoming," the former First Lady candidly discusses how devastating the miscarriage was, sharing that it left her "physically uncomfortable and cratered any optimism we felt." This sentiment echoes the struggle many women face, worsened by shame and guilt from the social stigma surrounding a natural and common occurrence. Additionally, there is a stigma associated with IVF, despite the procedure resulting in the birth of "at least 12 million babies" since 1978 (per Focus on Reproduction). 
Barack and Michelle Obama's daughters have matured into diligent young women who bring great pride to their family. In an interview with British Vogue, the mother of two recounted: "When Malia and Sasha were newborns, Barack and I could lose hours just watching them sleep" (via Oprah Daily). As a young adult, Malia Obama is forging her own career in Hollywood, closely followed by her sister, Sasha. Michelle's journey isn't just her own — it serves to inspire and dismantle the misconceptions about a medical procedure that has been a source of hope for many.