A Look At Steve Harvey's History Of Supporting Controversial A-Listers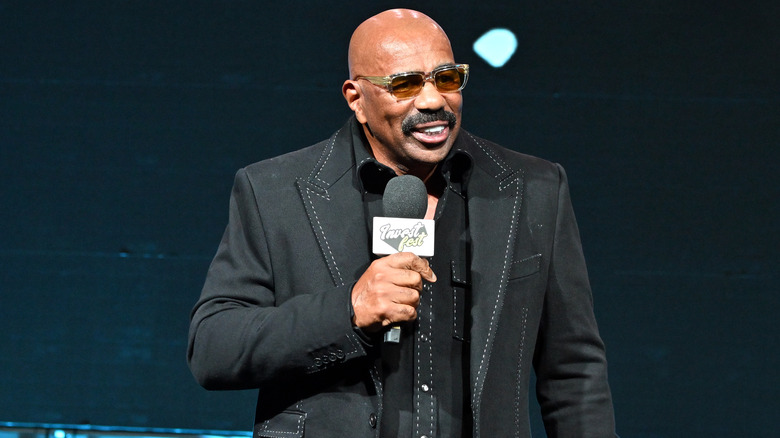 Paras Griffin/Getty Images
Comedian Steve Harvey is known for having a wide variety of celebrity friends, including his pal of over 30 years, Cedric the Entertainer, and Michael B. Jordan, who once dated his daughter. Harvey was also good friends with the late Bob Saget before he passed away in January 2022. While none of these stars have been embroiled in too much public messiness, the "Family Feud" host has stood by several other, more controversial A-listers in the past.
In January 2017, Harvey famously met with Donald Trump ahead of his inauguration. The TV star, who voted for Hillary Clinton during the 2016 presidential election, got major backlash for sitting down with Trump, who many believed did not support the African-American community. However, Harvey defended the decision, claiming they focused on opening community centers during their chat (though it doesn't appear their plans came to fruition). 
That same year, he also told The Hollywood Reporter that he would continue to be friends with Bill Cosby despite his multiple sexual abuse accusations. Even though it may land him in hot water, the comedian has not shied away from supporting other embattled famous folks too.
Steve Harvey felt that Kanye West needed guidance
Kanye West is no stranger to outrageous comments and wild outbursts; his notorious rant about the African slave trade is just one example. The rapper appeared on "TMZ Live" in 2018, where he declared, "You hear about slavery for 400 years. For 400 years?! That sounds like a choice. You were there for 400 years, and it was all of y'all? It's like we're meant to be in prison." This understandably shocked people all over the world, but Steve Harvey extended West some grace.
During an episode of "The Steve Harvey Morning Show," released shortly after the fallout, the radio host suggested that West simply needed better guidance in his life, explaining, "I don't think that Kanye has people around him where he can run stuff by and bounce it off, and get some real truth from. You have to have people around you that can be truthful," (via People). 
While this raised eyebrows among Harvey's fans, it wasn't the first time the "Original Kings of Comedy" star stood beside the controversial musician-turned-sneaker mogul. In 2016, Harvey sent his love to West following his highly-publicized mental health crisis. As the "Family Feud" host told ET, "I love Kanye. I've met him personally. He's a cool guy to me. I just wish him the best."
He also stood by Ellen DeGeneres in her time of need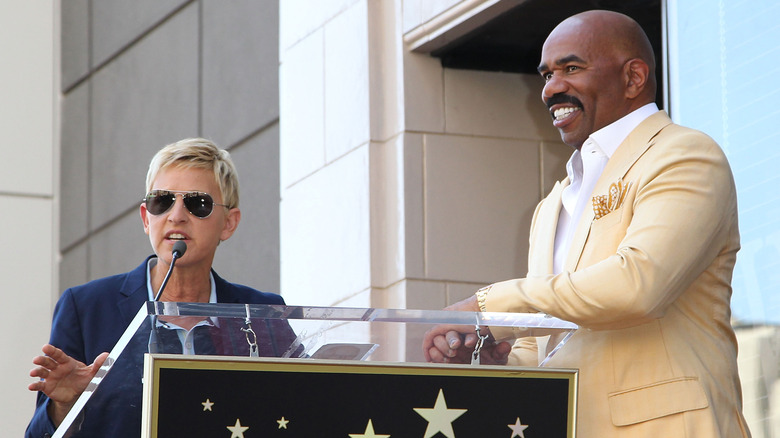 Jonathan Leibson/Getty Images
Ellen DeGeneres was at the center of some pretty serious misconduct allegations in 2020. Several staffers accused her of fostering a hostile workplace environment on the set of "The Ellen DeGeneres Show," which included unjust terminations, inappropriate comments, and lots more. Months later, Steve Harvey stood up for his fellow TV host and comedian against accusations that she turned a blind eye to the toxic practices behind the scenes of her show.
"I'm going to say this about it: Ellen DeGeneres, the person that I know, that I've known for a number of years, that I saw back in the comedy club days, when we used to split time with the same management, all of this and what's happening now, Ellen, the person, is probably one of the coolest and kindest people I've met in this business," Harvey informed "PEOPLE (the TV Show!)". Ultimately, DeGeneres's show couldn't recover, airing its final episodes in 2022.
These days, Harvey is busy defending his A-lister wife, Marjorie Harvey, against harsh rumors. The couple has been the topic of internet gossip, much of which surrounds Marjorie allegedly breaking up Steve's marriage to his former wife, Mary Shackelford, and later cheating on him. The comedian was also forced to address his radio co-host, Shirley Strawberry, making comments about his relationship on a recorded call with her incarcerated husband, Ernest Williams. Even when he is not going to bat for his problematic buddies, Steve still manages to find himself in the news one way or another.