Rumors About Steve Harvey's Wife Marjorie Ruining His Previous Marriage Have Only Brought Them Closer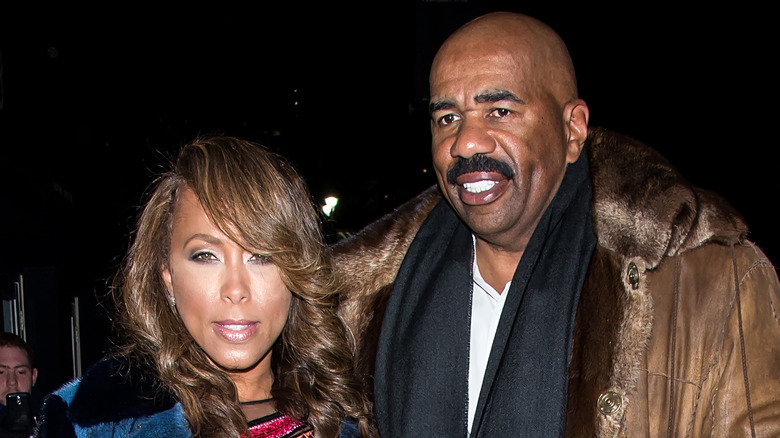 Gilbert Carrasquillo/Getty Images
What doesn't kill you makes you stronger, as the adage goes, and such is the case for the rumors that have circulated about comedian and TV personality Steve Harvey's third marriage to Marjorie Harvey over the years. From allegations that she broke up his previous marriage to Mary Shackelford to rumors of Marjorie cheating, their relationship has often been in the headlines, but the "Family Feud" host says the gossip has only brought him closer to his wife. 
Steve addressed the rumors' effect on his relationship on his radio program, "Steve Harvey FM" (via People), in September 2023, saying, "We're a tighter two-hand circle now. So, thank you for doing that. You're not gonna split us up. We're not going anywhere. And she is none of what you say she is, and she's the best chick I know." 
These infidelity rumors are hardly the first that Harvey has encountered, with multiple cheating scandals tied to the entertainer since he married his first wife, Marcia Harvey. And while the jury's still out on the validity of those rumors, Harvey won't put up with any slander thrown Marjorie's way.
Steve Harvey shot down claims that Marjorie broke up his previous marriage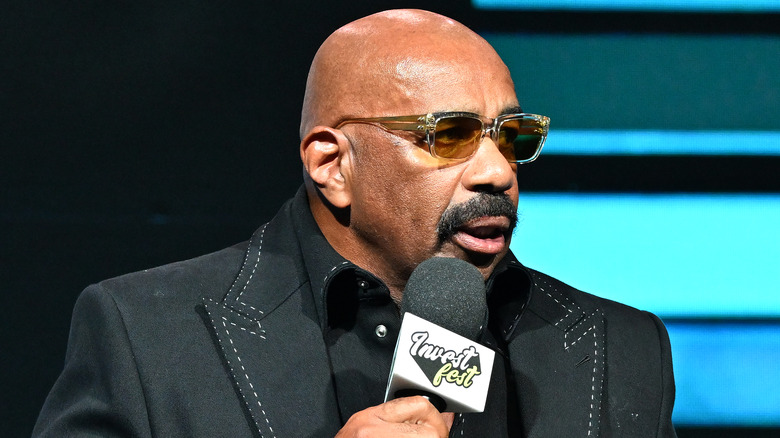 Paras Griffin/Getty Images
Steve Harvey was married to his first wife, Marcia, from 1981 to 1994. The real reason Marcia and Steve Harvey divorced has been long speculated to be due to Steve's infidelity. The "Steve Harvey Show" star's second marriage to Mary Shackelford ended in a messy divorce that cost him $30 million and nearly left him penniless in 2005. Two years later, Harvey would marry his third wife.
But despite the two-year gap between his second and third marriages, Harvey insists that Marjorie had nothing to do with his divorce from Mary. "Y'all quit talking about 'she was in my other marriage and ruined it.' She didn't. She was nowhere around that," Harvey said on his radio show. "I got divorced in 2005."
Harvey wouldn't stand for any claims that Marjorie married him for his money, either. The comedian said he "had nothing [then]. This woman got in the hole and built this with me. She didn't steal nothing. And I'm tired of y'all talking about my girl because my girl is one of the best women I've ever met." The couple celebrated their 16th wedding anniversary in July 2023, with Harvey posting a video montage of him and his wife on his Instagram with the caption, "Still going strong."
Steve and Marjorie Harvey have both addressed the infidelity claims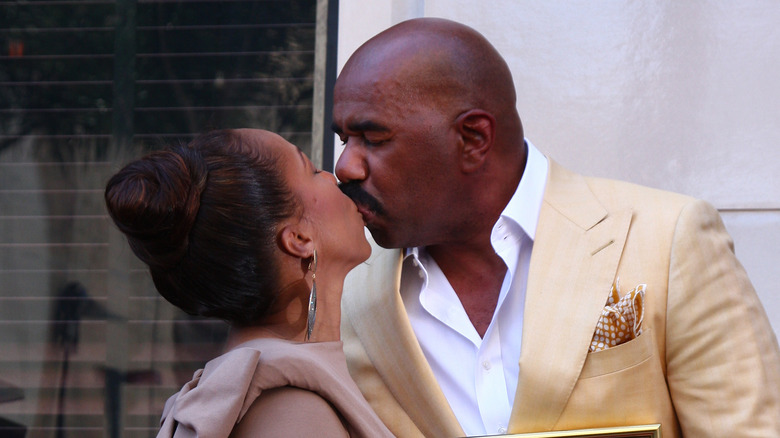 Kathy Hutchins/Shutterstock
Buzz about a possible affair in Steve and Marjorie Harvey's relationship began on social media in August 2023. However, the sources that started the rumor have yet to be verified, per Entertainment Weekly. Both Steve and Marjorie addressed the gossip, with the former "Showtime at the Apollo" host bringing up the fake news at Invest Fest 2023 in Atlanta. 
"Before I get started, just let me say I'm fine," Harvey told the crowd (via TikTok). "Marjorie's fine. I don't know what y'all doing, but find something else to do because we're fine. Lord have mercy." Marjorie also confronted the rumors on her Instagram, posting a screenshot of an article titled "How to Handle Being Lied About." 
"My husband and I don't usually stop to address all the foolishness and lies that have been spread about us," the mother of seven wrote in her caption. "However to whom much is given much is required. I understand that with my platform comes some sort of responsibility to those that may not be as strong as we are. Read and share this with your [loved] ones that may not know how to properly cope."