A Body Language Expert Decodes How Tiffany Trump Really Feels About Her Half-Siblings For Us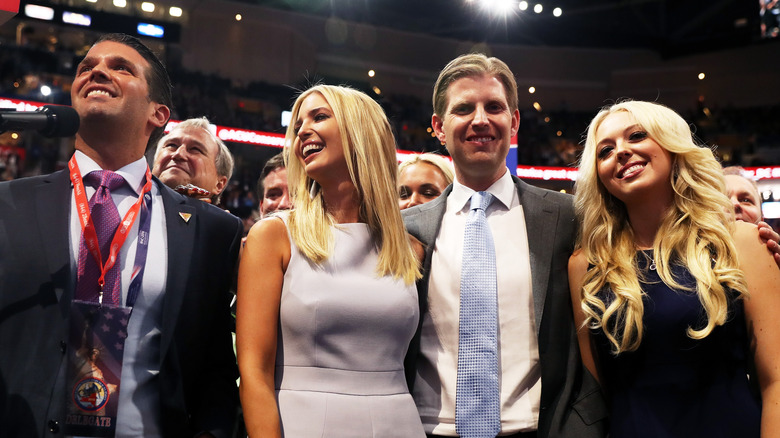 Joe Raedle/Getty Images
Tiffany Trump is the youngest daughter of Donald Trump and his only child with ex-wife Marla Maples. During her father's political campaigns and presidential term, Tiffany has flown relatively under the radar compared to her siblings. The eldest three — Donald Jr., Eric, and Ivanka Trump — were at times heavily involved with the family business and their father's political career; meanwhile, Tiffany preferred Mykonos to the White House. Despite Tiffany's insanely lavish life, audiences have wondered how the young heiress fares with her high-profile siblings, especially in light of their father's recent legal battles.
As of late 2023, the Trump family and the Trump Organization are involved in a civil trial with the State of New York. The case was brought against the family's real estate empire after proof emerged that the former president had falsified information on financial documents. A New York judge ruled that Donald Trump inflated his net worth by up to $2.2 billion in order to gain favorable deals from banks, Politico reported. As current or former executives at the Trump Organization, Don Jr., Ivanka, and Eric have all been summoned to testify. Tiffany, however, is left out once again. 
To get the inside scoop on their sibling relationships, The List spoke exclusively with  Adrianne Carter, The Face Whisperer and Body Language Expert. Carter decoded Tiffany's feelings toward her four siblings by studying several pictures of them together.
Tiffany Trump is an outsider among her older siblings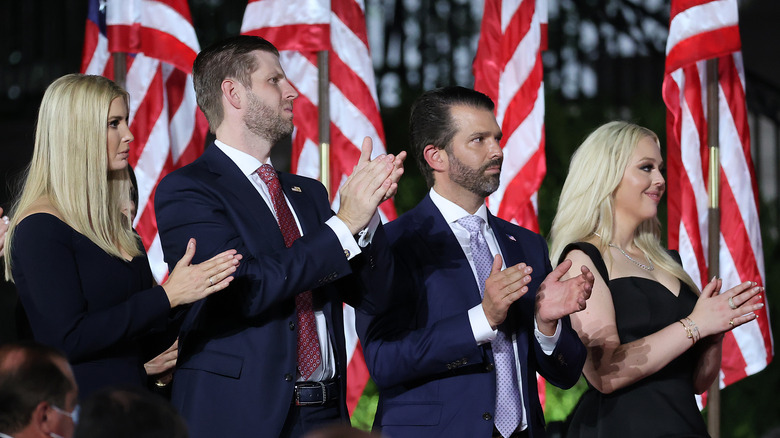 Chip Somodevilla/Getty Images
Tiffany Trump has led a life separate from her half-siblings. Donald Trump raised Donald Jr., Ivanka, and Eric Trump with his first wife Ivana Trump, while Tiffany was raised alone in California by her mother Marla Maples. 
In an interview with ABC News, all four children sat down with Barbara Walters to discuss their father's 2016 presidential campaign. In the footage, body language expert Adrienne Carter immediately noticed a degree of separation between Tiffany and her older siblings regarding how they were sitting. "It looks like she's not as close to her other siblings as they are to each other, but it could be that she wants to be seen in her own right rather than as a sibling too," Carter explained to The List.
Audiences have duly noted Donald Trump's apparent favoritism for his older daughter, Ivanka over the years. As the former executive vice president of the Trump Organization and a senior advisor in her father's administration, Ivanka was close with her father on both the business and political fronts. Don Jr. and Eric are also heavily involved in the family business. 
Therefore, in the ABC News interview, Carter noticed Tiffany's apparent feelings as the odd one out. "She pulls a classic contempt expression smile, which means 'I feel superior' in some way," she observed. "The three siblings are a unit and Tiffany is a unit on her own in this grouping."
Tiffany Trump appears to be closer to Barron Trump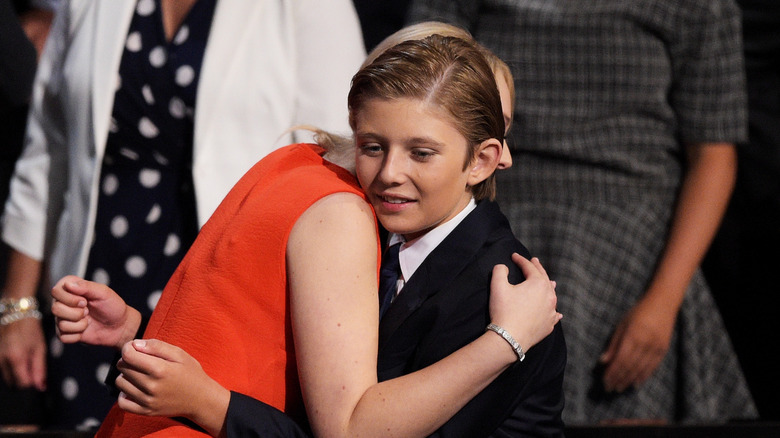 Jeff Swensen/Getty Images
While Donald Trump's presidency reportedly hurt his relationship with his youngest daughter, Tiffany still appears to be close with one sibling in particular. Much like his sister Tiffany, Barron is also an odd one out as he is much younger than his siblings and the only child of Donald and Melania Trump. 
In Instagram posts for Barron's 13th and 14th birthdays, Tiffany shared pictures of the two together, and Adrienne Carter observed a different side of Tiffany with Barron in these posts. "Both photos show genuine smiles of enjoyment from Barron, so he is very happy to be sharing these occasions with Tiffany," Carter told The List. "Tiffany's body language in the 13th birthday photo is angled towards Barron, showing she's fully engaged in their interaction."
Meanwhile, a Father's Day tribute to her older brothers Donald Jr. and Eric was quite different. "Both brothers are leaning in toward Tiffany ... but she makes herself the star of the image by being mostly full-on toward the camera," Carter said. "There is a very slight angling toward Donald Jr. and her left arm seems to be angled as if slightly touching him; this might be an indicator that she feels closer to him than Eric."
Tiffany's feelings of distance were also apparent at her wedding to Michael Boulos in 2022, as in family photos, "All of the siblings look independent of each other." Carter said. "The more space between them literally, the more space there is often in every other way too."