Matthew McConaughey Worried He'd Never Find Love Before Meeting Wife Camila Alves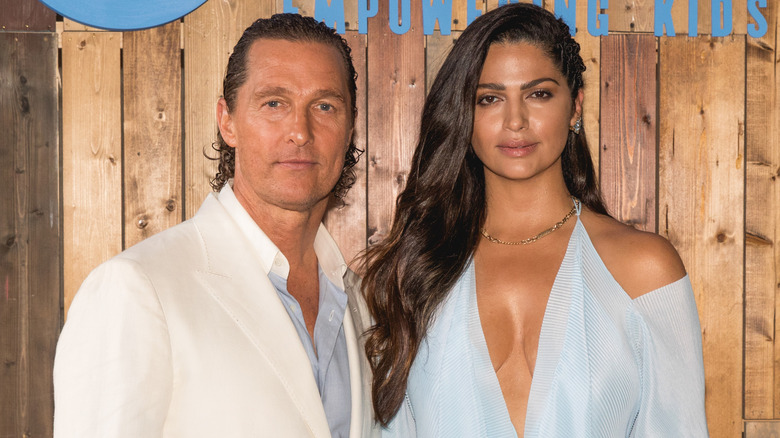 Rick Kern/Getty Images
Matthew McConaughey and Camila Alves became Mr. and Mrs. in 2012. While the "Interstellar" actor has been married for over a decade, he once feared that he would never find "the one." That's not to say he wasn't popular; many women hoped to steal his heart. Before Alves, McConaughey dated some huge Hollywood names, like Sandra Bullock and Penelope Cruz. Still, something was missing in these relationships — until he met his wife.
Speaking to People about the state of his personal life in 2006, the actor admitted that finding his soulmate wasn't guaranteed, "I mean, the clock was ticking — I was about to be 40 and my plan was to be married and have kids by that age." The sentiment isn't unfamiliar to many single people, but McConaughey strived to take a more level-headed approach to life and love.
He revealed, "I didn't want to play the game of starting to feel anxious because, with too much anxiety, you can't find a mate. And then you make a hasty decision. I knew men who had made hasty decisions and women who had done the same thing. But at that point, I wasn't hunting." Fortunately, fate intervened, and the "Gold" actor and Alves met at a Hollywood nightclub and almost immediately hit it off.
Matthew McConaughey's dream of having kids came true, too
Camila Alves and Matthew McConaughey dated for six years before tying the knot in 2012. If he was worried that he would never settle down and become a dad, he has now safely put those fears to rest. He and his model wife have three children — Levi, Vida, and Livingston McConaughey.
These days, the actor, author, and one-time potential candidate for governor of Texas says his most important job is being a father. On the podcast "Smartless," McConaughey confessed in 2023, "I am raising three children right now and it's a great adventure doing that — I want to see that through. My only thing I never knew I wanted to be was a dad since I was 8 years old." McConaughey has even written a children's book, "Just Because," which reportedly stemmed from interactions and discussions with his kids at home.
Scrolling his Instagram, it's clear the winner of People's 2005 Sexiest Man Alive is smitten with his wife and family. We love that his children are equally sentimental about their awesome dad. His son, Levi McConaughey, posted in honor of his dad's birthday, "People know Matthew McConaughey as an Actor and now a writer, but I know him as my father; The man who always makes time for us no matter what, the man who's always there for us no matter what, and the man that taught me to appreciate the journey and not just the destination."
Matthew McConaughey can now give advice on love
When Matthew McConaughey sat down with Lex Fridman for his podcast, he was asked about his advice for finding love since his marriage with Camila Alves seems to be the stuff of fairytales. The Just Keep Livin' founder replied, "Love is one of those mystical successes. It doesn't make sense," before continuing to say that just before meeting Camila, he was obsessed with meeting milestones according to his relationship timeline. At that point, he was looking for true love anywhere and everywhere, equating it to shopping for a soulmate. However, he confessed that he woke up one day with the notion that he might not ever find the perfect person to spend his life with (courtesy of a prophetic dream) and felt at peace with it.
But the always sage McConaughey said love eventually found him when he was "inviting not intruding," referencing the way he met Alves by happenstance that night in 2006. Speaking to Matthew Hussey on the topic, the actor offered up this counsel, "So when we do sit back and are aware and are in pursuit, but not over pursuing or looking, trying to make it happen, we have a better chance, I think, of meeting the right person." 
With the thought that he would never meet the perfect person now a distant memory, it seems to us that McConaughey truly has a rich and fulfilling life.