Prince Harry And Meghan's Most Memorable Royal Moments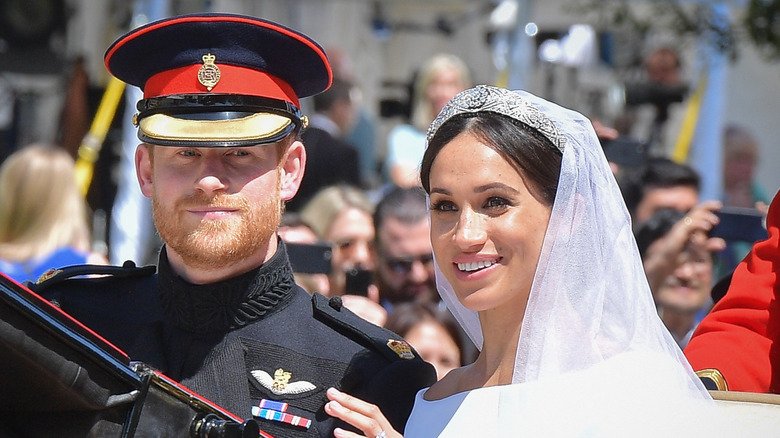 George Pimentel/Getty Images
When Prince Harry married Meghan Markle in 2018, onlookers and viewers around the globe felt a nostalgic reminder of Prince William's marriage to Princess Catherine. The image was of a picture-perfect, royal fairy tale as a regular woman became a princess — well, duchess, technically. On the outside, it seemed as if the couple were about to begin a dream life. Harry and Meghan appeared as happy as could be, and we all imagined what the couple's future would look like within the royal family.
So, when they announced that they were stepping back from their duties as senior royals, it came as quite a shock. What was a seemingly perfect life with all smiles suddenly came to a halt, and we soon began to question what exactly was going on behind closed doors. A year later, Meghan and Prince Harry spoke to Oprah in a now-iconic interview to explain what exactly life was like for them in the walls of the palace. The couple detailed instances of racism and a lack of overall support from the royal family, particularly when it came to defending Meghan while she endured negative press coverage.
Whatever may have happened out of the public eye, Prince Harry and Meghan Markle certainly had both some memorable and historic moments that we all witnessed during their time as royals. Let's take a look back at some of the highlights.
Kensington Palace confirms the speculated relationship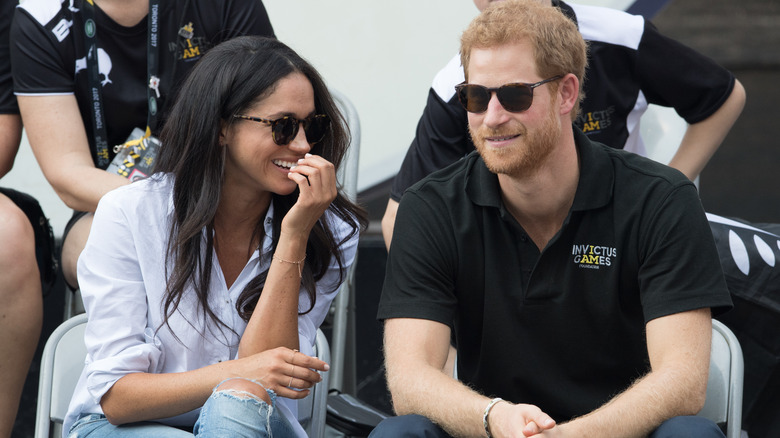 Samir Hussein/Getty Images
Prince Harry and Meghan Markle met in 2016 after being set up on a blind date by a mutual friend. The couple went on two more dates before Harry asked her to come along with him on a trip to Botswana. For the next three months, Harry and Meghan were able to keep things mostly under wraps. 
Then, in October 2016, tabloids began to speculate about the possibility of the two being a pair. After the first tabloid story was released, others followed suit, making wild and ludicrous claims regarding Meghan, her past as an actor, and her ethnicity. The negative attention became so over-the-top that Kensington Palace had no choice but to both confirm the relationship and release a statement.
"The past week has seen a line crossed," the statement read. "[Harry's] girlfriend, Meghan Markle, has been subject to a wave of abuse and harassment. Some of this has been very public — the smear on the front page of a national newspaper; the racial undertones of comment pieces; and the outright sexism and racism of social media trolls and web article comments." The statement went on to claim that reporters had attempted to break into Meghan's home, bribe her ex-boyfriend with money, and harass every person close to her. Kensington Palace urged the public to "pause and reflect" on their actions before things went any further.
Prince Harry and Meghan Markle announce their engagement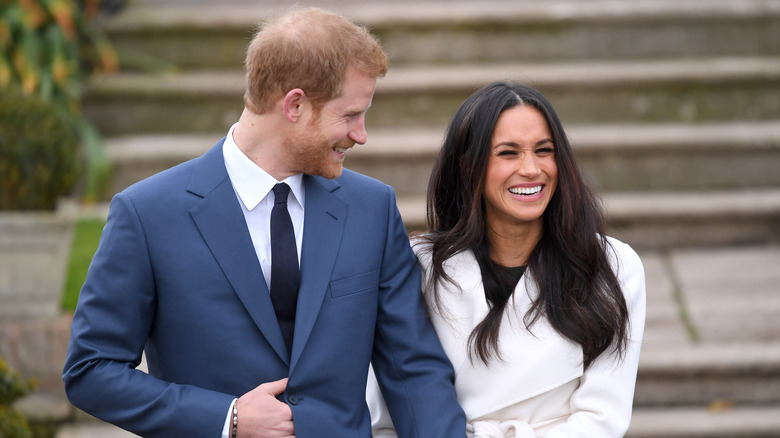 Karwai Tang/Getty Images
As Prince Harry and Meghan Markle's relationship continued to blossom, many wondered what all of this meant for Meghan's acting career, as she had been a regular on USA Network's "Suits" and appeared in 108 episodes of the show. After the Season 7 finale, Meghan's contract was up — but for the future royal, this couldn't have come at a better time. As soon as her "Suits" departure was announced, an announcement of a different kind hit the public. In November 2017, the royal family reported that Harry and Meghan were engaged.
"His Royal Highness the Prince of Wales is delighted to announce the engagement of Prince Harry to Ms. Meghan Markle," the statement revealed. "The wedding will take place in Spring 2018. ... His Royal Highness and Ms. Markle became engaged in London earlier this month. Prince Harry has informed Her Majesty The Queen and other close members of his family."
Hours later, Harry and Meghan emerged for their first public appearance as an engaged couple. Harry revealed to CNN that he had sensed Meghan was "the one" from "the very first time we met." Meghan then went on to show off her new ring — which was designed by Harry — and describe how happy she was. Meghan's engagement ring features a gold band encrusted with one large diamond from Botswana, the location of their first trip together, and two small accompanying diamonds that belonged to Prince Harry's late mother, Princess Diana.
The couple say 'I do' in 2018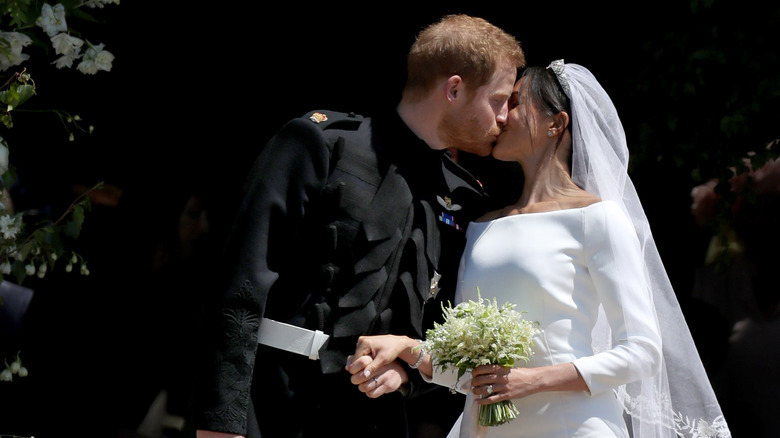 Wpa Pool/Getty Images
Prince Harry and Meghan Markle were married on May 19, 2018. As one of the most-watched television events in history, an estimated 1.9 billion people from across the globe tuned in to catch a glimpse of the monumental day. The wedding included a lot of tradition and a lot of non-tradition, with a unique mixture of things personal to the couple. Meghan's dress was designed by Givenchy artistic director Clare Waight Keller, who forged the custom creation as a nod to Carolyn Bessette-Kennedy. She kept her makeup simple and natural, and inside her veil was a "something blue" piece of fabric from her first date with Harry.
Prince Harry, who was dressed in military uniform for the occasion, hand-picked flowers for Meghan's bouquet, which symbolically included Princess Diana's favorite flower, forget-me-nots. As Meghan's father could not attend the event, King Charles III walked her halfway down the aisle, a gesture which, as she said in the Netflix docuseries "Harry & Meghan," was "important to me." During the ceremony, Martin Luther King Jr. was quoted, and Meghan followed in Princess Diana and Princess Catherine's footsteps by omitting the word "obey" from her vows.
For the reception, the couple opted to break royal tradition with their wedding cake, going for a lemon sponge instead of the usual fruitcake that is customary at royal weddings. Idris Elba spiced up the dance floor by serving as the couple's DJ — a choice that was a hit among guests.
Kensington Palace announces Prince Harry and Meghan Markle are expecting their first child in 2019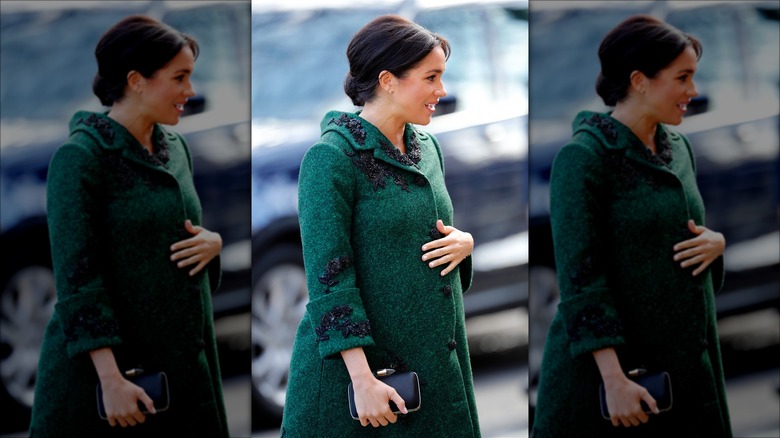 Max Mumby/indigo
Only five months after Prince Harry and Meghan Markle were married, Kensington Palace released a statement on X (formerly known as Twitter) to announce some exciting news: "Their royal highnesses the Duke and Duchess of Sussex are very pleased to announce that the Duchess of Sussex is expecting a baby in the spring of 2019." 
The royal family were informed of the pregnancy when members gathered in Windsor Castle for Princess Eugenie's wedding that weekend. Public speculation quickly arose as Meghan was seen attending the wedding wearing a loose-fitting jacket.
In the upcoming days, she and Harry left for Sydney to partake in a tour that would also extend to Fiji and Tonga; when she arrived, she was spotted clutching two large folders very tightly to her stomach, as if she were trying to conceal it. The very same day, the announcement was made that she was, indeed, pregnant with the pair's first child.
The pair embark on their first royal tour as husband and wife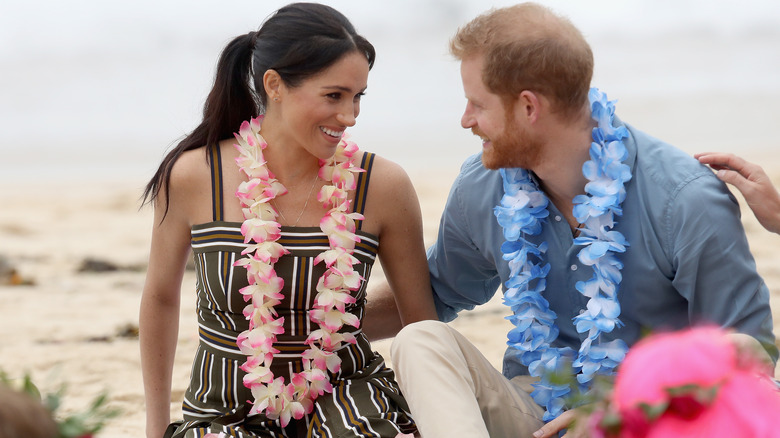 Chris Jackson/Getty Images
After Prince Harry and Meghan Markle announced their first pregnancy, the two were set to make their way around Sydney, Fiji, Tonga, and New Zealand, which would serve as their first royal tour as a married couple. To welcome the pair, Sydney gifted them with a number of baby items — including a stuffed koala and a pair of baby Uggs. The rest of their time in Australia was jam-packed with speaking events, meeting locals, and a lot of fun activities like opening and closing the Invictus Games.
While in Fiji, Prince Harry and Meghan stood on the same balcony that Harry's grandparents, Queen Elizabeth II and Prince Philip, waved to fans from in 1953 during the queen's coronation tour. 
Reportedly, before leaving for the tour, the couple had also sought out medical advice regarding Zika — a virus that can be risky for pregnant individuals in countries where it is prominent. When visiting Tupou College in Tonga, the Tupbattlingou College Boys' Choir sang a song about fighting off mosquitoes to Harry and Meghan — which ended with the duchess bursting into laughter. The duo finished up the tour by holding hands on a romantic walk through a redwood forest in New Zealand.
Prince Archie of Sussex is born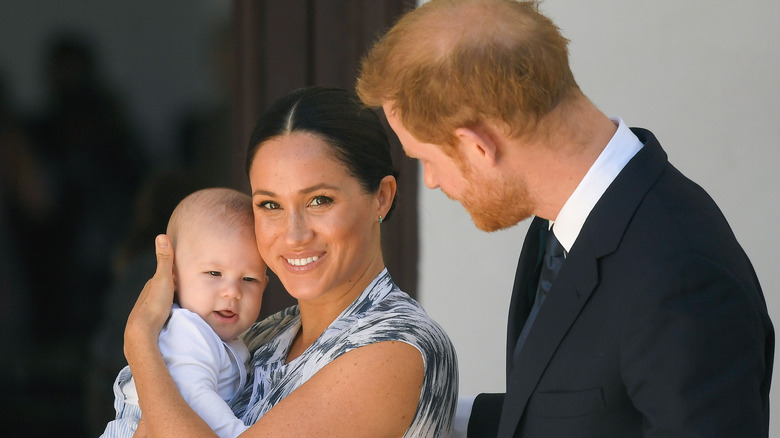 Pool/samir Hussein/Getty Images
On May 6, 2019, Meghan Markle gave birth to Prince Archie of Sussex. He weighed 7 pounds, 3 ounces, and was born at 5:26 a.m. local time, according to Buckingham Palace. "It was amazing," Prince Harry told Today regarding the birth. "Absolutely incredible. I'm incredibly proud of my wife. As every father and parent would ever say, your baby is absolutely amazing, but this little thing is absolutely to die for so I'm just over the moon."
However, as happy as the couple were following the birth of their son, his arrival wasn't without controversy. Breaking royal tradition, Harry and Meghan withheld the fact that Archie was even born by not sharing the news with the public for at least nine hours after his birth. 
In fact, when Kensington Palace released its initial statement, it was made to sound like Meghan had just gone into labor, when the truth was that Archie was already born and brought home at that time. After the birth announcement, rumors swirled that Meghan had delivered Archie at Frogmore Cottage in a bathtub; this hearsay was squashed when Archie's birth certificate was made public, revealing he was indeed born at a hospital in London (via Washington Post).
Prince Archie gets christened
Prince Archie was christened in July 2019 — a monumental event that was supposed to be a joyous day for members of the royal family and fans alike. However, when the day turned out to be a very private affair and only professional photos that were taken hours after the ceremony were shared, Prince Harry and Meghan Markle found themselves in the eyes of controversy. 
Already under fire for their $3 million renovations to Frogmore Cottage, the news that Archie's baptism would be private did not sit well with some. "When you're still taking millions of pounds worth of public money — money that could be spent in schools and hospitals — to upgrade and refurbish what is, you know, luxury palaces, you've got to ask yourself: What are the public getting in return?" Member of Parliament Luke Pollard told CNN.
Moreover, in a photo depicting all close family members, Prince William could be seen looking rather uptight, an expression that garnered him a bit of backlash. "Prince William is normally fairly relaxed and happy in family settings," body language expert and author Patti Wood explained to Good Housekeeping. "Here, he is stiff and pulled inward. He has a tight facial expression and [is] pulling his forehead and cheeks downward, giving his nose and mouth a sour look." Around this time, speculation began that something was off between the brothers and their wives.
Prince Harry and Meghan Markle depart their senior royal duties in 2020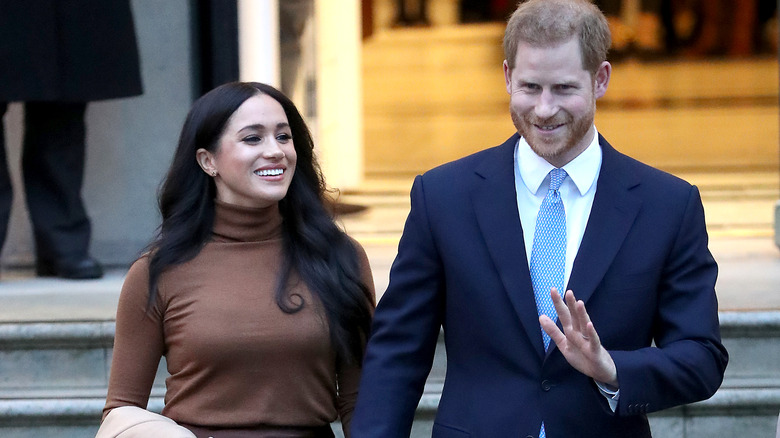 Chris Jackson/Getty Images
On January 8, 2020, Prince Harry and Meghan Markle made what may have been their most historic announcement to date — they were leaving their roles as royals. "After many months of reflection and internal discussions, we have chosen to make a transition this year in starting to carve out a progressive new role within this institution," the Instagram post stated. "We intend to step back as 'senior' members of the royal family and work to become financially independent, while continuing to fully support Her Majesty the queen." 
Soon, the couple's choice was dubbed by the press and social media as "Megxit," which is a portmanteau of the words "Meghan" and "exit," and a play on "Brexit," the 2020 withdrawal process of the U.K. from the European Union.
The announcement was met with both applause and lack of surprise, as many felt the couple's time in the royal spotlight had never been easy. Time reported that Harry said at a charity dinner that he initially wanted to move forward without funding, and that he was willing to leave his royal finances behind for a shot at happiness. "I've accepted this knowing that it doesn't change who I am or how committed I am," he shared. "But I hope that helps you understand what it had come to — that I would step my family back from all I have ever known to take a step forward into what I hope can be a more peaceful life."
The couple goes viral with the famous 'rain photo'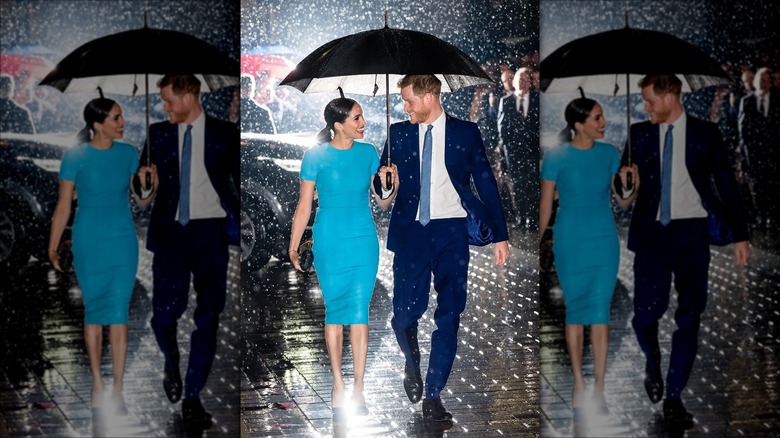 Samir Hussein/Getty Images
In the months following their groundbreaking announcement to step back as working members of the royal family, Prince Harry and Meghan Markle kept fairly quiet. Meghan's first appearance was a solo visit to a Vancouver women's shelter, while Harry remained in London to take on numerous official engagements. 
The couple reunited in London for one of their last public appearances as royals at the Endeavour Fund Awards. While there, the pair was photographed outside in the rain, in what seemed to be a magically candid moment under an umbrella. Car headlights from behind lit up drops of twinkling rain, as the flash of the camera submerged the duo in a wash of silvery lighting. The scene looked like an image from a movie.
Many who were wondering about Harry and Meghan's status through the transition were given a taste of exactly what the pair were feeling: seemingly absolute bliss. When the photo was posted on Vanity Fair's Instagram, the comments were flooded with things like "Magical and romantic," and "This is everything." Some went on to question whether or not the photo was actually staged, but either way, the image went viral and became one of Harry and Meghan's most iconic photographs.
Prince Harry and Meghan Markle kick off a farewell tour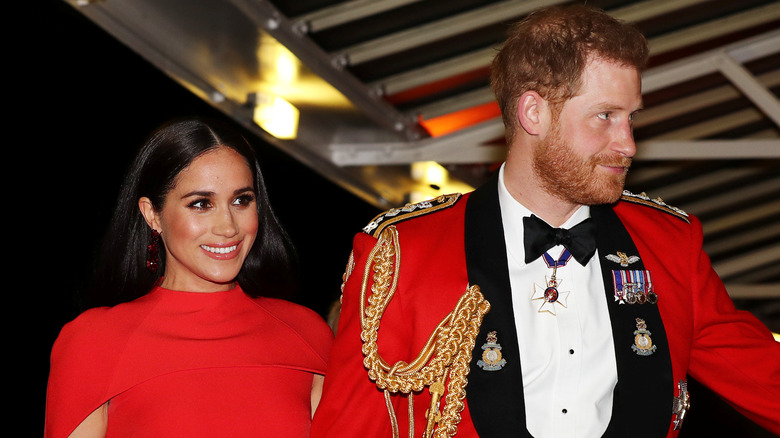 Wpa Pool/Getty Images
The Endeavor Fund Awards became the first event that took place in Prince Harry and Meghan Markle's "farewell tour," a series of weekend engagements that were set to be the duke and duchess' last appearances as working royals. 
"They are taking a huge step in giving up royal life — it is all Harry has known — and I would think that he in particular will have very mixed emotions," royal biographer Penny Junor reported to CBC. Also in the lineup for the couple's tour was Meghan's appearance at an International Women's Day event. "Meghan taking part in International Women's Day is very much a reflection of her personal and strongly held interests," Junor explained.
Moreover, it appeared that the pair showed up at one event out of respect for Queen Elizabeth II. "Both Harry and Meghan were given really central roles within the Commonwealth by the queen, and I think it's important to her that if they're going to be in the U.K., they turn up for this," Philip Murphy, director of the Institute of Commonwealth Studies at the University of London, shared with CBC. Some felt that this was the queen's way of leaving the door open for Harry and Meghan, despite the feeling of conclusiveness that these "final events" gave off.
They make their last official appearance at the Commonwealth Day Service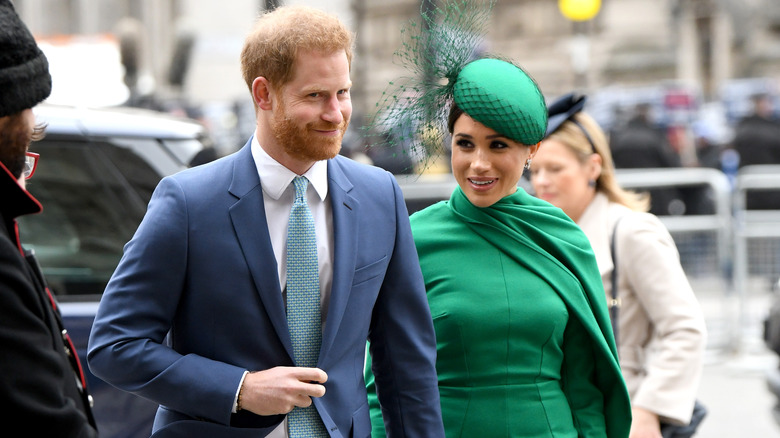 Karwai Tang/Getty Images
Prince Harry and Meghan Markle's final event as official royals was at the Commonwealth Day Service in March 2020. They joined Queen Elizabeth II, Prince William, Princess Catherine, King Charles, and Queen Camilla, marking the couple's first public outing with the rest of the royal family since the November 2019 Remembrance Day Services. It was also the first time the queen and Meghan were publicly seen together since the January royal departure announcement.
For her last event as a royal, Meghan chose to wear an emerald green caped Emilia Wickstead dress paired with a matching William Chambers fascinator. As for what was to come next for her? 
"For the duchess, her focus remains women's empowerment, gender equality, and education," a spokesperson told Town & Country a month before the final engagement. "The duke's priorities remain supporting the welfare of servicemen and women, conservation, sport for social development, HIV, and Travalyst, which works to mobilize the tourism and travel industry for social good."