What We Know About Sylvester Stallone's Complicated Relationship With Late Son Sage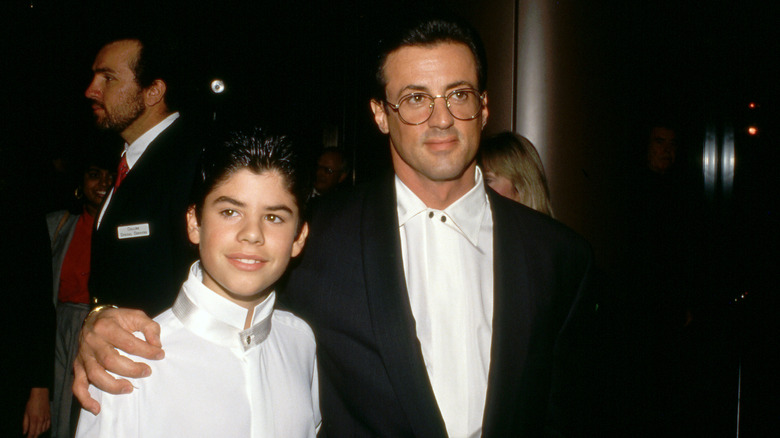 Mediapunch/Getty Images
Although Sylvester Stallone came from humble beginnings, he worked hard to create a good life for himself and his five kids. For the most part, he was a regular dad who tried to make sure his children had as normal of a life as possible — he even got hilariously overprotective when his daughters brought home dates. But in 2012, Sylvester's life was turned upside down when his eldest son, Sage, was found dead at 36. At the time, some outlets reported that he had died from a drug overdose after secretly battling addiction.  
However, his true cause of death was later revealed as a heart attack. After news of Sage's death broke, Sylvester pleaded with people to respect his privacy as he mourned the loss of his firstborn. Of course, the death of a child is a life-shattering blow for any parent, but for Sylvester, it was even more heartbreaking because he shared a shaky relationship with his son over the years. It's safe to say that their father-son problems stemmed back to Sage's childhood based on the plot that Sylvester co-wrote for "Rocky V," which starred Sage as Rocky Balboa Jr. 
In the film, Sage's character feels abandoned by his father, Rocky, AKA Sylvester, because he focuses his time and energy on mentoring a boxer named Tommy. In Sylvester's 2023 documentary "Sly," he admitted that the plot was inspired by real-life experiences, explaining, "A lot of that is true. Unfortunately, you put things before your family. And the repercussions are quite radical and devastating."
Sage Stallone didn't want to be like his father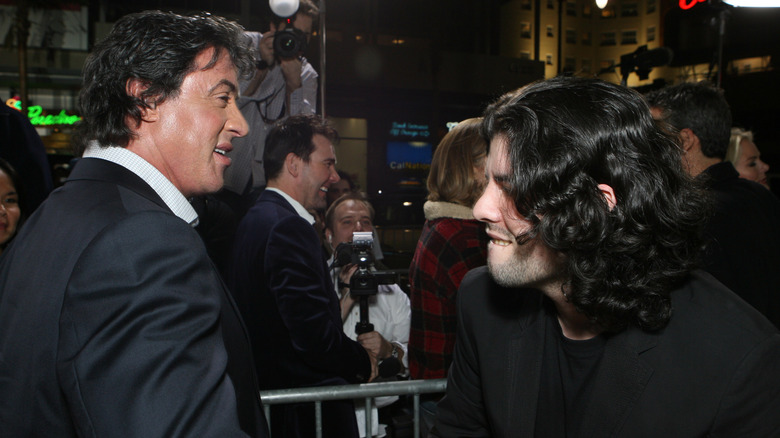 E. Charbonneau/Getty Images
Following Sage Stallone's untimely death, his friends Stephen Wozniak and David DeFalco sat down with People to discuss his mixed feelings about his father, Sylvester Stallone. "The love-hate would go back and forth all the time," Wozniak shared. "[Sage] would say, 'I loved that rare ending in Nighthawks that my dad was really sticking up for.' And then a few minutes later he would look in a magazine and say, 'Look at these tribal tattoos that my dad is getting at age 66. What is he doing?'" 
He shared that a part of Sage was eternally grateful to his father for blessing him with a privileged life, but another resented him for creating an image he could never live up to. When many of us think of the "Rocky" star's son, it's natural to picture a well-toned, heavily masculine man who is a spitting image of his father, but Sage wasn't like that, and he didn't want to be another version of his father. 
In a 1996 People interview, Sylvester shared how his son differed from him, "He avoids the gym like the plague and is interested in abstract, art-house films. He has put himself in a position in which he'll never have to be compared to me." According to Wozniak, Sage stuck to a diet of processed foods and sodas, which made his weight fluctuate. His father reportedly wasn't too happy about his food and exercise choices, and he made his disapproval known.
Sage Stallone was reportedly snubbed from 'Rocky Balboa'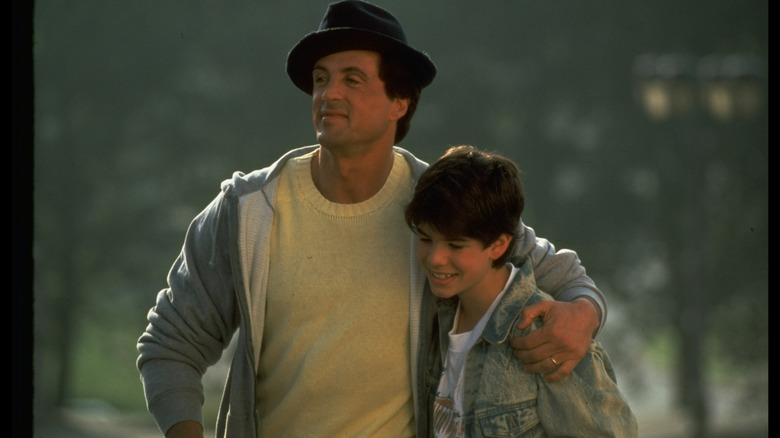 John Bryson/Getty Images
Following the 2006 release of "Rocky Balboa," the sixth installment in the franchise, fans were surprised to see that Sage Stallone didn't return to play Rocky Balboa Jr. The role was instead played by Milo Ventimiglia, who more closely resembled Sylvester's silhouette. At the time, there were conflicting reports about Sage's absence, as some outlets claimed that he turned the role down to direct his film "Vic." 
But per TotalRocky, he wasn't invited to play the part at all because "Vic" struck a nerve with Sylvester since it was about an aging actor who was struggling to get back in the industry. The outlet claimed that things got so bad that the two stopped speaking altogether, but nonetheless, Sage believed his father would ask him to join the movie. However, Sage didn't hear from Sylvester, and ultimately learned about his snub from his mother, Sasha Czack.
During the People interview, David DeFalco shared that Sage wanted to reprise his role, and it's safe to assume that he wanted to play the part again because "Rocky V" was a turning point for the father-son relationship. Sage previously told People he channeled his real-life emotions into the performance, "When I was screaming: 'You never spent time with me! You never spent time with my mother!' that was true. I was looking into my father's face and really saying that," He added. "I got a lot of things out. We broke into tears a few times. After the film, everything changed. We'd do anything for each other."