The Real-Life Stories Of Truman Capote's 'Swans' And The Actors Who Play Them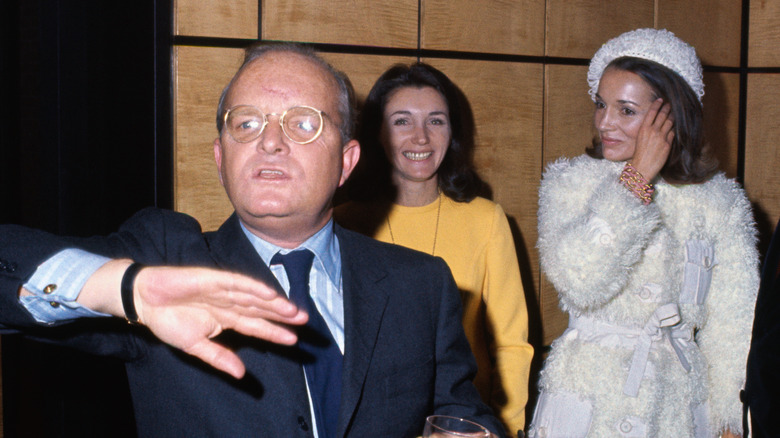 Bettmann/Getty Images
Author Truman Capote found popularity as a fiction writer with the 1958 publication of "Breakfast at Tiffany's," but it was his 1965 work "In Cold Blood" that catapulted the author to celebrity status among Manhattan's elite. Most famously, he was at the center of a bevy of beautiful socialites that he referred to as "swans."
These elegant, graceful women took the diminutive man with the big personality behind the velvet ropes of their lives, including him in their luxurious lifestyles that included parties, private planes, and coveted spots on the guest lists of the most fashionable openings and events in the city. More than that, Capote was given an all-access pass to the gossip, scandal, and backstabbing that was as much a part of the women's lives as couture and caviar. 
Being privy to such knowledge proved to be more than the author could handle, and he spilled the tea in "La Côte Basque 1965," a chapter of his unfinished book "Answered Prayers" that ran in Esquire in 1975 and 1976. That decision proved to be Capote's swan song as he was cast out of the lives of Babe Paley, C.Z. Guest, Ann Woodward, Lee Radziwill, Joanne Carson, and Slim Keith forever. Ryan Murphy is telling the story in "Feud: Capote vs. The Swans," the second installment of his "Feud" anthology. Although the release date is pending, iconic actors Naomi Watts, Chloë Sevigny, Demi Moore, Calista Flockhart, Molly Ringwald, and Diane Lane are swan-diving into their respective roles.
Naomi Watts as Babe Paley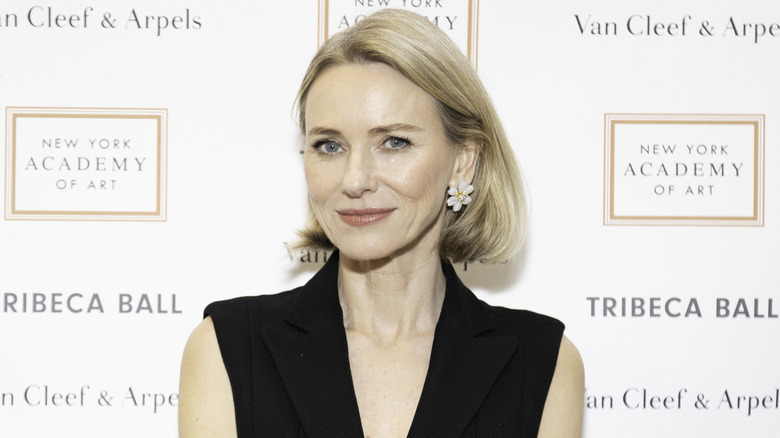 Santiago Felipe/Getty Images
It's been a big year for Naomi Watts. The star of "The Watcher" announced that she and "The Morning Show" star Billy Crudup said "I do" in June 2023. She also began filming "Feud: Capote vs. The Swans" in New York, where she will bring socialite Barbara "Babe" Paley to life. The "King Kong" star spoke with Entertainment Weekly about the role, saying, "It's such an iconic time and very interesting for women in particular. Babe Paley, what an incredible woman. As Truman described her, her only imperfection was that she was so perfect." 
Paley was famously married to CBS founder William S. Paley, but she was a strong force in her own right as the former fashion editor of Vogue. That strength may have appealed to Watts, who has been an outspoken champion of women's empowerment for several years. 
In a 2019 interview with ABC News, Watts talked about her role in the movie "Ophelia," and how she seeks roles that feature strong women. "I'm just enjoying choosing different roles that are complex where the women are growing in some way and evolving," Watts said. Watts has also taken steps to empower women off-screen with her upfront approach to aging. With the launch of her beauty and wellness brand Stripes, she is hoping to take the sting and stigma out of menopause. During a Zoom call with "Today," Watts said, "I reject the notion that [menopause] marks the end of one's life." 
Barbara Babe Paley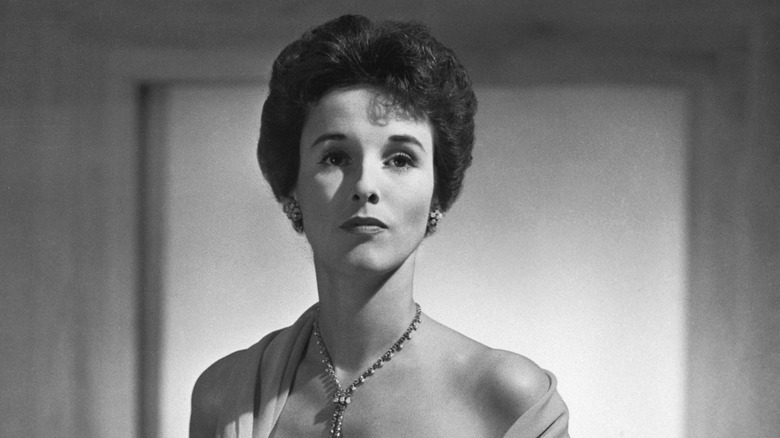 Bettmann/Getty Images
In Vanity Fair's "The Best Dressed Women of All Time" video series, correspondent Amy Fine Collins refers to Babe Paley as an "American goddess" and "the ultimate trophy wife." With her impeccable style and grace, the goddess moniker may be accurate, but trophy wife? Yes, she was famously married to an even more infamous high-powered womanizer, but Paley had come into her own long before William Paley entered the picture. 
For the nearly 10 years leading up to her marriage (her second one, by the way), the glamorous socialite whom Time christened the second best-dressed woman in the world in 1941 had parlayed her eye for fashion into a career at Vogue. Over the years, "Mrs. Paley" became only one of her many distinctions that also included being a member of the International Best Dressed List Hall of Fame since 1958 and being named "Super-Dresser of Our Time" in 1975. 
As seemingly perfect as Paley's life may have appeared to outsiders, those closest to her, including Capote, knew that things weren't always as they seemed. She was often tabloid fodder and was betrayed by her husband's not-so-discreet indiscretions. The worst betrayal, however, came at the hands of Capote, to whom she had shared her most intimate secrets, which he then revealed to the world through "La Côte Basque 1965." The fallout from the publication of Paley's secrets was swift, and she died from lung cancer in 1978 without ever speaking to Capote again. 
Chloë Sevigny as C.Z. Guest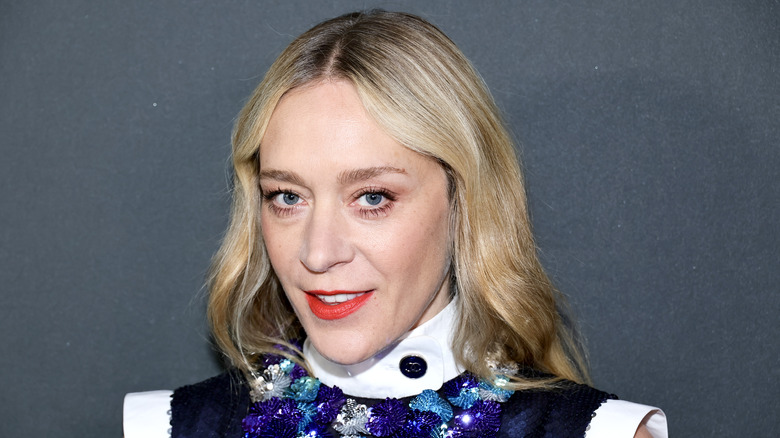 Theo Wargo/Getty Images
When you think high fashion or socialites, Chloë Sevigny isn't necessarily the first person that comes to mind. Roles like the one in "Boys Don't Cry" and "The Girl from Plainville" further solidify that haute couture isn't first and foremost on her resume. But while her on-screen looks may lean toward basic, off-camera, the actor has a fondness for fashion, particularly Chanel. 
In an interview with W Magazine, she said, "I love wearing Chanel around the context of films, like at festivals or premieres. To me, there's a timelessness to a lot of the dresses. There's enough edge, enough glamour, enough cool." Perhaps that explains why Sevigny jumped at the role of glamorous Manhattan socialite C.Z. Guest, telling W, "Finally! I've been wanting to play a glamorous character since 'The Last Days of Disco' and she was only like halfway glamorous. This was so much fun." 
Sevigny did her homework to play the iconic Guest, reading everything about the swans that she could get her hands on. She studied photos and videos to perfectly capture Guest's look and her unusual voice, which the actor said often fluctuated "between a British, Boston and New York accent in one breath." But more than simply the physical attributes, Sevigny worked to capture the intangible essence of Guest and the women of that era. "Those women all held a lot of allure for me. I think the society ladies had some sort of mysterious quality that I always admired."
C. Z. Guest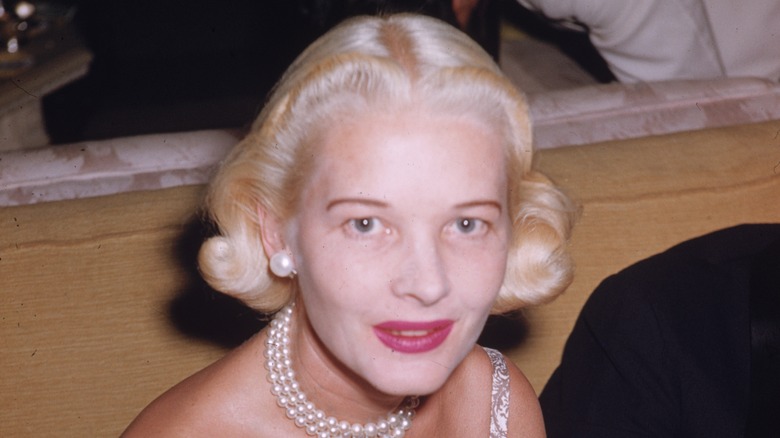 Slim Aarons/Getty Images
If the swans were the Spice Girls, C.Z. Guest would be Sporty. Born Lucy Douglas Cochrane, Guest was an avid equestrian and horticulturist who possessed a natural, outdoorsy type of beauty synonymous with East Coast breeding. Former publisher of Women's Wear Daily, John Fairchild, said it best when he described her as a "Southampton, Long Island American, Ivy League blond" per her The New York Times obituary. Hers was a clean, simple, classic style that landed Guest on many a best-dressed list and in the New York Dress Institute's Fashion Hall of Fame.
Guest was the only swan that Capote didn't rake over the coals in his infamous story, but ironically, she may have had the most colorful past. Before settling down with steel tycoon Winston Frederick Churchill Guest in 1947, she sowed her wild oats as a Broadway showgirl before heading to California to try her hand at acting but had more luck dating actors. 
Per The New York Times, "My ambition was to be a successful enough actress to get myself thrown out of the Social Register," she once said. That mission was almost accomplished when Guest posed for artist Diego Rivera, wearing nothing but a smile. The portrait hung in a bar in Mexico before reportedly being purchased by her then-fiance's family. In later years, Guest went on to pursue a variety of interests, including fashion design and writing, like her dear friend Capote who penned the intro to her first book, "First Garden." 
Demi Moore as Ann Woodward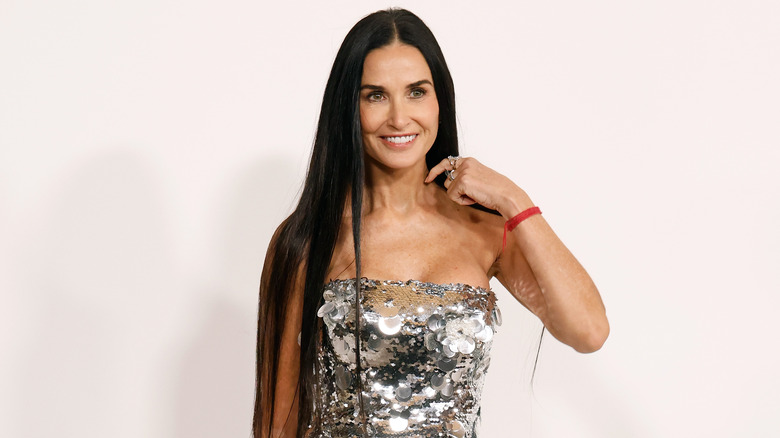 Taylor Hill/Getty Images
 Demi Moore's illustrious career has spanned decades, and she has made a name for herself as one of Hollywood's most bankable actors with iconic films like "G.I. Jane," and "Ghost" to name a few. Now she is taking on the role of swan Ann Woodward and, like her character, Moore knows what it's like to be the subject of gossip and scandal. 
But, unlike Woodward, Moore not only survived her scandals but appears to be thriving. She was at the top of producer Ryan Murphy's list in this second "Feud" installment, and he told Town & Country, "Demi is somebody I've had 10 meetings with over 20 years, begging her to play parts. She always comes into the room, and you tell her what the part is, and she's like, 'I don't think I'm right for that.' So this time around I was like, 'I'll tell you what it is, and you're not allowed to say anything but yes.' "
For her part, Moore admits that she was not that familiar with all the details of the scandal but was inspired nonetheless. "I appreciate that it's a period piece set in an intriguing world," she said. "There's also the question of loyalty and integrity. The wonderful thing Ryan does is he brings forward a deeper resonance wrapped in an entertaining package. I personally don't love the idea of vengeance, but I think that there's much more to this: heartache, loss, and valuing what you have."
Ann Woodward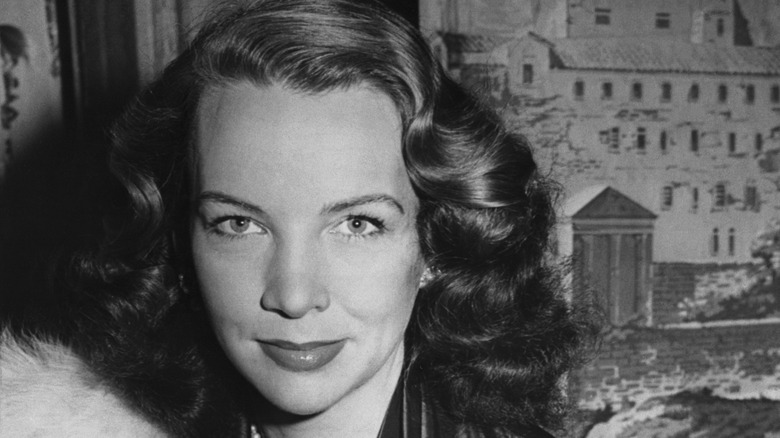 Bettmann/Getty Images
It was the shot heard 'round the world when Ann Woodward killed her husband, William "Billy" Woodward Jr. in 1955. It was also the catalyst for one of the biggest societal scandals when Truman Capote used it as the plot in "La Côte Basque 1965," and implied that the murder was no accident. That "fictional" accusation put into motion a string of events that ended in Woodward's death and Capote's exile from Manhattan's elite. And who says the pen isn't mightier than the sword? 
One of the more sordid swans, Woodward was not born into high society. She got there the good old-fashioned way. Born Evangeline Crowell in Pittsburg, Kansas, and later moved to the Big Apple where she worked as a model, radio actor, and dancer at Fefe's nightclub under the stage name Ann Eden. It was there that she met and began a relationship with the very married William Woodward Sr., who eventually set her up with his son, Billy. 
By all accounts, theirs was not a happy marriage, and Billy was rumored to be gay. However, Woodward claimed that on that fateful night, she mistakenly thought her husband was an intruder. A jury believed her, and Woodward tried to move on, but it's rumored Capote's story was too much for her. Devastated, the former showgirl and mother of two died by suicide at age 57. 
Diane Lane as Slim Keith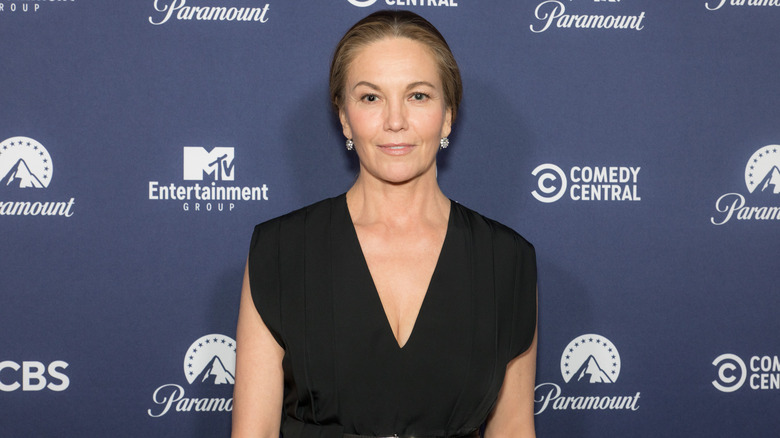 Shedrick Pelt/Getty Images
Diane Lane is set to play the role of Babe Paley's BFF, Slim Keith. Like the socialite, Lane possesses an inherent elegance and beauty that feels almost aristocratic. In a world where actors are judged for their beauty as much as their talent, many women go above and beyond to look younger than their years. Lane, however, is a breath of fresh air, exuding a quiet confidence and beauty that doesn't rely on artifice. 
In fact, the Oscar-nominated actor has very strong opinions about today's beauty messaging, telling The New York Times, "I don't use the 'A' word, as in anti-aging. I just remove myself from those associations. I'm so fed up with the marketing of fear."
Lane, who has been acting since she was a teen, has been an advocate for stronger roles for women in Hollywood, once even leaving the business in protest of the lack of solid female roles. Fortunately, things seem to be improving in that area, and Lane told Slant that she is happy with the progress. "I think that the female perspective and the female experience is invariably expanding, and that's being reflected back to us in the media that we pay to enjoy. I'm very grateful for television, that there's such diversity of roles available for women to relate to and feel spoken to, in terms of experiences that they'd never seen reflected back before."
Slim Keith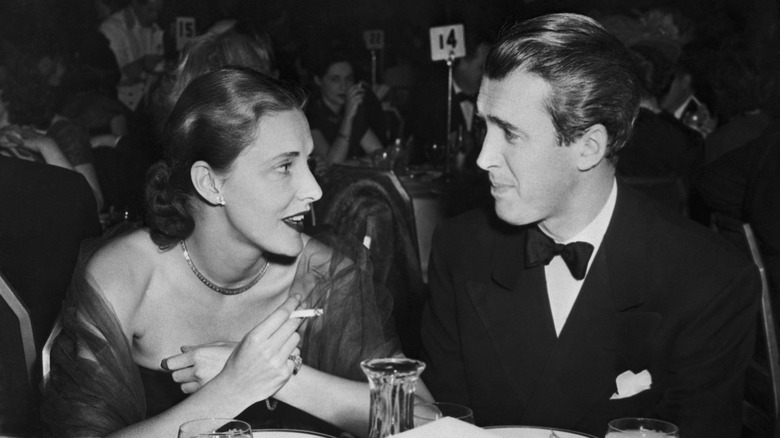 Bettmann/Getty Images
Growing up in California, Mary Raye Gross probably didn't imagine that she would become the iconic figure Slim Keith, a pillar of New York high society who counted Babe Paley and Truman Capote, along with countless celebrities and A-listers, among her closest friends. She is also credited for giving Lauren Bacall her on-screen break when she brought the actor to the attention of her first husband, the Hollywood director Howard Hawks. 
Keith rose to her great societal heights not by birthright but by beauty, brains, and a knack for marrying up. In her book "Memories of a Rich and Imperfect Life," Keith admits to being impressed by Hawk's wealth, saying, "He was not only handsome, charming and successful, he was exactly the package that I wanted. The career, the house, the four cars, the yacht — this was the life for me."
Keith dated many famous men, including Clark Gable, and would marry two more times, once to agent Leyland Hayward and finally to Sir Kenneth Keith, a wealthy British banker and aristocrat. This union resulted in the bestowing of the title "Lady Keith," which added to her elite status. Nicknamed "Slim" for her height and skinny limbs, the former model was a fashion designer's dream. She knew what looked good on her frame, and she favored what she described in her book as a "scrubbed-clean polished look." Like her fellow swans, Keith banished Capote from her world after his less-than-flattering portrayal of her was published. 
Calista Flockhart as Lee Radziwill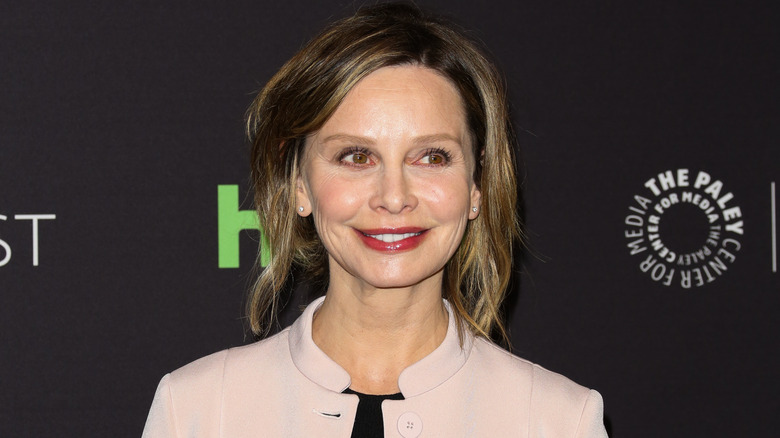 Paul Archuleta/Getty Images
Calista Flockhart has enjoyed a successful stage and screen career, but most of us probably remember her most fondly as Ally McBeal, the adorably awkward attorney. Flockhart played the show's titular character from 1997 to 2002 and earned several SAG nominations, a Golden Globe, and a handful of Emmy nominations in the process. She also earned a heap of criticism over her weight (or lack thereof), sparking concern that she had an eating disorder. 
"The Birdcage" actor professed that yes, she was eating, and no, she didn't have an eating disorder. However, several years later, she copped to not eating enough during the show's run due to the intense stress. According to The Mirror, she said, "I was working 15-hour days on the set and then I was dealing with the end of the show, which was basically my life. I started under-eating, over-exercising, pushing myself too hard, and brutalizing my immune system. I guess I just didn't find the time to eat. I am much more healthy these days."
Since the show ended, Flockhart has found success in other series, including "Brothers and Sisters" and "Supergirl," but she took long breaks in between where she devoted herself to her marriage to actor Harrison Ford, and son, Liam. Now that Liam is in college, Flockhart has returned to acting, doing a theater production of "Who's Afraid of Virginia Woolf," last year before beginning production on "Feud: Capote vs. The Swans," where she will play Lee Radziwill.
Lee Radziwill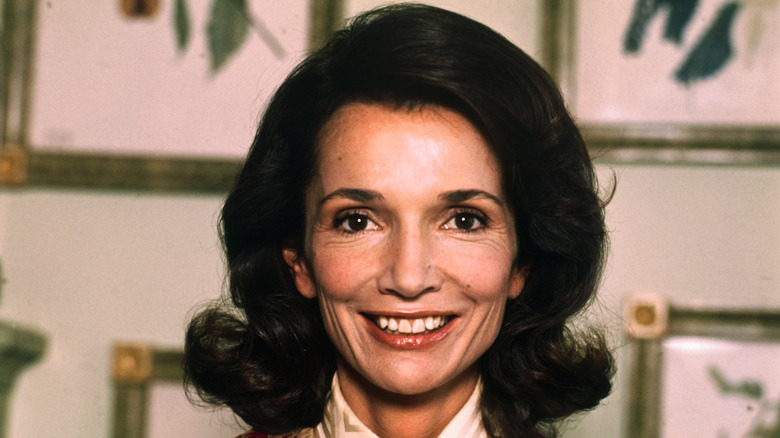 Bettmann/Getty Images
As the younger sister of former first lady Jacqueline Kennedy Onassis, Lee Radziwill was no stranger to the public eye. Although she and her older sister shared beauty, grace, poise, style, and an inimitable presence, they were very different people. Onassis found fame and public adoration as the young, beautiful widow of one of America's most popular presidents. Radziwill found fame and public scrutiny as a socialite, wannabe actor, and fashion icon. 
Constantly moving in the shadow of her older sister, Radziwill told The New York Times, "Perhaps the most depressing part was that whatever I did, or tried to do, got disproportionate coverage purely because of Jackie being my sister. But you learn to deal with the scrutiny, even the lies, as long as it's not malicious."
Radziwill lived a glamorous life, attending fabulous parties, and dating some of the world's most eligible and wealthy men. Although she was married three times, she said it was her friends that brought her happiness. Those included a glittering assortment of people from Andy Warhol to Truman Capote, the latter of whom encouraged her aspirations to act by adapting the film "Laura" for television and then insisting that she star in it. Critics panned her performance, and a review in The New York Times said, "In 1968 the best thing about 'Laura' is the theme song" (via Town & Country). Just like that, Radziwill's acting career was over. 
Molly Ringwald as Joanne Carson
Jamie McCarthy/Getty Images
Molly Ringwald, who plays swan Joanne Carson, is as synonymous with the '80s as Rubik's Cubes and Pac-Man. She starred in almost all of John Hughes' iconic movies playing roles that included the angst-ridden Samantha in "Sixteen Candles," the spoiled prom queen Claire in "The Breakfast Club," and the quirky Andie in "Pretty in Pink." That triple header sent both the actor's and the director's careers to stratospheric heights and landed Ringwald on the cover of Time in 1986.
"I had what could be called a symbiotic relationship with John during the first two of those films. I've been called his muse, which I believe I was, for a little while," Ringwald wrote in an essay that appeared in The New Yorker. It seemed like Ringwald, the ultimate '80s cool girl, could do no wrong. And then, like acid-washed jeans and blue eyeliner, she disappeared. 
According to another essay the "For Keeps" star penned in The New Yorker, Ringwald had been growing increasingly frustrated with the sexual harassment of women in Hollywood. After a particularly degrading audition that left her in tears, she fired her agent, moved to Paris, and never looked back. She told The Reporter, "I don't regret going to France for a second. I felt like if I was ever going to do something else for a while, that was the right time." Obviously, Ringwald returned and has enjoyed a successful career as an adult both on- and off-screen. 
Joanne Carson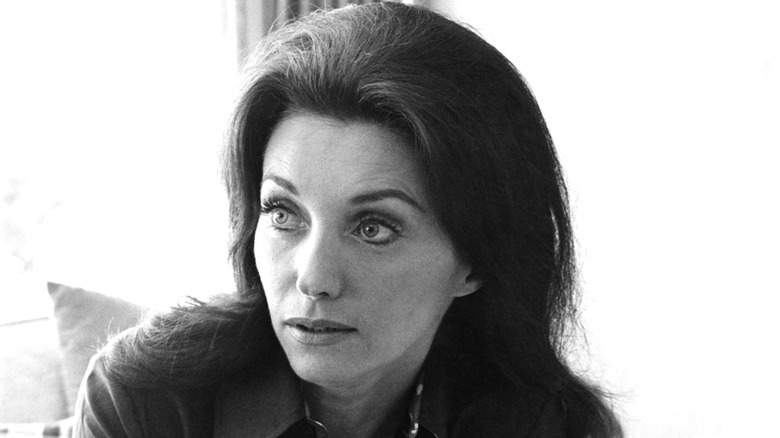 Michael Ochs Archives/Getty Images
Of all the swans, Joanne Carson may have the biggest claim to Truman Capote fame: He died in her California home. However, according to the Los Angeles Times, Capote actually considered her home his getaway, where he would hole up for months at a time. The former wife of late-night king Johnny Carson had a close relationship with Capote, whom she first met at a dinner party in 1966. The duo hit it off, and Carson is one of the only swans who didn't disown the author after his fictional tell-all was published, even though it did reference a story she had shared with him about one of her husband's indiscretions. 
So why did she continue to associate with Capote after he had been cast out of society? She told the Los Angeles Times it was because of his loyalty during her divorce. "Everyone moved toward Johnny, because that was where the power was," said Carson. "But Truman stood by me like a rock." 
Capote left his friend with many treasures following his death, and she auctioned them for animal charities in 2006. One of the most prized items was an essay he'd written for her the day before he died, titled, "Remembering Willa Cather." It was never finished but did appear in an issue of Vanity Fair. Carson said she held no ill will against the writer and blamed herself for divulging her secrets to him. "Truman loved celebrity," she said. "He crashed and burned because of the bitchiness of New York."