The Secret To Emily O'Brien And Rob Scott Wilson's Days Of Our Lives Chemistry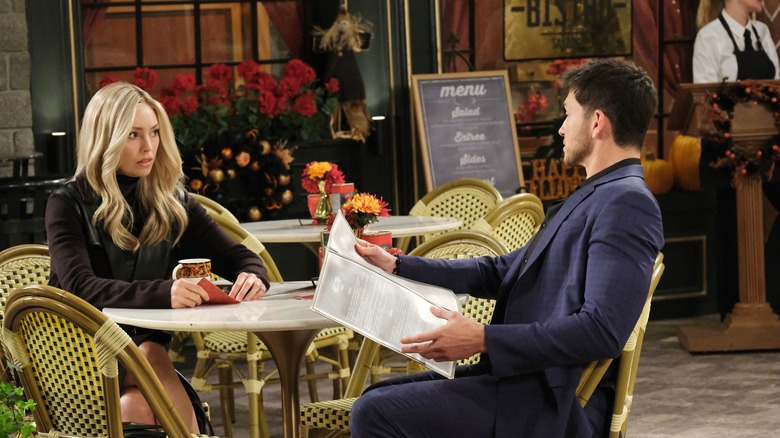 XJJohnson/jpistudios.com
Sometimes in soap operas, the chemistry between two actors is so powerful, that it's palpable even to the audience. The energy between "Days of Our Lives" couples Sarah Horton (Linsey Godfrey) and Xander Kiriakis (Paul Telfer) and Ben Weston (Robert Scott Wilson) and Ciara Brady (Victoria Konefal) is electric every time they're on screen together. However, two more actors from "Days of Our Lives" have recognized their amazing chemistry, and despite a character change, that feeling is still going strong.
The soap opera world was abuzz when it was announced that Jen Lilley, who had portrayed Theresa Donovan on "Days" since the character's first appearance, was being replaced by Emily O'Brien, who was actively playing Gwen Rizczech on the soap. In an unprecedented switch-up, O'Brien slapped on a wig and proceeded to fill Theresa's shoes. Despite the change in character (and American accent), Wilson still thinks that O'Brien's ability to find new meaning in every scene is what gives them their incredible on-screen chemistry.
Robert Scott Wilson and Emily O'Brien connected right away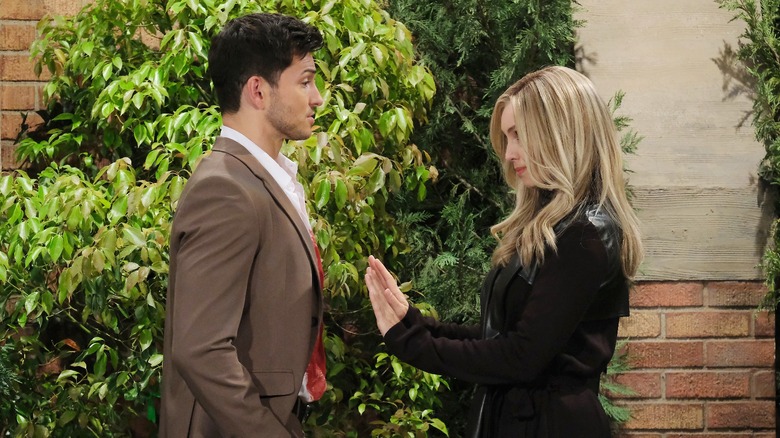 XJJohnson/jpistudios.com
Emily O'Brien and Robert Scott Wilson got to test out their chemistry together first as Alex and Gwen before O'Brien was recast as Theresa. The two characters entertained a brief fling before ending things abruptly. However, that wasn't the end of their working relationship. Wilson and O'Brien get to explore things further through Theresa and Alex's growing romance. In an interview with Michael Fairman TV, Wilson explained what makes O'Brien such a good scene partner to have at "Days of Our Lives."
"We got to touch on it a little bit with Alex and Gwen, and there was just something that worked with Emily and I, you know," he told the outlet. "She's a good actor, but she's a great person. We come in wildly prepared and do as much as we can — rehearse as much as we can — but really, we'll always find something new, and that makes it exciting ... Then, when everything happened with Theresa, you know, it worked out perfectly, because we get to kind of continue what we were doing with new characters."
Wilson continued, detailing his experience with switching characters in a matter of weeks, going from playing Ben Weston to Alex Kiriakis in a fast turnaround. Perhaps it's the similar situation that O'Brien and Wilson have found themselves in that contributes to their stellar chemistry on-screen.
Robert Scott Wilson also connected with another on-screen love interest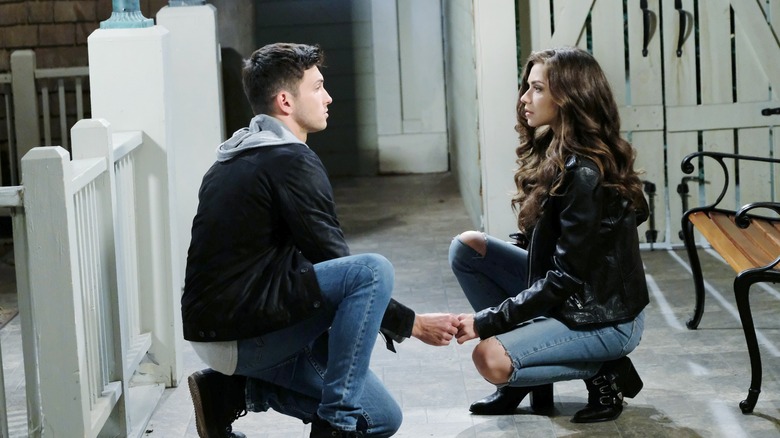 XJJohnson/jpistudios.com
Robert Scott Wilson and Emily O'Brien share a connection on-screen, but there is another leading lady that Wilson connected with right off the bat. When he was portraying Ben Weston, a big part of the character's arc was his relationship with Ciara Brady, played by Victoria Konefal. From the moment they met on screen, the energy between the two actors was incredible, earning them a place among the supercouples on "Days of Our Lives." In an interview with Soap Opera Digest, Wilson and Konefal opened up about what made their chemistry soar.
"I was just gonna say right off the rib, it was one of those things where we kind of grabbed it and just went into it and it just felt comfortable," Wilson told the magazine. "I think we kind of just 'got' each other. Victoria came correct and I try to hold up my end of the bargain, as well. It kind of balanced right away."
Konefal explained that with Wilson, she always felt present in the moment while filming and that connection is what made their characters so dynamic on-screen. Both actors agree that from the moment they started filming their first scene together, they had something special, and it took off from there.