What Jennifer Aniston And Reese Witherspoon's First Time Meeting Was Like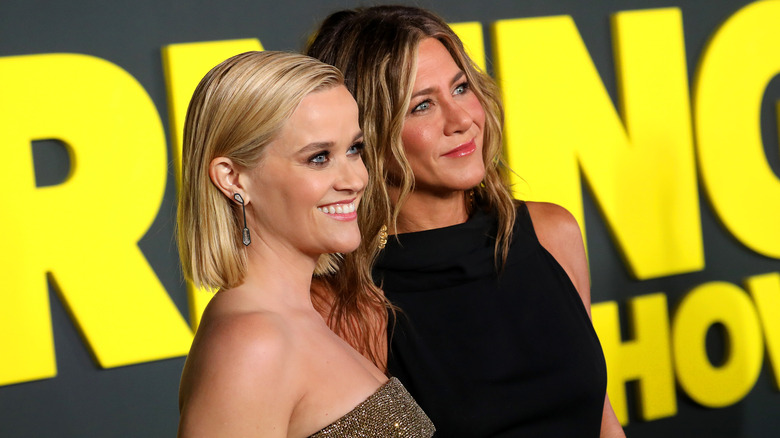 Brian Ach/Getty Images
Jennifer Aniston and Reese Witherspoon have been pals for years, which makes sense, considering the Hollywood starlets likely run in the same circles. But the way these two leading ladies met is way cuter than we thought! Witherspoon gave Harper's Bazaar the details of their BFF meet-cute, saying, "We met on the set of "Friends"; I played her sister. I was 23 years old and had just had a baby, I was nursing Ava on set, and Jen just kept going, 'You have a baby?' I was like, 'I know, it's weird.'"
The "Home Again" actor was referring to her first cameo on "Friends" Season 6, Episode 13, in which she was cast as Rachel's (Aniston) sister, Jill. While Witherspoon may have felt slightly uncomfortable having her little one with her on set (she recalled having to go pump in between takes, according to People), it sounds like Aniston did whatever she could to make the new mom comfortable. Witherspoon admitted, "She was so sweet to me. I was really nervous, and she was like, 'Oh, my gosh — don't worry about it!'" continuing, "They would change all the lines, and she was just so effortlessly affable, bubbly, and sunny. We've been friends ever since."
Both women continued accepting various acting roles throughout their friendship until they finally found themselves sharing the screen again in 2019. Witherspoon and Aniston star as co-workers on Apple TV's "The Morning Show."
Jennifer Aniston and Reese Witherspoon say they love each other like sisters
In a lovely birthday tribute to Reese Witherspoon, Jennifer Aniston shared the various titles the "Mud" actor has earned, including as her "sister" (via People). Aniston shared a few of her favorite photos alongside the captions "co-anchors," "co-workers," and "co-conspirators" before writing, "I LOVE YOU!!!"
The besties also sat down with People (the TV Show!) to discuss their time as co-anchors and co-workers on Apple TV's "The Morning Show." Witherspoon gushed, "We'd been looking for a project to collaborate on for years and years, so when this came about, it was perfect." Aside from Witherspoon's sole "Friends" episode, "The One with Rachel's Sister," Witherspoon and Aniston only reprised the co-worker role one other time, when Witherspoon was invited back to the series for a second time, appearing in Season 6, Episode 14 "The One Where Chandler Can't Cry."
To this day, Witherspoon still remembers the lines from the iconic sitcom. The duo put their memory skills to the test by reenacting a scene on Instagram. When Aniston faltered, Witherspoon swooped in to save the day, reminding her of her lines before effortlessly reciting her part. When the mother of three posted her birthday message to Aniston on Instagram, she gave a shout-out to their time on "Friends," writing, "What a gift to get to work with my big sis everyday on @themorningshow. You always give the best advice and endless LOVE and support. I [heart] you, Jen!"
As best friends, Reese Witherspoon and Jennifer Aniston are always there for one another
It isn't just for their joint projects, like "The Morning Show" or "Friends," that the actors support one another. Like true ride-or-die besties, Jennifer Aniston and Reese Witherspoon are always there to cheer each other on. The "Pleasantville" actor snapped a photo of her "Sunday Hair Repair" routine, sharing it to her Instagram stories and proudly displaying products from LolaVie Haircare, founded by Aniston, as reported by Hello! Magazine.
Similarly, when Witherspoon was getting ready to release her romantic comedy with Ashton Kutcher, "Your Place or Mine" in 2023, Aniston made sure to show her friend some love. The "Murder Mystery" actor posted to her Instagram story, "@reesewitherspoon!!! I can't wait for this," according to CinemaBlend. In interviews, the women often have nothing but good things to say about each other, often volleying back and forth non-stop compliments. Or sometimes, they give each other a friendly butt-grab mid-interview, caught on camera as Aniston spoke to Ryan Seacrest for E! News at the 2015 Oscars.
Whether they're on screen together or just hanging out, the co-workers turned besties are friendship goals!