Why The Romance Between Robert Kardashian And Priscilla Presley Didn't Work Out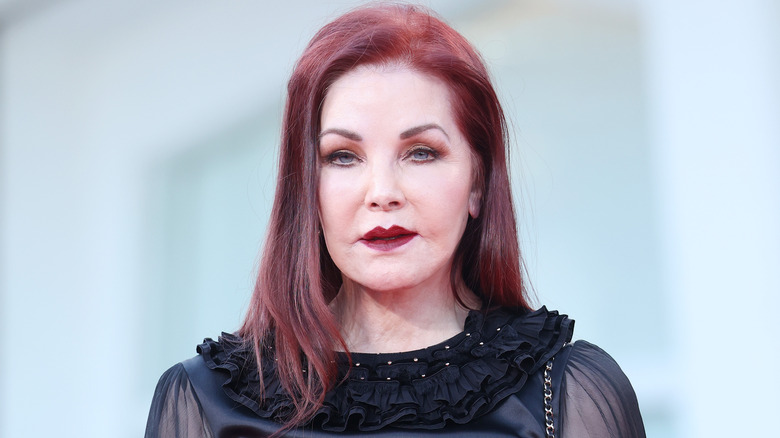 Stefania D'alessandro/Getty Images
The late patriarch of the Kardashian clan and the wife of the King of Rock and Roll might not seem like the likeliest of duos, but at one time, Robert Kardashian had every intention of starting a family with Priscilla Presley. Not long after Priscilla and Elvis Presley divorced in 1973, the mother of the late Lisa Marie Presley fell for another dark-haired stunner: Robert Kardashian, the future father to Khloe, Kim, Kourtney, and Rob Kardashian.
Decades later, Jerry Oppenheimer, author of "The Kardashians: An American Drama," spoke to a close friend of the couple, Joni Migdal, about their brief partnership. "Priscilla made Robert very happy," Migdal said. "He wanted to marry her and have children with her. That was definitely his hope" (via Page Six). But despite this initial chemistry, their romance fizzled out within a few years — something Migdal blames on Robert's controlling nature and Presley's devotion to her first husband.
Per Migdal, the notable lawyer wanted Elvis' ex-wife to be his "domesticated Armenian housewife, and that infuriated Priscilla." By 1978, Robert Kardashian had married his first wife, Kris Jenner, whom he would later divorce in 1991.
Robert Kardashian had several complains about Priscilla Presley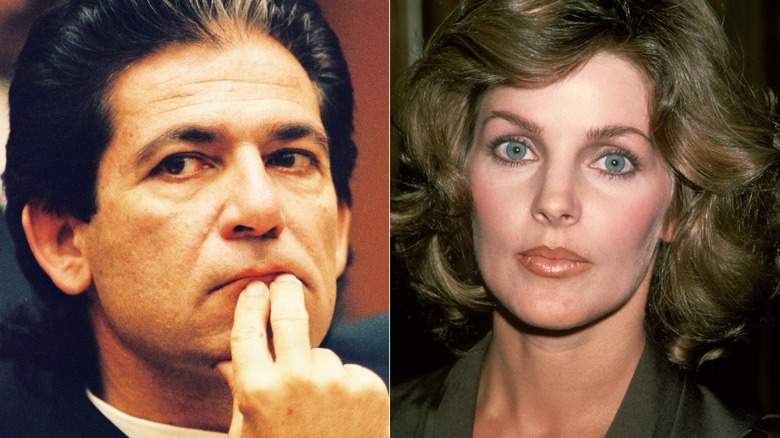 Lee Celano & Images Press/Getty
When author Jerry Oppenheimer spoke to Robert Kardashian and Priscilla Presley's friend, Joni Migdal, to glean material for his Kardashian memoir, Migdal spoke of an instance when Presley tried to take on a more domesticated role for Robert. "[She] once tried to make dinner for Robert because he kept asking her, so Priscilla said that one night she cooked asparagus, and she made this, and she made that, and she went out of her way to make it perfect."
Migdal recalled that Kardashian "Hated it. [Priscilla] said that after that meal, he never suggested that she make dinner for him again." Another source close to the former lawyer of O.J. Simpson said Robert Kardashian frequently complained about Priscilla Presley answering the phone when Elvis Presley called her while she and Robert Kardashian were intimate. The source told Oppenheimer that Priscilla would put the telephone receiver on the bed and continue to talk to her ex-husband. 
Ultimately, Priscilla wasn't willing to marry anyone else while Elvis was still alive, and her admiration for him continued after his passing. In a 2017 statement to Entertainment Tonight, Priscilla said of her former husband, "He was such an impact in my life in every way. He was my mentor; he was my confidant. In my book ["Elvis and Me"], I wrote [that he was] 'my God,' because I lived and breathed him."
The strange link between Elvis Presley, Robert Kardashian, and Caitlyn Jenner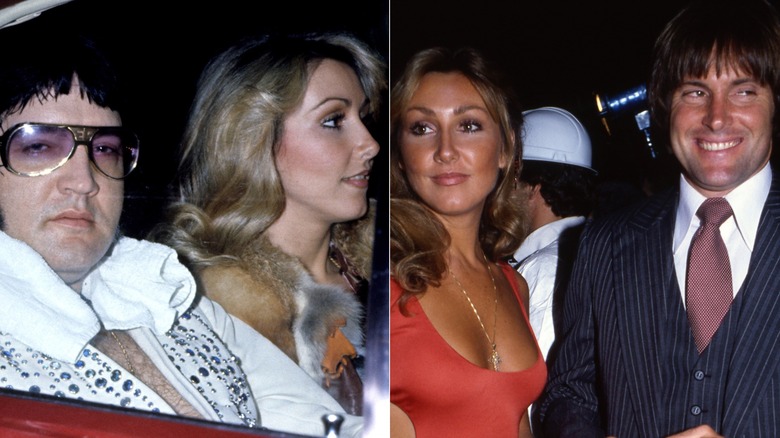 Tom Wargacki & Walter Mcbride/Getty
Robert Kardashian and Priscilla Presley's brief fling isn't the only connection of note between the two families. Elvis Presley began dating Memphis-born beauty queen Linda Thompson in 1972 amidst his split from Priscilla, and the couple stayed together until 1976 when Elvis' lavish, womanizing lifestyle became too much for Thompson. She would later marry Caitlyn Jenner, then Bruce Jenner, in 1981 — an uncanny development given a conversation Thompson had with Elvis before they separated.
Thompson told Entertainment Tonight that she and Elvis were watching the 1976 Olympics together when the decathlon athlete appeared on the screen. "Elvis turned to me and said, 'You know, I am not gay, but that man is a damn good-looking man.' I said, 'He is. In fact, I think one day I am going to marry him,' and Elvis said, 'Yeah, over my dead body.'" Thompson and Jenner were married for five years before divorcing in 1986.
One month after Robert and Kris Kardashian — now Jenner — divorced, Kris began dating Thompson's ex-husband. Kris married Caitlyn (then Bruce) in 1991 and had two children, Kendall and Kylie Jenner, who would be the final two siblings of the "Keeping Up With the Kardashians" clan. 
Assuming the Kardashian, Jenner, and Presley love triangles — or, perhaps, the overall hexagon — had turned out differently, there's no telling how different pop culture might look today.