The Harsh Way Steve Harvey Went About Protecting His Peace On His Talk Show Set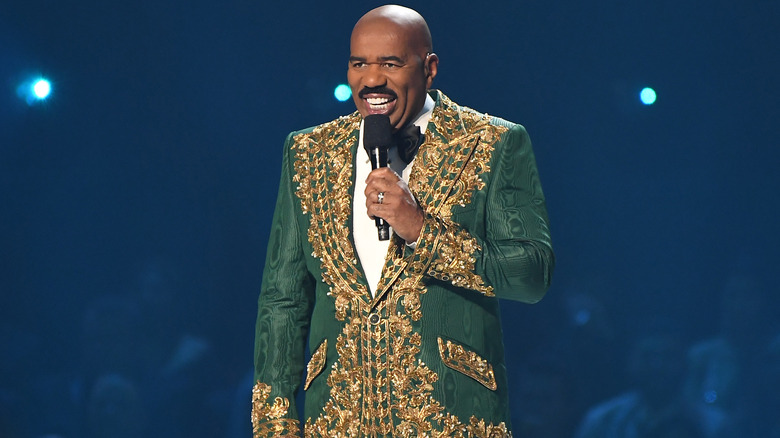 Paras Griffin/Getty Images
Steve Harvey is known as one of the "Original Kings of Comedy" and a doting family man who frequently praises his wife Marjorie and children: Brandi, Karli, Broderick Harvey Jr., Wynton, Morgan, Lori, and Jason. His long-running role on "Family Feud" has presumably added to his nice-guy persona. However, several controversial instances have followed Harvey. His 2017 meeting with former President Donald Trump sparked backlash, as well as his support for his friend, disgraced comedian and actor Bill Cosby. So when allegations that he was rude to his staff arose, it generated some further concern.
In May 2017, an email that Harvey sent to the staff of his daytime television show had leaked. In the memo, the host demanded that any employee wanting to speak to him must schedule an appointment. He also stated that he would no longer allow staffers to visit his dressing room or talk to him without approval. While the email seemed harsh, Harvey stood by his orders and claimed the new rules were meant to protect his peace in the workplace.
Steve Harvey said his employees were ambushing him on the job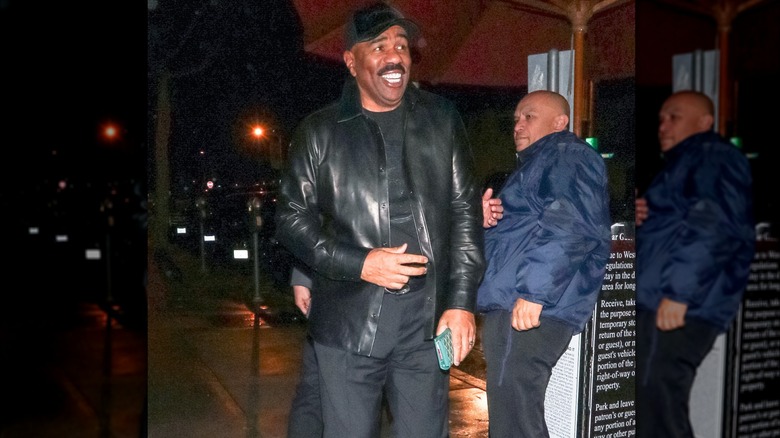 Gotpap/bauer-griffin
When Steve Harvey sent the now-infamous email to his talk show staff, he wrote, in part, "There will be no meetings in my dressing room. No stopping by or popping in. NO ONE. Do not come to my dressing room unless invited. Do not open my dressing room door. IF YOU OPEN MY DOOR, EXPECT TO BE REMOVED. My security team will stop everyone from standing at my door who have the intent to see or speak to me." Harvey even informed them that he was not open to people walking with him in the hallways and casually conversing with him. 
According to the "Think Like a Man" author, establishing boundaries was necessary. "I'm in my makeup chair, they walk in the room. I'm having lunch, they walk in, they don't knock. I'm in the hallway. I'm getting ambushed by people with friends that come to the show and having me sign this and do this. I just said, 'Wait a minute.' And in hindsight, I probably should've handled it a little bit differently," Harvey explained to Entertainment Tonight in the days following the directive surfacing online. Despite acknowledging that he could've gone another route with the memo, Harvey said he wanted some sense of tranquility when he wasn't filming.
Harvey says a disgruntled employee candidate leaked the email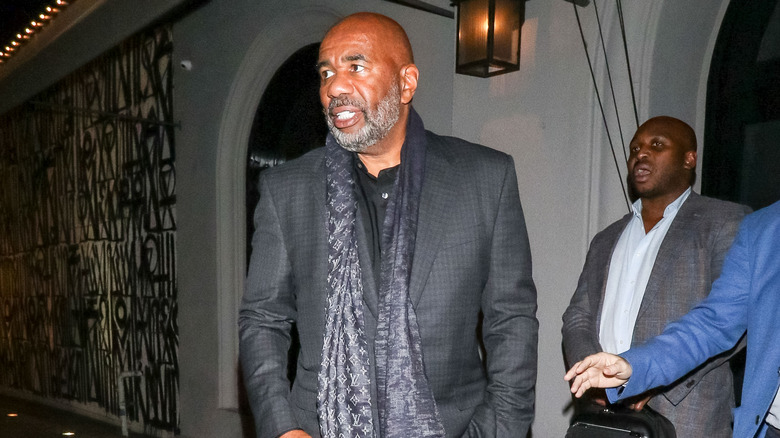 Gotpap/bauer-griffin/Getty Images
Months after Steve Harvey's strict rules were unveiled, he addressed them again during the August 2017 Television Critics Association press tour. While there, Harvey revealed how they ended up online. "It was something I wrote a year ago, and someone didn't get a job coming to L.A., and they got pissed," Harvey told reporters [via Variety.] 
Harvey's talk show had previously been filmed in Chicago for five years before heading to Los Angeles. Though he didn't name the individual, that person, after allegedly failing to join the West Coast team, forwarded the email to Chicago journalist Robert Feder, who shared it on his Daily Herald blog. Still, Harvey has maintained that he is not the hardcore boss he was made out to be.
In the years since the scandal, things have seemingly blown over, though Harvey's talk show was canceled in 2019. His radio show is still going strong but was rocked by its own controversy when co-host Shirley Strawberry was forced to apologize to Harvey on air for making several unkind remarks about his health and marriage. They've seemingly moved past the incident, but it's unknown if Harvey has similar rules in place for his broadcast staffers.